One of the most common phrases bandied about by local politicians—and residents who complain that it's practically nonexistent in Alameda—is "affordable housing." Since May is Affordable Housing Month, this is a good time to ask what that phrase means.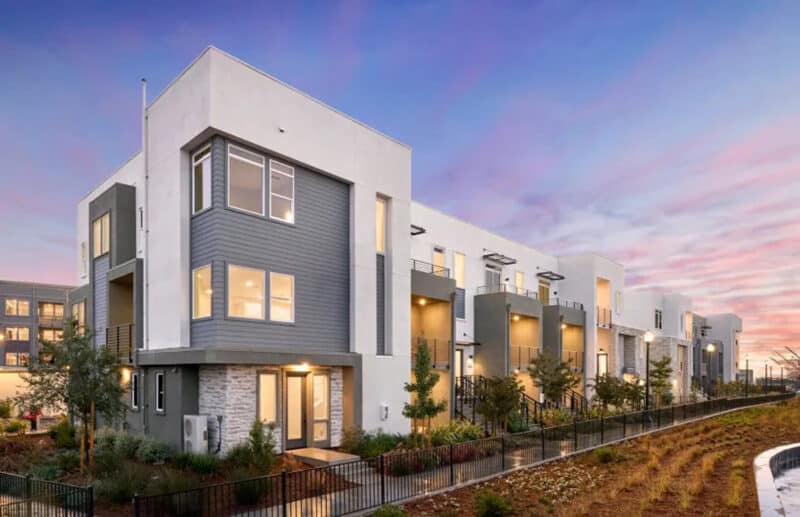 What is "affordable housing?"
California's Health and Safety Code defines housing as affordable if it costs no more than 30% of one's income. People who pay more than that are considered "cost burdened," and those who pay more than 50% of their income are "severely cost burdened," according to the U.S. Department of Housing and Urban Development (HUD).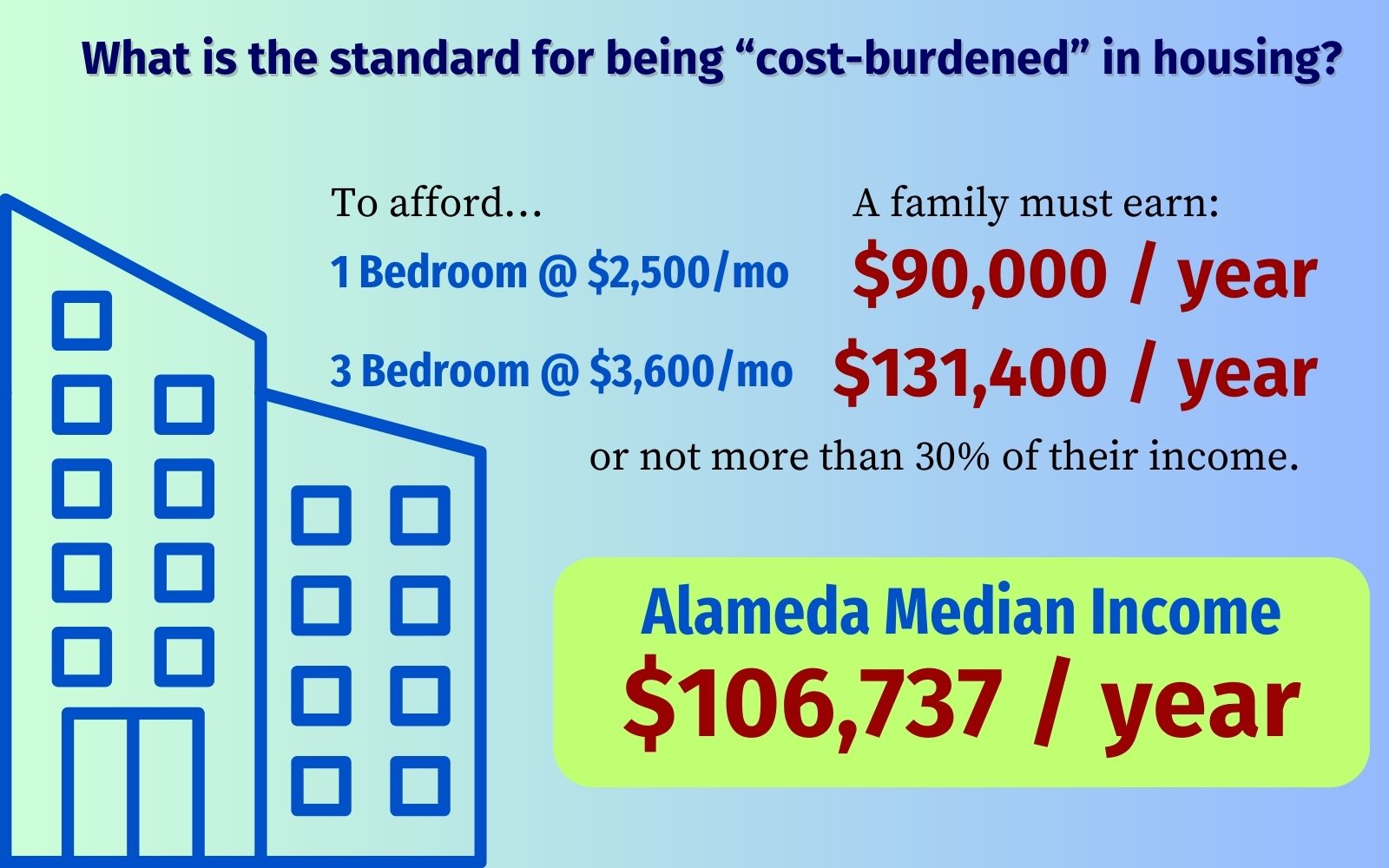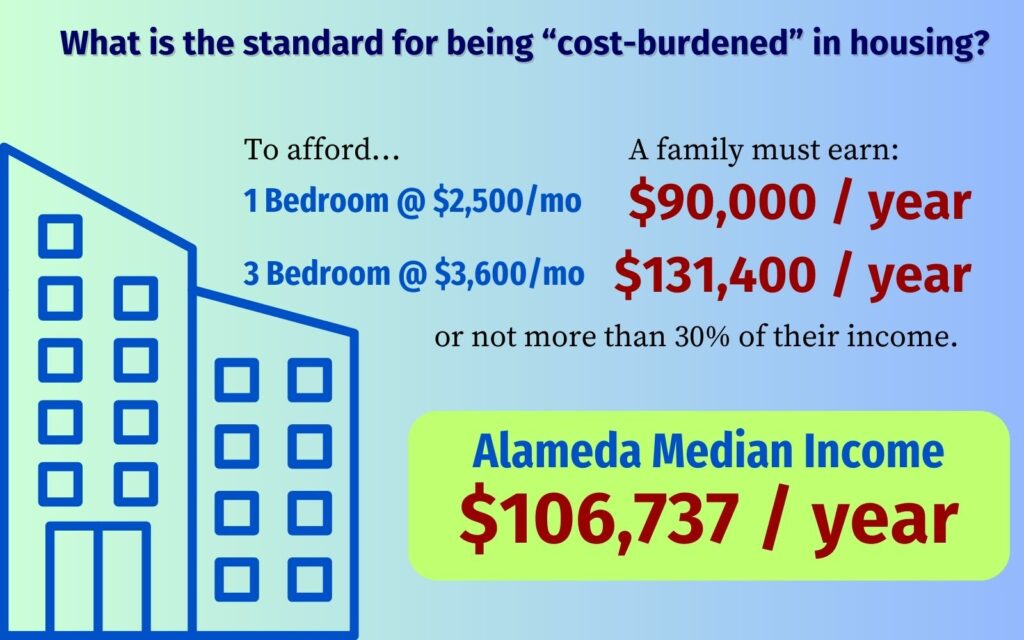 By that standard, an individual paying $2,500 a month for a one-bedroom apartment, which is not uncommon here in Alameda, would have to earn more than $7,500 per month—$90,000 per year—to avoid being cost-burdened. A household paying $3,650 for a three-bedroom apartment would have to earn more than $10,950 a month—$131,400 per year—to just squeak by the cost-burdened category. That income is almost $25,000 more than Alameda's median household income of $106,737, according to Healthy Alameda statistics updated in July 2022.
How to qualify
To be fair, the City of Alameda has devoted a lot of time and money to developing new affordable housing around town. But how affordable is it? Who qualifies for it? And how long does it take to get a unit? The Alameda Housing Authority (AHA) has 840 affordable rental homes and more than 700 homes currently in development or acquisition.
Yet those housing units may not be affordable—or even available—for those who do not have a federally subsidized housing voucher. For example, a small studio in Anne B. Diament Plaza, an AHA-owned senior apartment complex, is currently listed at $1823 a month, despite the fact that the average senior's monthly Social Security check is just $1,696, according to the Social Security Administration.
Those HUD vouchers, which are key to lower rent, are only available to people who have been both persistent and lucky enough to get on a waiting list. Here's the catch: All AHA waiting lists are currently closed, and even those whose applications were already chosen by a lottery to get on one of the lists may wait for years before getting a voucher. But once a tenant does get a voucher, and finds an available place that will accept it, the Housing Authority can sometimes offer a lower rent, based on several factors. Some renters will pay as little as 30% of their total income, or even less.
Alameda's affordable housing
Many of the new modern complexes being built around the island are called "affordable" because they offer some of their units at reduced rates to lower-income tenants, often chosen by a drawing or lottery.
One of the latest examples is Launch, on Clement Avenue at the Alameda Marina, which has 376 units (including eight live/work lofts), of which 49 will be rented at reduced rates— just 13% of the total units. Affordable units at the complex include six studios, three junior one-bedroom units, 30 one-bedroom apartments, and 10 two-bedroom apartments. Rents range from $1,046 for the least expensive studio to $3,271 for a two-bedroom/two bath apartment.
California HCD income limits for household qualification
Prospective tenants, who must meet income-limit requirements, must apply online no later than May 19 and then be selected by a drawing. The required income range varies by apartment and is based on the latest California Department of Housing and Community Development (HCD) income limits. The "Very Low" annual income limit ranges from $50,000 for one person to $71,400 for four. "Low" ranges from $76,750 for one person to $109,600 for four.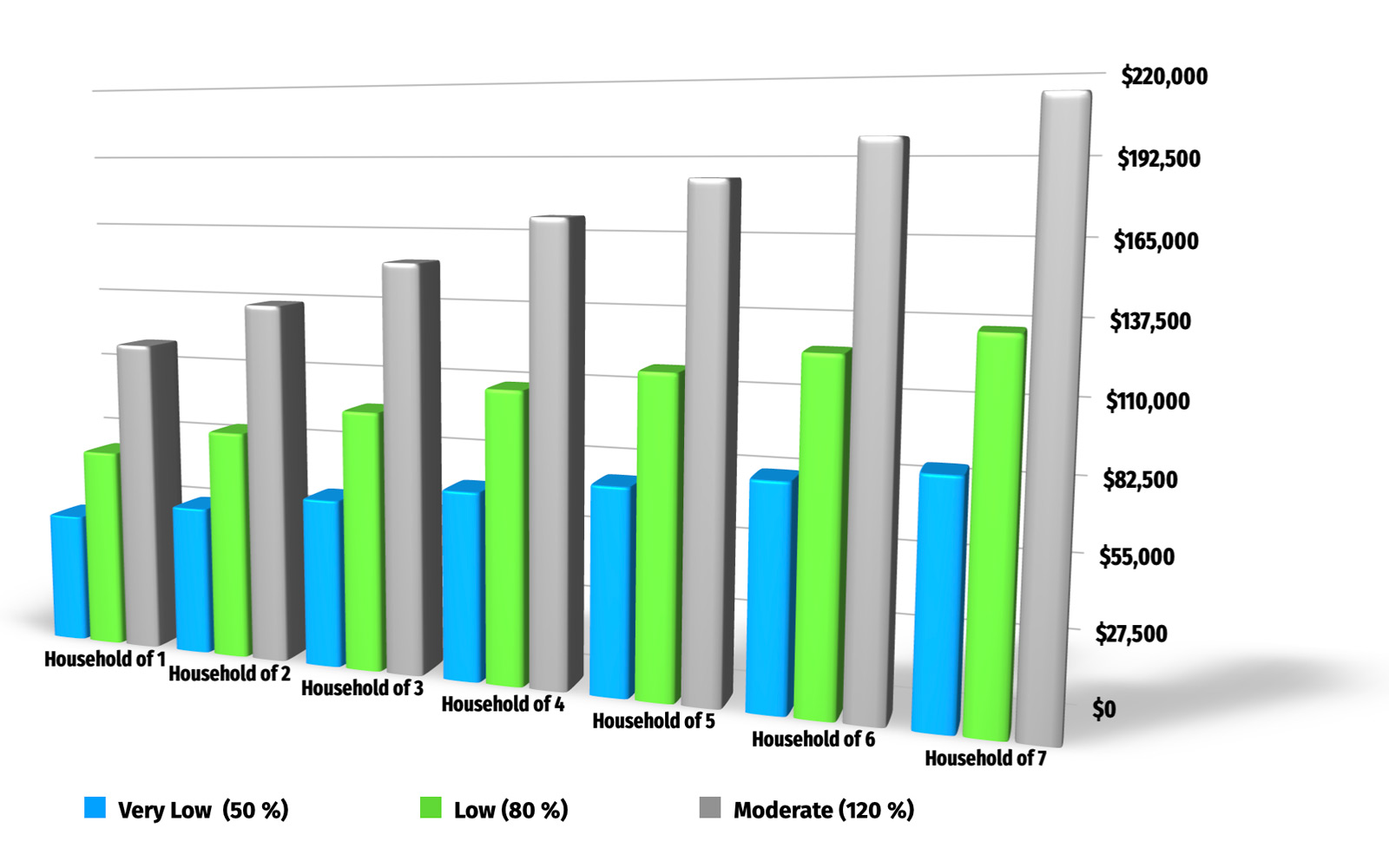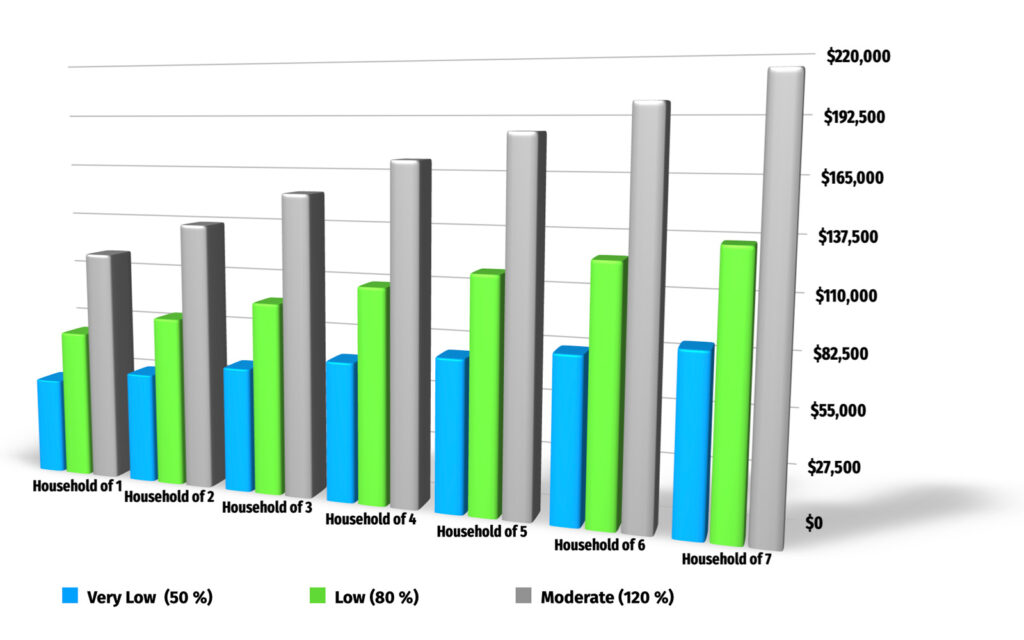 HUD Fair Market Rents vs. Actual Alameda Rents on Zumper
Meanwhile, most Alamedans must contend with whatever the rental market will bear. There's a big difference between what HUD considers Fair Market Rents (FMR) and the actual going rate in Alameda. HUD calculates FMR here at $1,658 for a studio; $1,969 for one bedroom; $2,405 for two bedrooms; $3,144 for three bedrooms; and $3,706 for four bedrooms.
Those rents are at least $300 to $500 less per month than the actual average rents in Alameda, according to Zumper, a large privately owned rental platform. Zumper calculated average May 2023 Alameda rents at $1,995 for a studio, $2,200 for one bedroom, $2,750 for two bedrooms, and $3,650 for three bedrooms. (Zumper did not calculate average rent for four bedrooms.)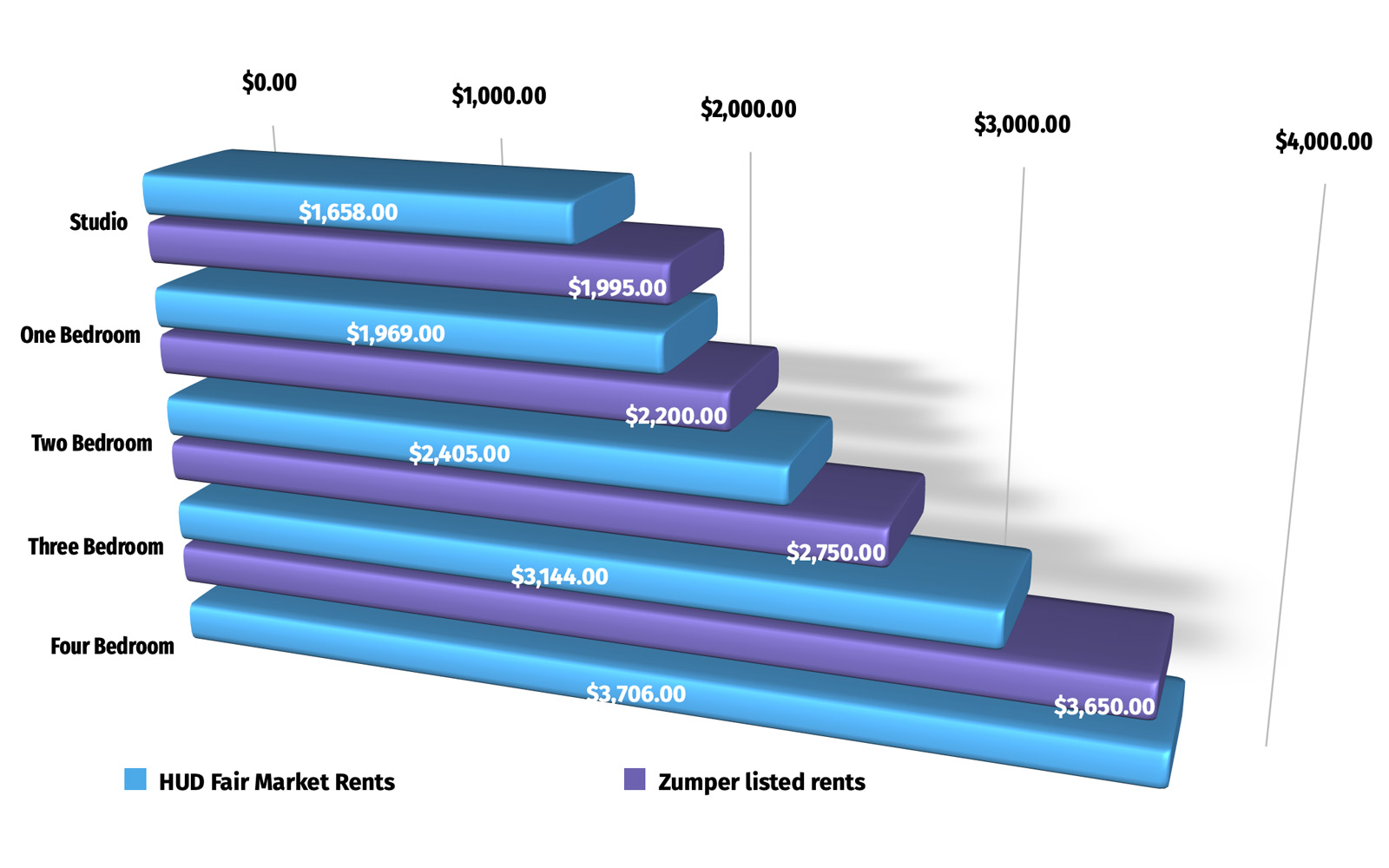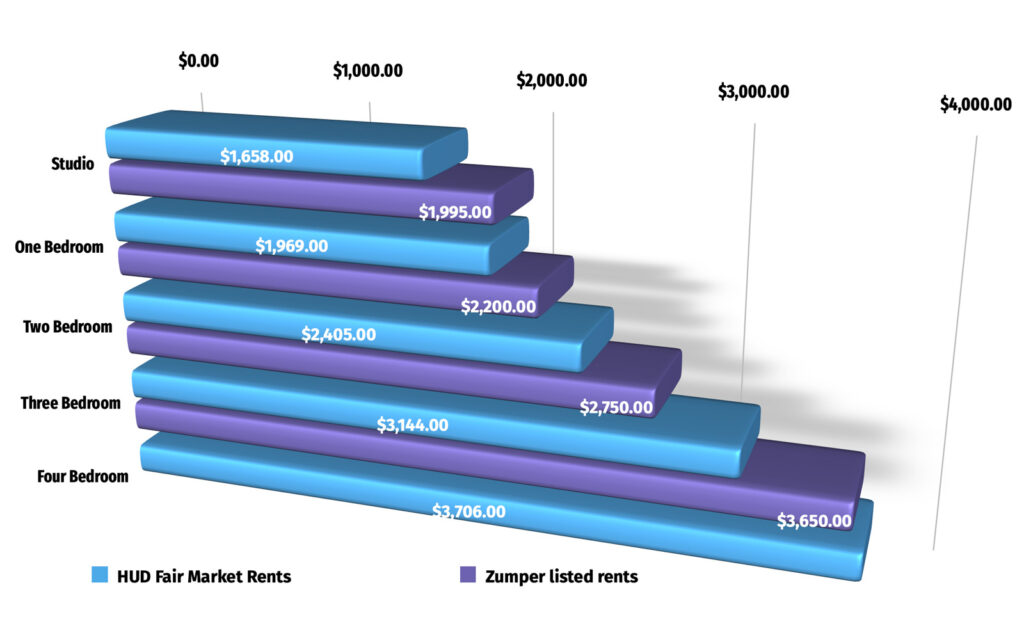 "Affordable" or no?
It's a great frustration for many that so few affordable apartments are available to people with low incomes who didn't win the voucher lottery or can't wait five years for their name to come up on the waitlist. It's a big factor behind why many people say they may need to move somewhere else due to being priced out of the rental market here. And the problem isn't just in Alameda. It's a statewide issue. More than half of California's 5.73 million tenant households are now "cost burdened" by high rent costs, according to a report in the Orange County Register. Our Golden State has the third-highest level of housing "unaffordability" in the nation.
The bottom line is that rent prices have gotten incredibly high, and they are getting more so every day. "Affordable housing" feels more like a campaign promise than a reality for most. But there are a few options to pursue, even though they require as much luck as perseverance.
Liz Barrett is the Copy Editor of the Alameda Post and writes about our community. Contact her via [email protected]. Her writing is collected at AlamedaPost.com/Liz-Barrett.