2.6-acre area at Admiral's Cove to be converted to multi-family building
At its November 14 meeting, the Planning Board held a public hearing to consider a proposal to construct a seven-story, 227-unit multi-family building at 300 Mosley Avenue in the existing Admiral's Cove development. The development plan applicant, Carmel Partners, has recently renovated 150 townhome units on the project site and extended Mosley and Singleton avenues east toward Alameda Landing.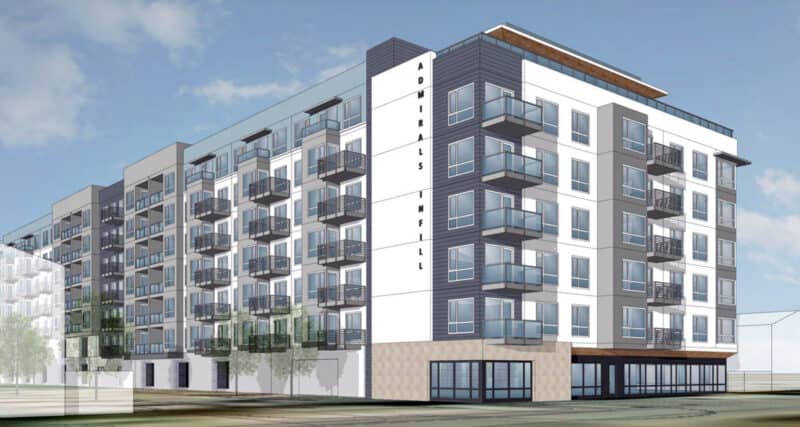 This proposed infill development would occupy a 2.6-acre area within Admiral's Cove, sandwiched between existing townhomes on three sides. Upon project completion, the 15-acre Admiral's Cove property will have 373 total units—one existing fourplex at 300 Mosley Avenue is slated to be demolished or relocated to another location within Admiral's Cove as part of this project.
The infill project's base plan proposed 189 units, the maximum permitted under Alameda's zoning codes. However, since Carmel Partners earmarked 32 of those units as affordable, the applicant met the 16 percent affordability threshold and was thereby entitled to a 20 percent density bonus. This allowed the applicant to increase the total proposed units to 227, and extended the rights to one incentive or concession and unlimited waivers of development standards.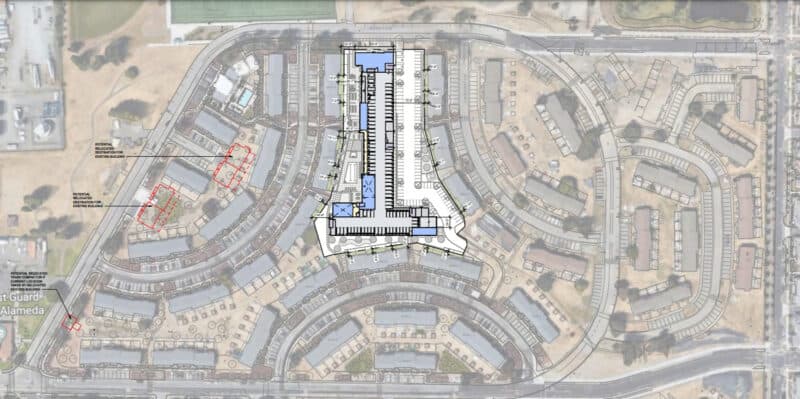 Planning board members were generally supportive of the proposal, but several questioned the reasoning behind Carmel's waiver to reduce the number of required bicycle parking spaces. Carmel felt the reduction was necessary to preserve open space for residents. Public comment came primarily from Admiral's Cove residents, many of whom expressed concern and frustration at the lack of communication from the developer about the project. One resident was alarmed that the project would remove yard and other open space from surrounding properties.
The planning board approved the project 5-0, with Members Teresa Ruiz recused and Xiomara Cisneros absent.
Continuation and expansion of all-electric building requirements
In other business, the Board reviewed a resolution containing findings of local climatic, geological, topological, and environmental conditions. These findings motivated a draft ordinance to adopt a local amendment of the 2022 California Green Building Standards Code that continues the requirement that all newly constructed buildings in Alameda be all-electric.
Most notably, this latest amendment expands the definition of new construction to include "any substantial alterations that essentially result in a new building." Andrew Thomas, Director of Planning, Building, and Transportation, clarified for board members that this would include any major remodels where greater than 50 percent of the building foundation or floor area is being rehabilitated. However, appliances or rooms in a residential building not affected by a major remodel do not fall under this requirement. For example, a remodel that only affects bedrooms does not require the electrification of existing kitchen appliances.
Additionally, the amendment removes the previous exemption for new Accessory Dwelling Units (ADUs), since nearly all new ADUs are designed all-electric. The all-electric reach code was first approved by the City Council in 2021, implementing a critical measure proposed in Alameda's Climate Action and Resiliency Plan (CARP). This year's amendment continues exemptions for commercial kitchen appliances in businesses, space and water heating in laboratories, and buildings with valid planning entitlements or development agreements approved prior to July 2021.
In response to comments from board members about the effectiveness and feasibility of the ordinance, Thomas assured that City staff would evaluate implementation and propose changes, if necessary, when California building codes are updated again in three years.
The Planning Board also discussed the dissolution of the West Alameda Transportation Management Association and a one-year update on circulation through the new Starbucks Island Drive location on Bay Farm Island. See the complete agenda and exhibits for the Planning Board's November 14 meeting on the City of Alameda website.
Ken Der is a contributing writer for the Alameda Post. Contact him via [email protected]. His writing is collected at AlamedaPost.com/Ken-Der.