Alameda Island Bowl, Vets BBQ and Town Hall, EV and E-bike expo, Blue Angels, transportation plan seeks feedback, and Lotería! at the Library.
Jets, Hornets face off in 67th Island Bowl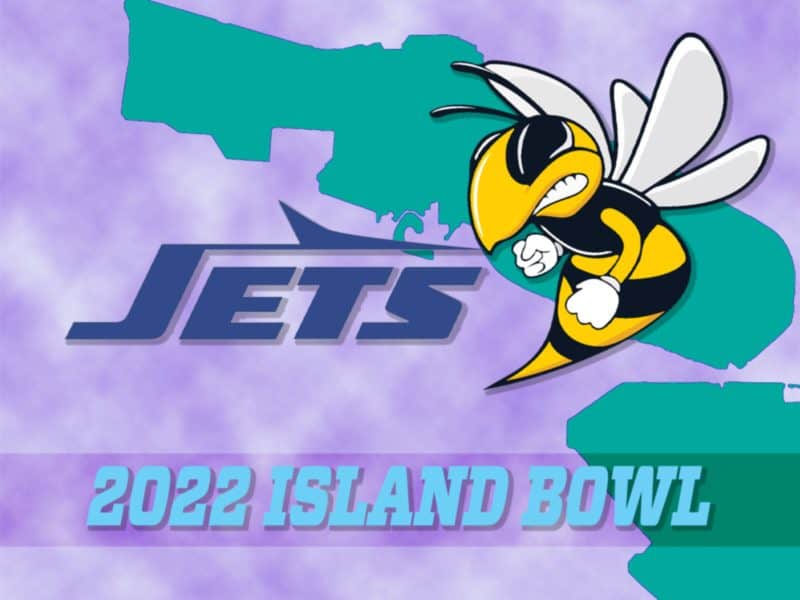 The big high school football rivalry continues tonight, September 23, when the Encinal Jets meet the Alameda Hornets at Thompson Field for the 67th Island Bowl.
Encinal High School has won the past five Bowls, but Alameda High School has a better overall record by a couple of games, with 33 wins, 31 losses, and 2 ties. Recently, however, the Jets have dominated the Island Bowl, with 12 wins in 14 games—but this year they haven't done so well in regular season play.
The Jets have an 0-4 record so far this season, putting them in fourth place in their league, MVAL/WACC-Foothill. Meanwhile, the Hornets have a 2-1-1 record and are first in the MVAL/WACC-Shoreline league.
Either team could win this year's Island Bowl, so the game is bound to be very exciting for local fans. If you can't make it to Thompson Field (Clement Avenue at Walnut Street), don't despair. The game will be livestreamed in full HD.
The 2022 Island Bowl will kick off at 7 p.m.
Veterans Groups of Alameda BBQ and Town Hall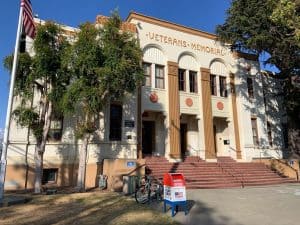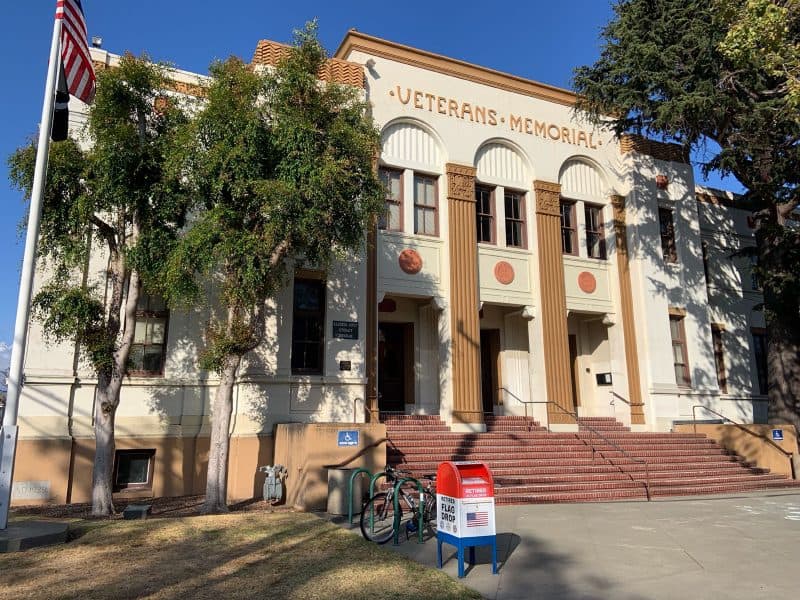 Join the Veterans Groups of Alameda for hamburgers, hot dogs, lots of yummy side dishes, plus some important information about benefits at the annual Barbecue and informational Town Hall Meeting on Saturday, September 24, at the Veterans Memorial Building at 2203 Central Ave.
The building opens at 10 a.m., and the Town Hall starts at 10:30. A Construction Facilities Management representative will present information about the Alameda Point Veterans Clinic and Columbarium project, followed by a National Cemetery Administration representative who will speak about burial benefits available to veterans and spouses and sometimes their children, and a Vet Center representative will then offer information about the center's role in veteran health. The Veteran Affairs Oakland Regional Office representative will address procedures for applying for benefits, applying for an increase in benefits, and benefits for which your family may be eligible.
Immediately following the speakers, the barbecue feast will be served outdoors. Sponsors for the event, which is open to the public, include DiscoverAlameda.com,  American Legion Post 647, American Legion Post 9, and Vietnam Veterans of America Chapter 400.
EV and E-Bike Expo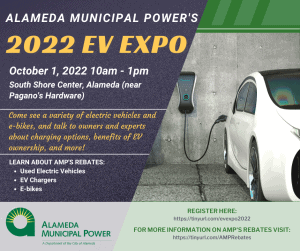 Curious about electric vehicles (EV) and e-bikes? Want to see some in person? Wondering how to make the switch from your gasoline-powered car? Come on over to South Shore Center  (near Pagano's Hardware) next Saturday, October 1, to the EV and E-Bike Expo hosted by Alameda Municipal Power (AMP).
At the expo, which lasts from 10 a.m. to 1 p.m., you can check out a variety of exciting new electric vehicles, get the scoop from EV drivers, and find the EV or e-bike that's right for you. The EV models will include a Chevy Bolt, Ford F-150 Lightning, Ford Focus, Kia Niro, Mustang Mach-E, Volkswagen ID.4, Tesla Models 3 & Y, and more.
An AMP team of experts will be available at an "Ask Me Anything EV" table to answer questions for those who already have EVs or might be interested in making the switch. Learn about how to save money, powering your EV with clean energy, the best time of day to charge, and current rebates available to AMP customers.
Plus, there's a bonus: The first 125 registrants will receive a $15 food truck voucher to use at the Off the Grid event that day! (One voucher per registration. Registrants must be at least 16 years old with a valid driver's license.) Register for the event right away to get your free voucher.
Blue Angels media flights too loud for Yom Kippur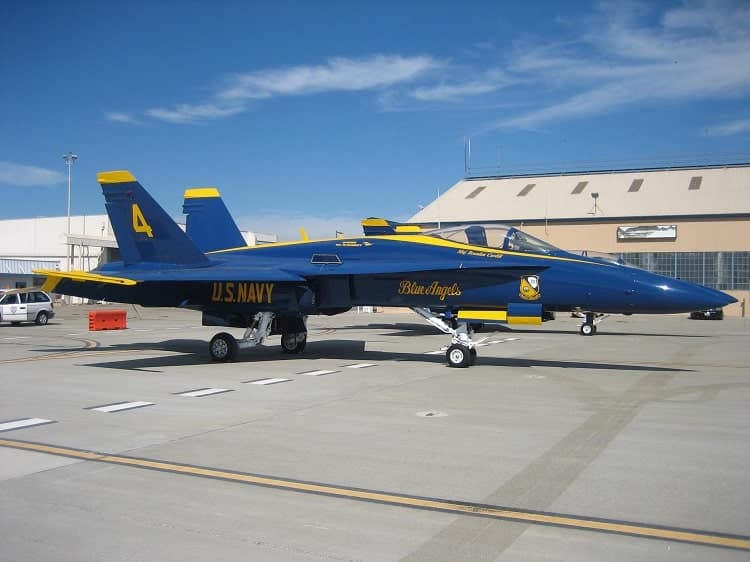 Thousands of people gather in San Francisco during Fleet Week to watch the Blue Angels zoom through the air, buzz skyscrapers, and perform amazing stunts in the sky. Sure, the noise is ear-shattering, especially for Alamedans and those who live on Bay Farm Island near the Oakland airport—but we generally put up with it because it is exciting and, after all, it's just a few days a year.
The problem this year is that one of those days, October 5, is Yom Kippur, the holiest day of the Jewish year, when the Jewish community gathers to pray all day. The City of Alameda posted a general "noise alert" on Facebook, with the Blue Angels' schedule, which noted that "media flights will be flown Wednesday, October 5 from 10 a.m. to 5 p.m." Media flights. All day long. The notice upset many Alameda locals, who commented on the City's Facebook post.
"I love the Blue Angels but the press coordinator should have noticed and not scheduled flying news reporters around for free PR on that day," wrote Kimberly. "Looking forward to them over the weekend but reconsider giving reporters free joy rides."
Bronwyn asked, "Why would this be scheduled during the Jewish High Holy Days?" Caine replied, "It was scheduled based on the annual performance calendar which is the same week every year. The holy holiday is the date that changed from last year. You know…same way that Easter works."
"If you check the detailed schedule," Luca wrote, "the October 5 media flight takes off from the south field/main runway, not the north field over Bay Farm as the rest of the week, so the impact should be lower. I'm not sure if there is any other reason, but looks like they considered it and tried to reduce the impact."
The Blue Angels will arrive Sunday, October 2, at 6 p.m.; media flights will be flown Wednesday, October 5 from 10 a.m. to 5 p.m.; practice sessions are scheduled Thursday, October 6 at 1 p.m.; and the air show is Friday through Sunday, October 7 through 9, starting at 10 a.m. each day. The Blue Angels will depart Sunday, October 10, sometime between 6 and 8 p.m.
Draft Active Transportation Plan virtual workshop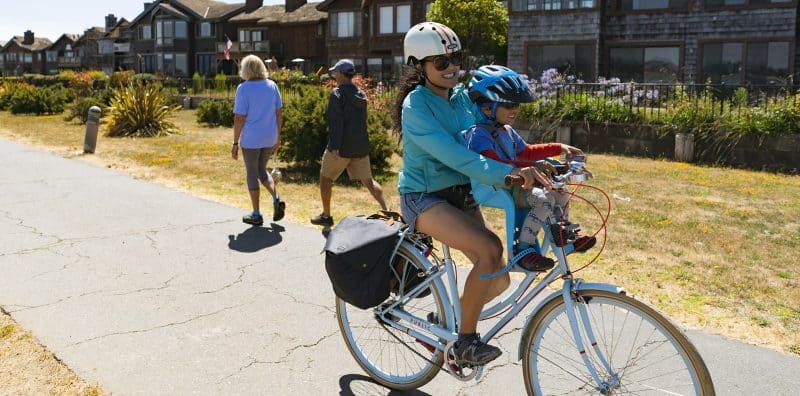 The City of Alameda is seeking feedback on the draft of the Alameda Active Transportation Plan, which will be released for public review on Monday, October 3. The plan aims to provide safe, comfortable, and accessible ways for people of all ages and all abilities to walk and bicycle throughout Alameda.
This new plan will update the existing Pedestrian Plan (2009) and Bicycle Master Plan (2010). The plan also includes priority pedestrian improvements and an all-ages bicycle network. The virtual workshop takes place Wed., Oct. 5 at 6:30 p.m. There will first be a presentation, followed by a question and answer period. Join the workshop's Zoom call, or call 669-900-9128 and enter Zoom ID 844 3068 3153. For additional information and to get involved, visit activealameda.org.
Lotería at the library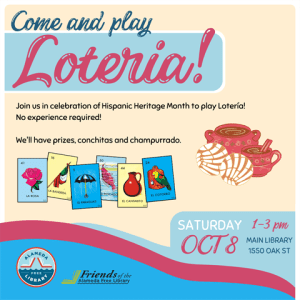 The Alameda Free Library is celebrating Hispanic Heritage Month with a game of Lotería! The game is a traditional Mexican game of chance, like bingo, that features a deck of cards with images instead of a basket of numbered balls. Just like bingo, when you fill your board with matches, you shout out "Lotería!" to win the game.
There will be prizes, complimentary treats such as conchitas and champurrado, and free bilingual children's books. The game takes place on Saturday, October 8, from 1 to 3 p.m. at the Stafford Community room in the Main Library at 1550 Oak St.
Alameda's Main Library is wheelchair accessible, offers parking racks for bikes, and is served by AC Transit bus lines 21 and 51A. This free program is made possible by the Friends of the Alameda Free Library.