Charity walk for reproductive rights, potted plant swap, and Blue Angels back for Fleet Week.
Walk for reproductive rights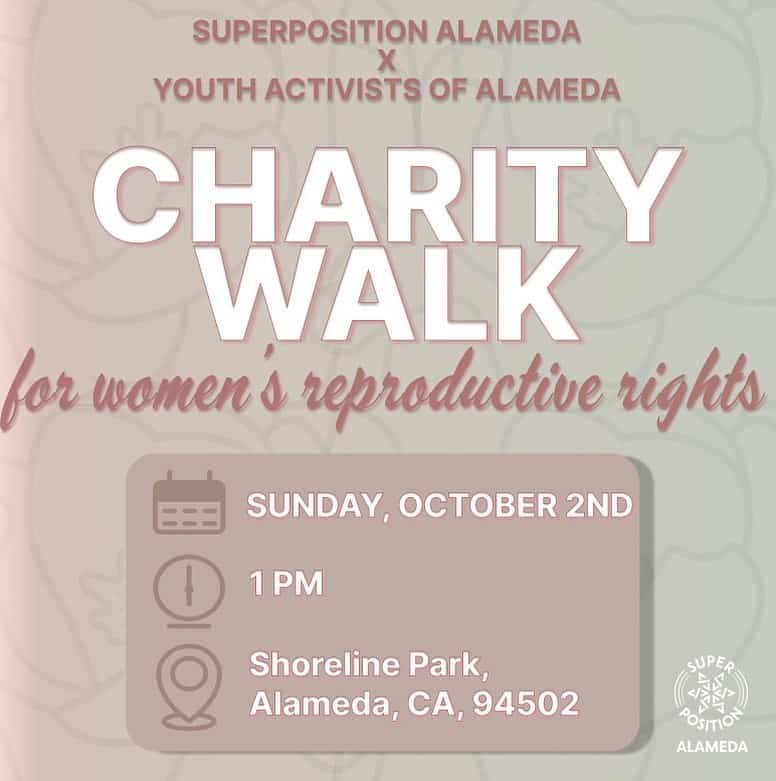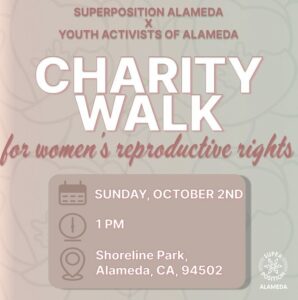 Join Superposition Alameda and Youth Activists of Alameda (YAOA) at Shoreline Park this Sunday, October 2, at 1.p.m. for their Charity Walk for Women's Reproductive Rights. Participants will walk to promote awareness and raise funds for reproductive rights as a response to the overturning of Roe v. Wade. Registration is free, and all donations will benefit Planned Parenthood.
YAOA is a youth-led social justice organization focused on racial equality and human rights. The group regularly hosts charity walks, marches, sit-ins, and educational lectures. YAOA has listed a number of calls to action on their Reproductive Justice Statement and Demands, including a call for the City of Alameda to proclaim itself a sanctuary city for people in need of medical reproductive services and help create a reproductive health facility within the city limits.
Superposition is an international nonprofit which aims to bridge the gender gap in science, technology, engineering, and math (STEM). Every year, Superposition hosts the Bay Area's largest all-women and non-binary hackathon. Since 2016, the organization has expanded to 120+ chapters in 25 countries, including the Alameda chapter, which was founded in February 2021 by Alameda High School students Kristen Wong and Annabel Fiero.
Plant swap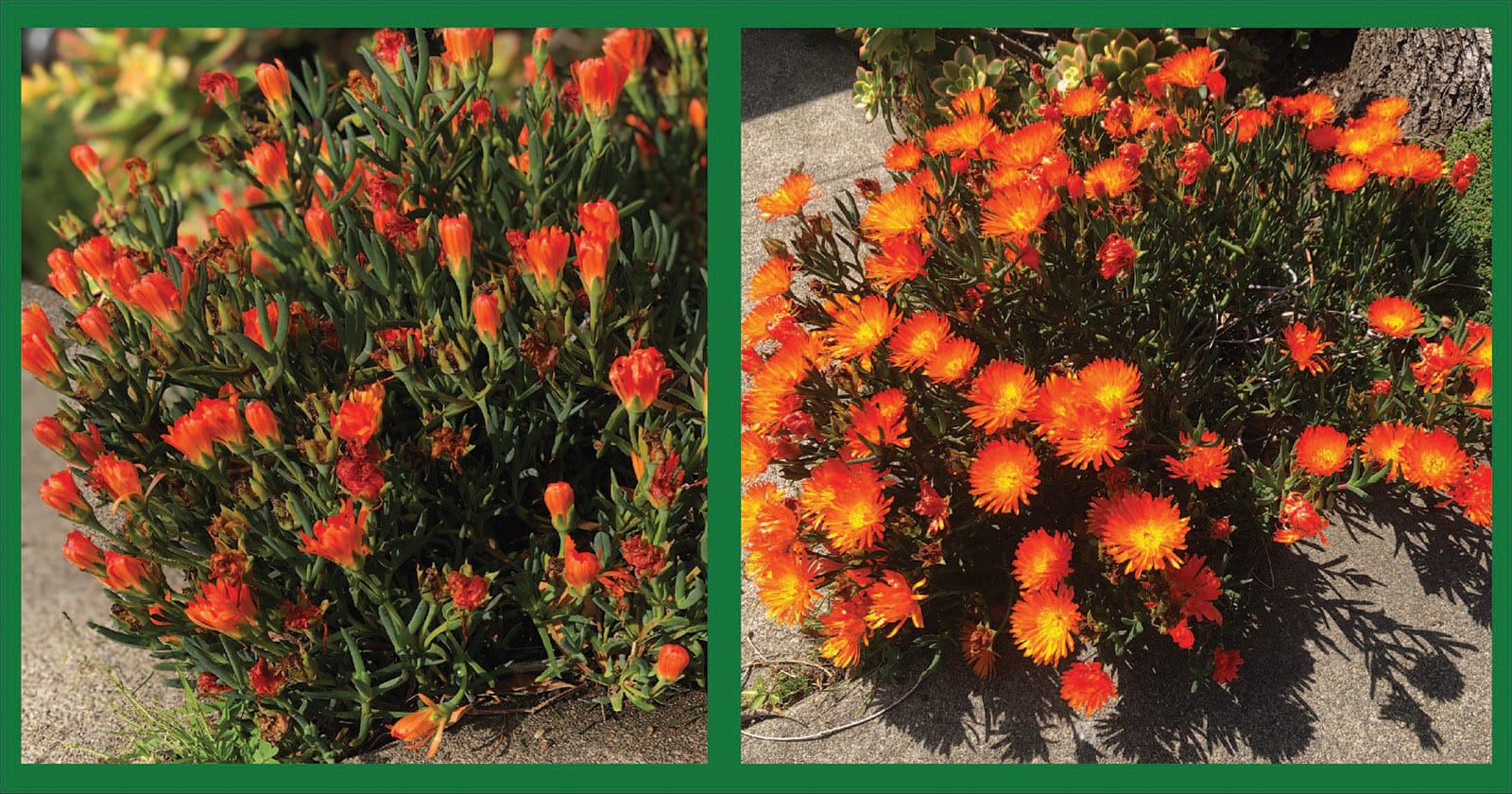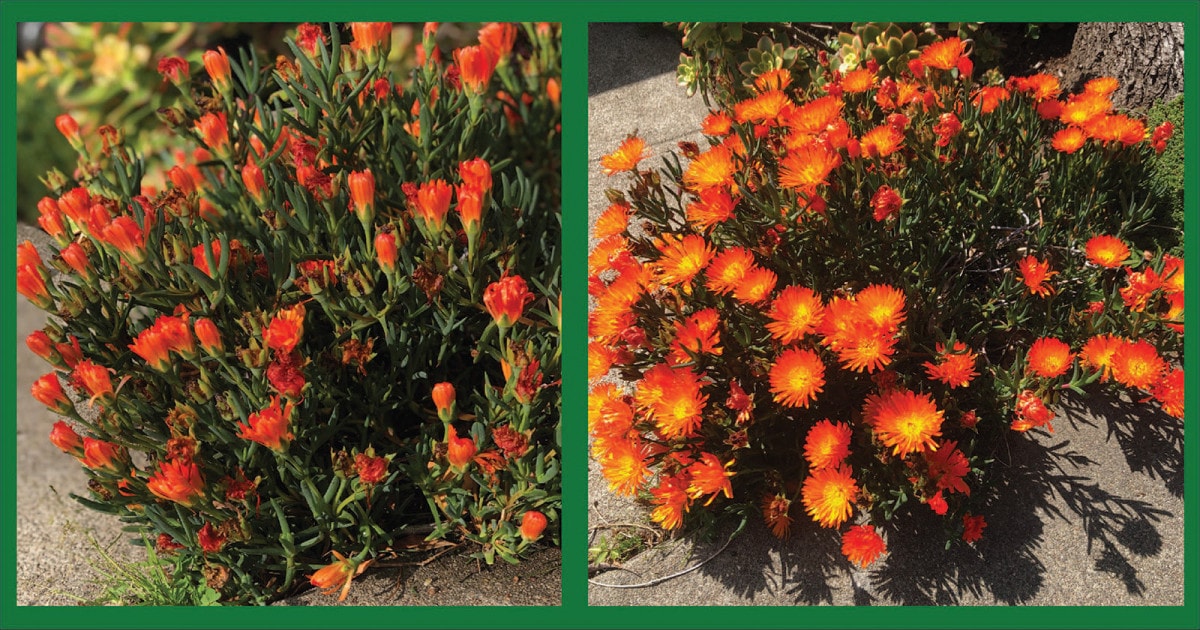 Send your extra potted plants on an adventure at the Alameda Backyard Growers (ABG) third annual Plant Swap this Sunday, October 2. Potted plants, books, magazines, tools, seeds, and bulbs will be available to swap as the community comes together to share resources.
Attendees must bring at least one clearly labeled, healthy plant in a container no larger than five gallons. The free event runs from 2 to 3:15 p.m., and attendees are asked to keep track of what they bring to the event and to take home their unclaimed items. Registration is free and required. ABG will announce the location of the swap to registered participants by email, starting 48 hours before the event.
ABG is a network of gardeners who hope to get Alamedans involved in urban food growing, have fun together, and foster community. Participation is free and open to all residents of Alameda and the surrounding area, regardless of gardening experience level. ABG donates extra fruits and vegetables to the Alameda Food Bank. They strive to "Grow community, one veggie at a time." Find great resources and get started with monthly educational meetings on the ABG website.
Flying high: Fleet Week begins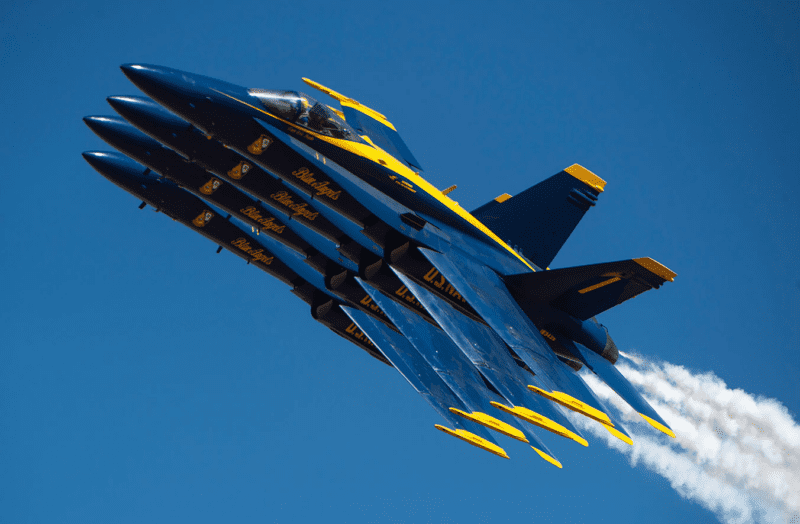 It's time! Fleet Week is back with dazzling air shows, concerts, a ship parade, and more. Alamedans will find themselves close to the action, as Oakland International Airport (OAK) serves as temporary host to most of the air show performers. The Blue Angels will touch down at OAK at 6 p.m. on Sunday, October 2, and official San Francisco Fleet Week festivities will begin the following day.
This year's main event, the San Francisco Fleet Week Air Show, runs October 7 to 9, from 10 a.m. to 4 p.m. each day. Fans looking to get the premium experience can purchase Premium Box tickets and Flight Deck Club tickets starting at $105. Feeling thrifty and adventurous? Take the ferry right before or during the Air Shows to get to the waterfront without fighting traffic and watch the jets flying overhead while you're crossing the Bay. Then watch from the Embarcadero or any of the piers as the Blue Angels circle Alcatraz, perform acrobatics in the sky, and buzz skyscrapers downtown.
Lots of fun Fleet Week events are lined up in addition to the Air Show.  Here are just a few:
Friday, October 7, 11 a.m.: Parade of Ships. "Come see the Fleet enter the Bay under the Golden Gate Bridge as the visiting ships steam towards their ports…The procession of ships can be seen from the Golden Gate Bridge to the Bay Bridge, with the reviewing stand at the Marina Green."
Saturday, October 8, 10 a.m. to 2 p.m.: K9 Heroes. "In the center of San Francisco at Duboce Park, regional and national K9 services bring their stars to demonstrate their abilities, including search and rescue, therapy tasks, drug and food detection, law enforcement, and bomb detection." All ages and dog-friendly.
Friday, October 7 to Sunday, October 9, 10 a.m. to 4 p.m. daily: STEM Center. "…Fleet Week presents the STEM Education Center, a fully interactive and educational program designed to inspire our youth in the fields of science and technology. Families and their children will be able to learn about renewable energy, robotics, water desalination and purification techniques, and much more. Displays are designed to entertain and educate children of all ages." Located at the Marina Green.
Visit SF Fleet Week's website for a full calendar of all events.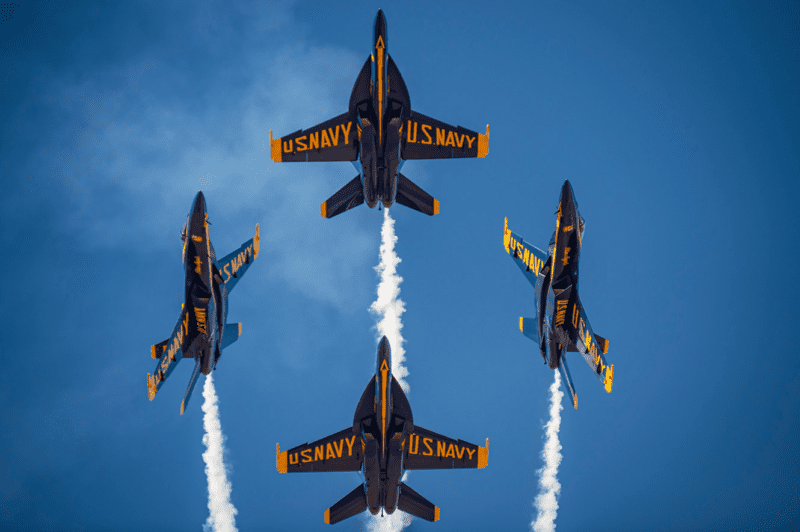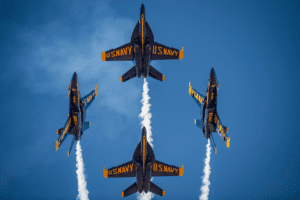 Noise alert
OAK airport posted the Blue Angels flight schedule (subject to change), noting that nearby residents (especially on Bay Farm Island) can expect noise disturbances during the following times, including during Yom Kippur:
Sunday, October 2, 6 p.m.: Blue Angels arrive
Wednesday, October 5, 10 a.m. to 5 p.m.: Media flights
Thursday, October 6, 1 p.m. to 6 p.m.: Airshow practice
Friday, October 7, 10 a.m. to 4 p.m.: Airshow flights
Saturday, October 8, 11 a.m. to 4 p.m.: Airshow flights
Sunday, October 9, 11 a.m. to 4 p.m.: Airshow flights
Monday, October 10, 9 a.m. to 10 a.m.: Blue Angels departure
Residents are encouraged to submit an aircraft noise complaint or perform their own aircraft noise investigation at the complaint website, WebTrak. Aircraft noise concerns can be also directed to the OAK noise complaint hotline 24 hours a day at (510) 563-6463.
San Francisco Fleet Week is an annual public event that honors the contributions of the men and women of the United States Armed Forces while advancing cooperation and knowledge among civilian and military based Humanitarian Assistance personnel. Read more about the history of the event on the Fleet Week website.