San Francisco Fleet Week 2023 is October 2 through 9
Now that the federal government shutdown was averted at the last minute, San Francisco Fleet Week 2023 is a go. That means the U.S. Navy Blue Angels are back in town—much to the delight of air show fans and the dismay of those who don't appreciate the thunderous roar of F/A-18 Super Hornet engines.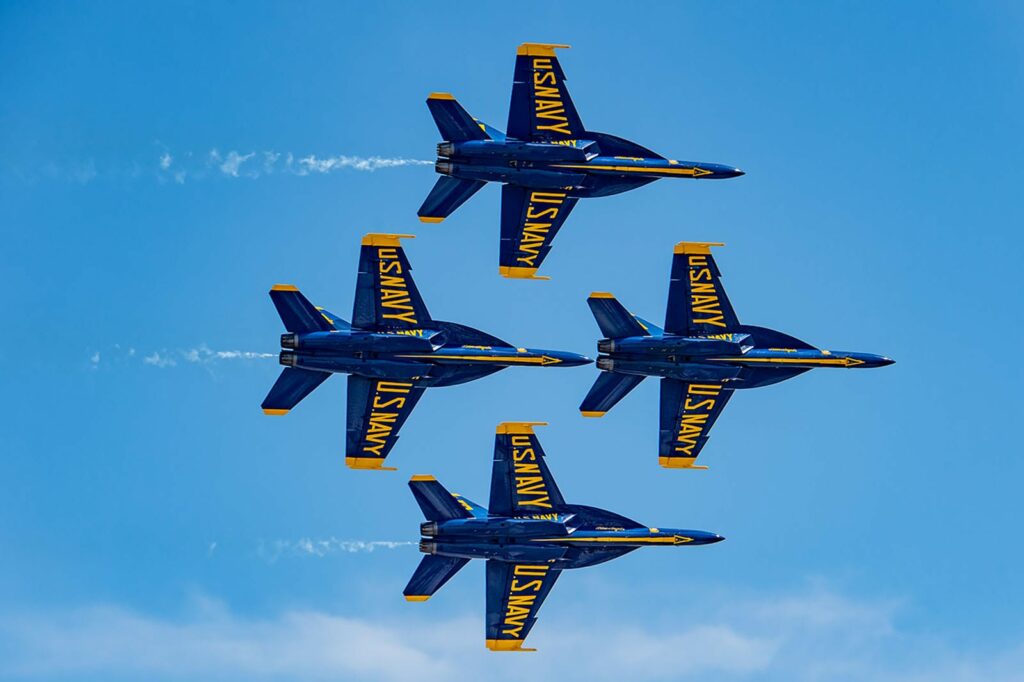 The air show officially takes place Friday, October 6 through Sunday, October 8, with the Blue Angels performing from 3 to 4 p.m. on those days. They usually do some practice flights on Thursday afternoon as well—and if you're a truly devoted fan, there are numerous opportunities to see the planes take off, fly practice maneuvers, and land again at Oakland Airport's North Field.
Meanwhile, airport officials have warned people who live nearby that they are likely to "experience an unusual level of aircraft activity and noise." Obviously, there's nothing they can really do about that, but they will give you fair warning if you sign up for their community advisory notification list. Call the Noise Hotline at 510-563-6463.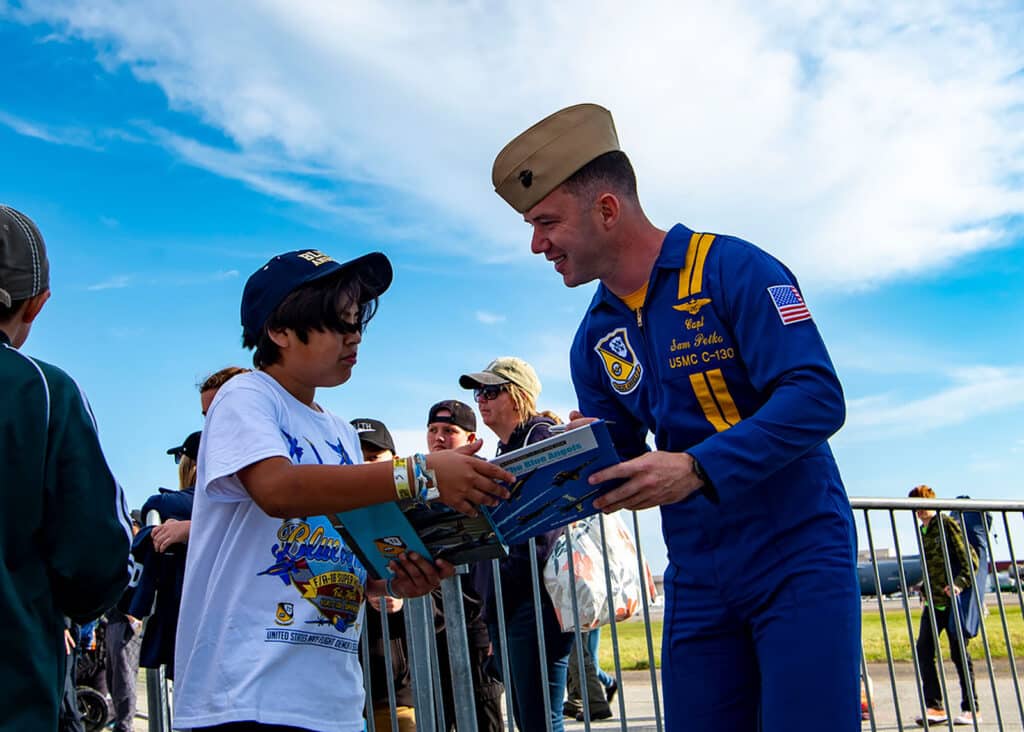 Best way to watch the air show
Buy a ticket.
For those who can afford it, buying tickets to the show gives you amazing views. A $395 "Flight Deck" ticket will get you a seat at an umbrella table, including a buffet and beverages, with optional waterfront seating for the show. For a more affordable $125, you can get those same views in "premium box seats" on the waterfront without the buffet and free drinks. All of these tickets are limited and tend to sell out fairly quickly. Tickets are available online.
Take an air show cruise on the bay.
Red and White Fleet tickets are already sold out for Saturday, but Friday and Sunday tickets are still available at $99 for adults (21+), including two drink tickets; $65 for youth (ages 5-20); and children under 5 are free. Departure times are 1:45 p.m. and 2:15 p.m. from Pier 43½.
Blue & Gold Fleet air show cruise tickets are $99 for adults, $85 for military and seniors, $65 for children (ages 5-12); and children under 5 are free. Cruises depart at 1:30 p.m. from Pier 39.
The San Francisco Belle, an old school riverboat-style ferry, offers a two-hour cruise that includes a buffet lunch with free champagne and non-alcoholic drinks. Tickets are $125 for adults, $110 for children (ages 4-12), and children under 4 are free. Friday is waitlisted, but tickets for Saturday and Sunday are still available. Cruises depart at 1:30 from Pier 3, Hornblower Landing.
Cruise all day on the SS Jeremiah O'Brien, one of the few remaining liberty ships used to transport troops during World War II. The all-day cruise, which boards at 9 a.m. at Pier 35 and returns at 5 p.m., sails around San Francisco Bay, including the Golden Gate Bridge, Alcatraz, the Bay Bridge for amazing views of the San Francisco waterfront, the visiting Navy ships, and the air show. Food and drink are complimentary, starting with coffee and donuts upon boarding. Tickets are $165 for general passengers (age 17+), $100 for youth (ages 5-16), and children under age 5 are free. Family tickets for up to two adults and two youth are $440. Purchase tickets for Saturday or Sunday online (links are separate for each day).
Take the ferry from Alameda and watch from a pier.
The San Francisco Bay Ferry is a great way to see the air show—on board and in town. The normal weekday schedule will be in effect Monday through Friday, October 2-6, but extra departures will be available on Saturday and Sunday, October 7-8. The expanded Fleet Week 2023 schedule is online.
If you want to see the whole show from a mid-bay pier, take a ferry leaving Alameda's Main Street station by 11:55 a.m. on Saturday or Sunday to allow time to walk to the pier of your choice and stake out a spot. But if you just want to see the Blue Angels, you can leave Alameda later, up to 1:15 p.m.—and if you're willing to take a chance, leave at 2:10 p.m. and watch the Blue Angels fly overhead past the ferry and then zoom over the Bay Bridge. You'll have time to watch the rest of their maneuvers from the waterfront at the Ferry Building and get some good views as they circle Alcatraz and then fly back to buzz a few skyscrapers in the Financial District.
Parade of Ships and Ship Tours
The annual Parade of Ships along the waterfront is always a sight to behold, with water spouting in the air and crowds cheering as the fleet passes by. The parade is on Friday, October 6, from 11 a.m. to noon. Stand anywhere along the waterfront to watch.
Meanwhile, individual ship tours are available all week at Pier 35 and Pier 30-32. (No tours on Friday.) All ship tours are free but some items are prohibited—no backpacks, weapons of any kind, pets including service animals, or vapes are allowed. Please note that there are also no holding areas for backpacks or strollers, so plan ahead.
Following is the schedule of ship tours:
Tuesday, October 3: 10 a.m. and 4 p.m. (Pier 30-32 only.
Wednesday, October 4: 10 a.m. and 2 p.m. (Pier 30-32 only)
Thursday, October 5: 10 a.m. and 4 p.m. (Pier 30-32 only)
Friday, October 6: NO SHIP TOURS
Saturday, October 7: 10 a.m. and 4 p.m. (Pier 30-32 & 35)
Sunday, October 8: 10 a.m. and 4 p.m. (Pier 30-32 & 35)
Monday, October 9: 9 a.m. and noon (Pier 30-32 & 35)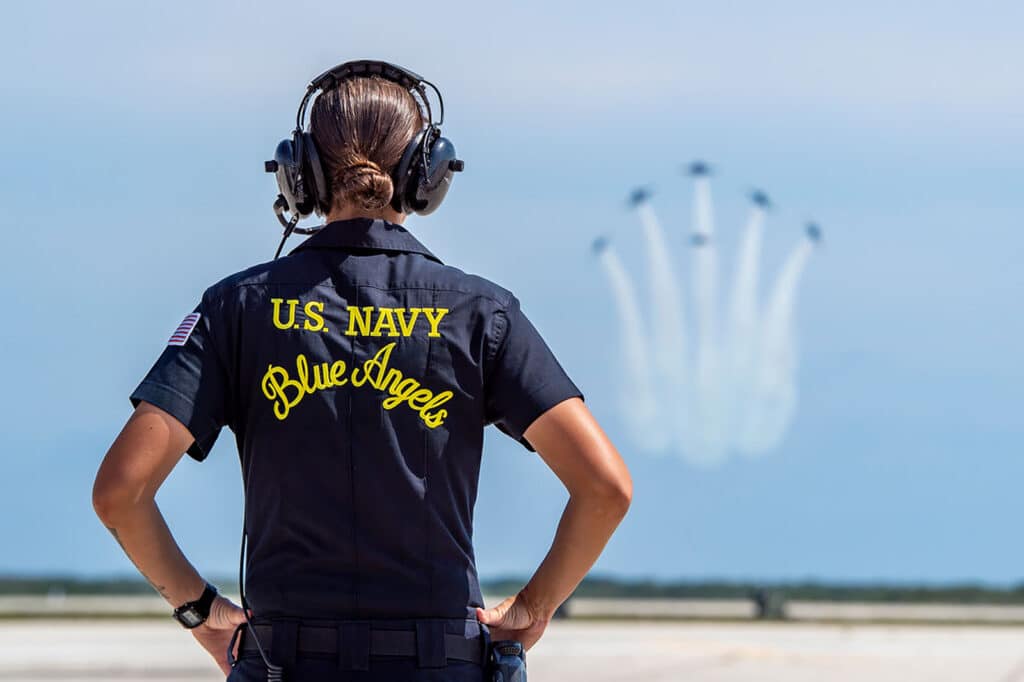 Full Fleet Week 2023 Schedule
Tuesday, October 3
Noon: Marine Band, Diamondbacks at Warrior Thrive City; Navy Band, Brass Band at City College Ocean Campus; Navy Band, Woodwind Quintet at San Francisco Zoo.
1:20 p.m.: Marine Band, Brass Band at Salesforce Park
6 p.m.: Marine Band, Brass Band at Noe Valley Town Square
Wednesday, October 4
Noon: Marine Band, Ceremonial Band at Hayes Valley/Patricia's Green
Noon: Navy Band, Destroyers at Crab Wheel Plaza/Fisherman's Wharf
Noon: Navy Band, Brass Band at Japan Town Peace Plaza
5 p.m.: Navy Band, Woodwind Quintet at One Sansome
Thursday, October 5
Noon: Navy Band, Woodwind Quintet at Ferry Building
3 p.m.: US Air Force, Band of the Golden West at Presidio Visitor Center
5 p.m.: Navy Band, Brass Band at Castro/Jane Warner Plaza
6 p.m.: Marine Ceremonial Band & Navy Woodwind Quartet at Honor Herbst
6 p.m., 8 p.m.: Honor Our Fallen Concert at The Herbst Theatre
Friday, October 6
10 a.m., 4 p.m.: Air Show
10 a.m., 4 p.m.: Humanitarian Assistance Village at Marina Green
10 a.m., 4 p.m.: STEM Center at Marina Green
11 a.m., Noon: Parade of Ships along the San Francisco Waterfront
Noon: Navy Band, Brass Band at Golden Gate Park Band Shell
12:30 p.m.: Marina Band, Brass Band at Cable Car Turnaround/Powell & Market
12:30 p.m.: Marina Band, Diamondbacks at Union Square Plaza
4 p.m.: Navy Band, Woodwind Quintet at Lakeside Landing
5 p.m.: Navy Band, Destroyers at Pier 39/the Embarcadero
6 p.m.: Marine Band, Ceremonial at Valencia Street
Saturday, October 7
10 a.m., 2 p.m.: K9 Heroes at Duboce Park
10 a.m., 4 p.m.: Humanitarian Assistance Village at Marina Green
10 a.m., 4 p.m.: STEM Center at Marina Green
11 a.m., 4 p.m.: Air Show
11 a.m.: Marine Band, Ceremonial at K9 Heroes at Duboce Park
Noon: Marine Band, Brass Band at Polk Street/Jackson Street
Noon: Navy Band, Brass Band at Ghirardelli Square
Noon: Navy Band, Woodwind Quintet at Chinatown
4 p.m.: Marine Band, Brass Band at West Portal Courtyard
5 p.m.: Navy Band, Destroyers at Pier 39/the Embarcadero
7 p.m.: Marine Band, Diamondbacks at Westwood
Sunday, October 8
10 a.m., 4 p.m.: Humanitarian Assistance Village at Marina Green
10 a.m., 4 p.m.: STEM Center at Marina Green
11 a.m., 4 p.m.: Air Show
11 a.m.: Marine and Navy Bands at Italian Heritage Parade
Monday, October 9
10 a.m., 2 p.m.: High School Band Challenge at Golden Gate Park Bandshell