"Legendary" Eagle Scout Leader Neal Jarecki, a man who has likely guided more boys to become Eagle Scouts than any leader in Alameda history, was honored Sunday. Nearly 200 scouts, family members, and friends celebrated with him as he closed out his scouting career by inducting his final four Eagles.
Many of Jarecki's 34 Eagles were on hand to pay him tribute, including some who followed him from Cub Scout Pack 1015, where he was cub master, to Boy Scout Troop 73, which he served in various leadership roles, including scout master. Each of the newest Eagles offered praise and tales of Neal as they came forward to receive the highest achievement in scouting.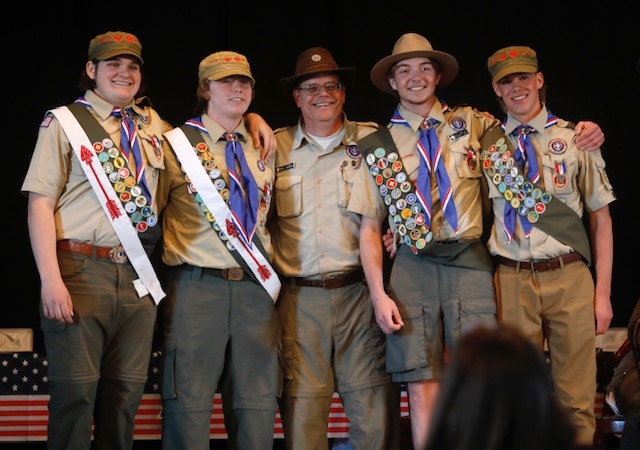 "It takes more than 700 requirements to become Eagle [PDF]," Jarecki said as he introduced the newest inductees. He described Robert Lebbert as a wall-bouncing ball of energy and tough to corral – which Robert himself admitted as he thanked Neal for investing the time and patience he needed over half a dozen years to achieve what seemed unreachable at the beginning. Like all Eagles, Lebbert had to create and lead a project benefitting the community. His was building two supply shelters at Christ Episcopal Church to aid the homeless. He is now studying business management at College of Alameda and plans to continue this effort through bike co-ops and food bank work.
Kyle Long came to Eagle after 10 years in scouts, starting as a Tiger Cub in Pack 1015. He swims for Alameda High and plays travel water polo with the Alameda Neptunes.  His project was a communal picnic area at Emma Hood Pool. One leader fondly remembered how tough Lyle was as a young scout while backpacking in the Sierra.
Aidan O'Grady is a graduating senior at Alameda High School. After participating in Cub Scouts for five years at Pack 1015, he joined Troop 73 and earned his Eagle. Next year, he plans on attending San Diego State University, majoring in Music Entrepreneurship and Business. For his project, he built three rolling percussion storage containers for the Alameda High Marching Band and Drumline. An amazing accomplishment, Neal said. Like other projects, it was built using Neal's tools and guidance.
Quinn Rasmussen is a graduating senior at Alameda High this year. His project was a mini-documentary on Alameda's own General Jimmy Doolittle for the Alameda Naval Air Museum, where he also updated the Doolittle display. Neal marveled at the uniqueness of a project that, unlike most, was not created with hammer and nails. He plans on using the skills and life lessons he learned in scouting wherever his life takes him.
Of the plaudits and praise Neal received – including many ovations – "legendary" was repeated by several scouts, leaders, and parents. And no one was more laudatory than an Eagle from years ago, Joey Colton, who thanked Neal for not giving up on him. Many Eagle heads nodded, for they too would not have made it without his unrelenting encouragement.
Also honored Sunday night was long-time Troop 73 leader Mark Sifling, who has mentored scouts for more than two dozen years and was himself an Eagle at 14.