Book from Ms. Brazil's class is a fundraiser for the Love Elementary PTA.
Over the last several months, Love Elementary School teacher Ryan Brazil and her fourth-grade class have written, illustrated, and published Anti-Bias ABC's, a picture book that defines and illustrates vocabulary words key to social justice, such as "hope," "voice," "upstander," "gender identity," and "empathy." The book is a fundraiser for the Love Elementary PTA, and on May 19 the "fourth grade enthusiast" – as she calls herself in her email signature – and her students will hold a reading and book-signing event at Books, Inc. on Park Street.
We asked Ms. Brazil, who has been teaching at Love for two years, five questions to get a better sense of what inspired her and what steps she took to co-author a book with nine-year-olds.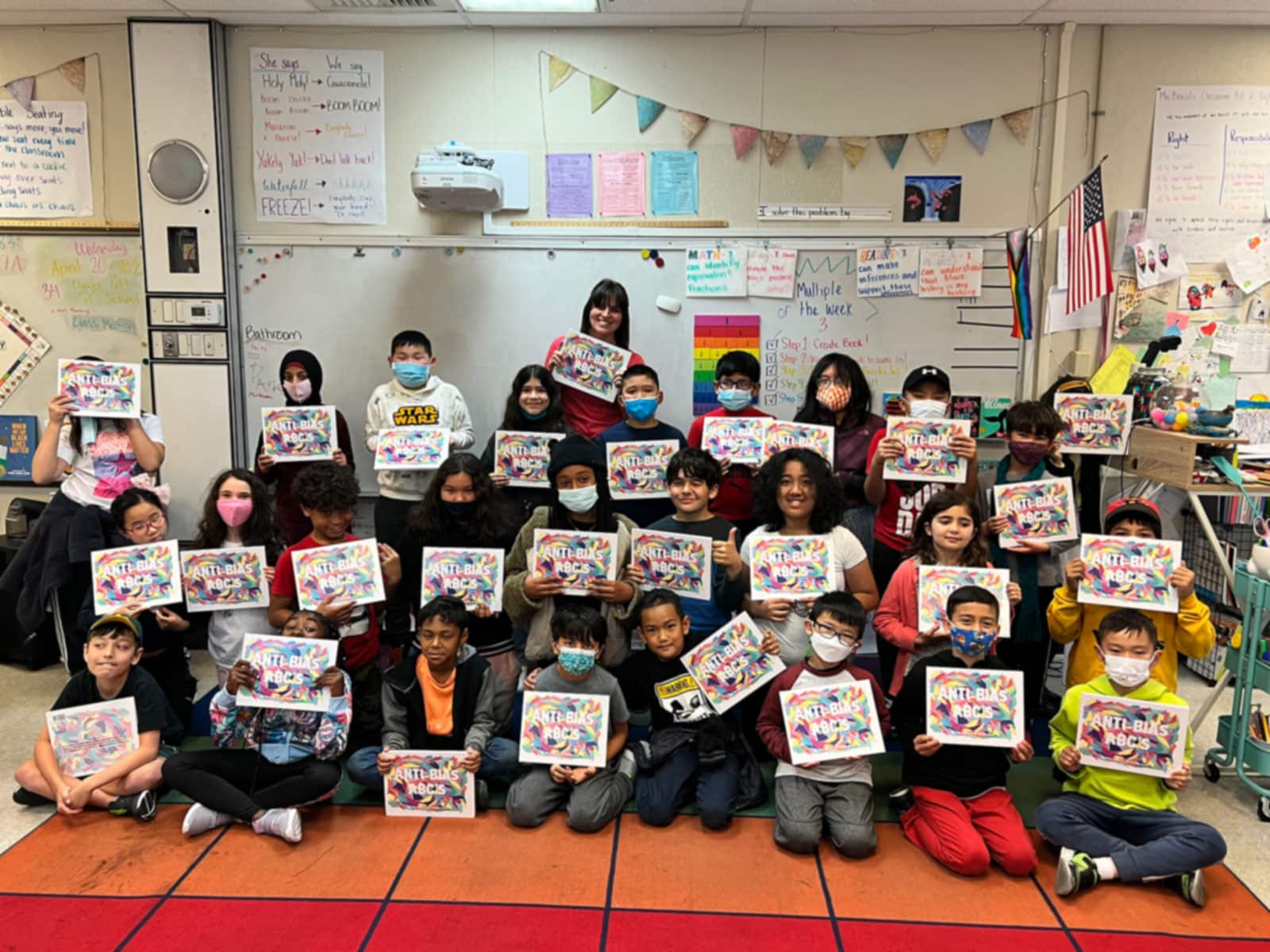 How did you get the idea for the "Anti-Bias ABC's?"
Love's amazing librarian, Paizley Spencer, planted a seed in my head about writing a book with my class. That idea got me really excited, so I started thinking about what we could write about as a whole class and what that would look like. At the time, we had 26 students, so I thought an alphabet book was perfect. Our class has many conversations about social justice, and Love has an anti-bias group. It seemed like the obvious choice. I brought the idea to class, and they were immediately on board and excited!
What process did you use in the classroom to create the books?
The process started with brainstorming words for each letter. Some letters were easier than others!
Once we had our very big list, we narrowed it down. We discussed, for example, why we wanted to choose the word 'open-minded' instead of 'oppression' or 'teach' instead of 'tolerance'. The students made their arguments for why we should choose certain words over others then we voted for the final word.
After that, the students filled out a Google form picking their top three letters that they wanted. I tried to give every student the letter they wanted, or at least in their top three.
Once each student had their assigned letter we made our letters with scraps of paper then jumped into coming up with the art for our words. We googled images to get ideas. Some kids drew from their brains, some used images for inspiration, and some traced certain components then made it their own. Once the drawings were done, the kids wrote two to three sentences defining their words. Some needed some sentence frames for help and some didn't need any help at all!
Finally it was my turn to put all the pages together and submit the book! The waiting was the longest and most difficult part for sure!
Buy Anti-Bias ABC's from Books, Inc.
Booksigning and reading for Anti-Bias ABC's at Books, Inc, 1344 Park St., Thursday May 19, 2 p.m.
What do you think your students learned by doing this project?
On one level, I think the students learned about the bookmaking process and how to be patient. On a much deeper level, I think the students learned about doing something for the greater good. They reinforced the knowledge they already had about biases, being an ally, inclusion, and so much more. The beautiful thing about this book is I'm sure every student took something different from this entire process.
What do you hope your readers will learn?
We really hope our readers learn something about empathy and compassion for everyone. We hope they also learn that activism can start at any age, and even 4th graders can make a big difference in the world!
What did you yourself learn?
I learned these kids are so much more capable than we even realize. I learned our community is lucky to have these students who will stand up for injustices and give voices to those who aren't normally heard. I learned that the future might be unknown, but with these kids leading the way, I have so much hope for a better, more accepting tomorrow.
This content was produced by Alameda Unified School District.