Agreement between City and Alameda Point Partners amended to include additional affordable housing, infrastructure.
On September 6, Alameda City Council authorized the interim city manager to amend agreements between the City and Alameda Point Partners (APP) for the development of Alameda Point Site A. Site A extends from the Main Street entrance of Alameda Point to the eastern edge of Seaplane Lagoon.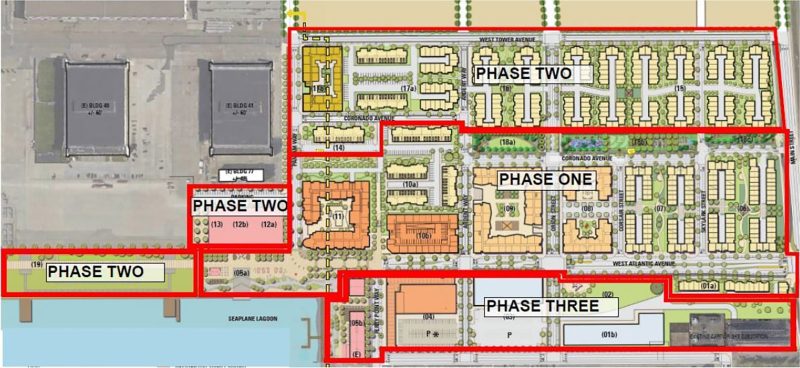 The approved amendments offer the following benefits:
610 units toward the Housing Element requirement, including 194 affordable units and 416 market-rate units
Infrastructure to support the West Midway/RESHAP project and future phases of development at Alameda Point (see previous Post report)
A waterfront performing arts center infrastructure and building pad
Phase 2 of the Waterfront Park, including a kayak launch
A $300,000 contribution toward a future recreation facility to be determined
City Council also approved Eden Housing, Inc. as the Qualified Affordable Housing Developer for Block 10B of Site A at Alameda Point. Eden Housing is the nonprofit, affordable housing developer that built Corsair Flats and The Starling apartments on Block 8 of Site A.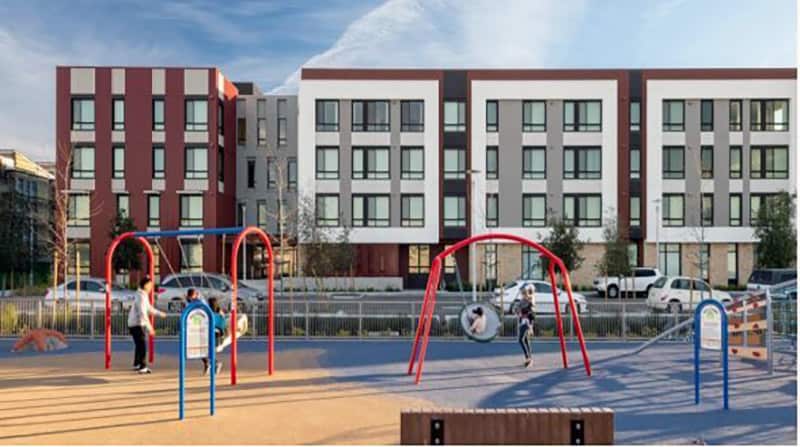 Background
In 2015, the City of Alameda entered into an agreement with Alameda Point Partners to develop Site A in three phases. Since then, APP and Eden Housing have completed Phase 1 infrastructure, the Waterfront and Neighborhood Parks, a new ferry terminal, and affordable and market-rate housing and commercial spaces.
In May 2022, City Council directed staff to negotiate an amendment to the original agreements. The overarching goal was to revise the land use plan for the balance of Phase 1 not yet developed and revise the land use plan for all of Phase 2.
Public Comment
Four public members commented. All spoke in general support of the amendments. Joe Ernst, managing principal at srmErnst Development Partners, said, "It's an exciting time for Alameda Point but also a crucial inflection point. Moving Site A forward is important to further attracting needed investment to make improvements, to achieve our economic development goals, and start fulfilling (the City's) recently approved Housing Element."
Karen Bey said she was a strong supporter of Site A. However, she was concerned that the proposed amendment could change approved retail to commercial use, which could later become work/live or accessory dwelling units. She said waterfront retail is an amenity as crucial as parks and open space for supporting businesses, homeowners, ferry riders, and the West End.
Nor Cal Carpenters Union representative Don Hokett said he supported the developers at Alameda Point Site A; they committed to using a union general contractor that will hire local and pay area standard wages and benefits. He added that this project would provide hundreds of construction jobs, creating opportunities for women, minorities, and local hires to advance their careers.
Board Discussion
Councilmember Trish Herrera Spencer opposed the amendments saying that the proposed housing consists of rental units for low and middle-income households and high-end townhomes for purchase. She said she wants to see affordable units, such as condominiums, available for sale, so middle-income households can begin building a nest egg.
Mayor Marilyn Ezzy Ashcraft responded, "We're not going to accomplish everything we need to do to provide housing with one project." She added that one of her nominees for the Housing Authority Board works for Divvy, which offers a rent-to-own model of home-buying; she suggested this was one example of how the City could help middle-income households in the future. In the meantime, she felt that voting no on the amendments would mean losing a valuable opportunity to improve the West Midway/RESHAP neighborhood.
Vice Mayor Malia Vella agreed that the City would not achieve all housing goals with one project. She said it would take a patchwork of projects distributed throughout the City and removing barriers to higher density housing.
Councilmember Tony Daysog added that he was especially excited by the community theater contemplated for Phase 2 and the extension of the Waterfront Park.
Final Vote
In a four-to-one vote, City Council approved amending agreements between the City and APP for developing Site A and Eden Housing as the qualified, affordable housing developer. Mayor Ashcraft, Vice Mayor Vella, and Councilmembers John Knox White and Daysog voted in favor, and Councilmember Spencer voted against.
Contributing writer Karin K. Jensen covers boards and commissions for the Alameda Post. Contact her via [email protected]. Her writing is collected at https://linktr.ee/karinkjensen and https://alamedapost.com/Karin-K-Jensen.