In our previous story on The Rockery (see Part 1), we learned about the history of this little park, what it once looked like, and how it came to be. But a mystery still remained: Who is Louise Maguire, and why is there a plaque dedicated to her at this site?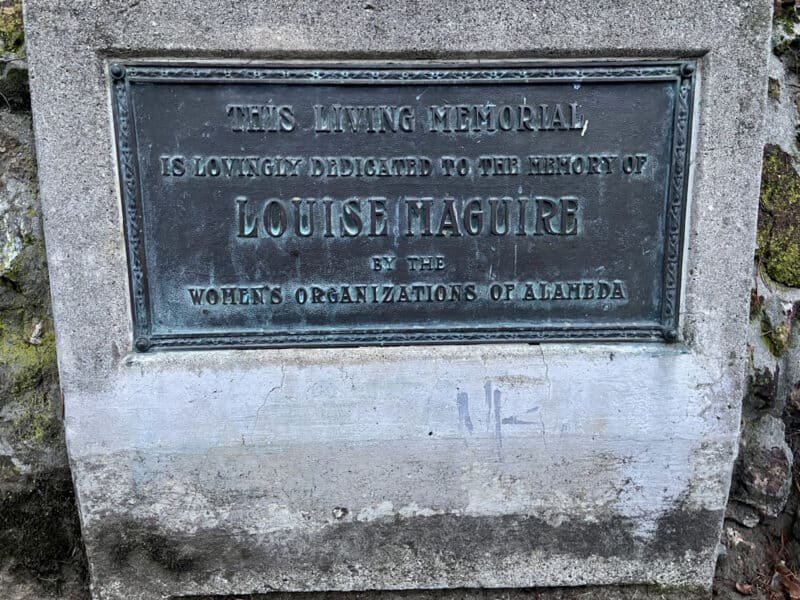 Research by Alameda librarian Beth Sibley reveals that Louise Mary Maguire was born in Rough and Ready, Nevada County, California in 1858. By 1870 her family was living in San Francisco, and in 1894 they were living in Alameda at 1297 Weber Street. Louise was listed in the city directory as a music teacher with a specialty in piano. By 1903 she appeared in directories as a reporter for the Evening Times Star, and was living at 1410 Oak St. Later, she became society editor of the Times Star, covering local music, arts, charity, and educational events around town. She also performed locally on piano.
Louise and the Adelphian Club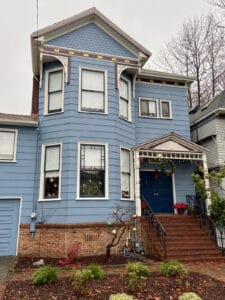 Today, Louise's former home on Oak Street is the location of the Civic Center Parking Garage—the house is long gone. However, the original Alameda family home of the Maguires at 1297 Weber St. still stands. Louise Maguire never married. She spent 30 years as an active member of the Adelphian Club, whose Mission Revival structure dating back to 1908 still stands today at the corner of Central Avenue and Walnut Street.
The Adelphian Club, founded in 1896, was once one of the largest women's organizations in Alameda. Dedicated to the advancement of women and supporting local schools and charities, the group initially met in the Tucker Block building, on Park Street at Santa Clara Avenue. By 1905 they had purchased land at the corner of Central and Walnut for $2,000, and it was from their building on that location that they thrived for the next 94 years. With a dwindling membership in 2002, the 106-year-old Adelphian Club sold their building and gave $380,000 of the proceeds to local schools. Today the building is home to La Luz Del Mundo church.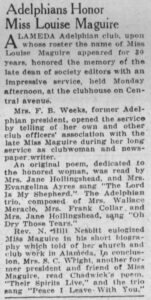 Throughout its active years, the Adelphian Club was one of the most influential clubs in town. Though locally founded and governed, in 1900 the club joined the state Federation of Women's Clubs, and Louise Maguire served as a delegate to the Federation's annual conventions. In addition to its charitable works and support of local schools, the Adelphian Club had a number of sections, or sub-groups, that explored and shared different areas of interest. These included art history, music history, United States history, medieval history, German, French, decorative arts, current events, literature, dramatic, and house and home.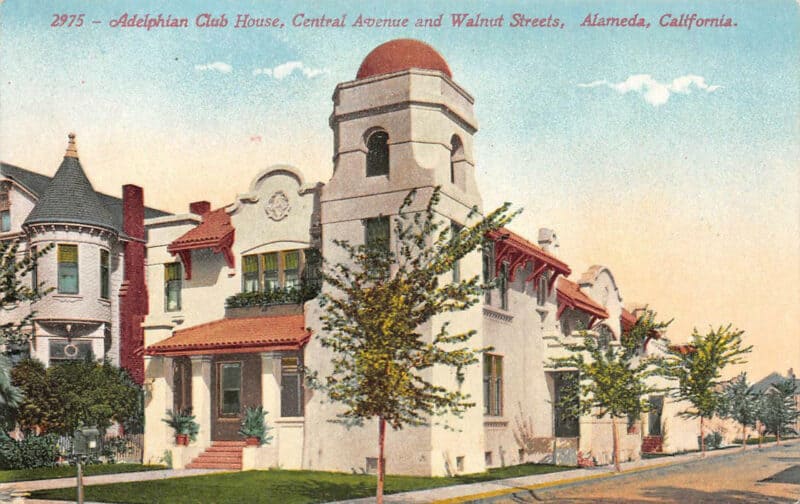 After Louise Maguire died on December 9, 1929, the Adelphian Club held a memorial service for her, and placed a plaque at The Rockery in her honor. It is not known whether Louise Maguire had any particular connection to The Rockery, or whether it was just a matter of selecting that location as a good public place for the plaque. In any case, the musician, teacher, writer, friend, and longtime member of the Adelphian Club is now forever linked with The Rockery.
The Rockery today

There is another intriguing aspect of The Rockery that I discovered through this research. Currently there is just one tree left at The Rockery—a large and somewhat overgrown evergreen that I have identified as a deodar cedar (botanical name: Cedrus deodara). A December 1929 article in the Alameda Times Star reported that the Adelphian Club planted and dedicated a living memorial to Louise Maguire "at the intersection of Central and Alameda avenues in her memory." This living memorial was described as a Christmas tree, for which a handsome and widely known evergreen like the deodar cedar would have been a perfect choice. Although not specifically mentioned on the plaque, my theory is that this tree is actually the living memorial to Louise Maguire, planted by her Adelphian Club sisters in 1929. Considering that this type of tree is among the world's longest-living, it is not surprising that this one still stands after 93 years. After the tree was planted, it was not forgotten. A 1936 article reported on plans by the Council of Parents and Teachers to light the living Christmas tree in Louise Maguire's honor.
So the next time you happen to be on Central or Alameda Avenue and are approaching Benton Street, take a moment to stop and look at The Rockery. Think about Louise Maguire and her life of service, and imagine what this place once was and what it could be again. This peaceful neighborhood triangle, once a place of greenery, beauty, and water fountains, is now largely neglected. Wouldn't it be nice if The Rockery could be brought back to some semblance of its former glory? Evidently at some point in the past the original neighbors who worked to create the park moved on, and the City lost interest in caring for it. All that's left is what you see today, but the past is still alive for those who take the time to look for it. As award-winning local historian and publisher Dennis Evanosky likes to say, "History is all around us," and that certainly is the case at The Rockery, one of our Alameda Treasures.
Up next
Next time, in our final installment on The Rockery, we'll talk about a couple of early incidents there that connect us with current areas of concern in Alameda, including vandalism and bicycle-car conflicts. Plus, we'll share any newly discovered info that might be unearthed about one of Alameda's oldest and smallest parks.
Contributing writer Steve Gorman has been a resident of Alameda since 2000, when he fell in love with the history and architecture of this unique town. Contact him via [email protected]. His writing is collected at AlamedaPost.com/Steve-Gorman.