Not long ago, I was walking on the 1200 block of Weber Street, looking for the childhood home of Louise Maguire (see Today's Alameda Treasure –The Rockery – Part 2) when I noticed a beautiful Queen Anne style home at 1290. Looking into its history, I learned that the original owner of this house was William F. Chipman (1862-1938), son of Alameda co-founder William W. Chipman. Intrigued, I decided to delve a little further into its story.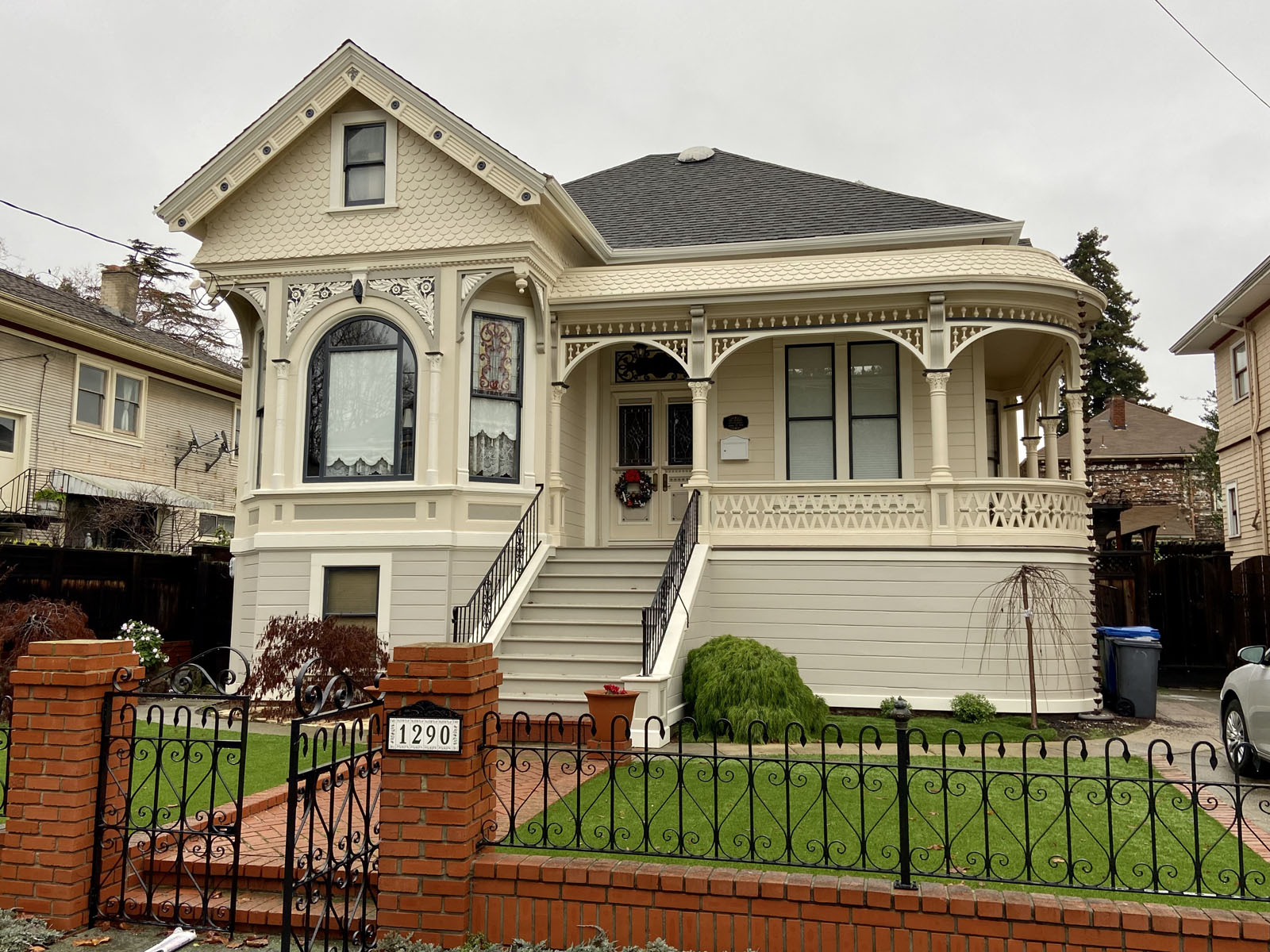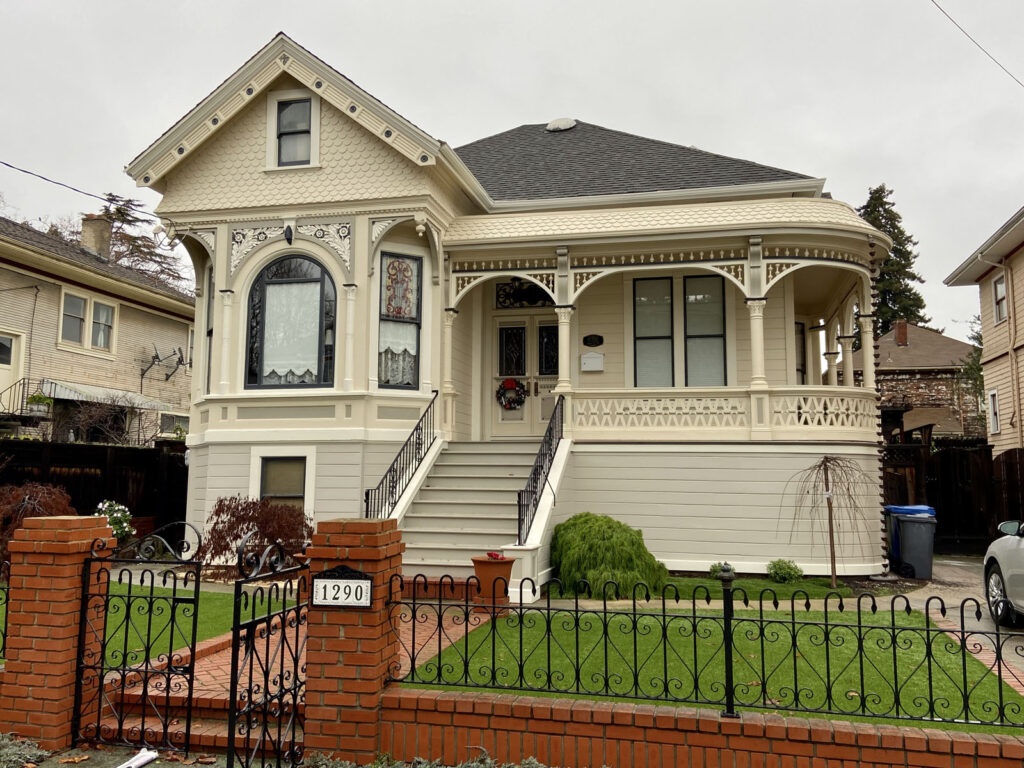 The beginnings of a new city and the death of a founder
William Worthington Chipman (1820-1873) was born in Vermont, grew up in Ohio where he studied law, and came to San Francisco in 1850. There he met Pennsylvania native Gideon Aughinbaugh (1816-1897), and in 1851 they purchased the oak- and marsh-covered peninsula called the Encinal de San Antonio from Antonio Maria Peralta, for $14,000. This pristine piece of land would eventually become the City of Alameda. Aughinbaugh and Chipman never achieved the financial success they had hoped for with their land purchase, and were constantly dealing with squatters and lawsuits, but Chipman did manage to get married and raise a family.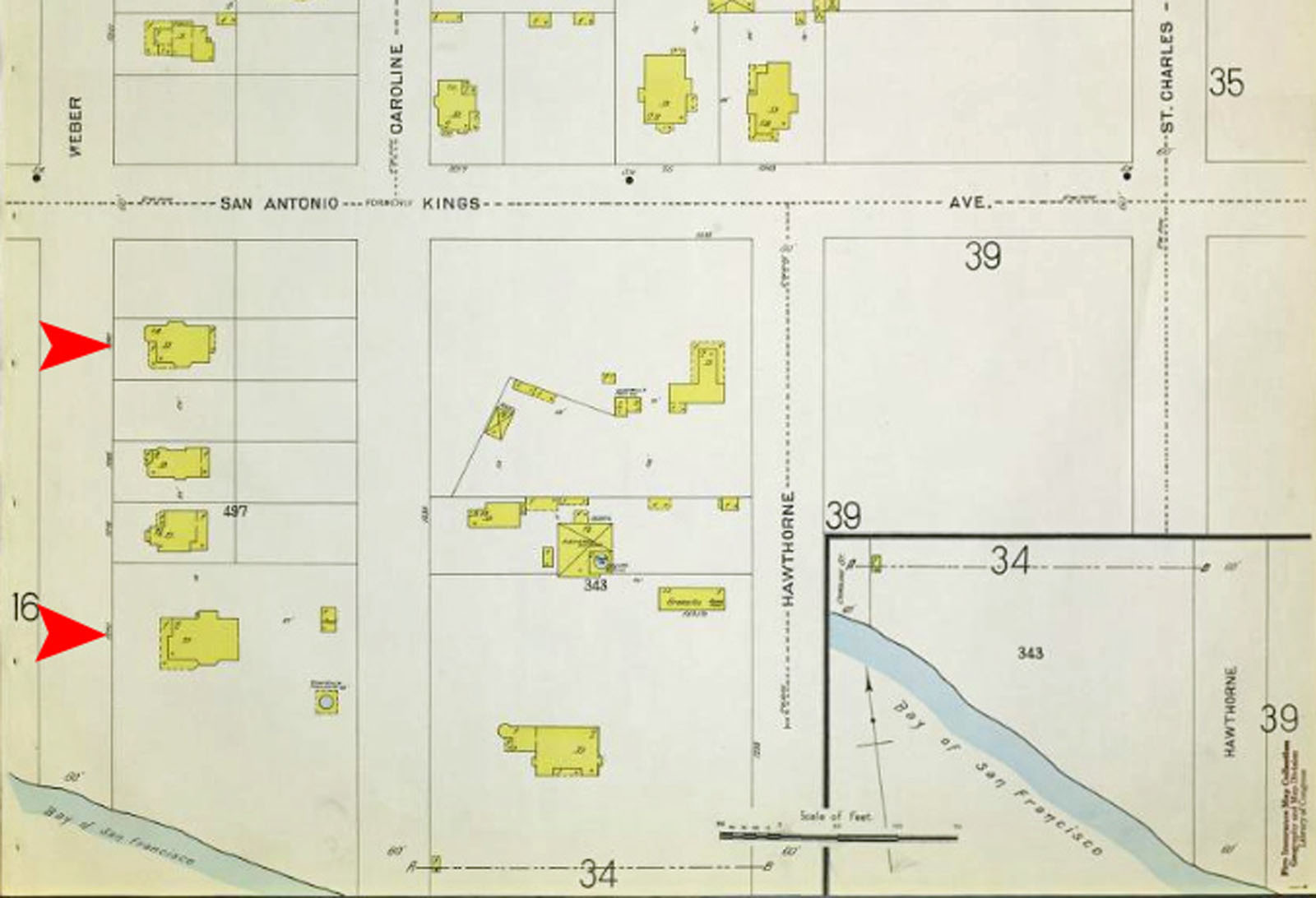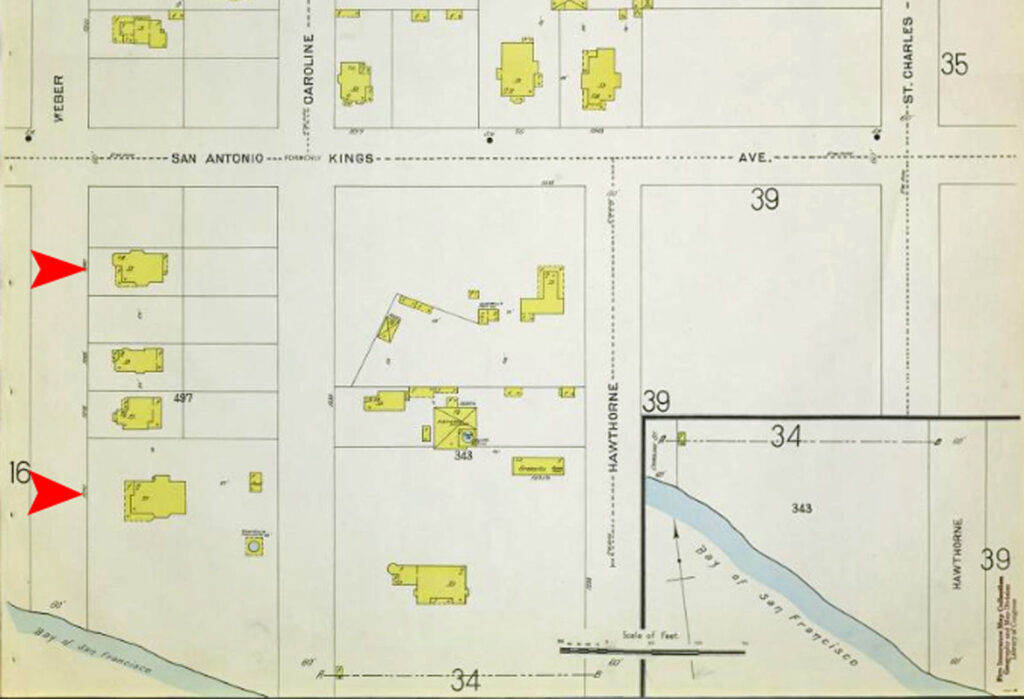 In 1857 William W. Chipman married New York native Caroline Elizabeth McLean (1832-1912), and together they had three daughters, Elizabeth, Alice and Frances, and two sons, William Farragut and Sheridan. William was affectionately known as "Willie." Although Chipman and Aughinbaugh invested a lot in their project by building roads, wharves, ferries and bridges, they lacked sufficient capital, and, combined with the problems with the squatters, ended up having to sell most of their land to pay back Peralta and their other creditors. By the time Chipman died in 1873 at just 53 years old, the family was living in San Francisco, having abandoned Alameda and its problems shortly before. After his death, Caroline moved the family back to Alameda, and here is where the Weber Street connection begins.
Caroline Chipman gets a street named in her honor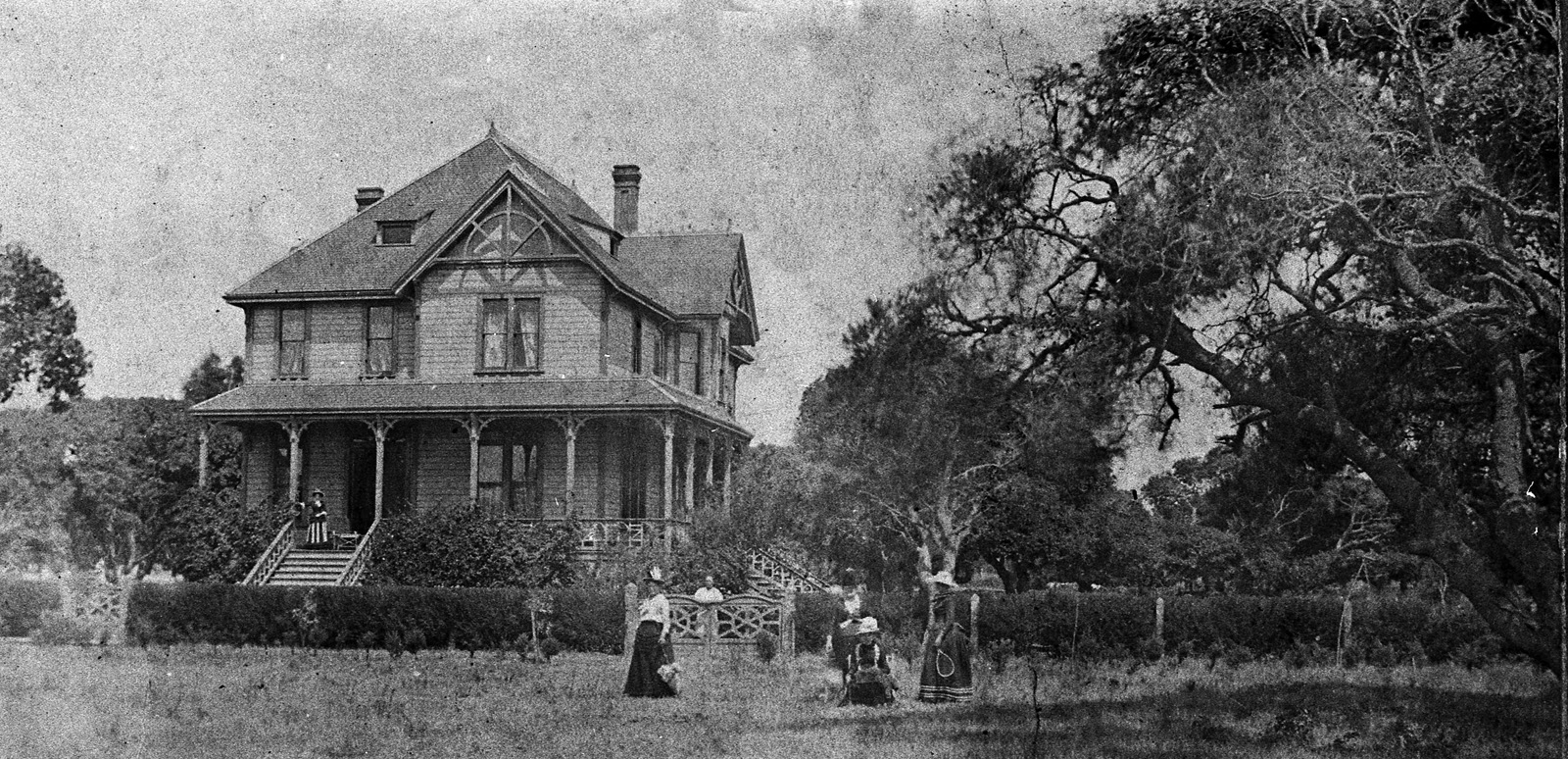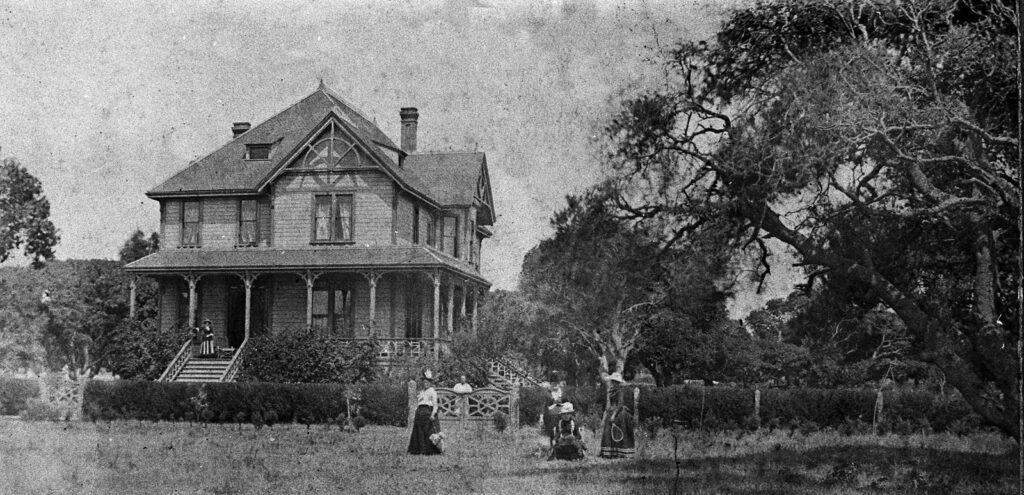 Although Chipman had lost most of his Alameda land holdings, there was still significant acreage in the Chipman East tract remaining in the family name. Caroline, and later her son William, would go on to develop and sell these tracts in the years to come, creating new Alameda neighborhoods along the San Francisco Bay. These tracts span parts of today's Gold Coast neighborhood, encompassing some of the nicest and most desirable real estate in town. After her husband's death in 1873, Caroline moved her family into a large Stick style home at 1270 Weber St., a street she had named for her favorite composer, Carl Maria von Weber. She had other streets named for the composers Mozart and Verdi, and William even named a street after his mother: Caroline Street.
Caroline marries again
In 1877, Caroline married John W. Dwinelle (1816-1881), a lawyer and politician who introduced the act that established the University of California, and became one of its first regents. Their married life lasted less than four years, as Dwinelle died when he fell into the water trying to catch a ferry at Port Costa in January of 1881. At that point, Caroline Dwinelle had buried two husbands and would not marry again. She would dedicate the rest of her life to her family and to developing their land holdings.
William Farragut Chipman comes into his own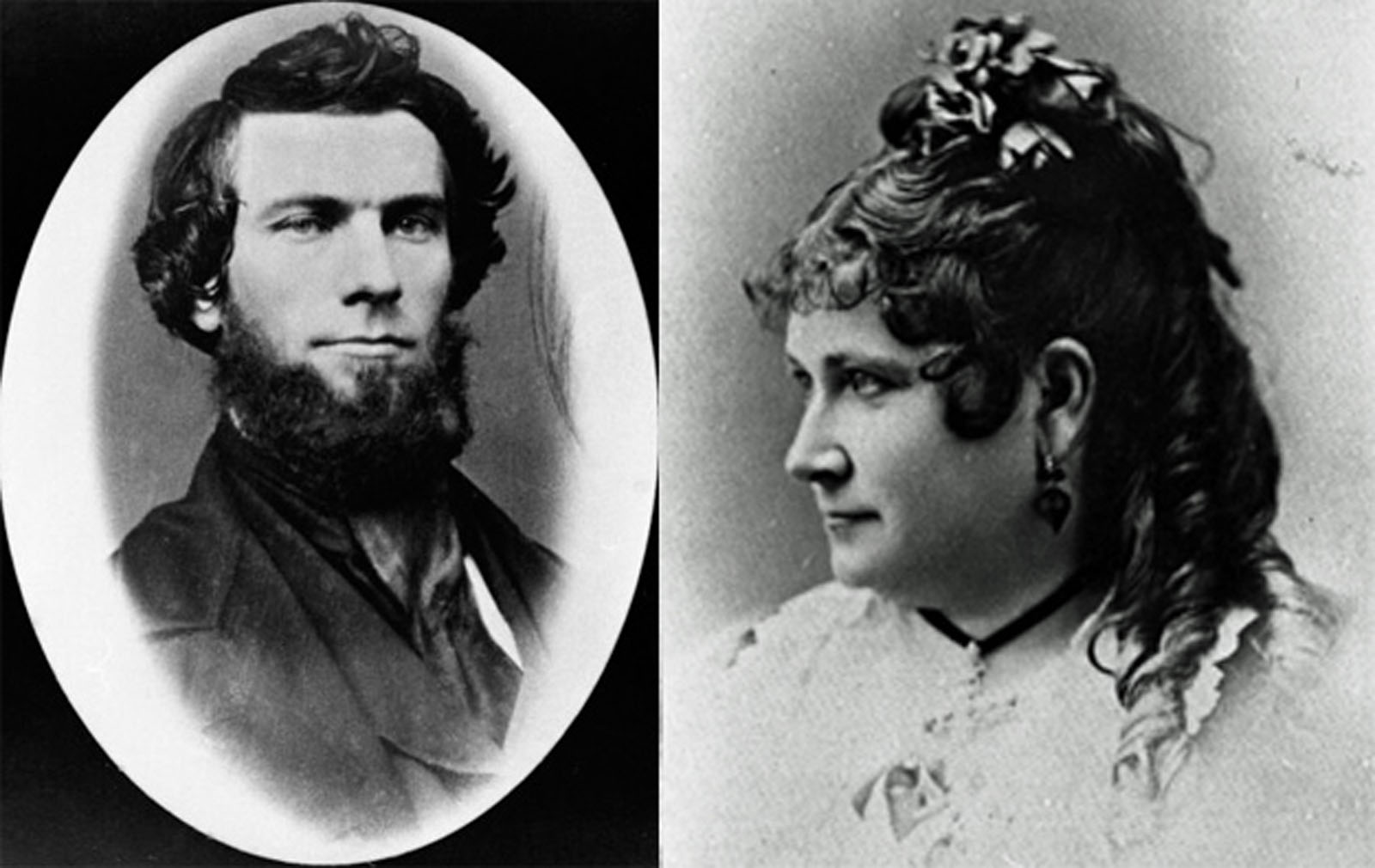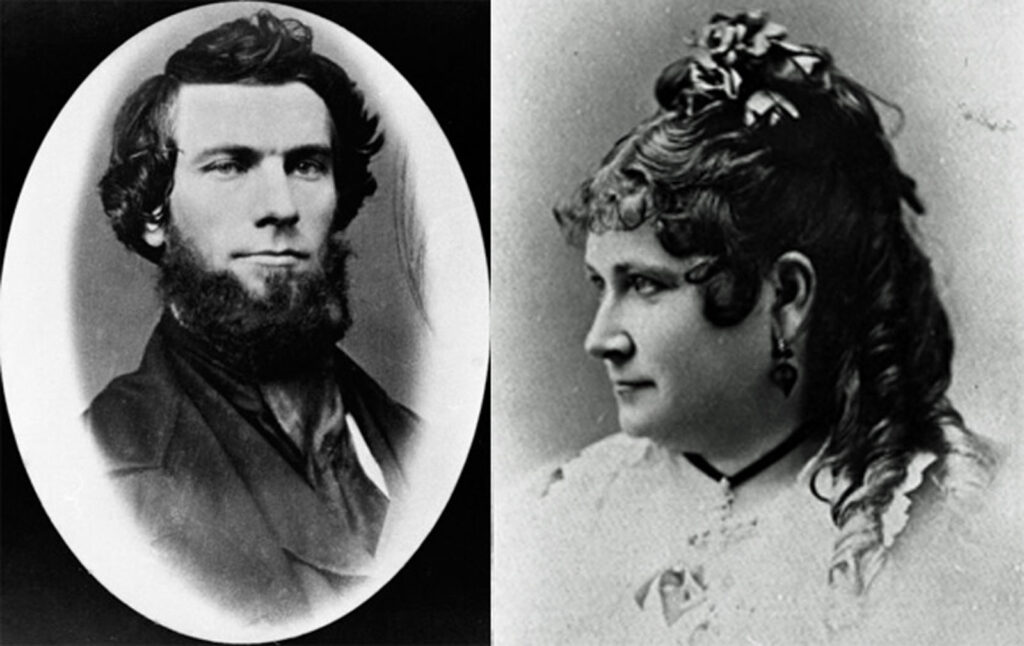 The city directories from the mid- to late-1800s tell the story of William's development. In 1883, at 21 years old, he was listed as a student residing on "Weber near Kings Ave." Kings was the former name of today's San Antonio Avenue. In 1886, the directory listed William as a postal clerk, with his residence at "Weber near the Bay," which was another way of describing the family home at 1270 Weber St. By 1887, the directory described William as a "real estate agent, 1403 Park St., residence Weber near the Bay." Although William's career would include many different roles during his lifetime—police and fire commissioner, captain in the California State Militia, postal worker, insurance agent—it was real estate development that would be his main occupation and leave the largest mark in Alameda.
William marries and gets his own home on Weber Street
An announcement in The San Francisco Call, dated August 10, 1891 reported, "The engagement is announced of Mr. William F. Chipman to Miss Sophie M. Koppitz, one of Alameda's attractive young ladies." By 1893 William was listed as the first owner of 1290 Weber St., a Queen Anne style home costing $2,700. The architect was William Leviston, and the builder was Peter Christensen (information per Alameda historian George C. Gunn). William lived here with his new wife, now known as Mrs. Sophie Chipman, and they must have enjoyed living on the same street as the Chipman family home at 1270 Weber, and the nearby 1315 Caroline St., where William's sister Alice lived by 1896.
Wandering lips sink marriage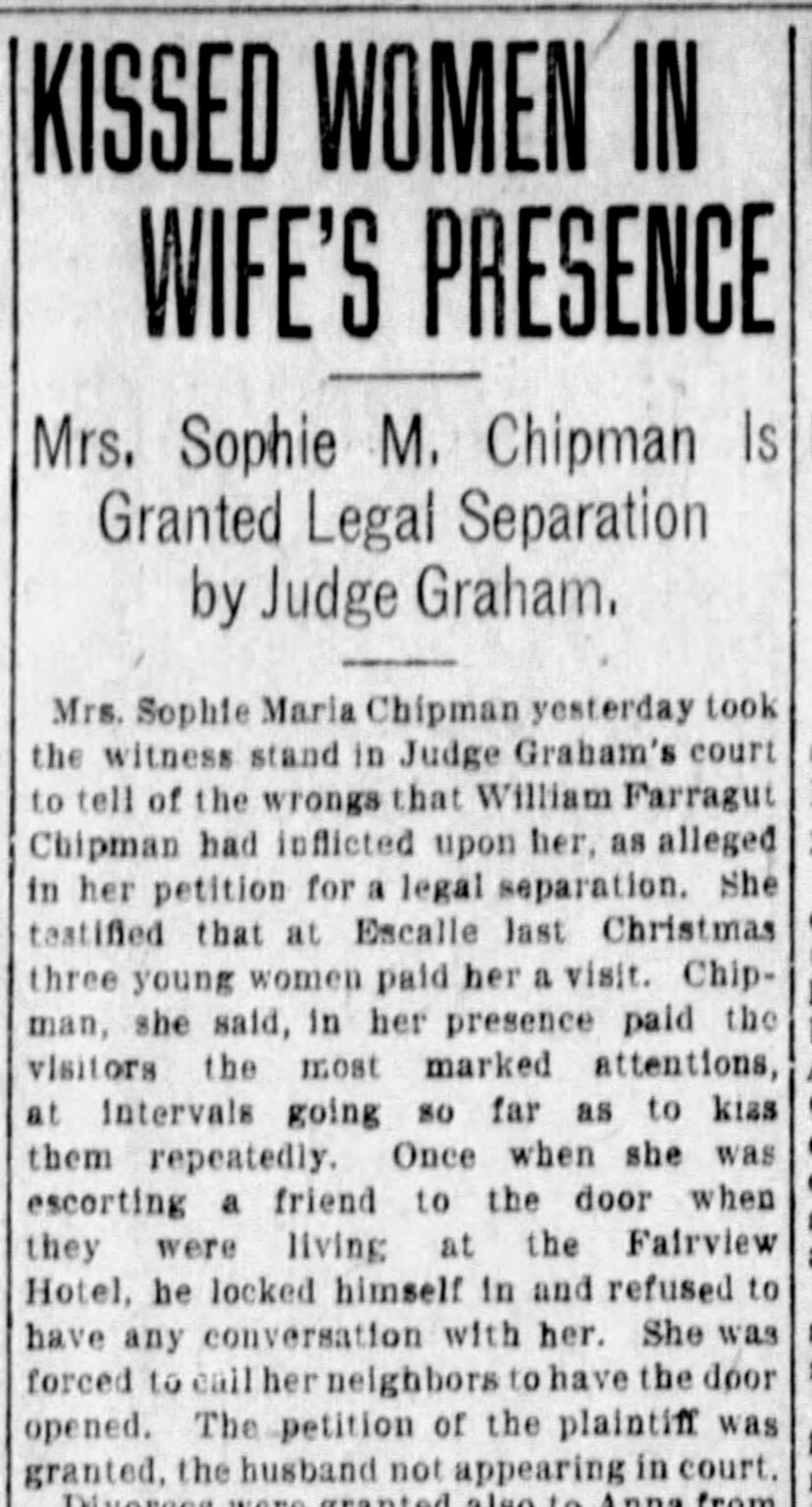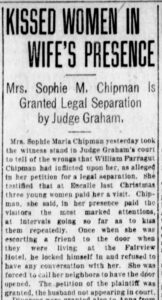 A paraphrase of the old World War II warning, "loose lips sink ships," describes what torpedoed William's first marriage to Sophie. The great San Francisco earthquake of 1906 occurred on April 18, but just two weeks before the great temblor, on April 3, a different kind of disaster rocked the world of William and Sophie Chipman. On that day, Sophie appeared in court to file a petition of legal separation "for the wrongs that William Farragut Chipman had afflicted upon her." Mrs. Chipman stated under oath that last Christmas three young women paid her a visit. Mr. Chipman, she said, "paid the visitors the most marked attentions, at intervals going so far as to kiss them repeatedly." William Chipman did not appear in court to defend himself, and legal separation was granted by Judge Graham.
Moving on
By 1911 William Farragut Chipman would remarry, and by 1915 a new occupant was living at 1290 Weber St., a Mr. W. H. Abel. And so the history of the Chipmans at this home was a relatively short one, and perhaps not an altogether happy one. But this 19th century house has survived into the 21st century in splendid condition, and belongs on the list of our Alameda Treasures for its connection to Alameda's founding and for its architectural significance.
Next up
In our next installment, we'll look further into the lives and deaths of the Chipmans of Weber Street, see William F. Chipman try his hand at marriage once again, and learn how the current owners, the Hodges, have been lovingly restoring and caring for this historic home over the past 53 years. All of that and more, as we continue our look into this Alameda Treasure.
Contributing writer Steve Gorman has been a resident of Alameda since 2000, when he fell in love with the history and architecture of this unique town. Contact him via [email protected]. His writing is collected at AlamedaPost.com/Steve-Gorman.