In our previous articles on The Rockery (see Part 1 and Part 2) we learned about Alameda's smallest park, how it came to be, and the life of Louise Maguire, for whom a plaque is dedicated at the site. The idea for the park was supported by W. F. Chipman, son of Alameda co-founder William W. Chipman. The proposed cost of this new park was to be about $500, with the city contributing 50%. The remaining funding was to be provided by the supporters of the park—an early public-private partnership.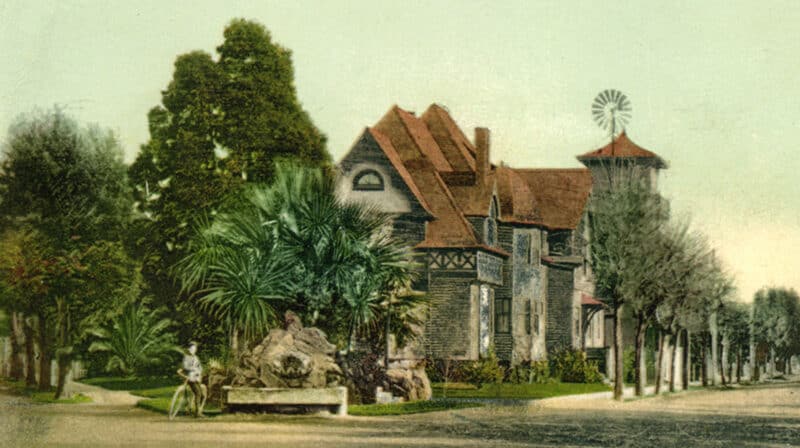 Early vandalism at The Rockery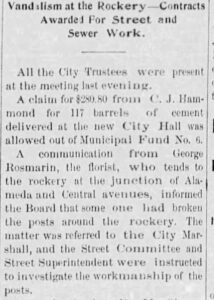 The Rockery opened to great acclaim in June 1895, but it wasn't long before vandalism was reported. A September 1895 story in the Alameda Daily Argus reported that "someone had broken the posts around the rockery." The damage was reported by "George Rosmarin, the florist, who tends to the rockery." The matter was to be referred to the City Marshall and Street Committee, and an investigation was to take place into the workmanship of the posts. This story gives us additional insights into The Rockery, and into Alameda in the late 1890s: One, we learn that it was a local florist who tended to The Rockery, and two, that vandalism and destruction of property is nothing new. Perhaps we need a new George Rosmarin to step up and tend to The Rockery today.
A cyclist is struck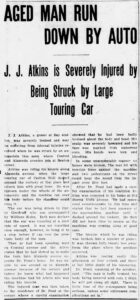 A past incident involving an injury accident at The Rockery connects us to another current-day concern in Alameda—bicycle safety. An August 1906 story in the Daily Encinal featured the bold headline "Aged Man Run Down By Auto", and described how J. J. Atkins (age not specified) was severely injured when he was struck by a large touring car at around noon on August 2. Atkins, a grocer at Bay Station, was riding his bike along Alameda Avenue when "the large touring car of Carlton Wall dashed around the rockery at that place and struck him with great force." Atkins was thrown under the wheels and run over by the car, his bike was thrown 20 feet and broke into a number of pieces, and pedestrians in the area heard the impact from more than fifty feet away. That was the bad news.
The good news was that the accident took place right across from Dr. Henry May Pond's house at 1500 Alameda Ave. Atkins was taken to the Dr. Pond's residence, where the doctor carefully examined the patient and found multiple bruises and lacerations but, miraculously, no broken bones. After first aid was rendered and consciousness was regained, the patient was removed to his home at 914 Buena Vista Ave., where he was resting easily by 4 p.m.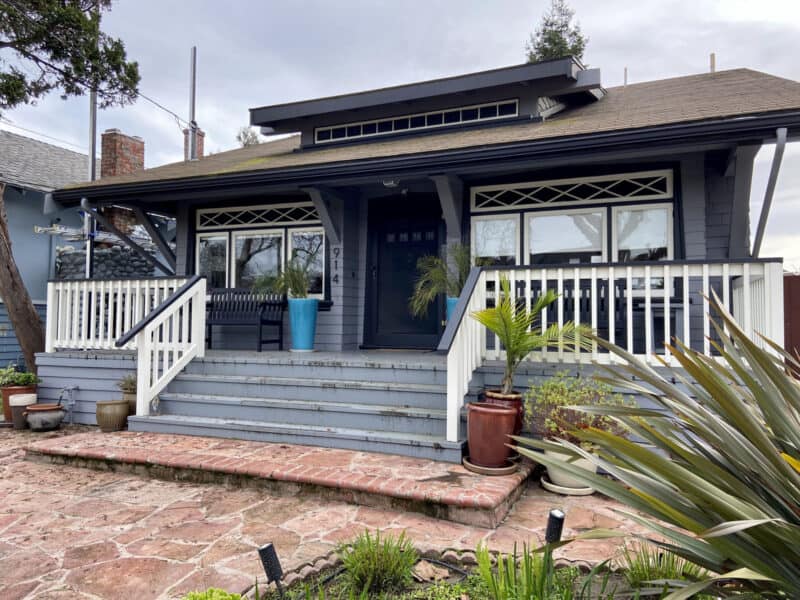 "I think he will get along all right," Dr. Pond declared. "There is little fear of the consequence being serious, unless some unforeseen complications set in." A story the next day in the Alameda Daily Argus (August 3, 1906) reassured readers that "J. J. Atkins is out of danger" and that he was "expected to make a quick recovery." A curious aspect of this story is that the driver of the car, Harry Goodruff, claimed that the car was being driven at "a slow rate of speed" at the time of the collision. Not slow enough, apparently, to prevent serious damage to both Mr. Atkins and his bicycle. This story from 116 years ago illustrates how dangers to pedestrians and cyclists from automobiles has been a problem for a long time.
History preserved

The term "rockery" was a common term in those days, used to describe a garden constructed mostly of rocks, and featuring "a home for alpine plants, approaching as closely as possible their native habitat on the side of a mountain or in an upland meadow," according to a gardening feature in the Oakland Tribune on April 19, 1931. Rockeries were also popular for growing succulents, cactuses, and other sun-loving plants, such as those that once thrived in Alameda's Rockery.
Today all that's left are the rocks, a broken clamshell, and a lone cedar tree, likely the "living memorial" planted in 1929 in memory of Louise Maguire. Maguire was the beloved piano teacher, newspaper columnist, advocate for women, school supporter, and longtime member of the Adelphian Club who was an active and enthusiastic resident of Alameda from 1894 to 1929. The Rockery may be small, but it's a small space that packs in a lot of history, when you take the time to look into it. And that's the philosophy of these deep dives into our Alameda Treasures—to take a look into something interesting, even if it's something small, and see what's there waiting to be discovered or rediscovered. Usually it's more than I was expecting.
Special thanks to Alameda Librarian Beth Sibley and local historian Frank Contreras for historical research for these articles.
Contributing writer Steve Gorman has been a resident of Alameda since 2000, when he fell in love with the history and architecture of this unique town. Contact him via [email protected]. His writing is collected at AlamedaPost.com/Steve-Gorman.