This week's Alameda Treasure is a little different, in that it is not a house. Even the name itself is kind of different: "The Rockery." Consisting of a small triangle created by the intersection of Central Avenue, Alameda Avenue, and Benton Street, the Rockery is perhaps Alameda's smallest park. Some may not recognize it as a park today, but when it opened in 1895 it was heralded by local newspapers as "a good improvement to the neighborhood," and a place where one could find "plants and ferns dispersed between rocks in an artistic manner." It even featured a large clamshell water fountain and a water trough for horses.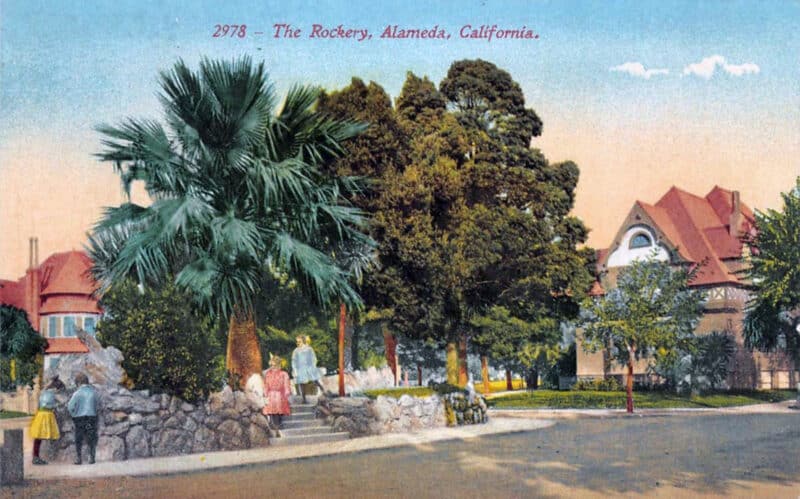 Plans for a park
In 1889, the Oakland Tribune reported that Mary E. Schieffelin and other property owners in the vicinity of this intersection, were planning to establish a small park there. Mary Schieffelin lived in a home at 1524 Alameda Ave., a Stick/Eastlake-style structure that was brand new at the time. It was built by Charles MacRae, and cost $3,200 in 1889. The house still stands in fine condition today, 133 years later.
Just across the street and extending to the corner, stood the beautiful Pond mansion, pictured in this article. Built in 1901 by A.W. Pattiani, it was owned by Dr. Henry May Pond and his wife Jessie Stella Penwell Pond, residents of Alameda since 1896. Sadly, it was torn down in 1970—another loss of a priceless Alameda Treasure. The legacy of Dr. Pond lives on though, as he donated the land in 1900 for the Alameda Sanitarium, which later would become Alameda Hospital. And his son, who followed his father's footsteps into the field of medicine, also developed a new neighborhood in Alameda. That son, Dr. Chauncey Penwell Pond, along with his wife Josephine Kibby Pond, developed the Sterling Avenue neighborhood in 1916 and 1917.
The Rockery is born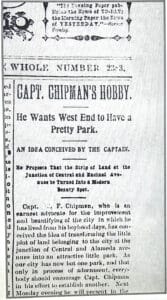 By the mid-1890s, Mary Schieffelin and her neighbors had managed to secure funding and plans for the new park, to be called the Rockery, sometimes also spelled "Rockerie." Since Mary's husband, Edward L. Schieffelin, had gotten rich as a prospector in the Arizona territory in the 1870s and 1880s, funding may not have been a problem. In Arizona, Edward named the area where he was prospecting "Tombstone," since soldiers from a nearby fort told him he'd be more likely to find his tombstone than the wealth he sought. To add more star power to the story, Captain William F. Chipman—son of William W. Chipman, co-founder of Alameda—was also an advocate for a park at this site, in the town where he grew up.
The little park was designed by the Joseph A. Leonard Company's head draftsman, George A. Dodge. Work was done by Nelson and Schumacher, and completed in 1895. At that point, neighbors had a pleasant place to gather under the palms, have a sip of water, rest their horses, and just relax. Due to its small size and location, this park probably was used mostly by local neighbors, and wasn't a draw from the greater Alameda peninsula, although travelers heading east and west on Central Avenue likely would have utilized the Rockery as a rest stop.
The Pond House

Ellen Manley Pond, wife of the great-grandson of Dr. Henry Pond, had this to say about the history of the Rockery and the Pond house, in a 2021 social media posting: "The Rockery was erected in 1895 at what's referred to as 'the Gore,' a triangular lot at the convergence of Central and Alameda avenues. Here, horses could get a drink of water. The glorious house beyond is the Pond House, at 1500 Central Ave., erected in 1901 by my husband's great-grandfather, Dr. Henry Pond.
Sadly, over the years, the house fell into disrepair and was demolished in 1970 to make way for condominiums. At that time, restoration was estimated to be at least $75,000, a mere pittance in real estate values today. Many Alamedans might not know that this house was a much-applauded design by A.W. Pattiani, who built many of the fine homes in the Bay Area, including in Alameda. Prior to the house's demise, the Pond House became the subject of a much-publicized debate with preservationists and potential developers. Our family likes to think of this tragedy as the impetus for Alameda's preservation of her elegant Victorian architecture. We have an oil painting of this house on our wall, a reminder of a lost age."
An urban oasis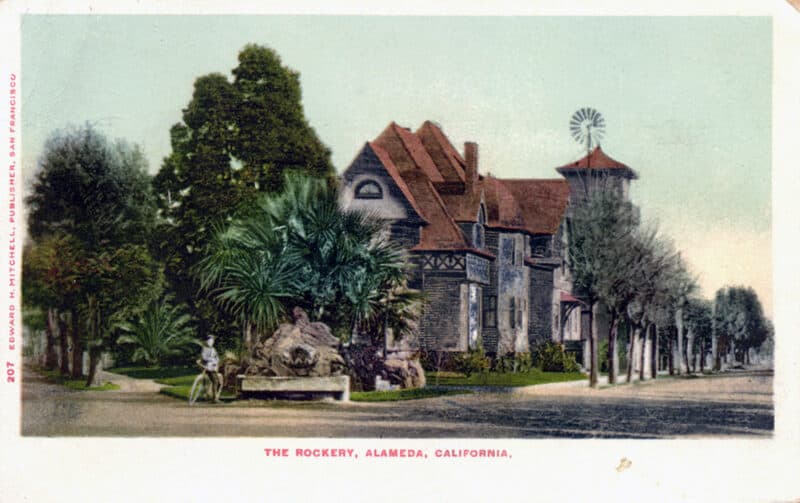 While the Rockery is now little more than a raised bed with a single tree on it, historic postcards show a lush landscape of palms, grass, gentle staircases, and a fountain. The staircases are long gone, but at one time the park featured at least two entrances—one set of steps facing the Pond mansion to the east, and the other facing Alameda Avenue to the south. There may well have been another entrance facing Central Avenue, but historic photos do not show that side clearly, so that cannot be verified at this time.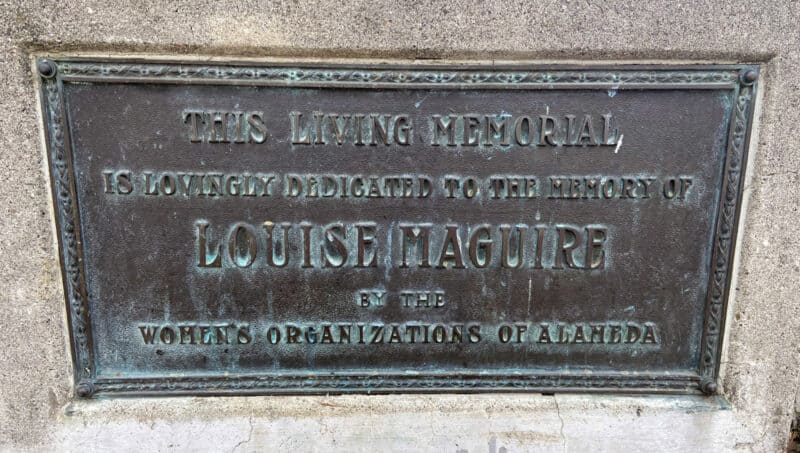 When you visit the Rockery you may notice a plaque mounted to the wall on the Central Avenue side. The plaque is dedicated to Louise Maguire, by the Women's Organizations of Alameda. But who is Louise Maguire and what is her connection to the Rockery? In Part 2 of this series, we'll look into Louise M. Maguire and the mystery of her connection to the Rockery.
Special thanks to Alameda Librarian Beth Sibley and local historian Frank Contreras for historical contributions for this article.
Contributing writer Steve Gorman has been a resident of Alameda since 2000, when he fell in love with the history and architecture of this unique town. Contact him via [email protected]. His writing is collected at AlamedaPost.com/Steve-Gorman.