As I made my way to Sausalito on a recent morning to meet Phil Plant, former occupant of 1240 St. Charles Street, I marveled at how these "house history" stories develop and grow. Each new thread of information leads to another, and soon I'm in someone's living room going through a stack of family photo albums, viewing vintage pictures that no one outside the family has seen before, and listening to family stories over cheese, crackers, grapes, and chocolate truffles. This in-depth look at the past can help bring history to life, and connect us to it in a more personal way.


A new chapter emerges
This story might have ended at Part 5 had Phil Plant's book, Tales of 1240 – A Homecoming not emerged from Jeannie Graham's collection. Jeannie is the current owner of 1240 St. Charles Street, and for the past 24 years has dedicated herself to its restoration and preservation. She is only the fifth owner of the 126-year-old property, and probably has done more than anyone before her to improve and protect it. In Part 5 of this story, we learned that in 1999 Jeannie and former husband Bruce Gilliat purchased this historic home—once owned by the famous Bruton family—and began an extensive renovation, including moving the entire house four feet forward and three feet to the right.
Having traced the history of Irish immigrant family the Brutons from their first home at 1630 Lincoln Avenue to their second home at 1240 St. Charles Street, we spent a couple of chapters on the famous Bruton sisters—Helen, Esther and Margaret—who were so active, successful and influential in the art world of the 1930s, 40s and beyond (see Part 2 and Part 3).
Moving on to Jeannie and Bruce's stewardship, we also touched on the noteworthy fourth owners of the house, Skip and Nancy Everett, including Skip's founding of the Sierra Academy of Aeronautics at Oakland International Airport. But it was the emergence of Phil Plant's book that opened up a new chapter in this story, one that brings us back to 1944 when the Bruton sisters moved to Monterey and sold their Alameda home to the Plants.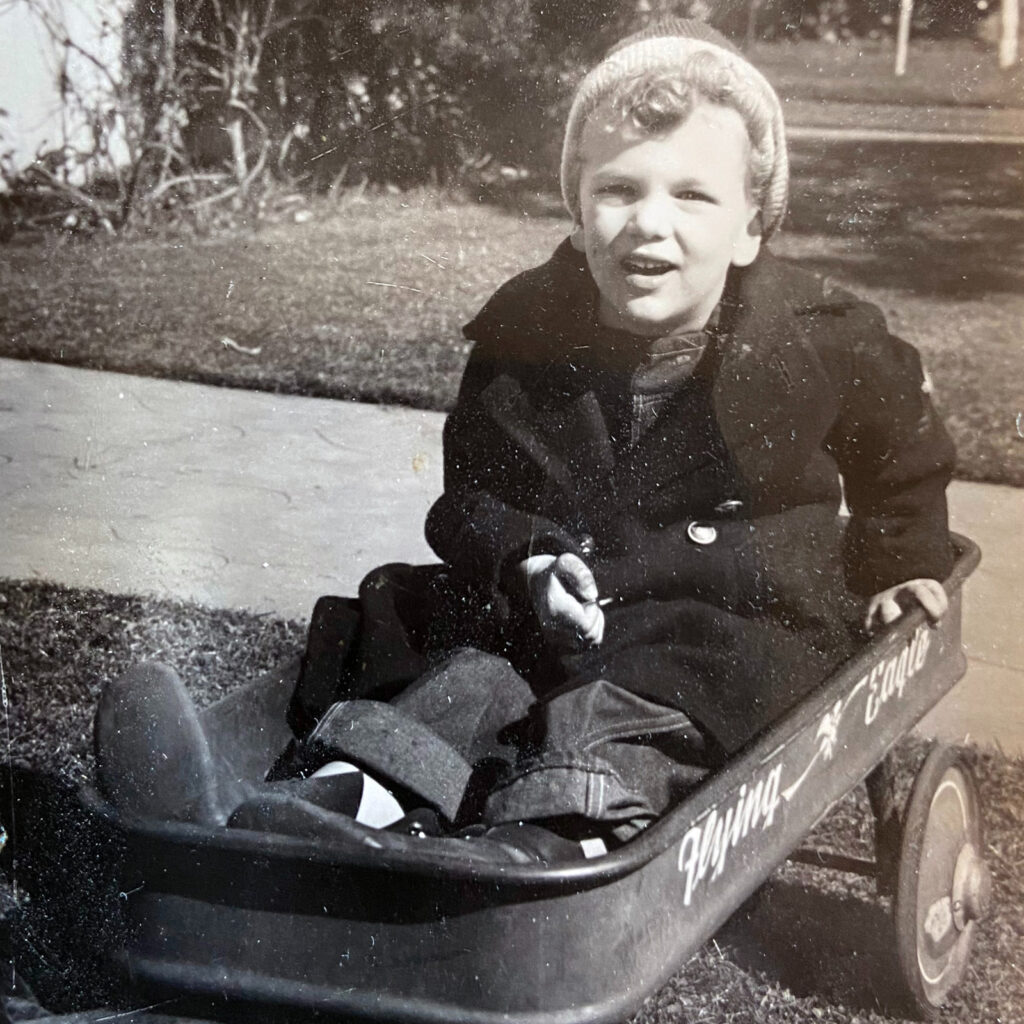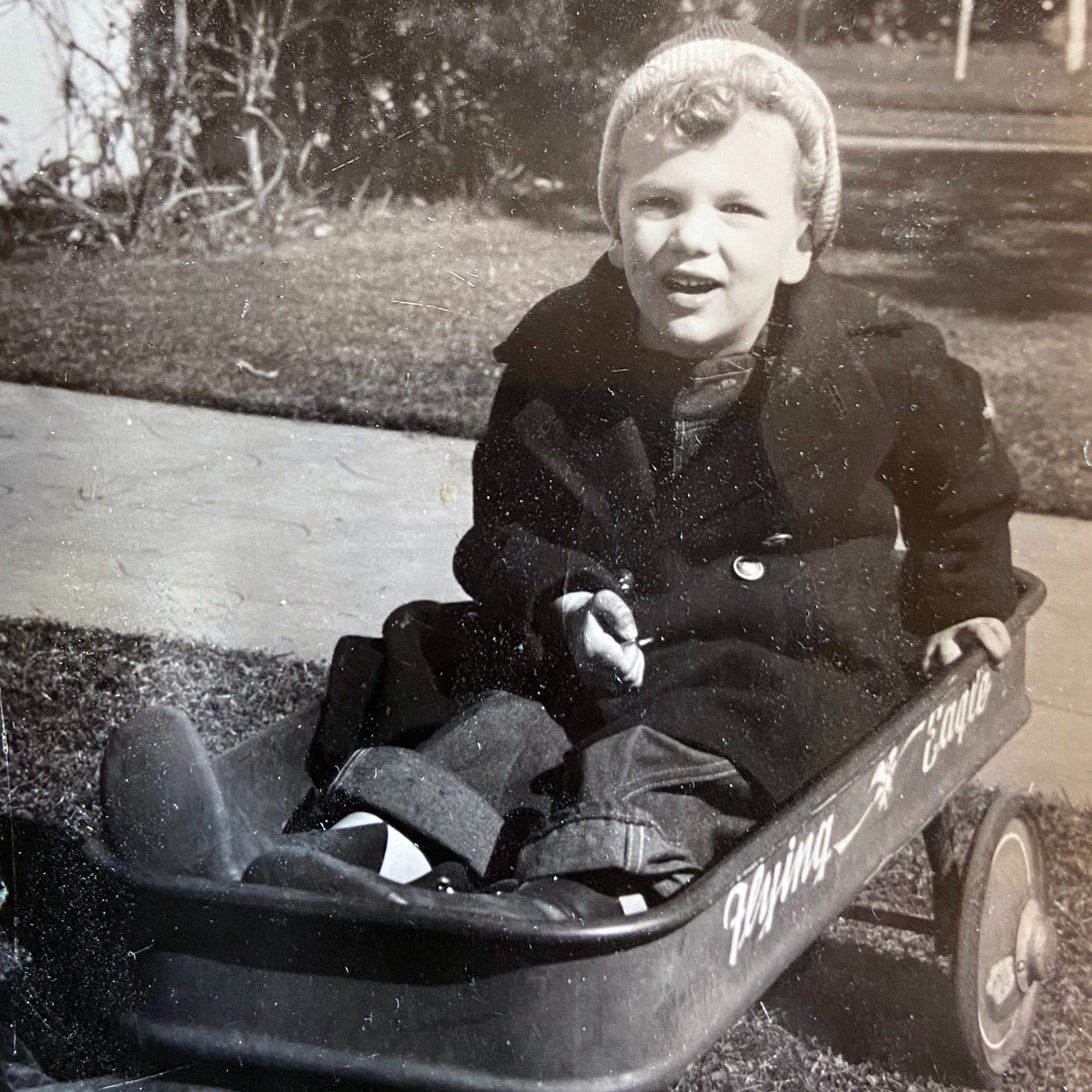 A move west
Philip Michael Plant moved into 1240 St. Charles Street when he was 4 years old. His sister Margot was 9. The family had been living on Thompson Avenue with Phil's maternal grandparents, Bryant and Very Fields, living nearby on Bayo Vista Avenue. In 1944 they decided to pool their resources and look for a large home they could all move into together, creating a three-generation household. The Bruton house was up for sale at the time, and the Plant-Fields family jumped at the opportunity to trade up to this elegant neighborhood near the shores of San Francisco Bay.
Dark shadows
One of young Phil's first memories of his new house was how scary the basement was. Unlike today's finished basement, in 1944 it was a dark, dirt-floored space that housed a hulking old coal furnace. Various dimly lit corners stored wood and coal, and Phil's overall initial impression of the rambling old house was, in his words, "intimidating and foreboding." His new bedroom was in the northeast corner of the second floor, just steps from the stairway to the attic studio, a space he describes as the "vacuous and spooky third story."
To help smooth the transition, a Calla Lily painting from his bedroom at the old house now hung opposite the bed in his new room. The door to Phil's room was left open at night, so that the light from a bare bulb hanging in the hall would shed some light inside, and perhaps assuage his anxieties.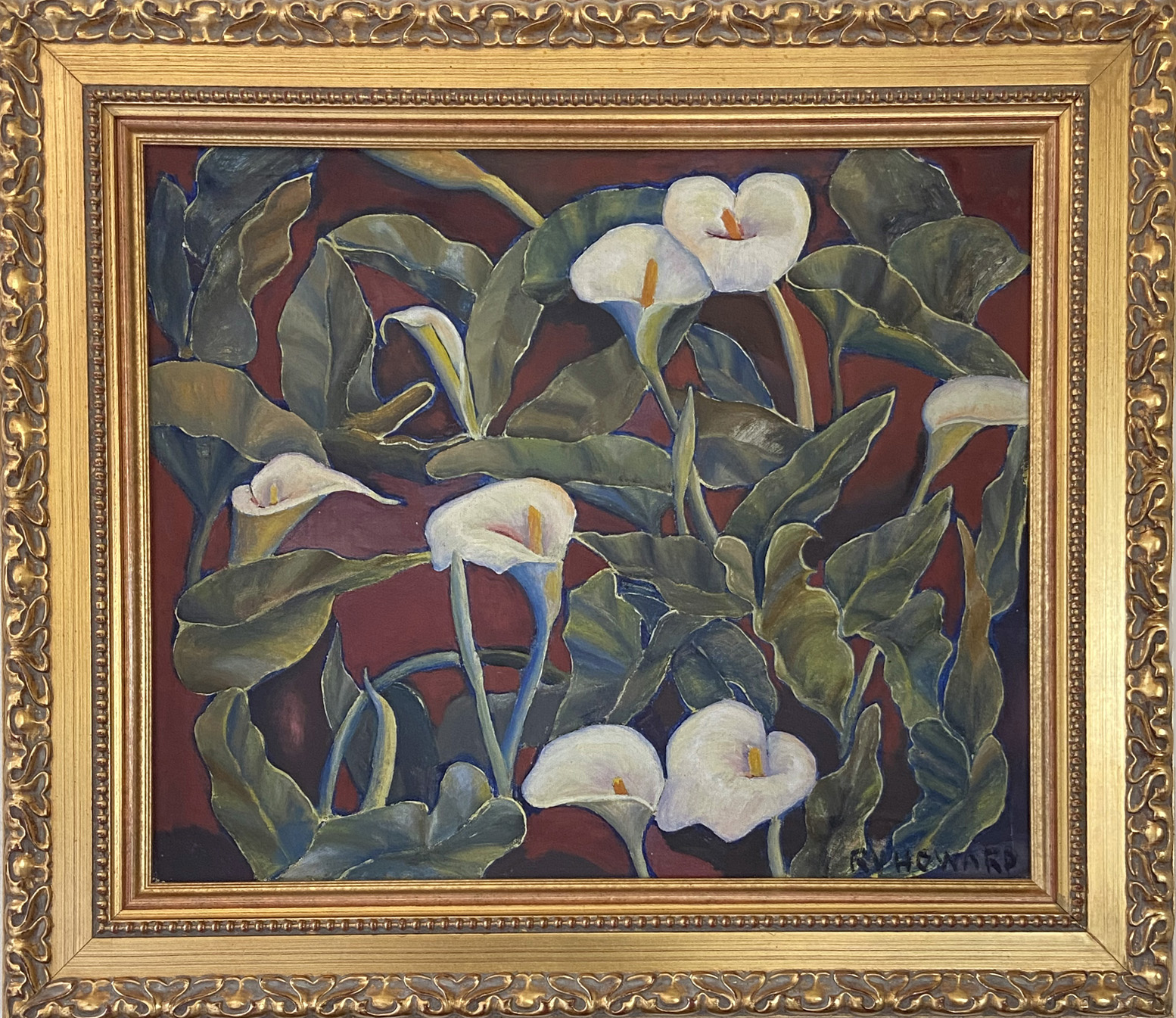 That single light bulb was not enough to dispel the darkness though, as evidenced by Phil's description of a vivid dream from those early days: "I had this particularly impressive nightmare that I was shackled to the railing at the head of the entry hall stairs. The section I occupied magically separated from the rest of the second story floor and hovered in space for a time. Suddenly, I realized that my transport was being summoned by a hideous beast residing under the baby grand piano in the front living room. And so it began its gradual descent, floating ever so slowly in the near-total darkness down to the level below and towards the ogre's lair until I could stand it no longer and awakened."
This story illustrates that while adults may love old Victorian-era homes, they can be scary to a 4-year old child. Phil eventually got comfortable in his new home, but his early experiences were so vivid that he can easily recall them almost 80 years later.
Multigenerational household
Once the Plant family moved into 1240 St. Charles Street, their home sheltered six people and three generations. Phil describes each member of his family in the chapter entitled "The Cast." Here we learn about the cast of characters who occupied the historic house during the previously little-known period that lasted from 1944 to 1983.
Grandfather—a stoic and guiding presence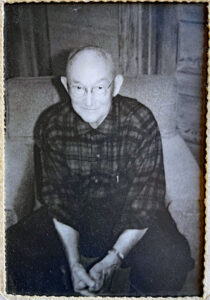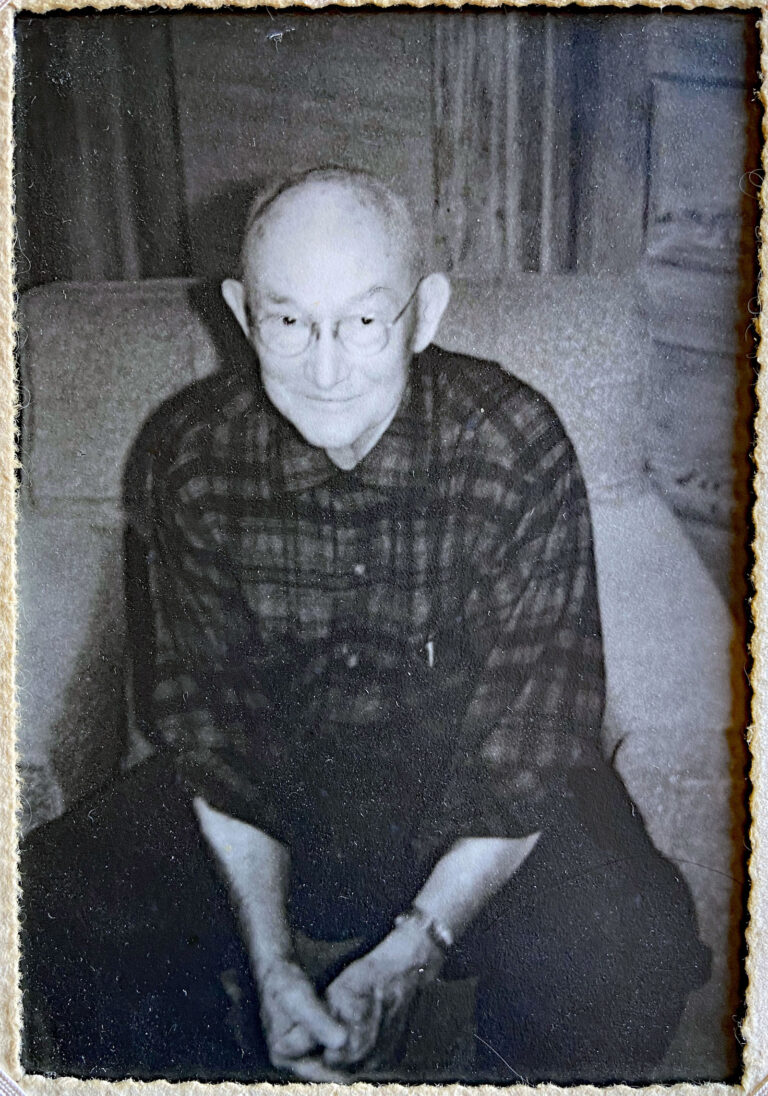 Phil's maternal grandfather, Bryant Wellington Fields (1878-1962), was the primary breadwinner of the family, and a self-made engineering executive of a major communications company. Grandfather had a profound effect on his two grandchildren, Phil and Margot. He had a relationship with Margot before Phil was born that she remembered as special. When Phil was born four years later, however, he seemed to turn his attention to his grandson and, at least according to Margot, neglected her. Grandfather had lost his only son, Bryant Paget Fields, in a tragic accident at just 11 years old. Phil believes that his grandfather turned his attention to him because, perhaps subconsciously, he wanted to replace his own lost son.
Grandmother—very quiet and reverent
Phil's maternal grandmother, Very Paget Fields (1883-1965), is described as a subdued figure, one who mainly occupied herself with meal preparation—turkey dinners were her specialty—as well as housework and reading the bible. Despite his grandmother's constant reading of scriptures, Phil does not remember her ever attending church services or doing much else outside of the house, other than a monthly meeting of a local ladies' club. This demeanor may have been the result of the pain of having lost a child at an early age. If the first name Very sounds unusual, consider that grandmother had a brother named Every. This is because they were named after their father's two favorite words in the English language, very and every.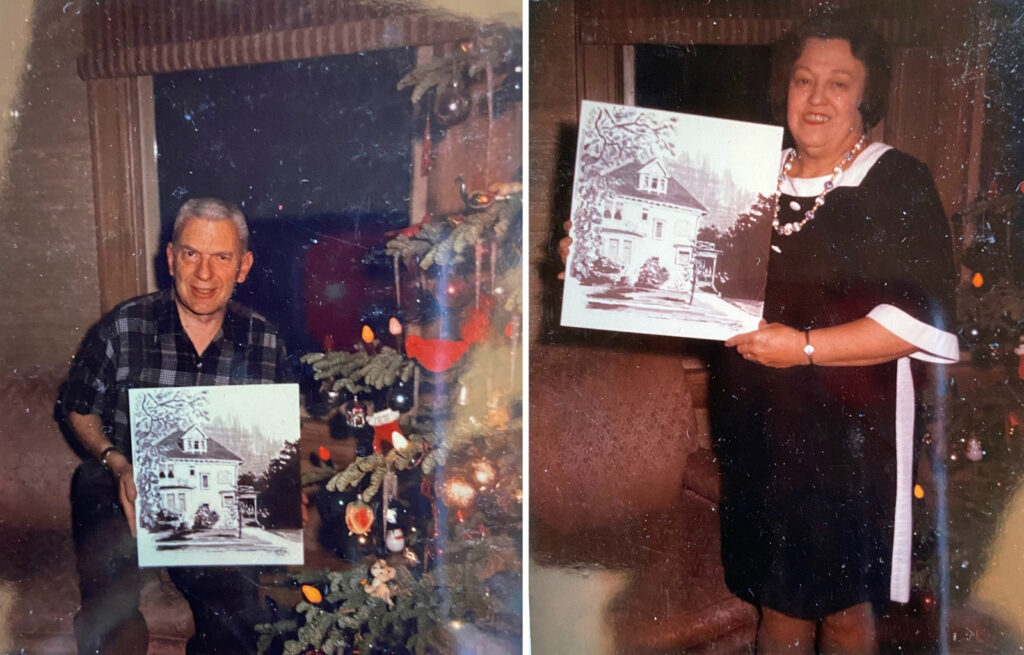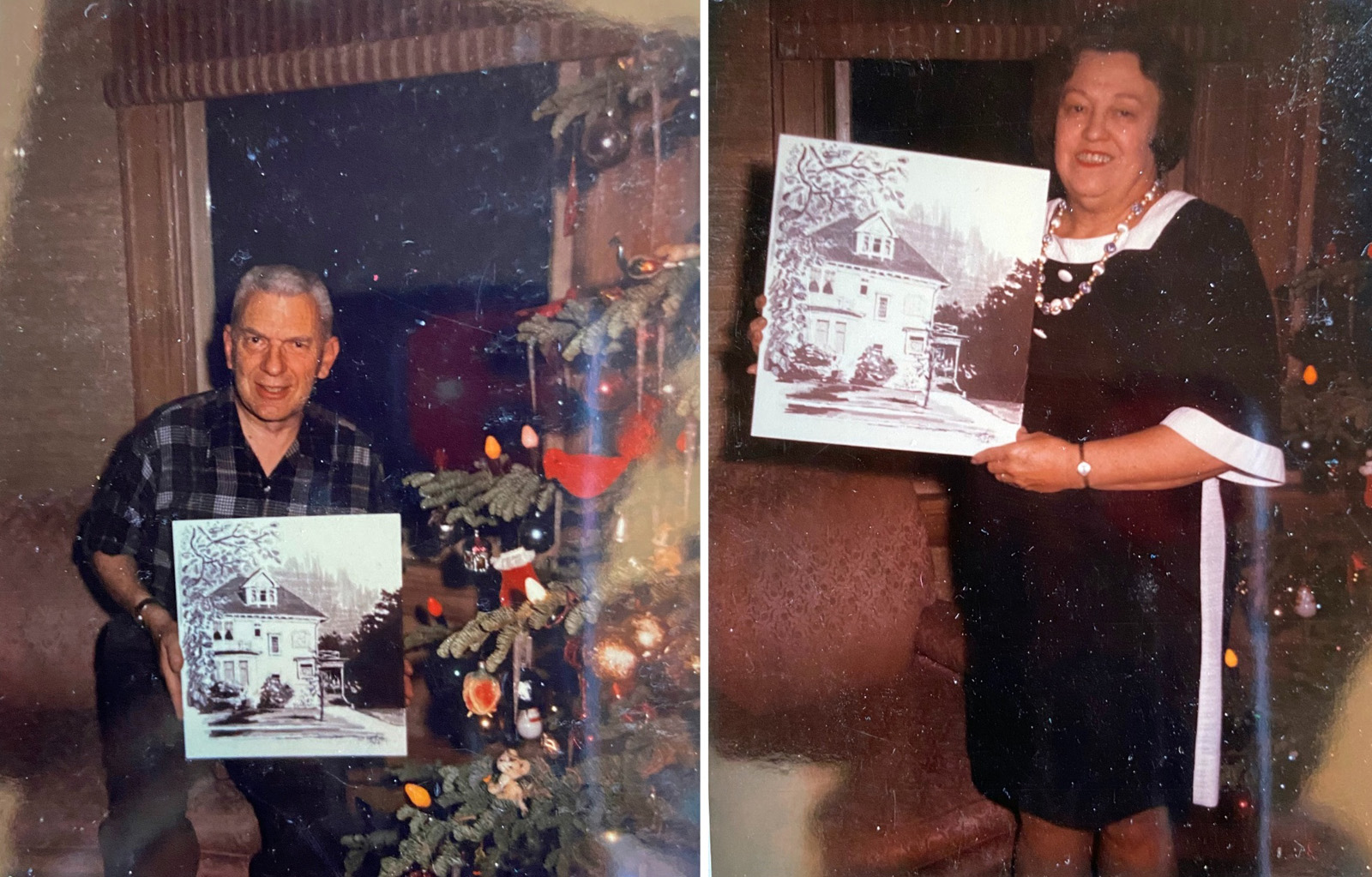 Mother—de facto head of household
Marjorie Fields Plant (1912-1981), Phil's mother, was probably the most influential figure in his early life and young adulthood. She is described as the de facto head of household, and "the natural leader of the family who sat at the head of the table during our ritualistic evening meals and presided over the dinner conversations." She possessed a high degree of intelligence, but ended her studies at UC Berkeley after just a year in order to marry Phil's father, Felix. She had aspirations to keep up with the living standards and culture of her neighbors on tony St. Charles Street, but those desires were doomed to fail since the family lacked the necessary connections, social graces, and wealth. She took on a job as secretary to the city engineer of Alameda—something far beneath her talents—in order to help prop up the family's lifestyle.
Father—affable and well-liked by all
Felix John Plant (1909-1999), Phil's father, was the counterpoint to mother Marjorie. Felix is described as easy-going and good-natured, as well as kind and fair-minded. In a family of strong-willed individuals, he was not assertive. Phil remembers that he "never met a person who disliked Dad," and that he would be best described as "affable." Not particularly successful in his business, he worked as a salesman of wholesale drug sundries, and was on the road a lot. While his take-home pay was apparently unimpressive, at least according to his wife Marjorie, it never seemed to get him down and he maintained a positive outlook on life.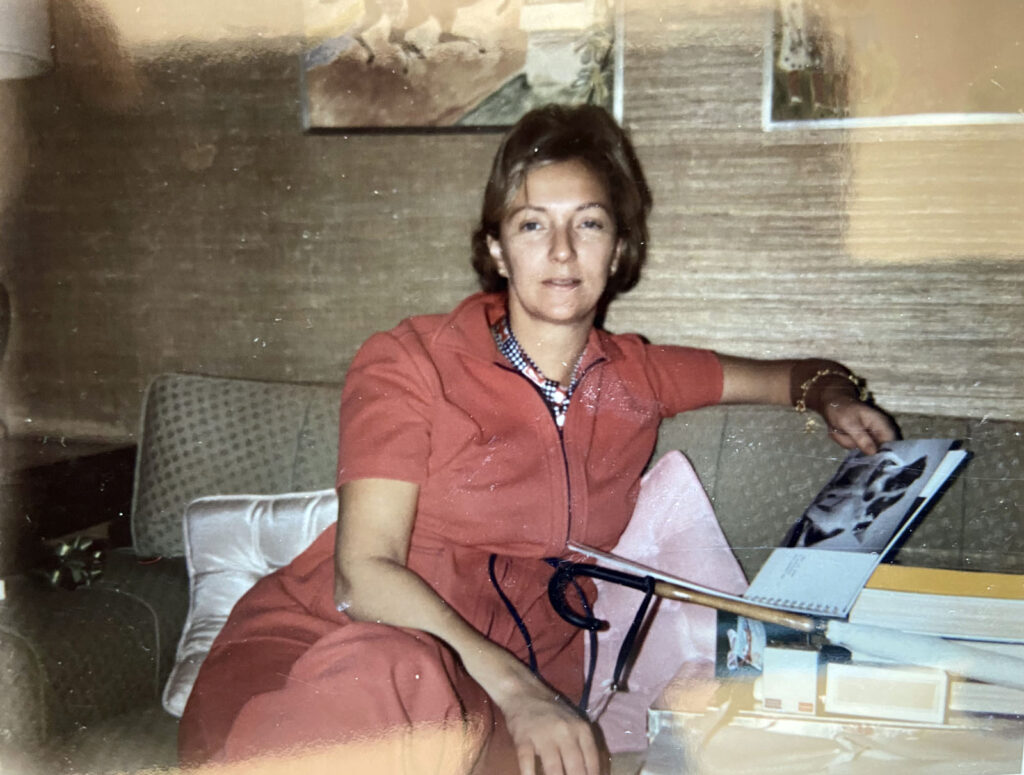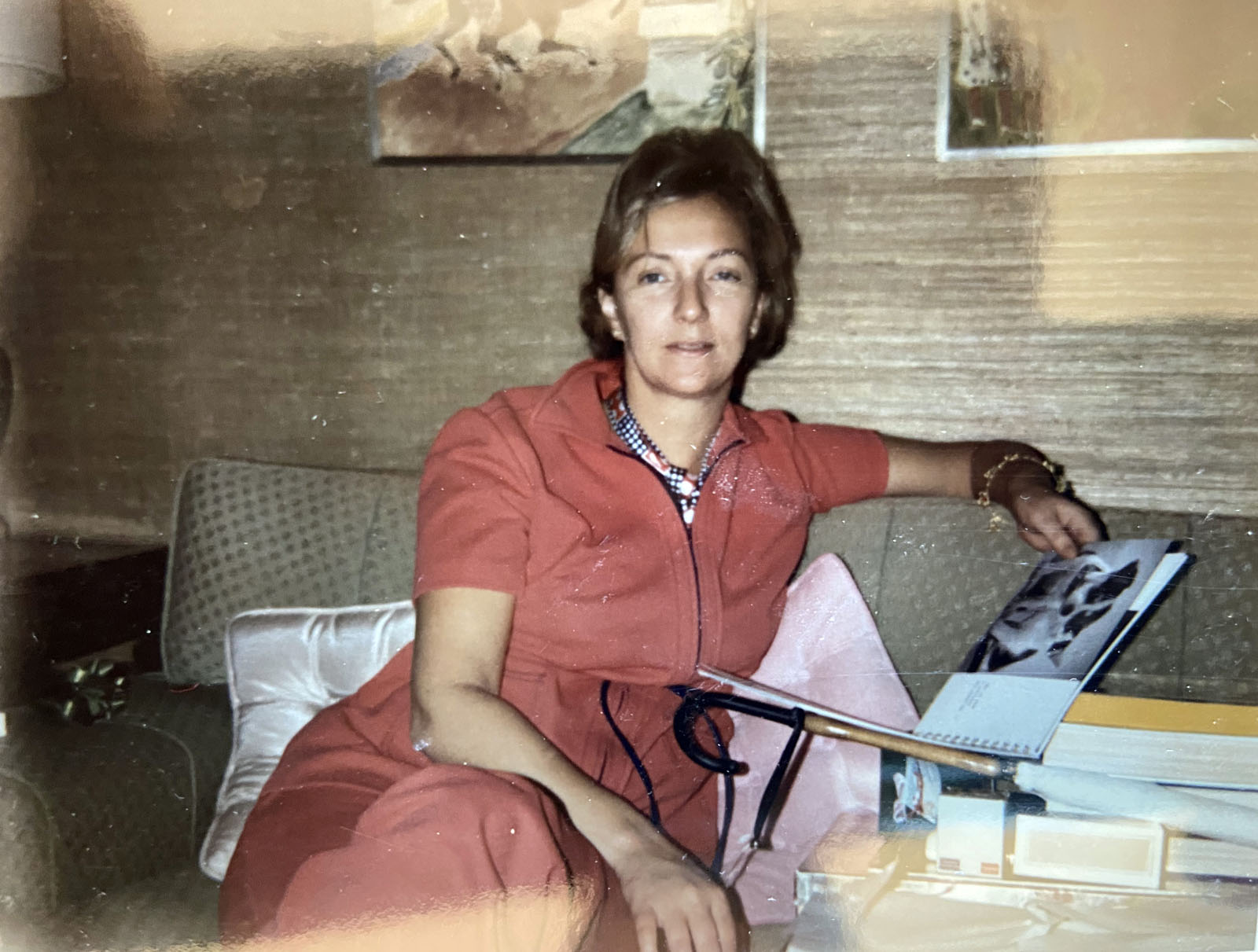 Sister—scholar and adversary
Margo Plant (1935-2018) was Phil's only sibling. As previously stated, Phil was only 4 when they moved into the St. Charles Street house, while Margot was 9. According to Phil, "This age disparity prevented us from constructively getting along for a good decade." From his earliest memories, Phil was aware of Margot's academic prowess. She was considered the "smart child." Each believed themselves to be aggrieved by the other though—Margot because Phil was the favored boy, and Phil because Margot was the favored scholar. Despite these conflicting perceptions, the siblings grew closer as they matured, and eventually became fast friends.
Brother and author—finding his way as the youngest member
In his book, Phil closes out the chapter, "The Cast," by writing: "I am Philip Michael Plant, the remaining family member." Of the three generations of his family that once called 1240 St. Charles Street home, Phil is the sole survivor. But he is not alone. Phil lives today in Sausalito with his wife of 32 years, Barbara Schraeger, and he has two loving daughters, Jennifer and Jessica, from his first marriage to the late Liz Carlson Plant (1939-2009), who live near Sacramento, California.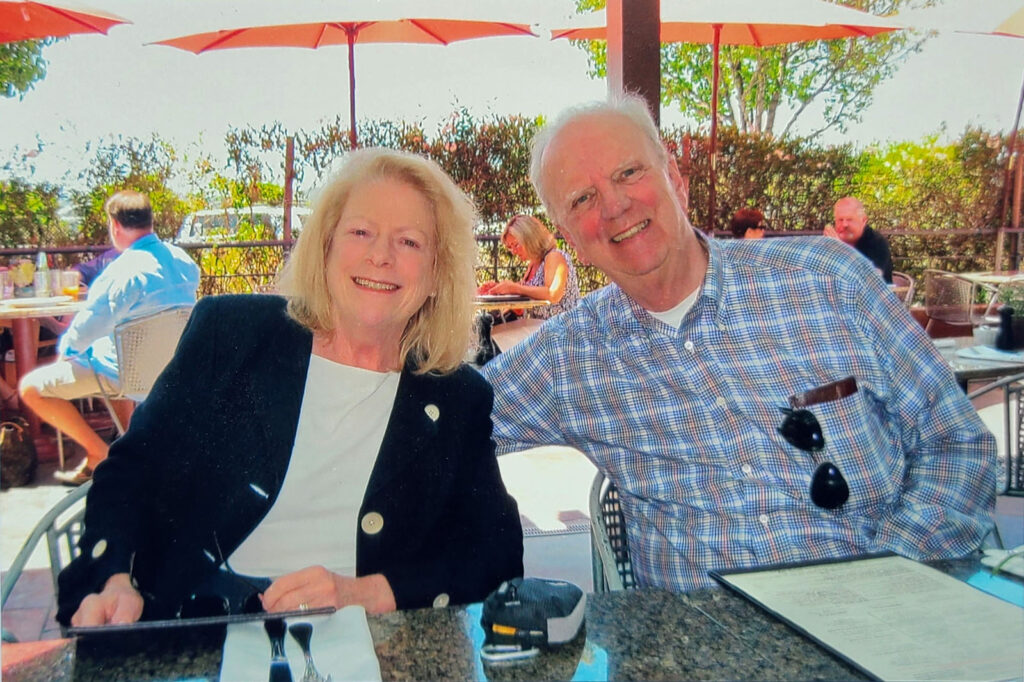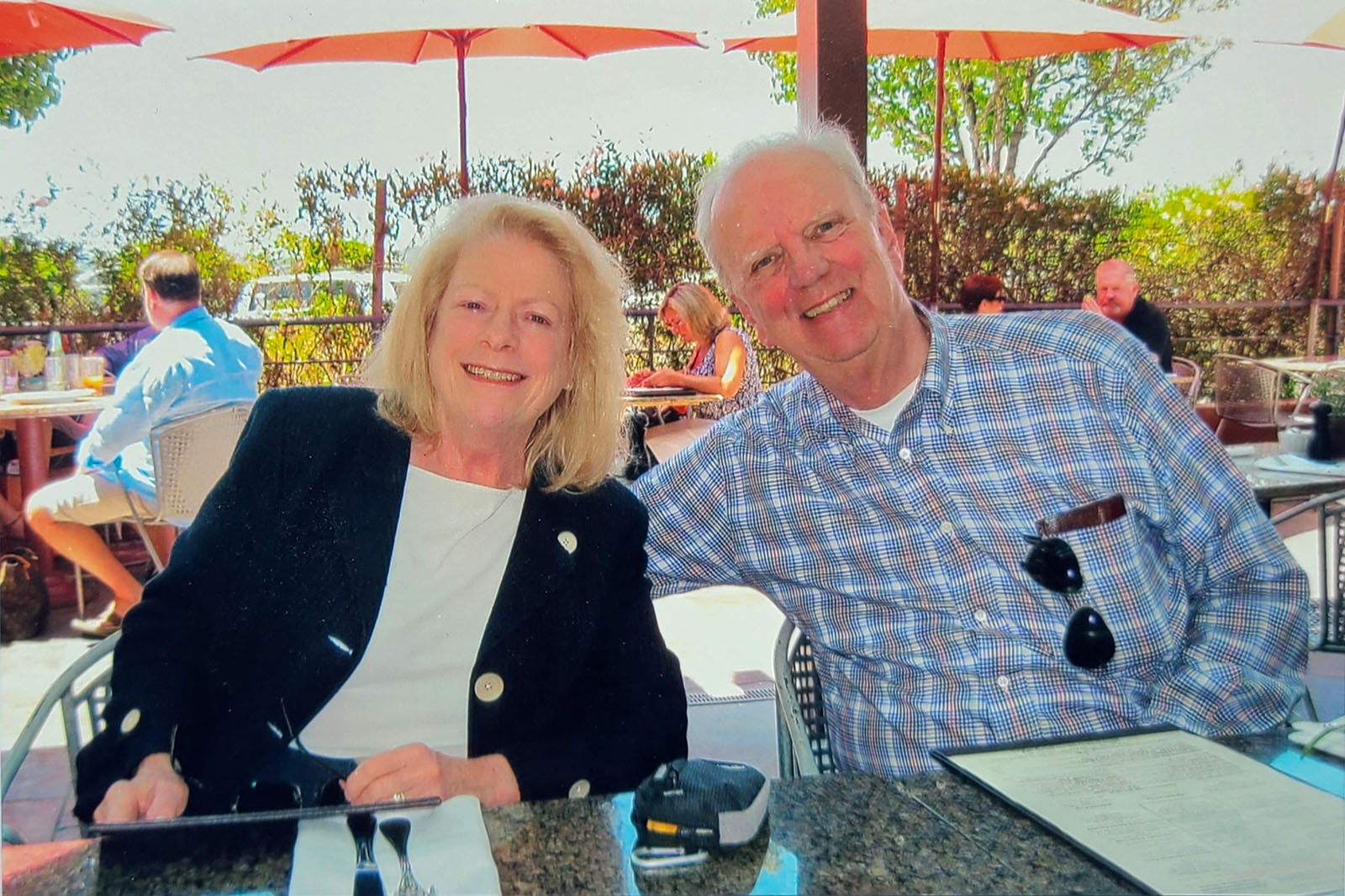 Sausalito, a homecoming
On a recent visit to a lovely hillside home in Sausalito overlooking Richardson Bay, I sat down with Phil, Barbara, and Jennifer and went through photo albums, scrapbooks and stories of a long and interesting life. My look into 1240 St. Charles Street had brought me to the other side of the bay, but here, 31 miles from Alameda, the story of our Alameda Treasure is alive and well in the mind and heart of Phil Plant, whose formative years began in the house we now refer to as the Bruton House.
Phil has come a long way from his humble beginnings on a quiet street in Alameda. From UC Berkeley to the US Army, from UC Hastings Law School to the State Attorney General's Office, and finally to the Bank of America, where he was General Tax Counsel, Phil has gone far in life. Through three marriages and two lovely children, Phil has had an active and busy life, and yet has never forgotten his roots in Alameda. I'm so glad he returned to his boyhood home in 2015, met with Jeannie Graham, and wrote a memoir about his experiences growing up there. That memoir adds even more detail and color to a house that already had such an interesting history.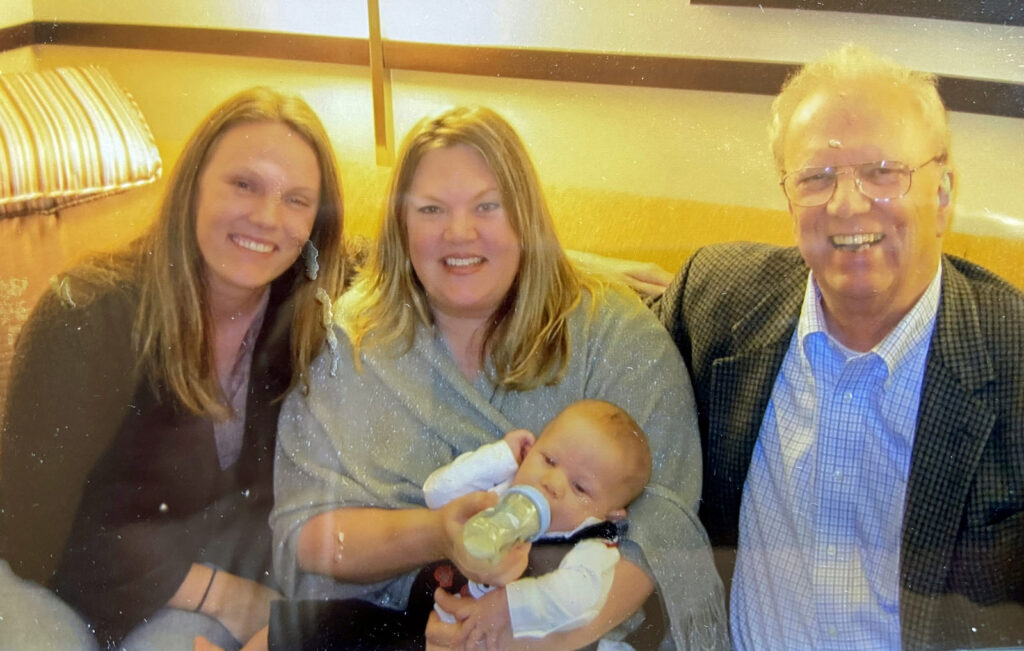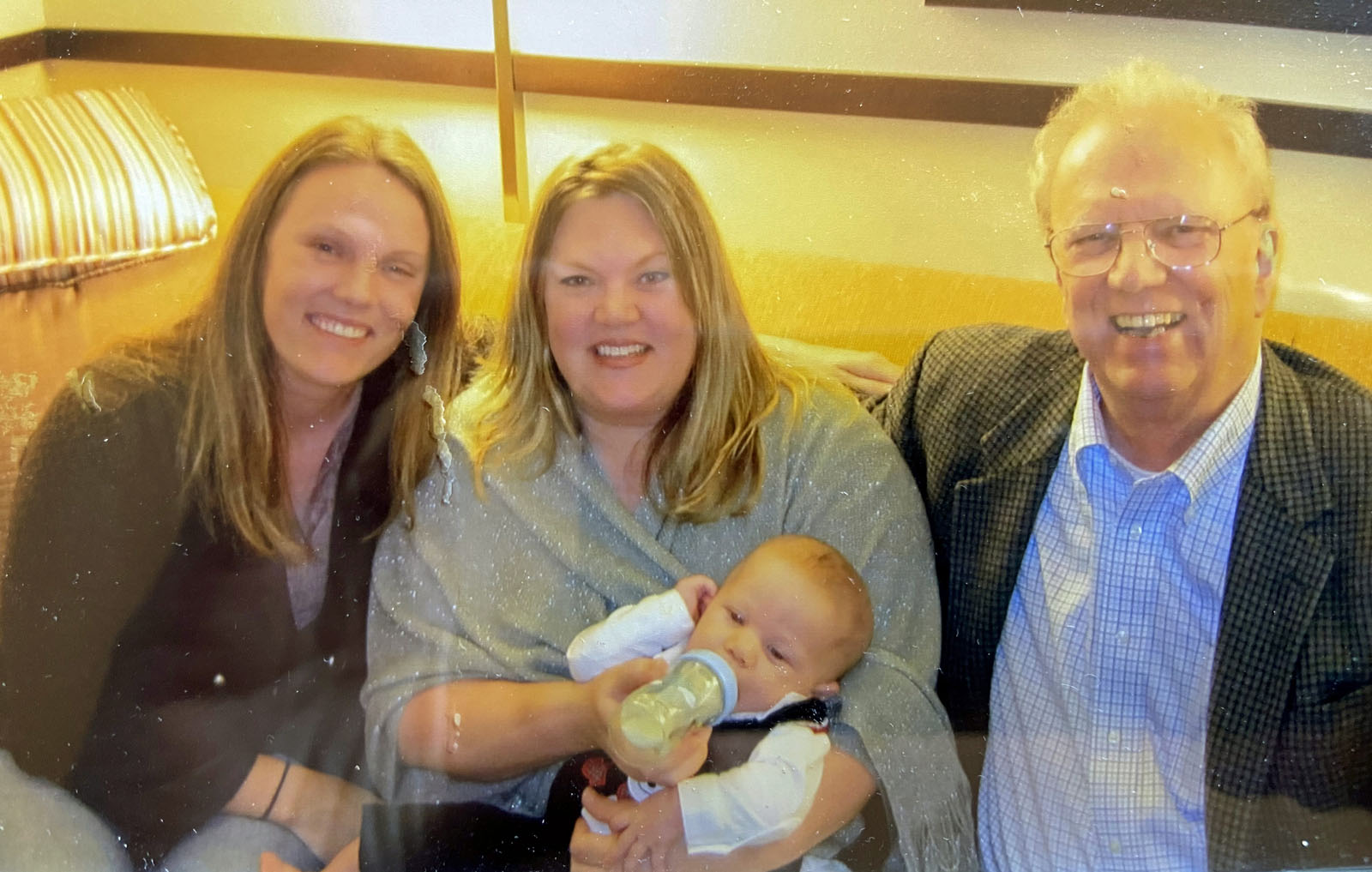 Next up
Now that the cast of characters is set, we'll further explore the hidden history of the house, and some of the interesting things that happened there. Like the time a metal box thrown by Philip missed his sister's head and went through a large antique window instead. Or the time Phil's cousin Win Paget sent him a working rifle for Christmas, and what happened when the bullets started to fly. We'll also reminisce about what life was like growing up in Alameda during the 1940s and 1950s, a time of "magical freedoms," when the neighborhood provided a vibrant playground along the vast shoreline and seawall, before the Utah Construction Company filled in the bay to create South Shore. And why Phil and Barbara appeared in a photo with then-mayor of San Francisco, Dianne Feinstein, and their connection to her. All of that, and more, as we explore our Alameda treasure at 1240 St. Charles Street, the Bruton house.
Contributing writer Steve Gorman has been a resident of Alameda since 2000, when he fell in love with the history and architecture of this unique town. Contact him via [email protected]. His writing is collected at AlamedaPost.com/Steve-Gorman.