An ill-fated hotel, a women's home, and a school all preceded today's Longfellow Park.
John Kohlmoos was born near Verden an der Aller, Germany, close to the port city of Bremen, on April 8, 1830, to John and Matta Adeline (Clausen) Kohlmoos. He was raised and educated in Verden, where he practiced the wheelwrighting trade for two years. In 1849, 19-year-old Kohlmoos left his native country and emigrated to America, sailing from Bremen to New York on the barkentine Caroline. He remained in New York City for almost three years and then set off for California aboard the steamer Georgia, first to Aspinwall, now known as Colón, on Panama's east coast. He then traveled across Panama by rail and mule to the Pacific coast. There he resumed his sea voyage aboard the steamer Winfield Scott and finally arrived in San Francisco on November 9, 1852.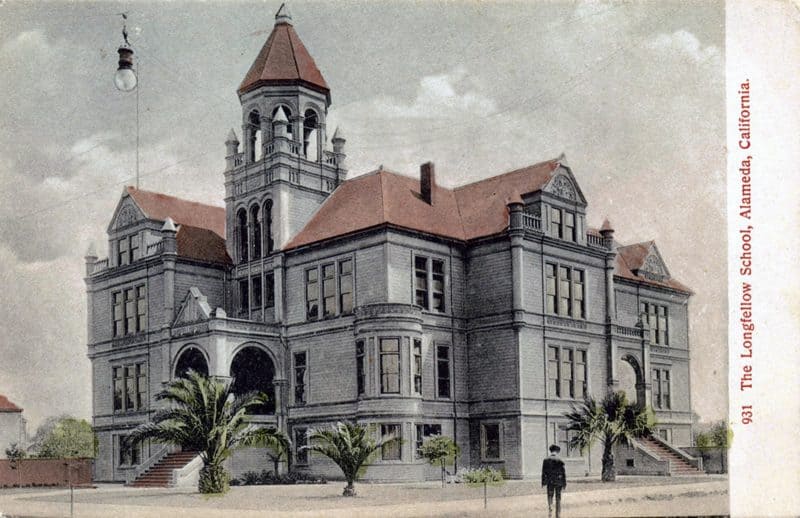 Kohlmoos moves to Alameda
Kohlmoos tried his luck in the gold fields around Mokelumne Hill but had little luck. He found work as a ranch hand for a year before deciding to make his home in San Francisco, where he married Elizabeth Ostler in 1856. She was affectionately known as "Eliza." Over time, Kohlmoos and his wife became successful, first in the grocery and dry goods business, then as restaurateurs. They decided to sell their interest in San Francisco's Metropolitan Restaurant, for which they received between $50,000 and $60,000, and decided to move to Alameda.
Join me and the Alameda Post this Saturday at 10 a.m. for a walking tour of Longfellow Park and the surrounding neighborhood. We'll learn about the park, the Kohlmoos Hotel and the school where famous author Jack London once studied, and then explore the neighborhood. We'll meet Saturday, September 24, at 10 a.m. at Longfellow Park (Lincoln Avenue and Linden Street). Purchase advance tickets for $15. Limited tickets may be available on the day of the tour for $20. More tour information.
John and Eliza took advantage of their German heritage and purchased a lot in the Teutonia Park and Homestead tract on what was then Railroad Avenue (today's Lincoln Avenue) between Second and Third avenues (today's Fifth and Sixth streets). The Teutonia Park and Homestead Association was a group of German investors based in San Francisco. In his book Alameda at Play, historian Woodruff Minor explains that homestead associations pooled the resources of their shareholders to acquire land "wholesale," doing away with real-estate middlemen. Teutonia's West End tract was bordered by Sixth Street on the east, Bowman's Ditch on the west, Central Avenue on the south, and the Central Pacific Railroad on the north.
Minor tells us that Jacob Remmel, a wine and liquor wholesaler, served as Teutonia's president. "Two of Jacob's sons would play memorable roles in local history," Minor writes. "Julius as a partner in Marcuse & Remmel, Alameda's most prolific homebuilders of the 1890s, and Bert as an architect for the firm who went on to design many other houses in the city, notably in the Gold Coast."
First a hotel, then a home
John and Eliza hired the architectural firm of Kenitzer and Raun to build their hotel. Minor tells us that the "landscaped gardens covered about an acre. The couple and their children worked hard to make their venture a success. Despite their efforts, the Kohlmooses faced bankruptcy. John later explained that he was forced to 'turn over every dollar he had in the world to his creditors, not even keeping a homestead.'"
The family left Alameda for Stockton to take charge of the Independent Restaurant. The hotel they left behind morphed into a home for a group of women calling themselves "The Order of New Life." After scandal rocked the "Order," a professor took over the buildings to use for a private preparatory school. Minor tells us that Jack London attended classes there in 1896. Finally, a girls' training home took over. The school went bankrupt and closed in June 1934. Later that year, the wrecking ball arrived. The directors of the girls' school turned the land over to the City of Alameda. The City won a court battle with a title company that claimed the school grounds could not be used for other purposes. Linden Park opened in 1940. Eight years later, it was renamed Longfellow Park for the nearby school.
What to look forward to on the tour
We will learn on Saturday's tour that the 1879 landscape was much different than it is today. Linden Street did not exist until the early part of the 20th century, when developers stretched Lincoln Avenue west through the adjoining neighborhood. Until then, Lincoln ended where it intersected with Marshall Way, the old Central Pacific Railroad right of way. Linden first appears on a 1917 map that describes the extension of Lincoln Avenue through to Third Street. Bowman's Ditch is long gone, but during our walk we'll see if we can find any remnants.
We'll walk along Haight Avenue, which didn't appear on the maps until 1891, long after the Kohlmoos family had departed Alameda in financial ruin. We'll also visit the neighborhood where Henry Haight lived with his family and learn something of his attitudes toward the Ohlone and African American people. His position on race relations led him to leave the Republican Party when he learned of Lincoln's plans to publish the Emancipation Proclamation. As Governor of California, he refused to allow a ratification vote on the 14th Amendment to the U.S. Constitution, but, of course, it passed despite Haight's reticence. In 2019, the Alameda Unified School District Board of Education voted unanimously to change the name of Haight School to Love School. Some residents want the same change for the street that bears Henry Haight's name.
Dennis Evanosky is an award-winning East Bay historian and the Editor of the Alameda Post. Reach him at [email protected]. His writing is collected at AlamedaPost.com/Dennis-Evanosky.