"The only constant is change," the famous saying goes. That has certainly been the case at Grand Station, once the home of one of Alameda's greatest hotels and resorts, Fassking's Hotel and Gardens. In Part 1 and Part 2 of this story, we learned about German immigrant Louis Fassking and the large hotel and garden he created at what came to be known as Fassking's Station. The Southern Pacific Railroad brought visitors in by the thousands during the 1860s and 1870s, the heyday of the resort era at the station. Fassking's Gardens took up the entire block bounded by Lincoln Avenue, Grand Street, Santa Clara Avenue, and Union Street—and yet today, not a trace of the old resort exists on that block.
The end of an era
By around 1880, Fassking was deep in debt and his business was suffering from competition from all the popular bathing resorts on the West End. With his business falling into the hands of his creditors, ads soon began appearing in local newspapers offering up his hotel buildings and land at auction. As early as October 1879, an ad appeared in the Oakland Tribune announcing an auction to take place "On the grounds of that Celebrated and Choice property known as the Fassking Garden Tract at Encinal Station." At that time, the official name of the station was Encinal—named after the village of Encinal it called home—though it was colloquially known as Fassking's Station. The renaming to Grand Station wouldn't occur until 1881.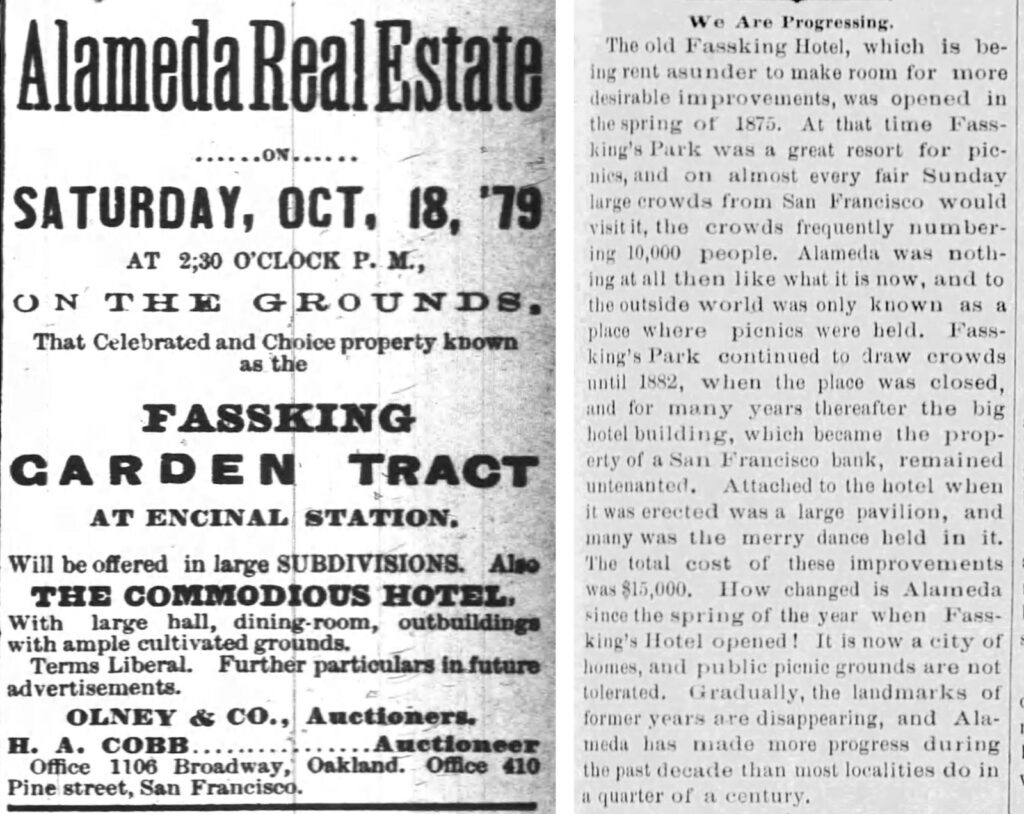 Despite this auction, very little actually changed at Fassking's Gardens, even after the closing of the resort. The hotel buildings weren't removed until 1890, and a survey I did of the entire block indicates that almost nothing was built on that large block until the early 1890s. The sole exceptions are 1533 Union St., built in 1881, and 1711 and 1713 Santa Clara Ave., built in 1888 and 1885, respectively. Other than that, the hotel buildings and the block lay largely vacant during this decade. Theories about why this was the case could include the fact that San Francisco bank creditors were trying to find buyers to cart away the hotel buildings, and there was an ongoing worldwide recession during this period. The period known as the Long Depression was a worldwide price and economic recession, beginning in 1873 and running through 1879 or 1896, depending on how it was measured. This likely put a damper on economic and building activity.
The old Fassking Hotel building  gets new life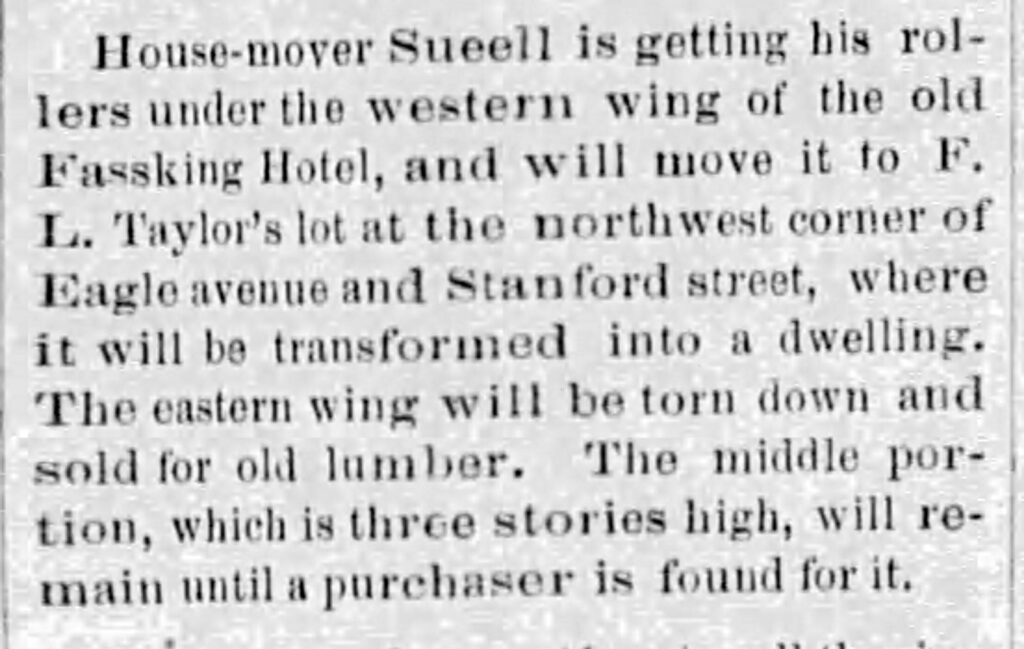 Whatever the reason, the tract remained largely vacant until December of 1890, when an announcement appeared in the Alameda Daily Argus reporting that "House-mover Sueell is getting his rollers under the western wing of the old Fassking Hotel, and will move it to F. Taylor's lot at the northwest corner of Eagle Avenue and Stanford Street where it will be transformed into a dwelling." Walter Sueell was a well-known house mover at the time, and had successfully moved many buildings in both Alameda and Oakland. The piece goes on to say that the eastern wing would be torn down and the middle portion was waiting for a buyer. Since we know that both 2031/2033 Eagle Ave. and 1909/1911 Stanford St. are former Fassking's Hotel buildings, it can be assumed that they represent the former eastern and middle sections of his old hotel on Lincoln Avenue.
Another Alameda Argus article from December 1890, headlined "We are progressing," describes how the old hotel was being "rent asunder," and how the changes occurring on Fassking's tract represented a time of change for Alameda. It was now considered a city of stately homes, not just a place to go for picnics on weekends. The article describes crowds as large as 10,000 people descending on Fassking's Park "almost every fair Sunday," an astounding number considering Alameda's population of just 5,708 people in 1880, and 1,557 in 1870.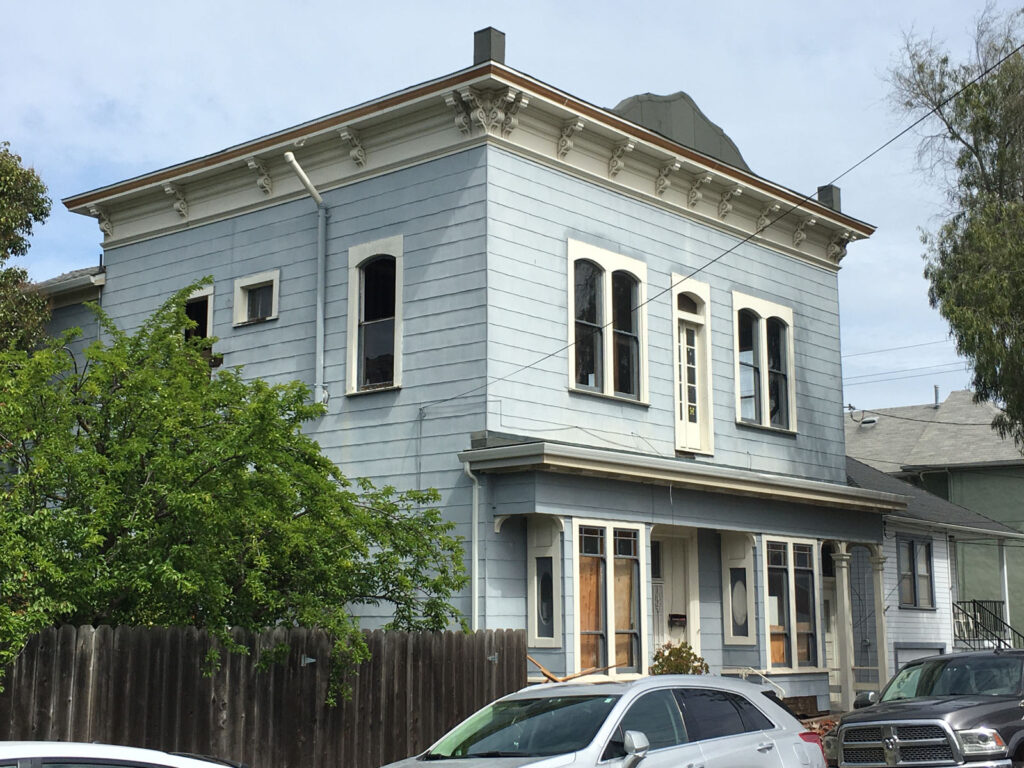 Grand Station transforms
Once the old hotel buildings were removed, and the land prepared, the next phase of change was set to begin at Grand Station. In the coming few years, the block would begin to completely transform from a garden resort into a residential neighborhood featuring scores of Victorian-era homes, many of them built by the pre-eminent architect/builder team of Felix Marcuse and Julius Remmel. Described by Alameda historian Woody Minor as "Alameda's most prolific homebuilders of the 1890s," they were perfectly positioned to snap up the now vacant land that once housed Fassking's Hotel and put their own stamp on it. And while the loss of the beautiful Fassking's Park is tragic, what took its place is a showcase of classic Marcuse and Remmel Queen Anne High Basement cottages from 1891 and 1892—a treasure trove of their work on the newly created Minturn Court.
Up next
Next time we'll explore Minturn Court, perhaps one of the most intimate and concentrated collections of Marcuse and Remmel architecture in town, and also track down the location of an antique door from the old Fassking's Hotel, one of the few surviving features from his once magnificent resort. All that and more as we wrap up our look at Alameda's hidden treasure of the past, Fassking's Park.
Contributing writer Steve Gorman has been a resident of Alameda since 2000, when he fell in love with the history and architecture of this unique town. Contact him via [email protected]. His writing is collected at AlamedaPost.com/Steve-Gorman.