September walking tours will uncover the history of three local parks and their surrounding neighborhoods.
Join me and the Alameda Post for an investigation of three of Alameda's parks –  Godfrey Park, McKinley Park, and Longfellow Park. After we learn about these parks and the role they play, we'll explore how the neighborhoods surrounding them unfolded.
On September 10, We'll take a close look at how Bay Farm Island served as a bountiful and successful farming community. The Ohlone knew Bay Farm as "Wind Whistle Island" and culled eggs there as part of a diet that also included the plentiful oysters off the island's coast.  Fast forward to the Roaring Twenties, when planes took to the air and landed at a thriving airport across the way from the modern-day golf course. We'll discuss the controversy that has arisen over naming Godfrey Park for a 1940s Alameda mayor, discover the role the nearby homes played in the farming, and see the only remaining farmhouse and its adjacent park.
Advance tickets are $15 per tour, or $40 to attend all three September walking tours
September 10 – Godfrey Park. Meet at 281 Beach Road on Bay Farm Island.
September 17 – McKinley Park. Meet at 2165 Buena Vista Avenue.
September 24 – Longfellow Park. Meet at the intersection of Linden Street and Lincoln Avenue.
A mansion in Mckinley
Robert H. McGill once lived in what is now McKinley Park. He purchased the four-acre site in 1866 and built a two-story home. He named the estate "Oak Shade." Judge James Andrew and Virginia Waymire moved into the home in 1885. The Waymires hired architect Denis Straub and his stepson and fellow architect Fred Fischer to embellish the McGill home with a tower and bay windows. They also hired gardeners to add exotic trees to the property and to replace McGill's cypress trees along Buena Vista Avenue with palm trees. We will visit the area on September 17.
"The mansion has a magnificent setting in the center of a grove of oaks, and the block, bounded by Buena Vista and Clement avenues and Walnut and Mulberry streets, is surrounded by palms that are unsurpassed outside of the tropics," the San Francisco Call gushed to its readers about the improvements. When the Waymire family left, the city obtained the property and converted the estate to the park we know today.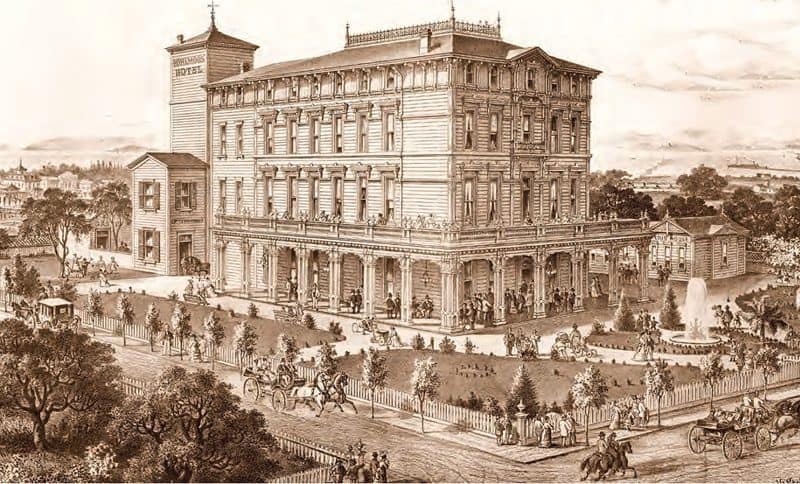 A luxury hotel from times gone by
On the final September walking tour, we'll rev up the way-back machine and travel back in time to a luxury hotel that the Kohlmoos family built in 1878. Their creation stretched over the site of what is now Longfellow Park and into the modern-day neighborhood. The state-of-the-art hotel included something unheard of at the time—a bathroom on each of the four floors. In his book about Alameda parks, Alameda at Play, historian Woody Minor says that "the four-story structure (included) self-contained systems for water and gas." Minor describes the hotel's landscaped grounds as "covering about an acre" and "laid out with paths, fountains, and a pavilion for billiards and bowling."
According to Alameda Museum president Valerie Turpen, the building later served several uses, as a sanatorium, a university academy, and a boarding school for difficult young women. Ultimately, the owners found little use for a building that had become a fire trap. They donated it to the city, which dismantled the Kohlmoos family creation and converted much of the property to today's Longfellow Park.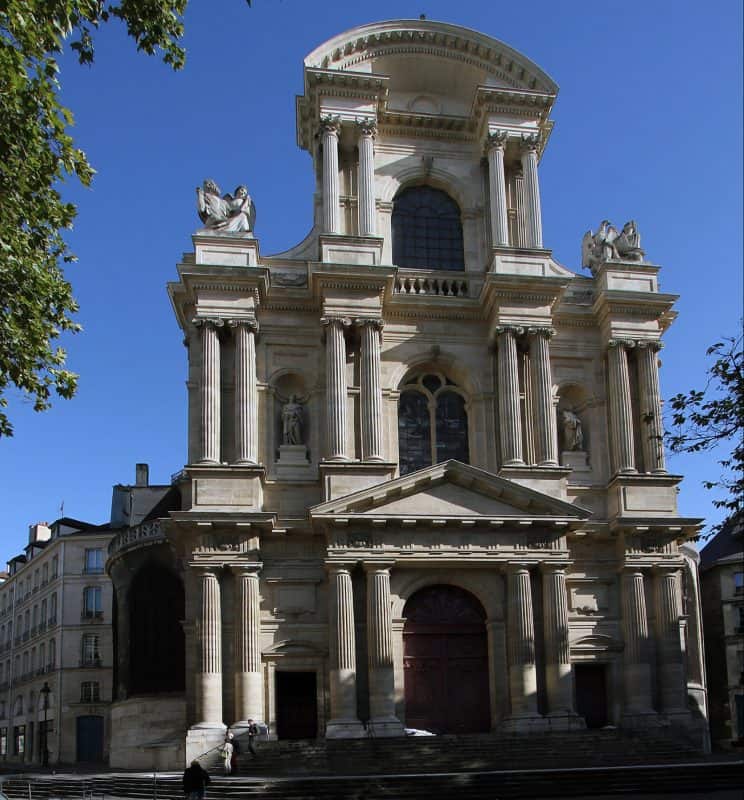 What makes a home?
During our September tours, we will not only investigate these parks but the architectural styles of the neighboring homes as well. We'll delve deeper. Instead of just identifying and discussing the various styles, we'll investigate the elements that make up the design of a home.
We'll find out that, no matter the style, every home with a gable not only has a pediment and barges, but ridges and valleys as well. What are pediments and do their appearances vary from style to style? Some homes have both barge boards and fascia boards. Dentils often accent these elements. We'll see if we can spot some of these during our September walks. We'll also be on the lookout for timber accent trusses, decide which styles use them, and learn how these trusses have evolved over time.

Are you aware that five different orders define the columns on a porch? Can you spot these orders on Alameda's homes and name them? Some columns play important roles in defining a home's style. Which are they? Columns have relatives called pilasters. Are any of those in Alameda? Let's find out.
We'll investigate pediments, dentils, barge boards, and fascia boards this month. We'll also see if we can sort out the five types of columns and learn about other elements that not only make up a home but help give a dwelling its personality, one that we know as its style.
Sign up for our September walking tours
For more information about our September walking tours and to purchase tickets, please visit our Tour information page.
Dennis Evanosky is an award-winning East Bay historian and the Editor of the Alameda Post. Reach him at [email protected]. His writing is collected at AlamedaPost.com/Dennis-Evanosky.