The Nylander house sits on the corner of Ninth Street and Pacific Avenue.
On a quiet corner on the West End of Alameda sits a home with an interesting history. Built in 1878 for William Whidden – a farmer and member of the Board of Town Trustees — this Italianate high basement cottage is designated as official City Monument [PDF] number 24 by the Historical Advisory Board (HAB). Although no architect or builder is known, the quality and design seem to indicate this was the work of a significant Victorian-era architect.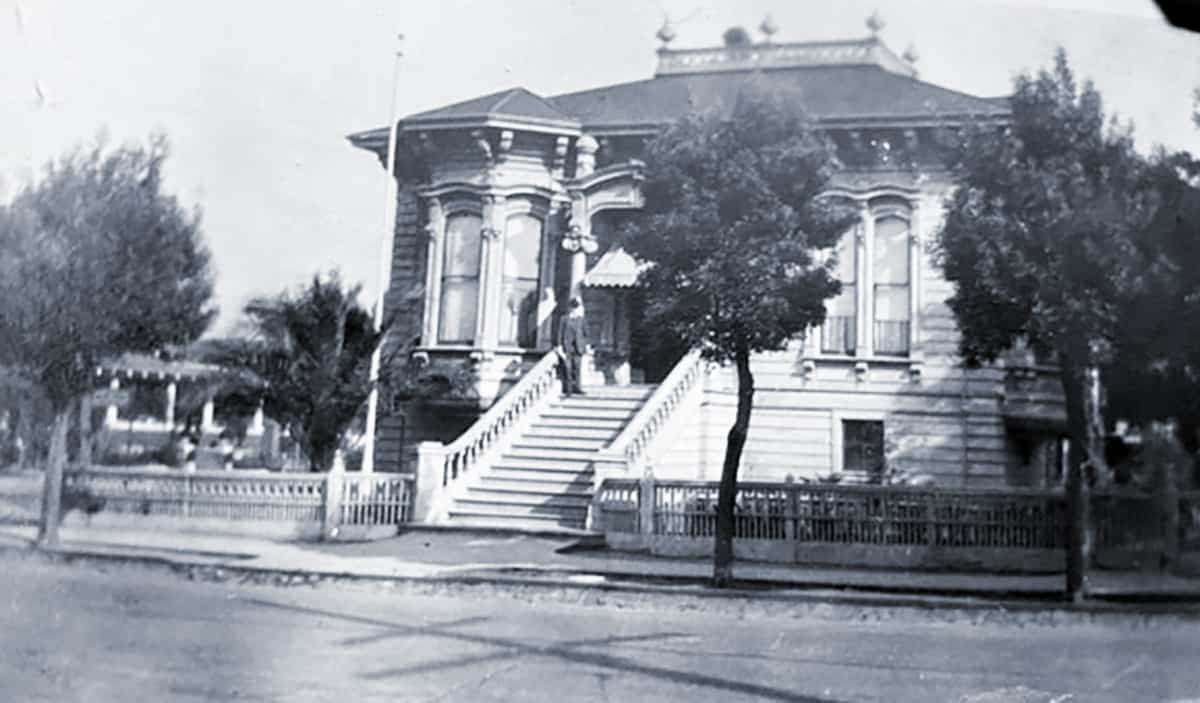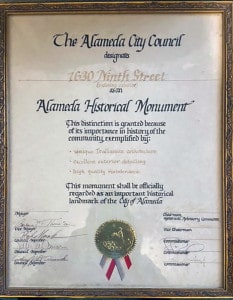 The building exhibits many classic details of the Italianate style popular in the 1870s, such as arched windows surmounted by hoods and much ornamentation, a hip roof with large cornice brackets, quoins (corners made to appear as stone blocks) and an ornate entry portico. Unlike in eastern and Midwestern cities where this style was often expressed in stone, California homes of the time were built from a plentiful supply of redwood. Italianate cottages were first built in a flat-fronted style in the 1850s and 1860s, whereas later examples like this one from the 1870s were built with bay windows – a harbinger of the bay window craze to come.
The story of a home though, is really the story of its people. We are interested in the architects and builders who built these homes, and we're interested in the people who have lived in them over the decades. While it was William Whidden who first bought the home in 1879 for $4,500, and was the first farmer of the property — and even had a fire department hose company named for him — it is the Nylander family who left the biggest mark on this historic property.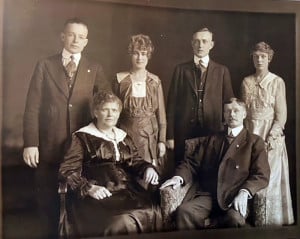 Gustave Adolph Nylander (1863-1942) emigrated to the U.S. from Tolg, Sweden in 1882. He married Augusta Wilhelmina Rosen (1862-1953), also from Sweden, in 1890, and had 4 children while living in San Francisco. A great granddaughter of Mr. Nylander tells me that the family name may have been Johnson prior to emigrating, and that Gustave created Nylander as a nod to him now being a 'New Lander' (from the Swedish word ny for new).
Since the surname Johnson has English and Scottish roots, it's possible the family name may have been the more common Swedish surname Johannson. There is also some talk in the family that the Johannson name may actually be on Wilhelmina's family tree instead, which just goes to show that piecing together a family history — even when you have access to direct family members — is sometimes a bit of a mystery.
The Nylander family moved from San Francisco to Alameda in the early 1900s, with a 1904 census showing them living in town (renting or staying with relatives), and then a 1910 census listing Mr. Nylander as owner of 1630 Ninth St. Gustave Nylander was a professional painter, and was head painter at San Francisco's Palace Hotel — a job he gave up after the 1906 earthquake when his wife Wilhelmina feared him getting stranded in San Francisco should another disaster strike. His picture with his painting crew once graced the bar at the hotel. After leaving The Palace, he established his own painting business in Alameda.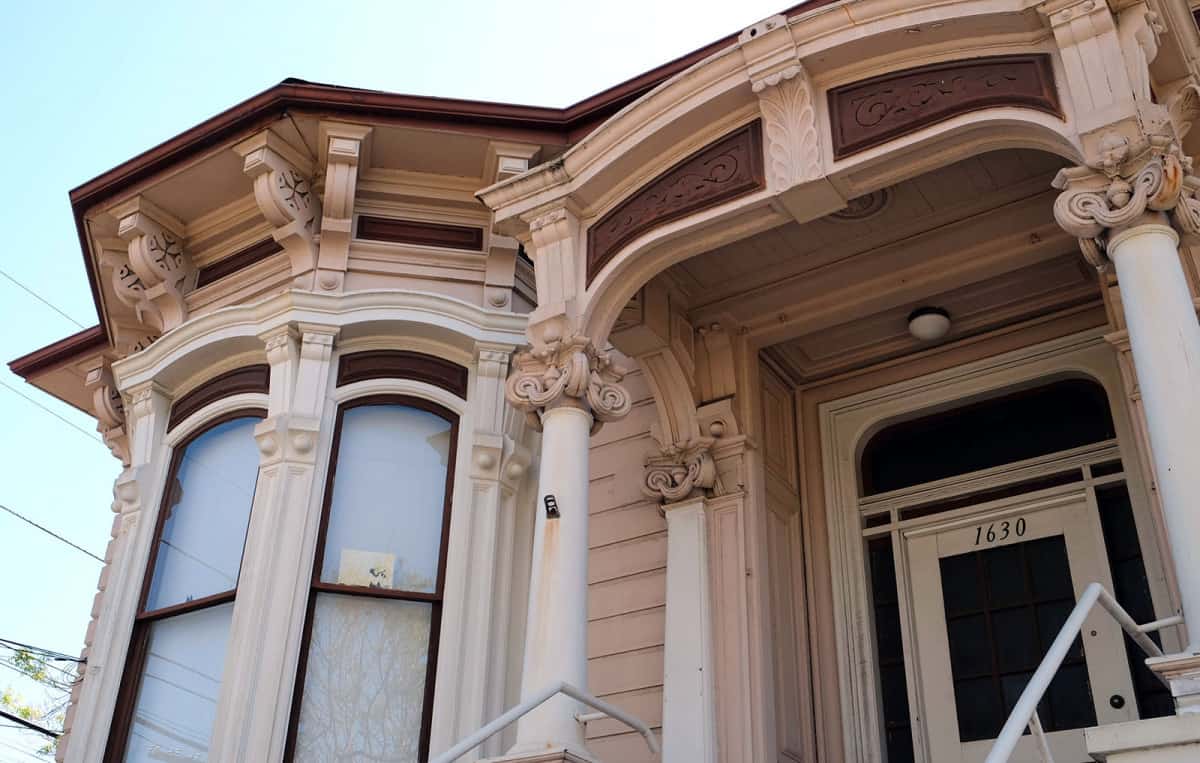 Nylander's great granddaughter Linda Arth Peterson remembers that the Ninth Street property was once a farm, with wooden sidewalks out front. To subsidize their income, the family raised cows and chickens, and the children — Adolph, Ellen, Ruth and George — all had milk and egg routes in Alameda, as did their mother Wilhelmina. In the early days in Alameda it was common for residents to farm their land, something that became less possible as building booms in the 1880s and 1890s ate up more and more land for housing. I have an aerial photo of Alameda from 1939 that seems to show blocks of farm fields still existing on the north side of Buena Vista Avenue between Paru Street and Entrance Road.
The children grew up and married, with the daughters Ellen and Ruth getting married in this home. Ruth married a carpenter, Chris Ommunsdon, and with Gustave and Wilhelmina aging, Chris built four small houses on the property in the late 1930s to supplement their income and relieve them of farming duties. These surrounding cottages are still part of the property today and are rented out as part of a spread that includes the main house with two units over a full raised basement, two 2-bedroom cottages and two 1-bedroom cottages.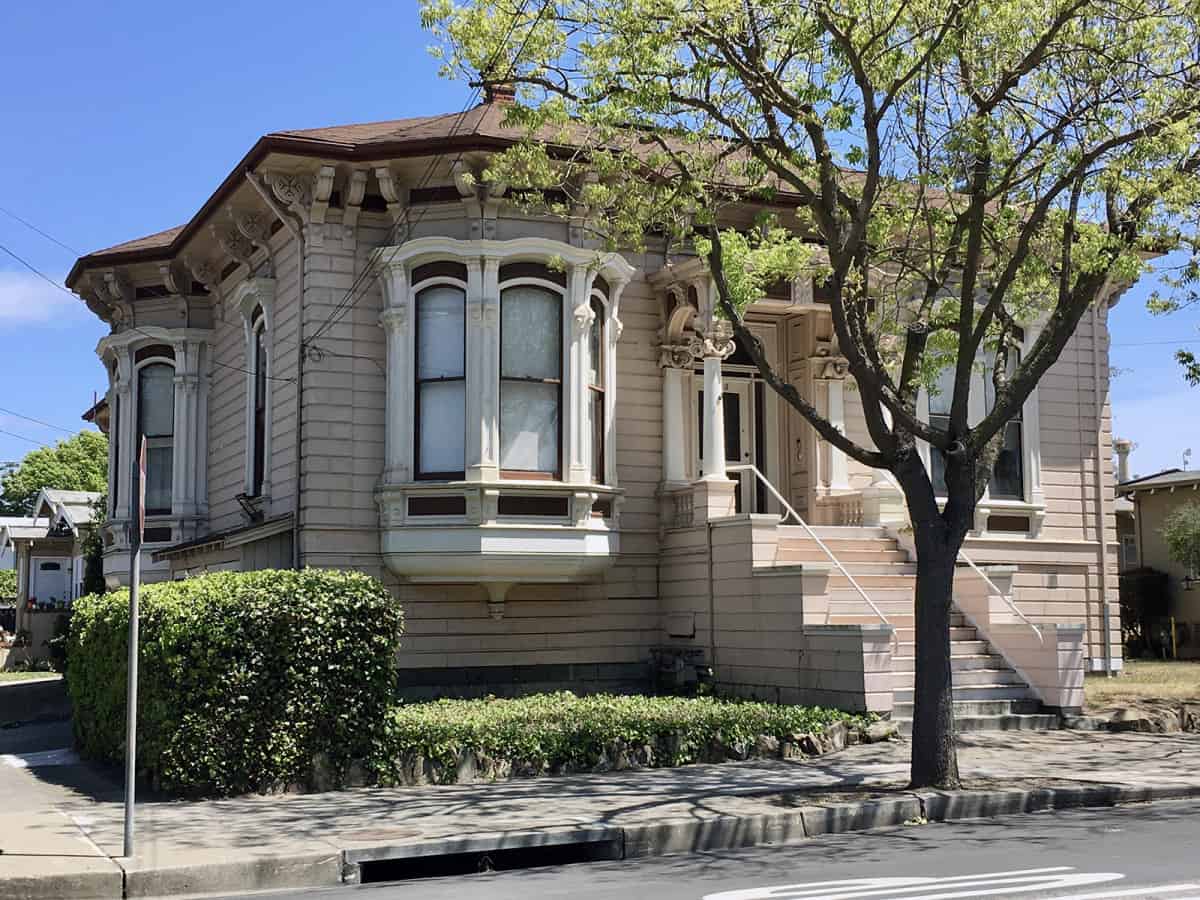 All of this is the legacy of the Nylander family, and the quality work Chris Ommunsdon did building these cottages. He subdivided the main house into two units after Gustave passed away in 1942 and when Wilhelmina moved in with the Ommundsons. The home remained in the family for decades, often housing family members as well as other tenants. In fact, most of the Nylander grandchildren lived either in the main house or one of the cottages at one time or another. The basement under the house accommodated a family, while a studio alongside the driveway housed Adolph Nylander when he came home to live after a divorce from his wife Stella. His studio had a shower but no toilet, with a water closet equipped with pull-chain toilet located out by the back stairs. When things go wrong in your life, you can always come home to family I guess.
In Part 2 of the story of the Nylander house, we'll learn what happens to the old house when the matriarch Wilhelmina passes away. And how a marriage into the Arth family creates a connection to the oldest continuously operating family auto body shop west of the Mississippi – still doing business in Oakland since 1877.
Contributing writer Steve Gorman has been a resident of Alameda since 2000, when he fell in love with the history and architecture of this unique town. Contact him via [email protected]. His writing is collected at AlamedaPost.com/Steve-Gorman/.
For more information on 1630 Ninth St., see the article "Meet your Monument,"by Judith Lynch in the Fall 2006 edition of the Alameda Museum Quarterly.
Special thanks to Linda Arth Peterson for sharing the story of the Nylander house, along with the historic photos from the family collection. Special thanks also to Kate McAnaney for genealogical research assistance on this article that helped me connect to the Arth-Nylander family.