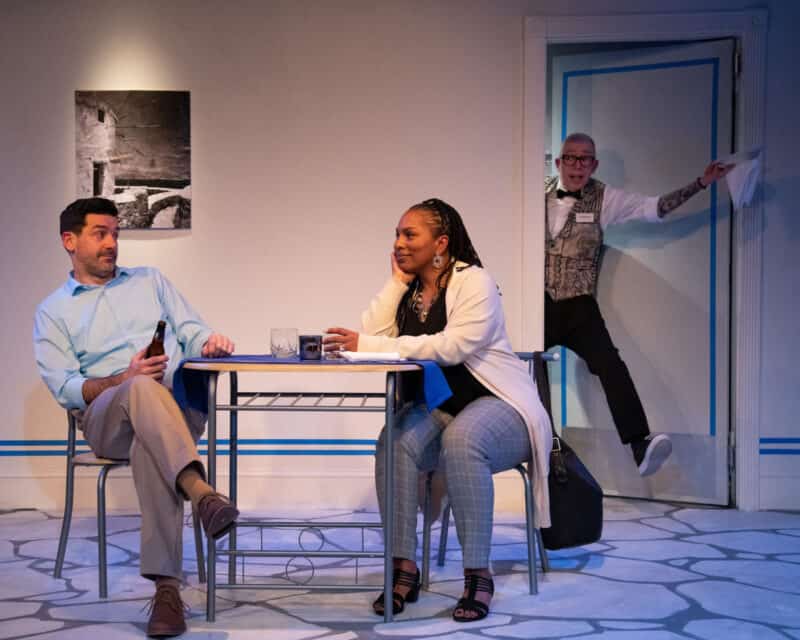 Let me start by clearing my plate of all the cliches. Slow Food, the first play of the Altarena Playhouse's 85th season, directed by Katina Letheule, is tasty, flavorful, filling, delectable, and scrumdiddlyumptious. Those words work, the play is fun, it's very well acted and directed, with a great pace, but while we laugh at the adventures of a couple trying to order and enjoy their meal at a Greek restaurant in Palm Springs, we also wince a bit for what the comedy is really about—the beauty, complexity, and challenges of married life. Those who are divorced would watch and say yep, that's why mine fell apart, those contemplating wedded life might pause to reconsider, and those currently married—like your reviewer—fidget seeing their relationship authentically played out on stage. Beauty is truth, and truth beauty.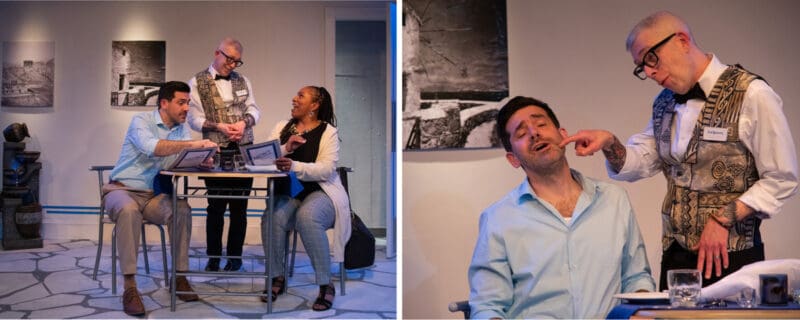 A compelling relationship
The story told in Slow Food is simple and familiar. An empty-nest couple travel to the Southern California desert for an anniversary vacation and hunger sends them to the last open option in town. Over the course of their meal we learn what seems like everything about them—details about their careers, their kids, and the quality of their decades-old love. But what makes it work so well, what makes the time pass so fast, and what is the core of the play, is the acting. Peter Marietta and Kimberly Ridgeway play the oldie weds while Damion Clarke is their waiter. That's it, just three characters on a pretty set (designed by the director) under perfect lights (Kevin Myrick) with terrific sound (Michael O'Brien).

Praise for the Slow Food performers
The core of the core is the relationship between the Man and Woman (their given names in the program). Marietta and Ridgeway spend most of the time sitting at their table talking about their somewhat mundane circumstances—they worry about their sons, ponder their careers, and in what is the most poignant part of the plot, reveal themselves as a couple. The nuances the actors show are many and magnificent, be it how Ridgeway pivots away from her husband when angry, to the way Marietta reaches across the table to bring her back to him. All of it is so genuine, so truthful and open that, again, it is both hard to watch and impossible not to watch. It also helps that there are dollops of sweetness and a drizzle of sex. (Sorry.) A wise man once said that great art is a mirror and a window. In the case of Slow Food, its strength is how courageously the playwright, Wendy MacLeod, has opened the book of the lives of these two people for us to see, and how Letheule guides the telling of their stories with such craft and care. Being a father of two sons, being married a long time, and having had many meals with my wife, I was watching a version of myself on stage.

The infamous waiter
In order to effectively talk about the waiter, played by Damion Clark, I need to reclaim the food cliches I previously eschewed. From the moment he approaches the couple until the very end, Clark's waiter is spicy, saucy, both over- and undercooked, and the cherry on top. He's also a nightmare, a charming nightmare, with all the gestures and banter and blather of someone who doesn't really want to serve you your meal, but to pull up a chair and join you, ingratiating himself into your life and time at the restaurant. Clark is every bad waiter you've ever experienced or heard your friends tell about, complicating your order with too much information, too much attitude, and the kind of gastronomic snobbery you never get at a drive-through. In short, he's annoying in the most amazing, memorable, and hilarious way possible. (Inside joke: Yes, I'm flirting with you, Mr. Clark.) The first listed sponsor on the program for Slow Food is  C'era Una Volta. I strongly recommend dining there first, then visiting the Altarena afterward for dessert.
Gene Kahane is the founder of the Foodbank Players, a life-long teacher, and former Poet Laureate for the City of Alameda. Reach him at [email protected]. His writing is collected at AlamedaPost.com/Gene-Kahane.