Imagine you were out playing golf and you found yourself invited to join a group that included Michael Jordan, who loves golf, is pretty darn good at golf, but for some reason you were a chucklehead and had never heard of Michael Jordan, but anyhow you played golf with him and thought wow, cool, I met this really talented golfer guy, kinda intense, and then you told someone who cried out, "OH MY GOD! you played golf with Jordan, number 23, the legend, Jumpman" and you were like, yeah I guess so, and later found out that golf was only the second best sport he played, and for this other game he was kinda sorta the best person on the planet to ever ever dribble and shoot a basketball.
How awkward and cool would that be?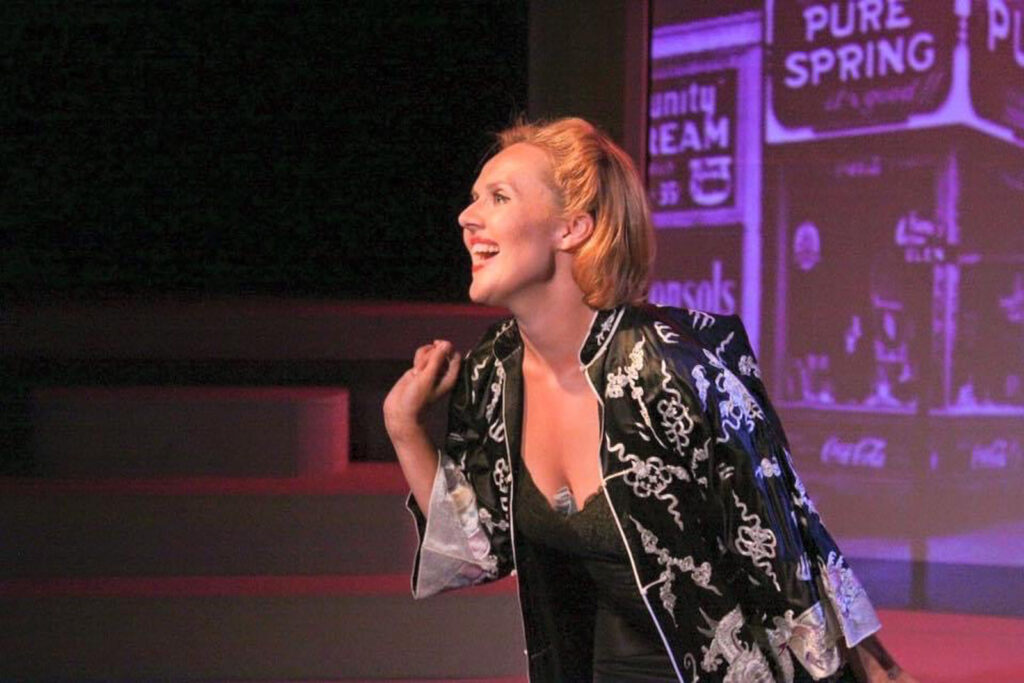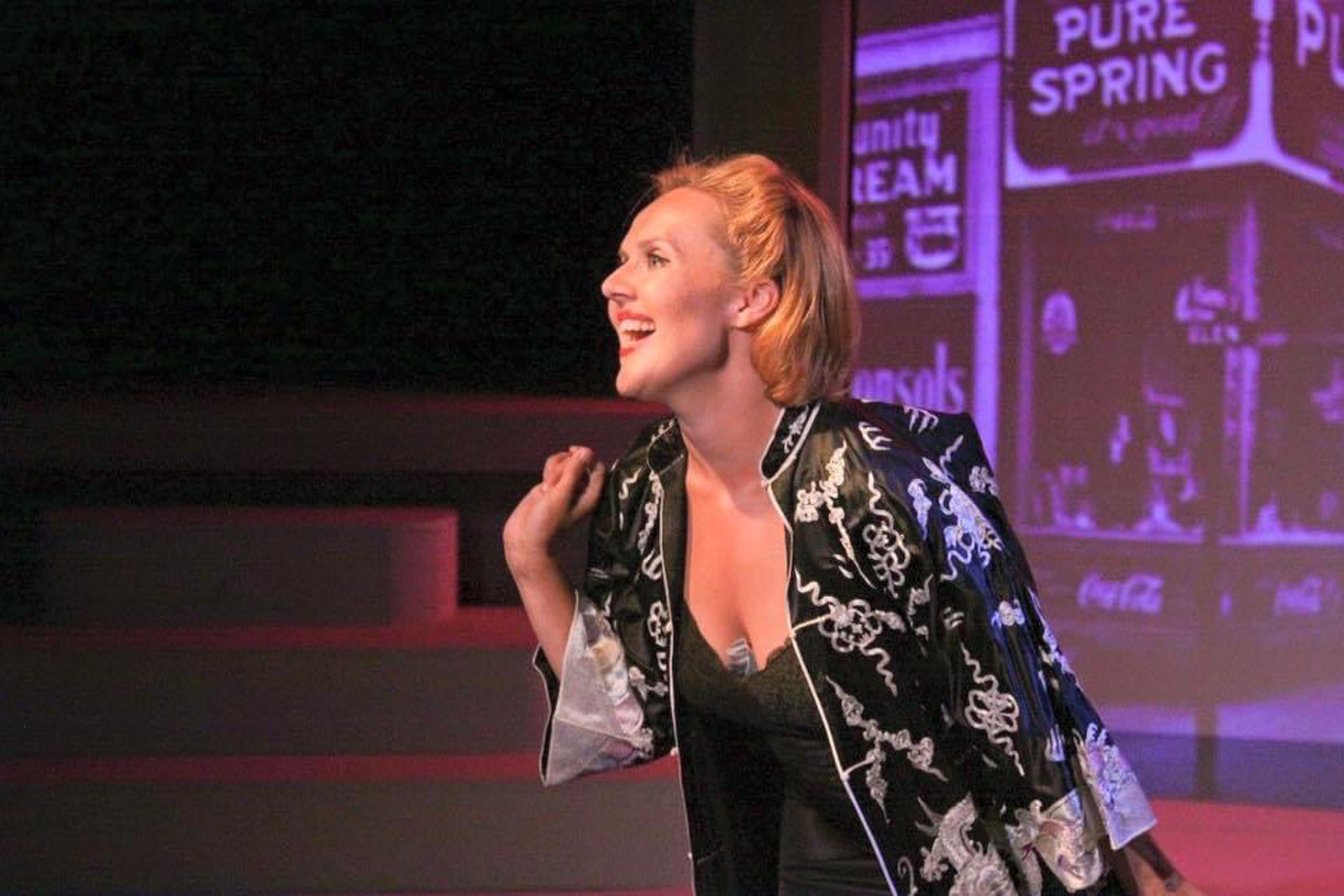 That's kinda me about Anna Joham. We met years ago by chance, ended up talking about theater, she became the musical director for a production of The Wizard of Oz I was directing for Alameda Children's Musical Theatre (ACMT), our palship continued, and when I founded The Foodbank Players, I needed actors, and Anna also acts, so I cast her as Beatrice in Much Ado About Nothing, she was terrific, then she played Polonius in Hamlet (and also Gertrude for our closing weekend), also terrific, and she just now finished playing Helena in A Midsummer Night's Dream, where she was also terrific. She has also appeared in other local productions, like Ruthless. And yeah, apparently she's also a professionally trained singer, as in a Master's Degree, teaches singing (or voice, as the cool kids call it) and has a set of pipes that will make you go wow, give you the shivers, maybe make you cry, then say wow again as you watch and listen to this charming, hilarious, hard working, red haired actor do the even better thing she's good at. Anna is also pretty darn good with telling stories, so here are her answers to 5Q4: Anna Joham.
At what moment did you discover that you wanted to be an artist?
I'm not sure I have a definite moment when I knew I wanted to become an artist. I just have always entertained others. My mom said at the age of 4 I would put on "shows" for my Grandpa when he was pretty much on his deathbed. I would be MC, singer, dancer, comedian etc. That's when she knew I'd be a performer. And she gave me that opportunity by signing me up for piano lessons and asking if I wanted to join her on stage with the Portland Opera. Occasionally the opera needed kids and asked the chorus if they had children who'd be interested. My mom signed me up right away. In school I was a late bloomer and so I never felt confident in academics, but always excelled in music and theater.
Around 12 is when I really fell in love with classical piano and wanted to pursue music and be a musician, but I had an experience a couple years later at a piano competition where I had a wake-up call and realized that my skills were nowhere near where they needed to be in order to be a professional concert pianist. However, call it fate or destiny, that same year my voice went from "nice" to "wow," I placed third in a competition, and I got the lead role in the high school musical—and that's when I decided to major in music with voice as my instrument. The real question was to pursue opera or musical theater. I almost feel like I came into the world already as an artist. It just took me some time to know what avenue to pursue.
Who was the most influential person in helping you to achieve your goal?
Definitely my mom, no question. She has encouraged and nurtured me as a singer, actor, and artist my entire life. Her mom didn't support her pursuit of music and she was forced to get an educational degree in music. I don't think my mom wanted that for me, so she encouraged me to pursue the arts when I showed skill and interest. She gave me what her mom didn't give her—a choice. And she was, is, always willing to pay for lessons, classes, headshots, whatever I needed to be successful. She's seen every show I've been in but two. My mom has a word for me. "Believe." She's always reminding me to believe in my abilities, believe it will happen, and believe in myself, because she believes in me.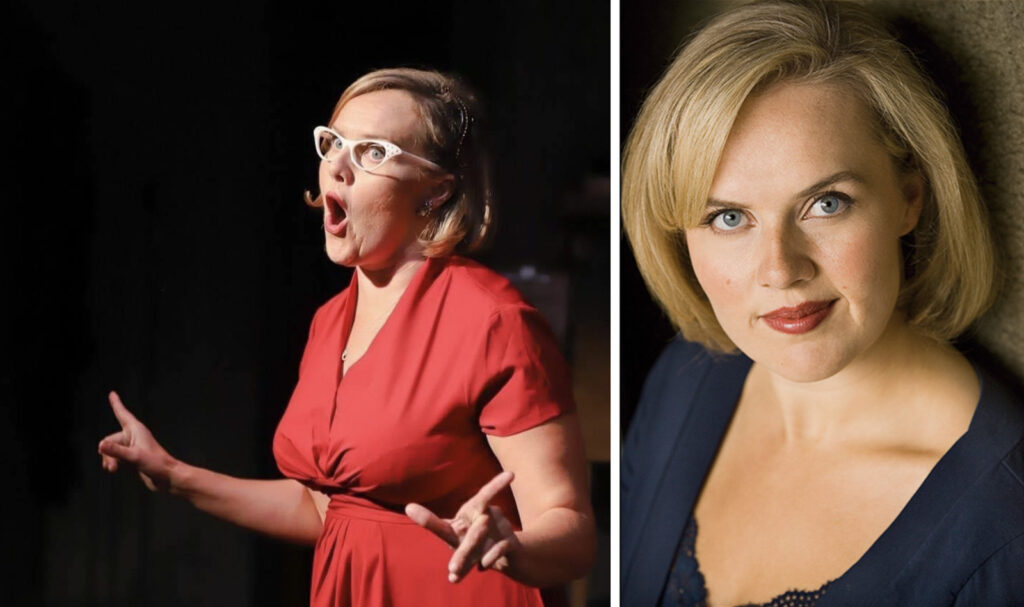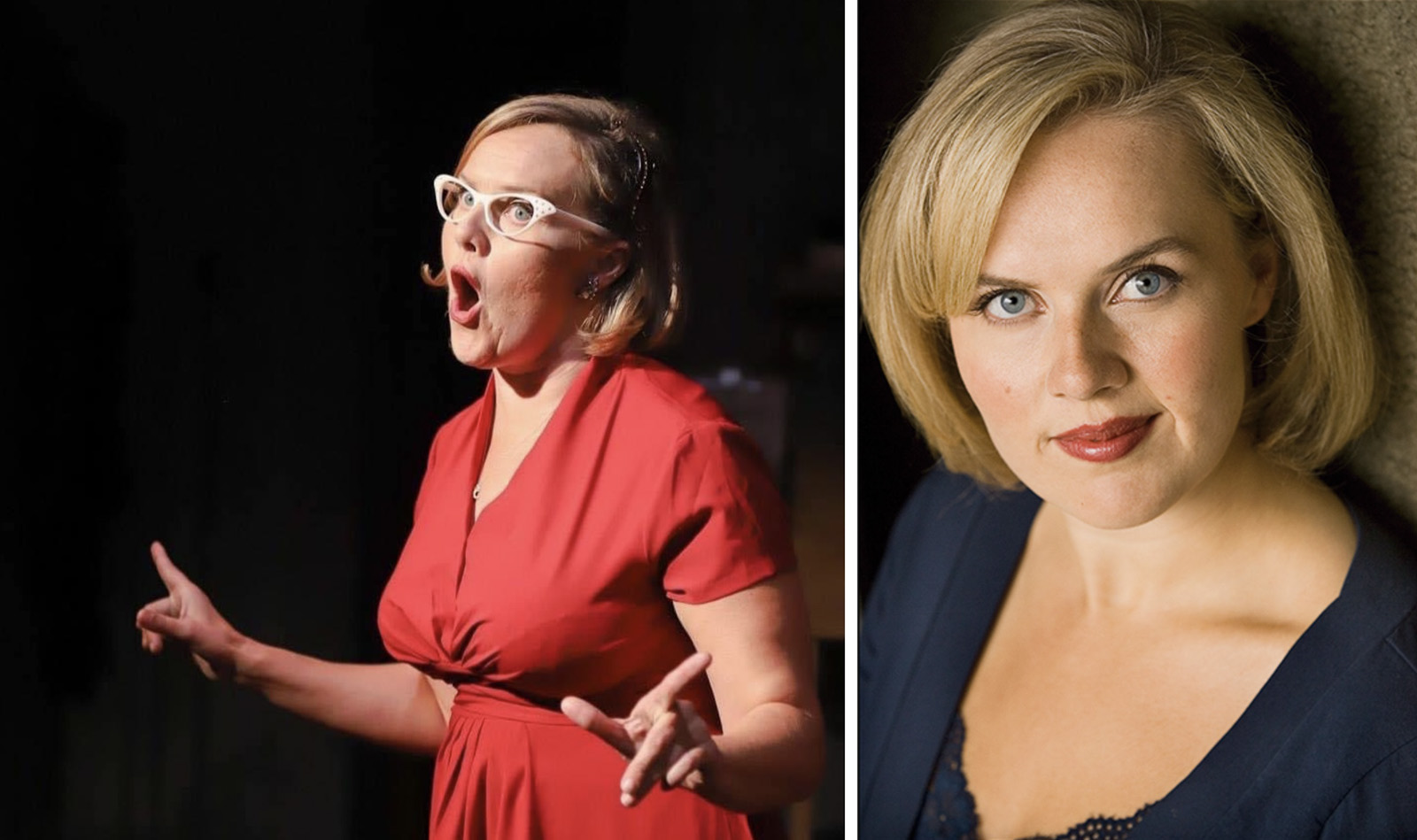 Tell us about the best—or a best—experience you had as a performer.
I'd have to say when I sang "La Contessa" in Le Nozze di Figaro (The Marriage of Figaro) at grad school. It almost didn't go up, because my director and chair of the department had a severe medical emergency that landed her in the ICU. The dean and the two remaining teachers on the production wanted to do an abbreviated version with major cuts. The student body wasn't having it and pushed back hard and loud. Thankfully they listened and allowed us to perform the show in its entirety.
One of the songs they had wanted to cut was my big number. It's a beast to sing and my music director didn't think I could pull it together. She was always on me about this that or the other. I couldn't never be good enough in her eyes. I was going to fail, she told me. But when I went out on that stage and sang this seven-minute aria in Italian with full orchestra, I was in the zone. I've never had an experience where I was so in the moment and fully aware and fully present and engaged. It was magical. I can still recall what it felt like on stage singing that piece. And when I finished the audience was extremely receptive and appreciative with standing ovations and the applause was so loud and so long that my co-star didn't know when or if she should come on stage to interrupt the applause.
At the end of the show, my music director came up to me and bowed to me to show her appreciation and respect, telling me I did well, very very well. That performance taught me that I can accomplish anything in music/theater if I put in the hard work and belief. That night changed me as a performer and gave me the confidence I needed to continue forward. I haven't looked back since.
Conversely, tell us about a pretty bad experience?
Oh man, that would be during a performance of Priscilla, Queen of the Desert. That show was a freaking hot mess to begin with. So many musical numbers, costume changes, and many, many wigs. In the show there are three women who are called the Diva's and they appear throughout the show singing in three-part harmonies. Well, on one of our Saturday matinees, our lead Diva showed up with a fever and had the flu. This was pre-COVID. So the director and cast agreed that she would only go on for her solo numbers, but not ensemble pieces. So before the show we had to rework blocking on at least four musical numbers so there wasn't any weird spacing. That was Disaster No. 1.
Disaster No. 2: Our whole musical was fully tracked, no live music, and in the first number the track went down and we lost our music, so we had to restart it all over again. And if that wasn't bad enough, it went out again. At this point the cast was ready to call it a night, but our director demanded we go on stage, so for the third time we started the show from the top.
Disaster No. 3: Our dance captain pulled his groin muscle in the opening number during the third time around and couldn't continue, so we had to discuss and rework blocking backstage for the rest of the show. But that's not the worst of it. The two other Divas and I were backstage in the wings waiting for our cue to go on, when the not-sick Diva starts saying she's not feeling well and says with everything that has happened we should just stop the show and refund the audience.
Well, that's just crazy I thought, but when I walked on stage and turned to my left she wasn't there. She stayed backstage and refused to come on. So our three-part harmony became two-part harmony in an instant. The Diva with the flu and I were so livid with her; you don't pull that kind of stunt. When we went backstage she was sitting at her space and we asked her if she planned on returning to stage and she said no, so we had to revise the rest of our songs with who'd get melody, and what solo lines we would take to cover—all while the show was going on, on stage.
It was a nightmare. The director came backstage and not so politely told her if she wasn't going to perform then she couldn't be backstage, and so she left. This actor also had one small bit part with a few lines and a one-page solo, and I was asked to learn it. Talk about a "go big or go home" moment. That was by far the worst performance experience I have been through. I can finally look back and laugh about it now, but there's a reason why during our dinner break the cast would go to a bar before the next show.
Any advice to folks out there hoping to pursue a life in the arts?
This is not an easy or glamorous life. It's hard work that's undervalued and not respected or appreciated in our society. It may appear glamorous and fun from the outside, but if you're lucky, maybe 5% is glamorous. You spend most of your time alone in a practice room learning your music, studying your lines, reviewing dance steps, technique, reading history, biographies, etc. to "get into the head" of your character, and you have to sacrifice time with loved ones because you're in rehearsal. And if that's not hard enough, you hear one "yes" for every fifty "nos." This career is full of gut-wrenching disappointments, rejection, and broken promises. It's not for the faint of heart. But it is truly rewarding and brings so much joy and a sense of accomplishment.
If you decide to pursue a life in the arts, take note that success lies with consistent practice, perseverance, patience, and dedication. In this world we live in, everyone wants to be famous instantly, but no one sees the hard work, long hours, day after day practice sessions, loneliness—the blood, sweat, and tears—it takes. This is not a "fast food" skill or career, but a lifetime dedication, a lifestyle. "You are a professional auditioner," as my college acting teacher would remind us.
Gene Kahane is the founder of the Foodbank Players, a lifelong teacher, and former Poet Laureate for the City of Alameda. Reach him at [email protected]. His writing is collected at AlamedaPost.com/Gene-Kahane.