Happily beknownst to many, Alameda has it's very own band of Shakespearean thespians—the Foodbank Players—of which I am part—and now beknownst to you, dear reader, you still have a chance to see this talented, joyful troupe perform their latest play, A Midsummer Night's Dream, in the island's parks this month.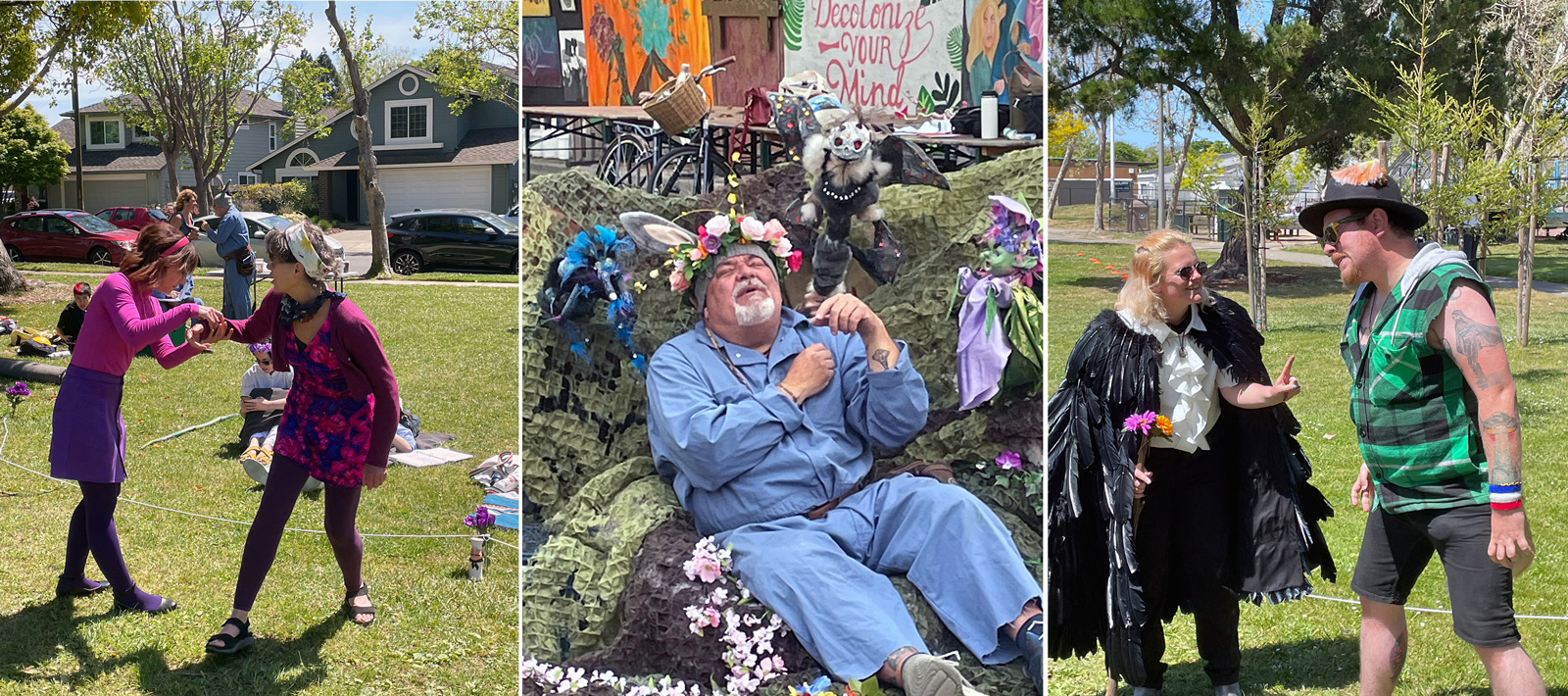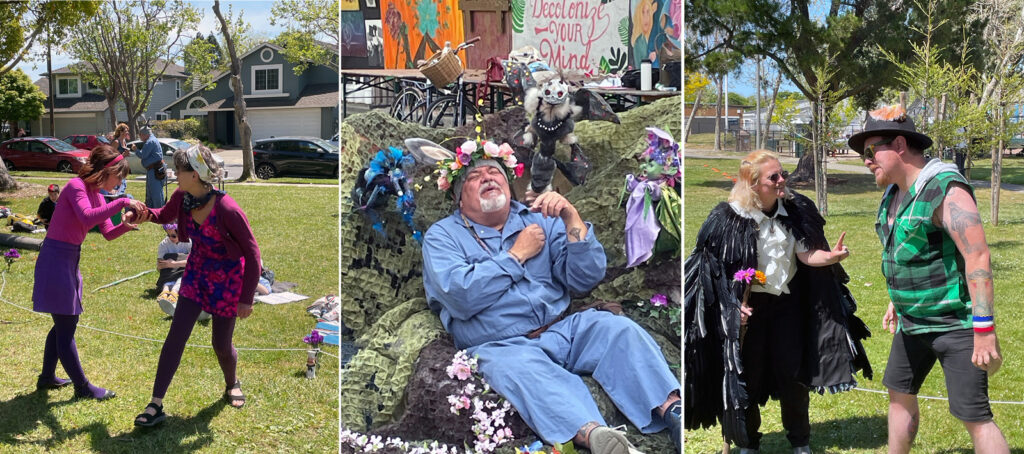 Repurposed by maestro director Robert Paine as Double Feature: The Most Lamentable Comedy and Most Cruel Death of Pyramus and Thisbe and A Midsummer Night's Dream, this version of Shakespeare's best beloved comedy has everything going for it (minus the kitchen sink): live music, a sword fight, thrilling dancing, magical flowers, lots of lovers, and some of the best acting and overacting seen on any stage in area code 94501 or 94502.
Each of the three rings of this story shine brightly and spritely.
Devon Labar and Shayna Ann Howlett play Oberon and Titania, king and queen of the fairies (the captivating Martie Muldoon and Donna Blevins) with fierce passion. And Benji Carver's Puck is bold and bodacious, frolicking in the forest outside of Athens.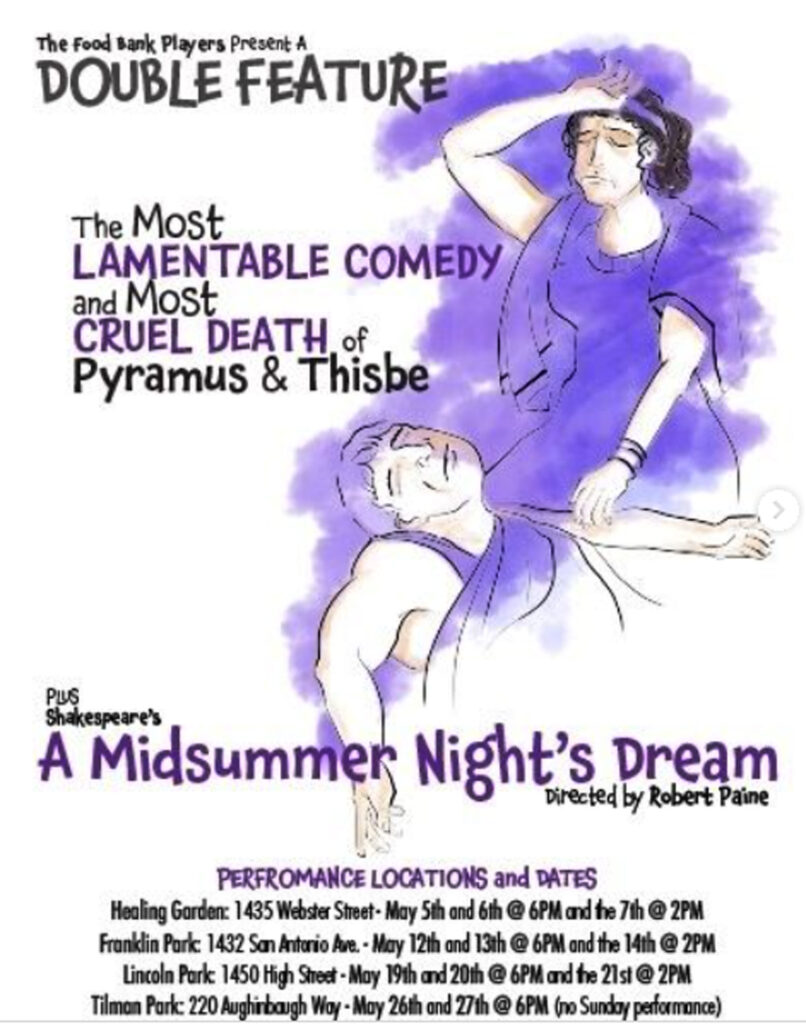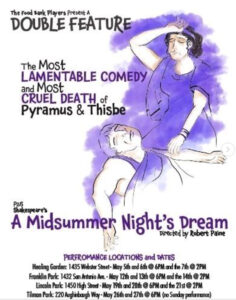 Theseus and Hippolyta, played with regal charm by Luis Araquistain and Lisa Appleyard, grapple with wedding plans while overseeing a love spat involving Jaime Olson's papa Egeus, his petite and petulant daughter Hermia (Jennifer Orlick), her pair of wooers, Lysandra (Karen Buchanan) and Demetrius (Kenneth Matis) and their famously forlorn friend Helena (Anna Joham). These royals are terrific as they joust with words and one another proving the adage, "the course of true love never did run smooth." Bill Brobeck plays Philostrate the party planner, employing an amazing voice and mighty fine kazoo chops.
Sally Geary wonderfully portrays Peter Quince, playwright and director of the Rude Mechanicals (Kip Soucie, Aris Wong, David Weiner, Kristen Peck, and Gene Kahane), a gaggle of actors hoping to perform post-nuptial for the duke and his wedded pals. Their tragically silly play ends the tale with laughter and love and an epilogue of faerie blessings sung like Sinatra.
The Foodbank Players, as their name suggests, is a theater company whose plays and performances have helped raise more than $14,000 for the Alameda Food Bank. Their magical Midsummer will next be playing at Lincoln Park, 1450 High St., May 19-20 at 6 p.m. and May 21 at 2 p.m., and at Tillman Park,  220 Aughinbaugh Way, May 26-27 at 6 p.m.  For more information, visit their website or their Instagram page.
Gene Kahane is the founder of the Foodbank Players, a lifelong teacher, and former Poet Laureate for the City of Alameda. Reach him at [email protected]. His writing is collected at AlamedaPost.com/Gene-Kahane.