Catch this outrageous show now through April 30
Essentially, Ruthless! The Musical is the familiar hero's journey. Except in this case, the hero is a kid actor, Tina Denmark, who can tap dance, sing, act, handle firearms, do rope tricks, and their quest is the lead in the school play. And like other hero journeys, she's challenged by villains hellbent on stymying her holy crusade. Except in this case, it's another kid vying for the same star part, her mom, the hero's mom, an agent, third grade teacher, and drama critic all of whom, in some way, honestly don't know what to do with this kid, this incredible kid, played by the incredible McKenzie Lopezlira, whose superpower is precociousness.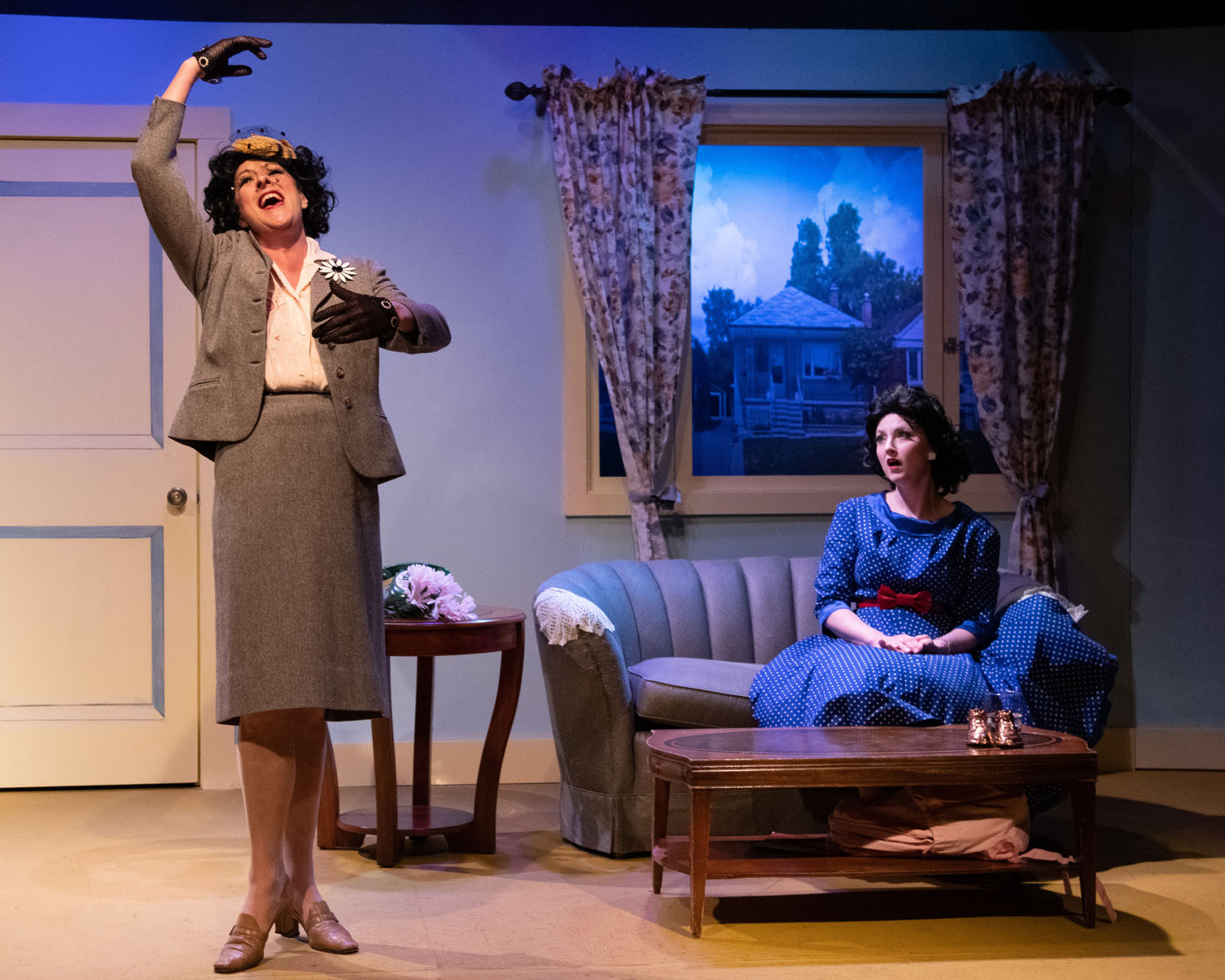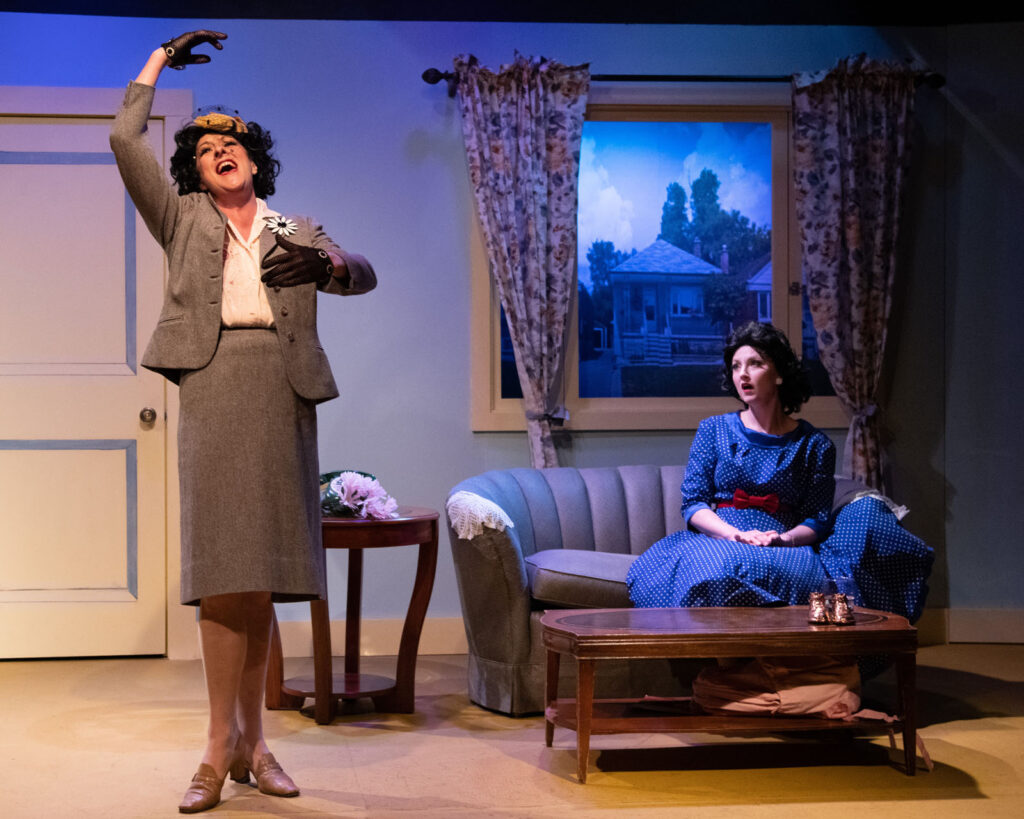 Amazing vocals and zany performances
Speaking of not being sure what to do, that's kinda me trying to write this review. Ruthless!, directed by Dana Anderson, is ridiculous, but really really good. The wigs are ridiculous (great job, Jeremy Letheule), but so so so good. The songs are ridiculous, but the singing is really and truly so so good (has there been a better collection of pipes ever on that stage?). The set is hilarious and includes doilies on the couch. If you put doilies on a couch on the set of a play, it's a guaranteed hit, theater fact.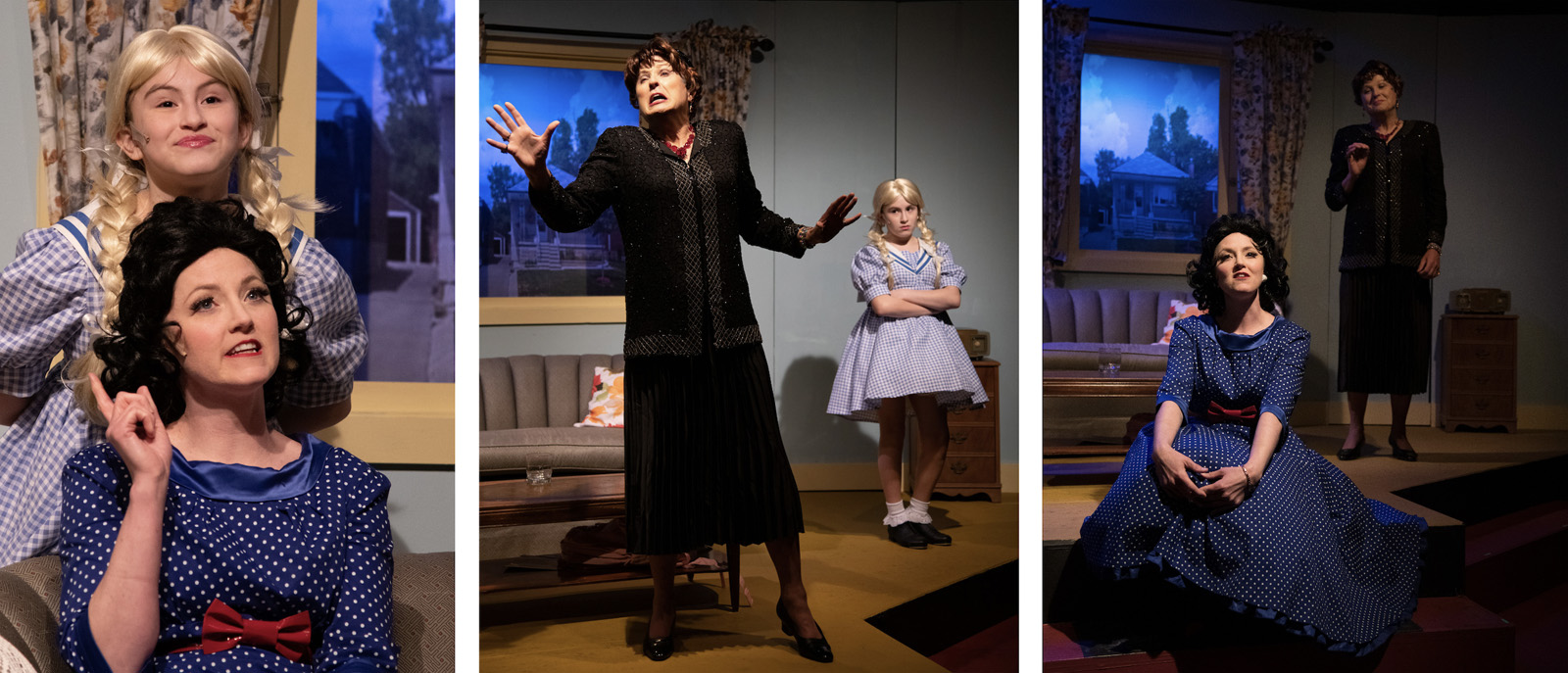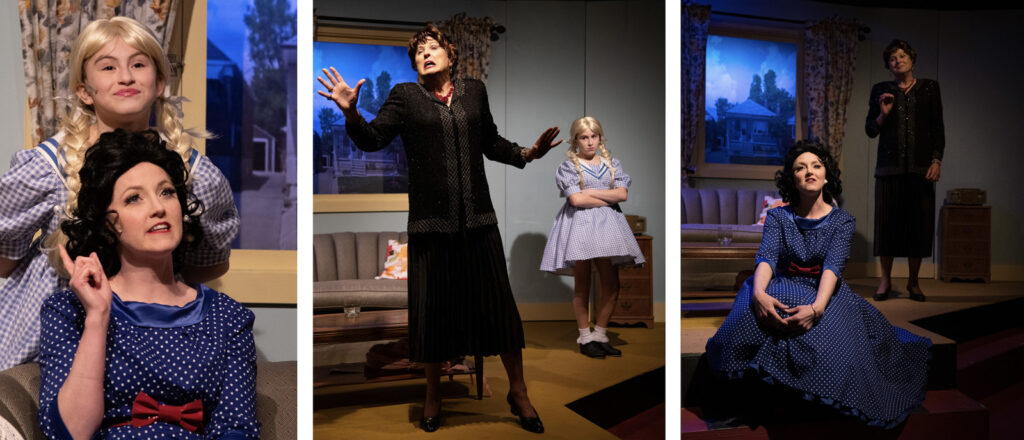 Sarah Elizabeth Williams plays Judy Denmark, mom to Tina and, I mean this sincerely, the way she handles a carpet sweeper, along with her incredible voice, made at least one theater critic in the audience fall madly in love. Ronnie Anderson plays Sylvia St. Croix, mentor extraordinaire, and while I cannot verify their carpet sweeper skills, they were also terrific, over the top of the top of the top in a jaw-dropping way. They stole every scene and took them home to sell on eBay. Anna Joham is wonderful as the teacher, showing comedic skills nearly as amazing as her voice. Lisa Appleyard is brash and commanding as the critic, and fabulously wears what I think was a hat in her fabulous fake hair. And Caroline Schneider is incredible playing multiple people in a cornucopia of wigs that suggest a nod to Beach Blanket Babylon (long may it rest in peace). The great Armando Fox did the music, Laura Morgan the choreography, and artistic director Katina Letheule picked this weird, wacky, wonderful play for this, the 85th season of theater at the Altarena.
Ruthless! is a sight to behold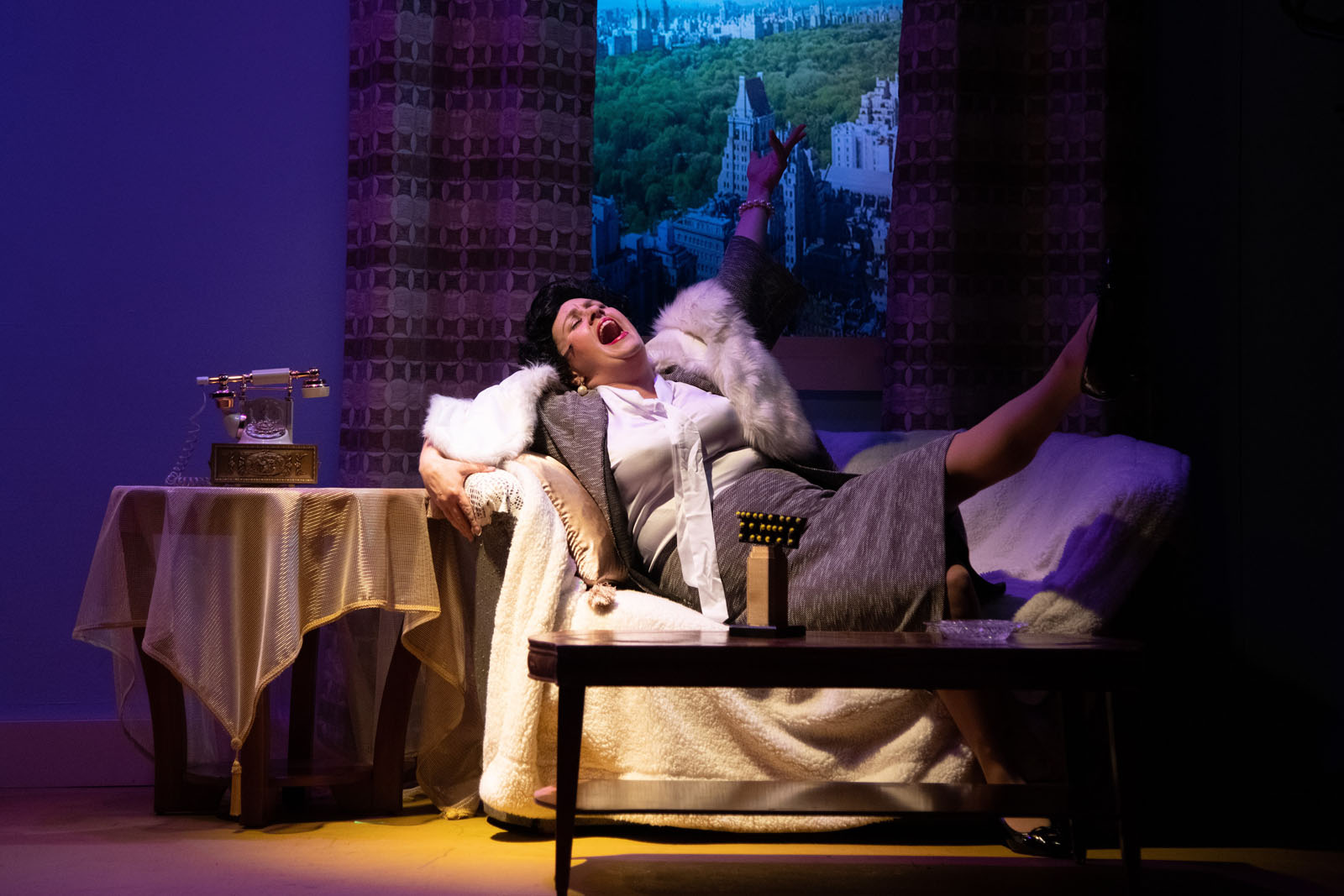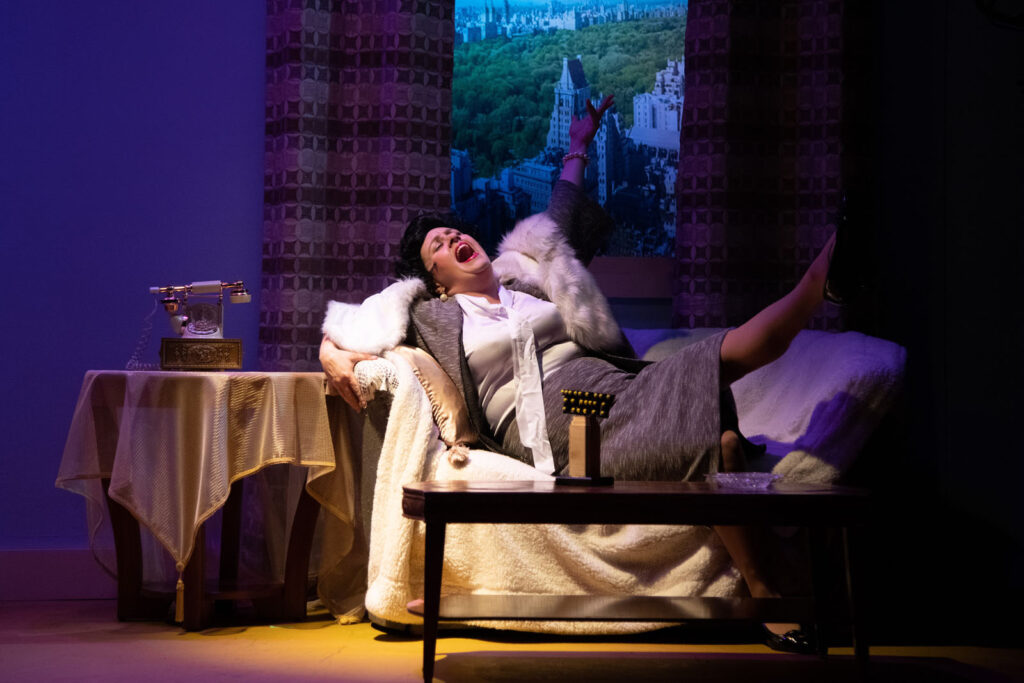 Now let's talk about the costumes, designed by Janice Stephenson.  Most of the characters are women and they mostly wear dresses that are meant to be a little campy, but they are also brilliant—colorful, fancy, poufy—and fix the story in the '50's (or at least the Leave it to Beaver version of the '50's). They have a John Waters quality about them that, as they say in the fashion world I think, make them pop! I will admit that one particular dress worn by one particular character got an awfully loud guffaw by the person sitting next to the person sitting next to me. What can I say, I'm a sucker for stripes.
Go see Ruthless! The Musical, prepare to shake your head at how crazy terrific it is, but also be forewarned—when you wake up the next day you will still be smiling and think to yourself, oh wow, I may need to go see it again. Which you should, and bring friends, but maybe leave the kids at home for fear that afterward they'll say, "Mommy, I think I want to get into show business!"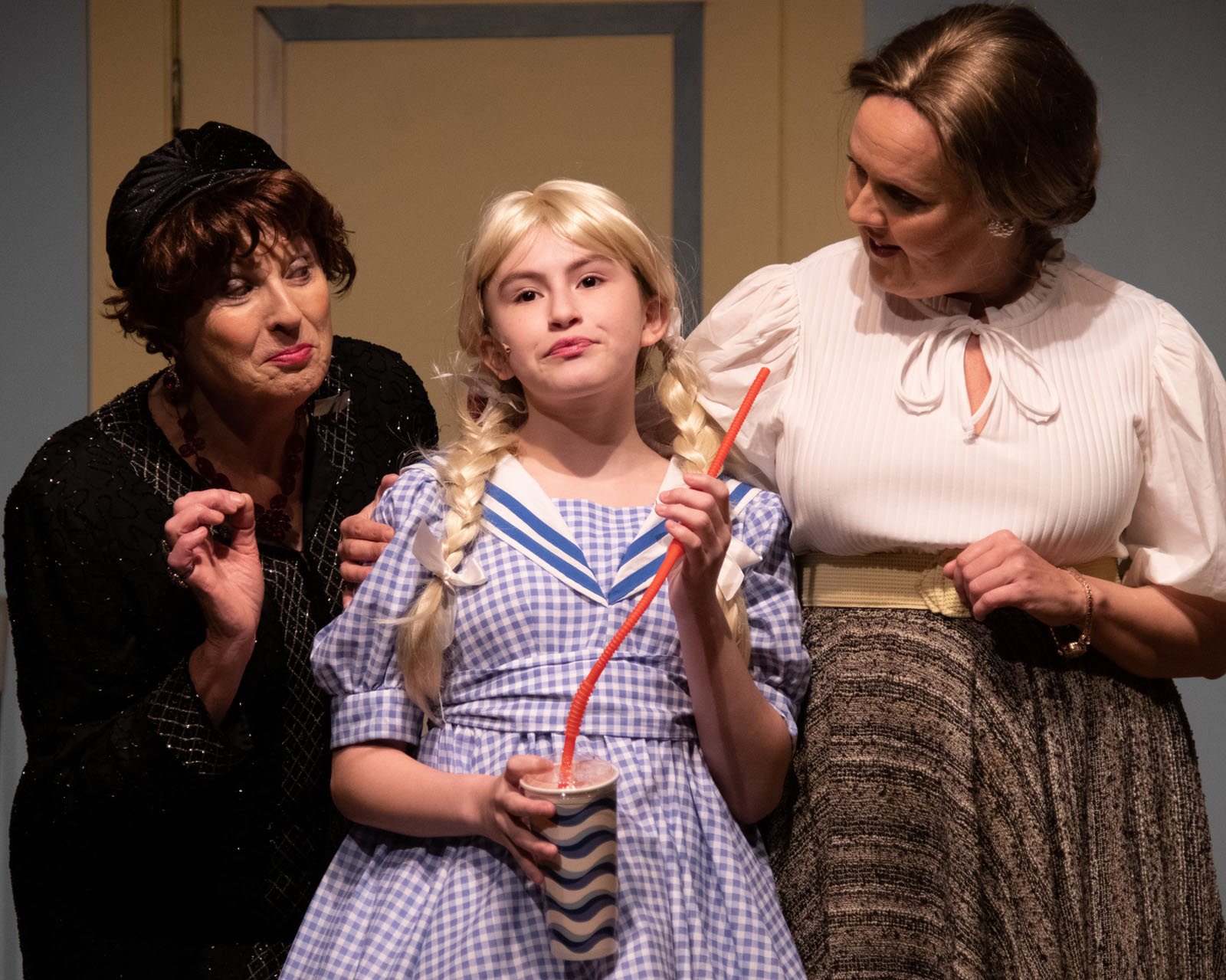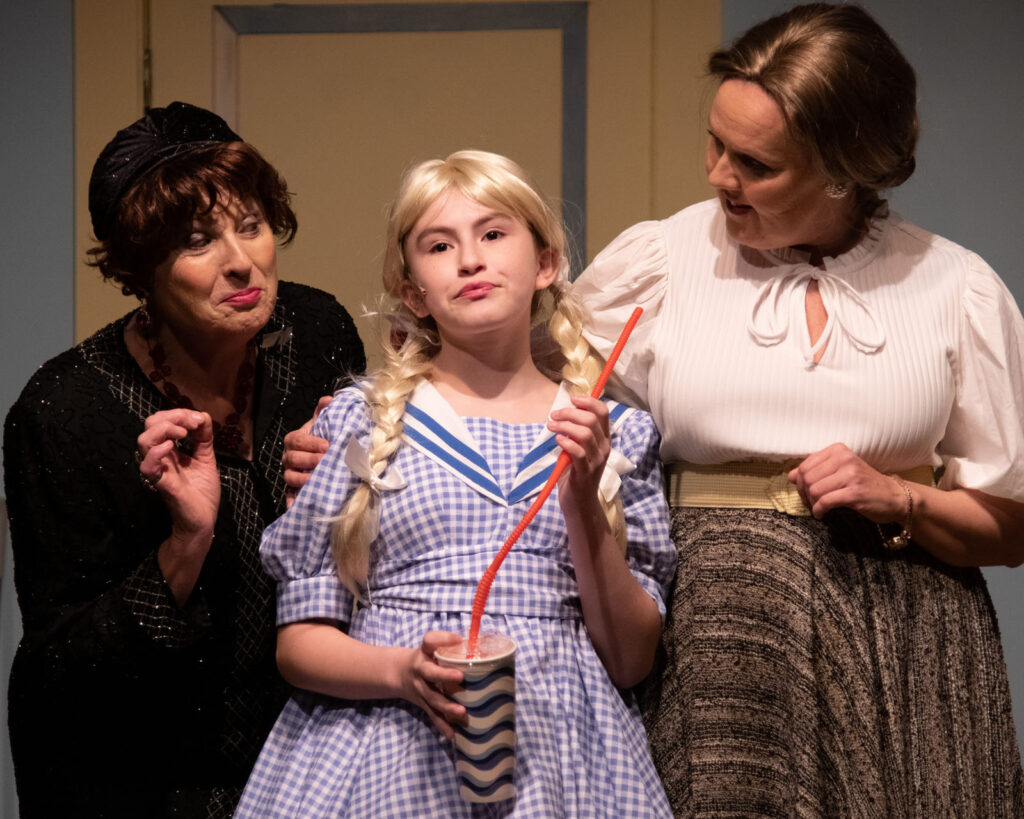 By the way, one of Altarena's previous productions, A Nice Family Gathering, was just nominated for five Bay Area Theater Critics Circle awards, including Ensemble for a comedy, Featured performers (J. Aaron Seymour, Byron Guo), Principal performance in a comedy (Peter Marietta), and Overall production (100-300 seat house).
Ruthless! The Musical showtimes are Friday and Saturday at 8 p.m. and Sunday at 2 p.m. through April 30 (also playing on Thursday, April 27, at 8 p.m.) at Altarena Playhouse, 1409 High St.; tickets may be purchased online at the Altarena Playhouse website.
Gene Kahane is the founder of the Foodbank Players, a lifelong teacher, and former Poet Laureate for the City of Alameda. Reach him at [email protected]. His writing is collected at AlamedaPost.com/Gene-Kahane.