Bear's-Eye View of Alameda for December 4, 2022.
Now that the November page has been torn from the calendar, and we are officially entering the crazy season of giving, my editor has given me the green light to start posting holiday photos.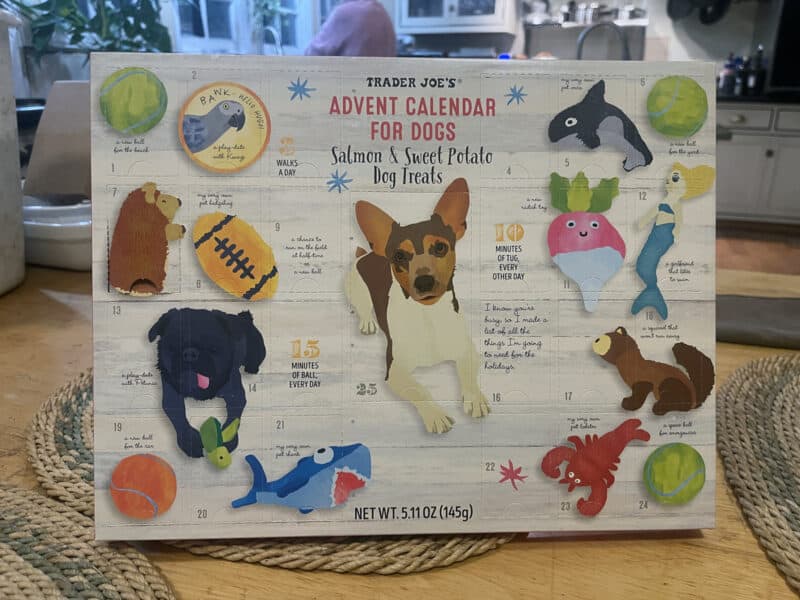 For this roving reporter, the holiday season starts when Trader Joe's starts selling the Advent Calendar for Dogs and Tucker's human companions put out the Snoopy sleigh display in their front yard on Morton Street. Both took place this week, and I was there to cover them.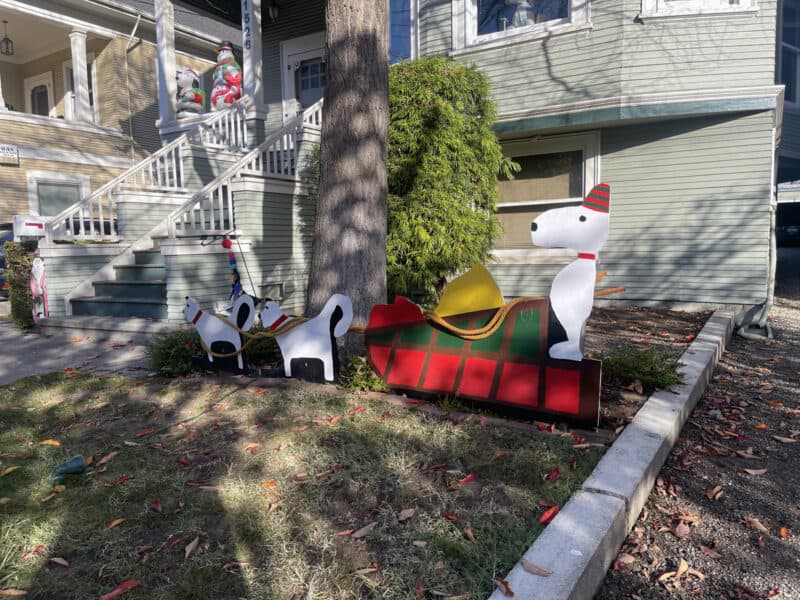 I am starting to see lots of holiday inflatables appear in front yards, and, while these are easy to set up, my human companion still fondly remembers the handmade displays that people used to make—like the ones in Tucker's yard.
There are several yards doing a great job of capturing the season with projection and icicle lights, and prefab objects like reindeer, snowmen, and Santas. Over the next few reports, I will be heading to Thompson Avenue (you might know it as Christmas Tree Lane) where there are a bunch of custom-made holiday displays.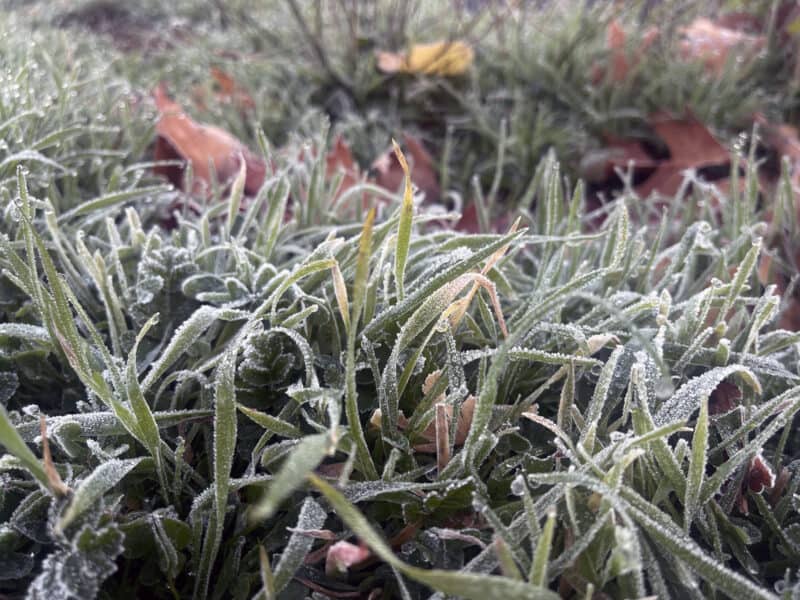 If you ventured out early in the morning this week, you would have frozen your buns off!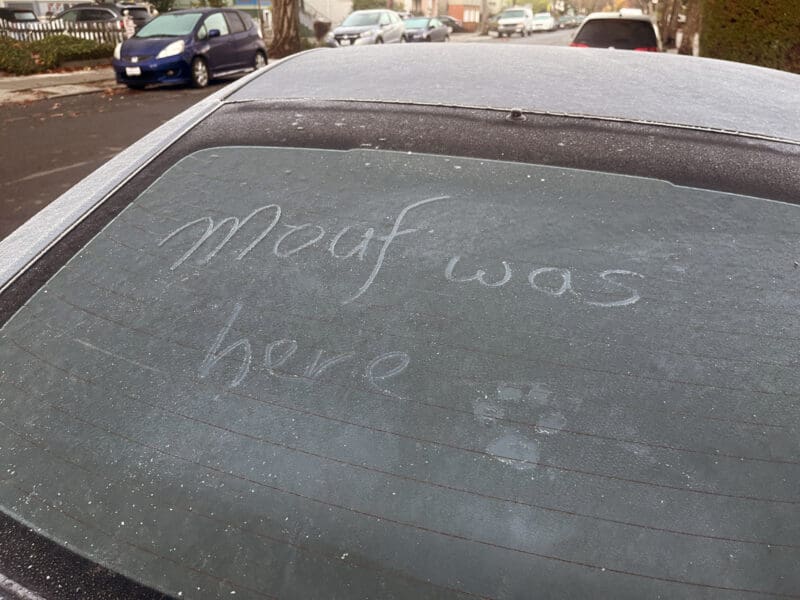 The cars and plants were covered with ice crystals, and I could see my breath as I walked along Santa Clara Avenue.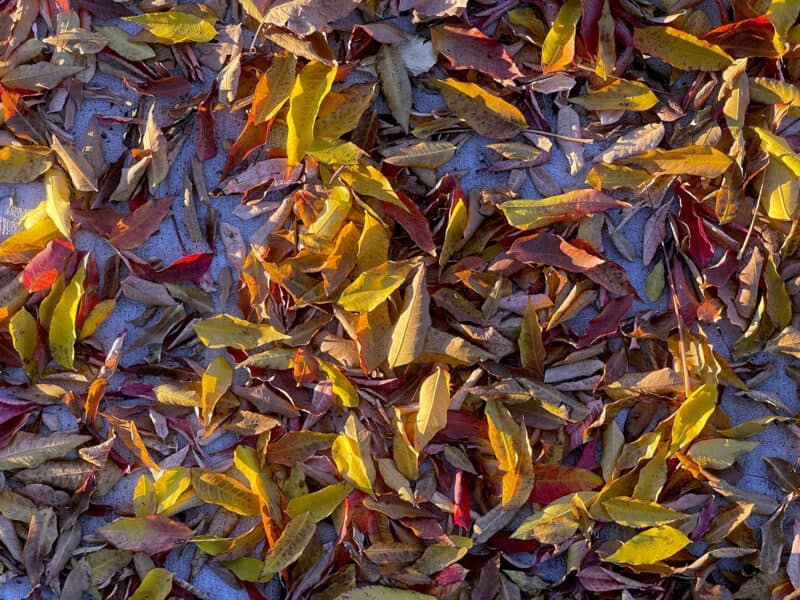 By the time we took our 10 a.m. walk, the ice had melted, and the sun really brought out the yellows, oranges, reds, and browns of the leaf mosaic under the tree on Chestnut Street.
Friday was also the day I was way over on Broadway when the sky opened up and soaked the poop out of me and my human companion who said, "Oh, we don't need the big umbrella."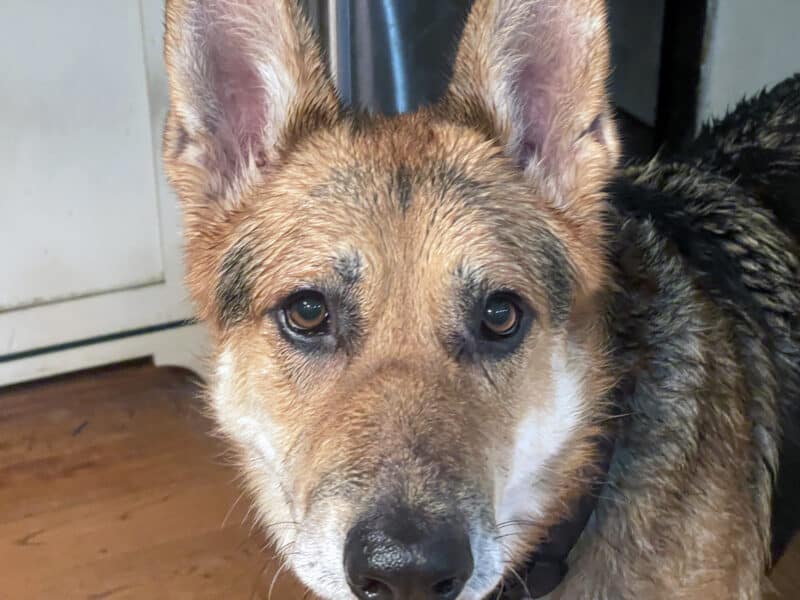 I paid him back by shaking a gallon of water in the entryway.
Last week, I reported on the unveiling of the Tonarigumi plaque at the Alameda Marketplace recognizing the Japantown area that was located at the east end of Park Street around Buena Vista Avenue in the early 20th century.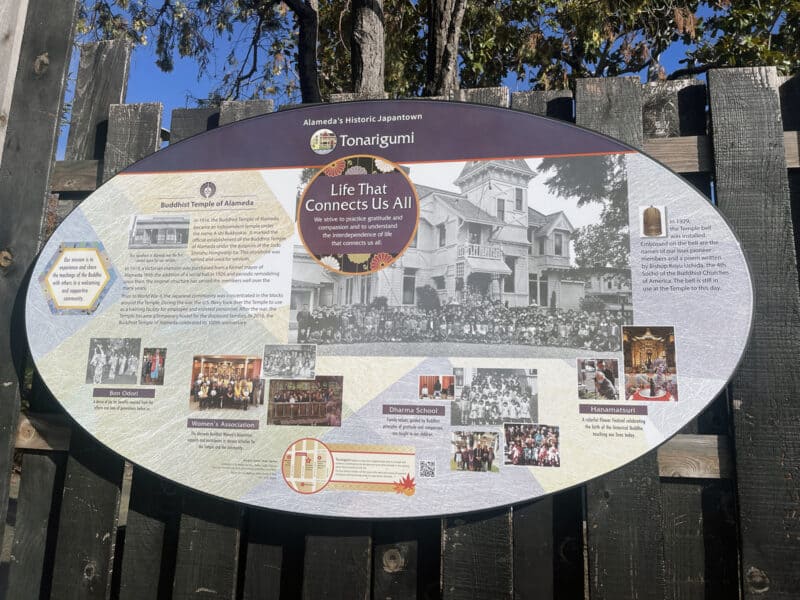 As it turns out, another plaque was also placed in front of the Buddhist Temple of Alameda located at 2325 Pacific Ave.—just past the Preacher's Daughter—to commemorate its beginning in 1916. That plaque has a lot of great info about the history of the temple.
Most of you know that I put a lot of miles on these paws to bring you readers the sights I come across on my daily walks around Alameda. During these adventures, I find some very cool stuff that people leave on the sidewalk to repurpose.
Since this is the season for shopping, I am going to offer for sale some of the items I have brought back to the house for repurposing. My first offering is perfect for that holiday toast or ringing in the New Year.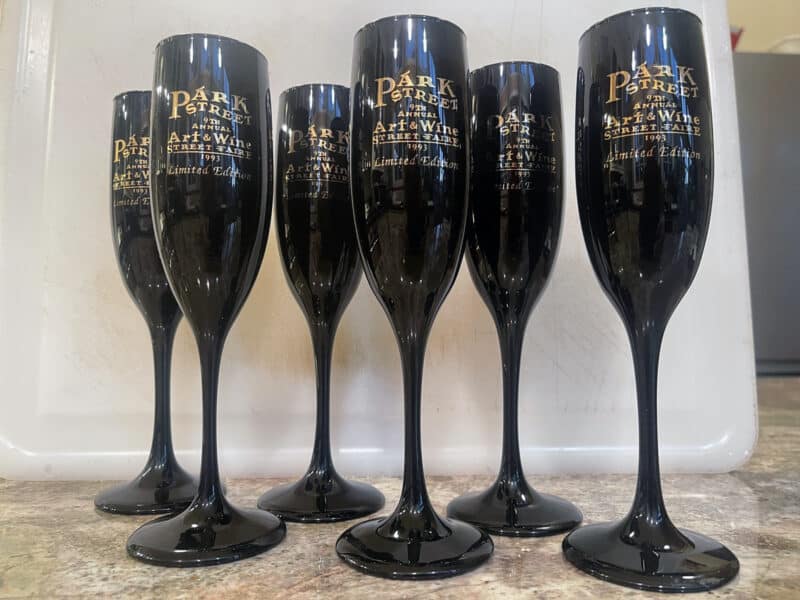 Here are six limited-edition jet-black champagne flute glasses printed in 24 carrot (or is it karat?) gold commemorating the 1993 Park Street Fair. They are available for at least a $20 donation per glass to the Friends of the Alameda Animal Shelter's Starfish Fund for Emergency Vet Services.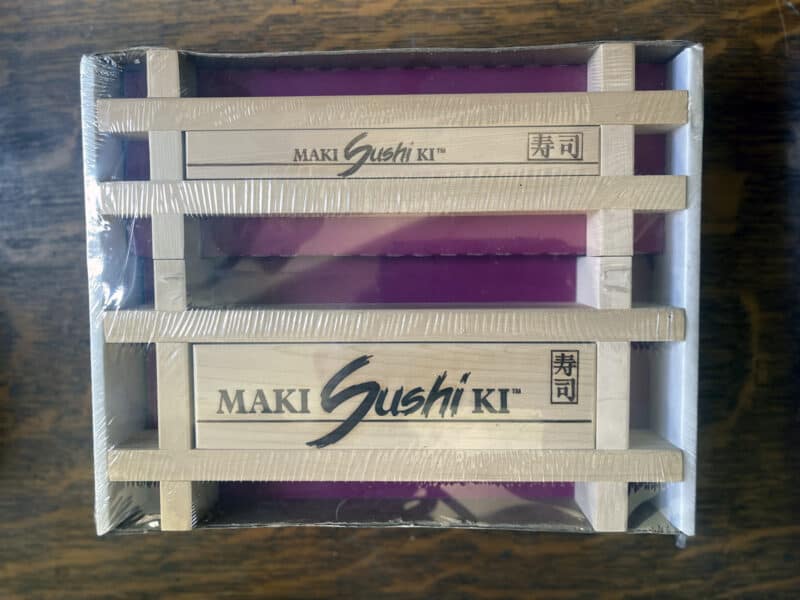 We also have a brand new in-the-original-box sushi maker available for a $10 donation to FAAS.
If you want to purchase any of these items, you must email your request to my human companion at [email protected]. He will confirm availability and send along directions on how to donate. Do not try to purchase by commenting on this post. There is no way I could keep up with the requests.
Next week, I will be offering a bunch of succulents that I rescued from the sidewalk planting area.
Wishing you all happy holi-DAZE
Mouf, Roving Reporter
Bear's-Eye View of Alameda
Mouf and his human companion can be reached via [email protected]. Their stories are collected at AlamedaPost.com/Jeff-Cambra/. All photos by Jeff Cambra.