Bear's-Eye View of Alameda for November 19, 2023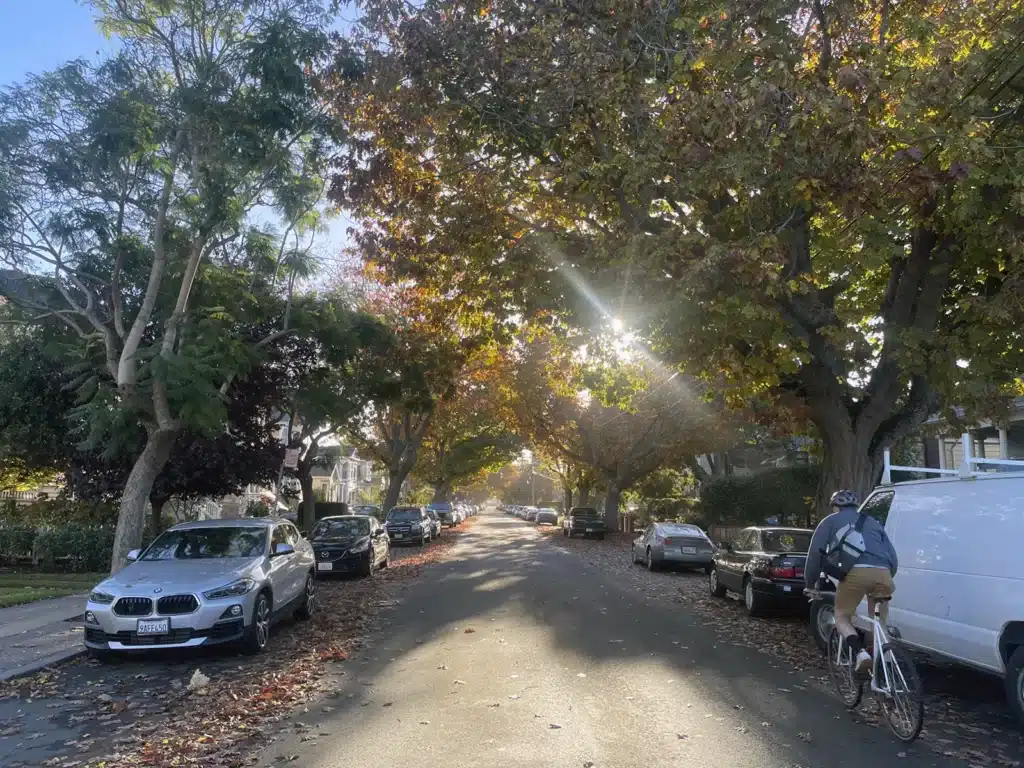 The autumnal equinox, which marks the beginning of the fall season for Alameda and the rest of the Northern Hemisphere, is around September 22, but because of our great climate on the "Isle of Style," the feeling of fall doesn't really kick in until after Halloween. Additionally, my human companion considers the day after Thanksgiving as the start of winter, which means that—unofficially—autumn is only a 24-day season in my house.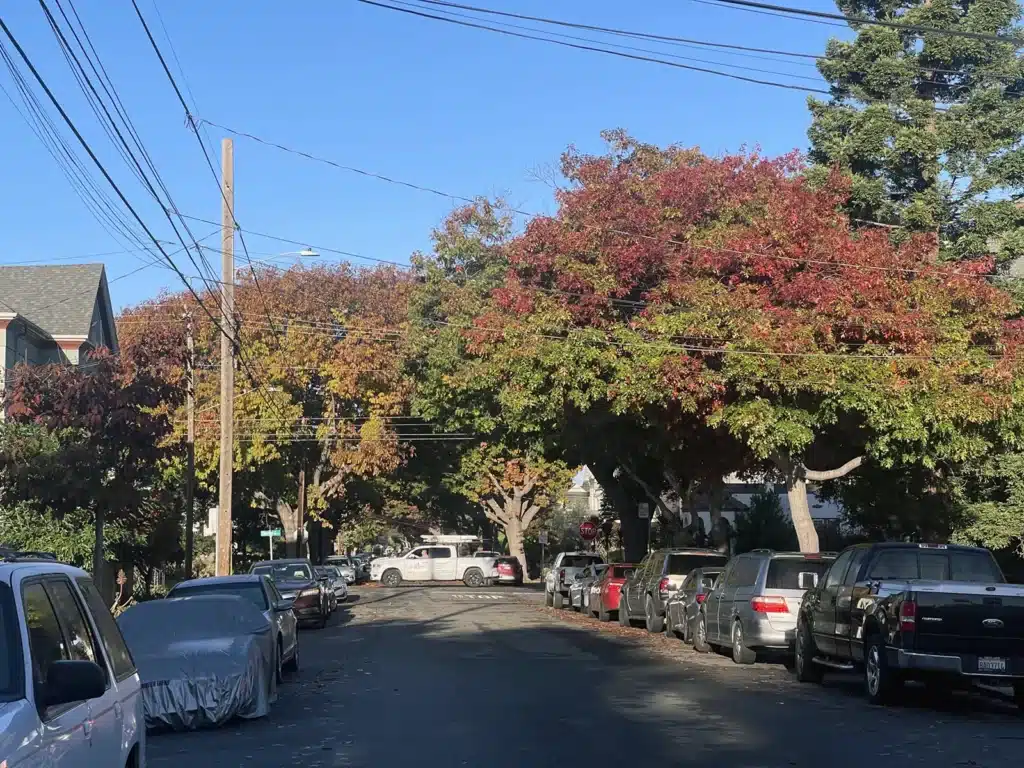 As I walked the tree-lined streets of Alameda, there were lots of yellow, orange, red, and brown leaves in people's yards and in piles along the gutter waiting for the city street sweeper to pick them up. On my street, the city sends a huge vacuum truck to suck them up.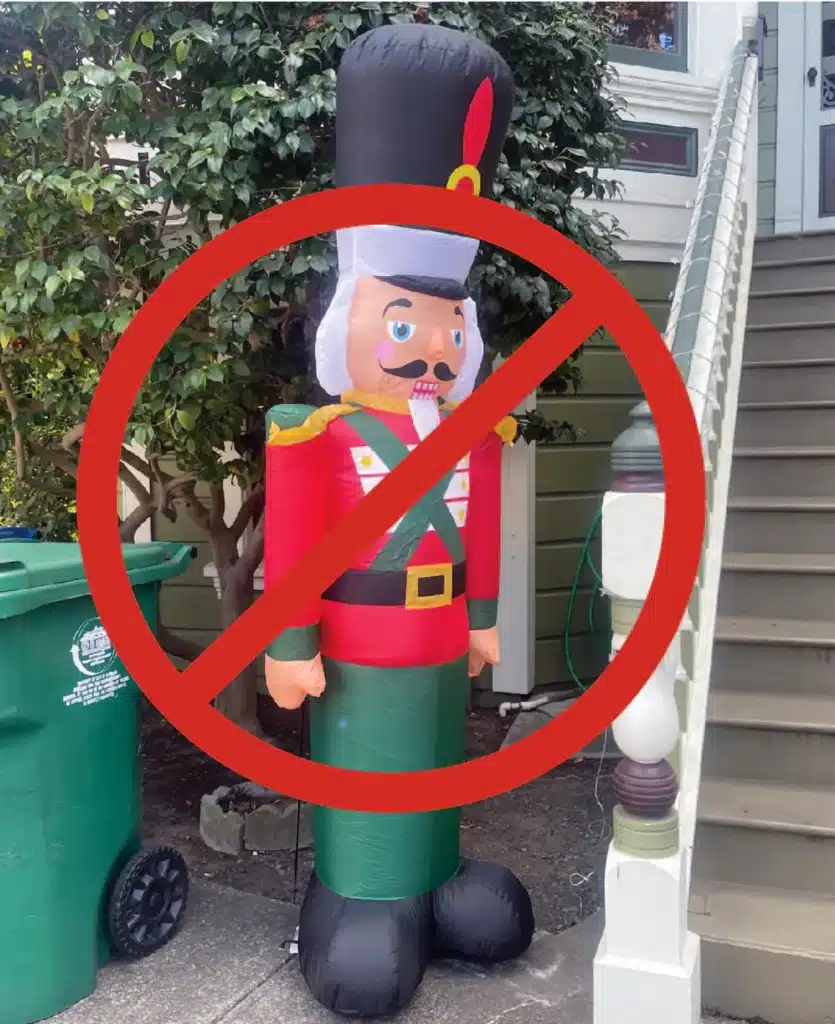 This week, I kept busy looking for Thanksgiving and fall yard decorations, while my human companion cursed out all the inflatable Santa Clauses, lighted snowmen, and trees decorated with oversized ornaments.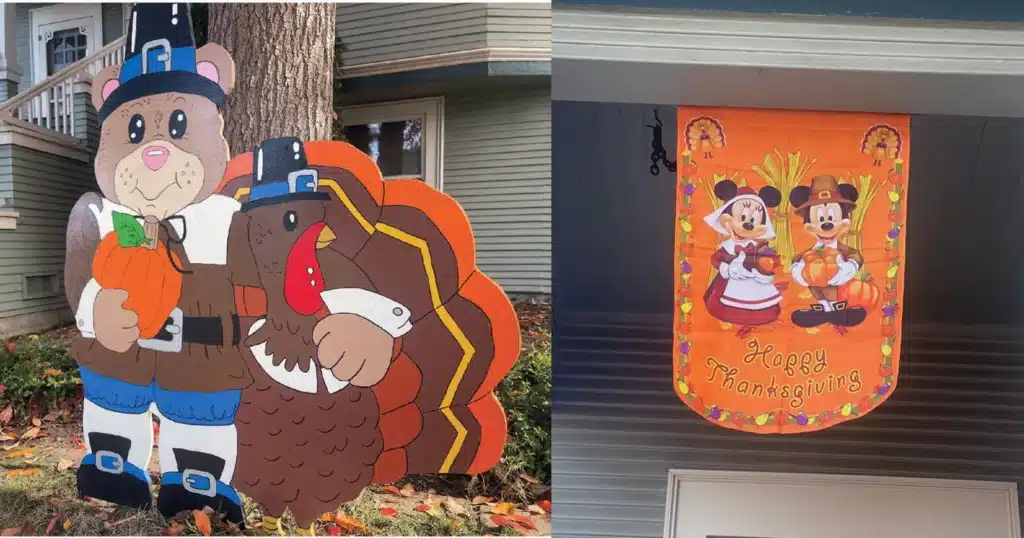 On Morton Street, Tucker's human companions always come through with their traditional pilgrim bear and turkey display, along with Mickey and Minnie Mouse's "Happy Thanksgiving" greeting to passersby.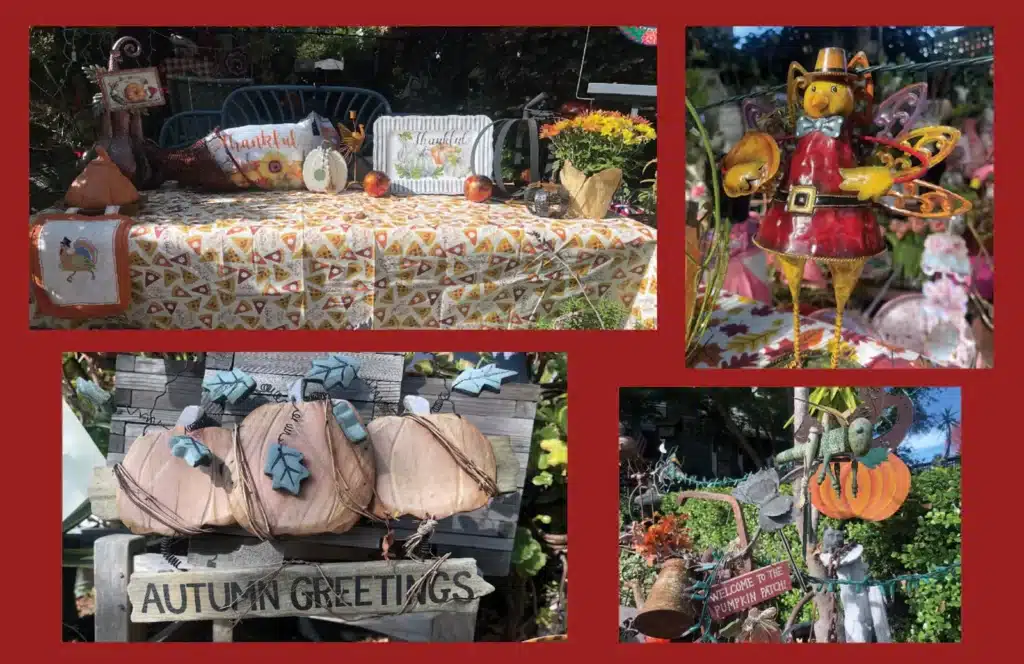 I had a tip that Charlotte, who lives on Chopin Street, had also swapped out Halloween decorations for anything fall. Sure enough, she had a great fall scene with absolutely no Christmas decorations. So refreshing!
The folks that live at the corner of San Jose Avenue and Willow Street, who had the really great pirate scene, have packed up their pirate skeletons and put up a beautiful fall scene complete with homemade wreaths.
While every squirrel is my nemesis, I thought it was really nice that this family provided the squirrels with a nice pumpkin meal.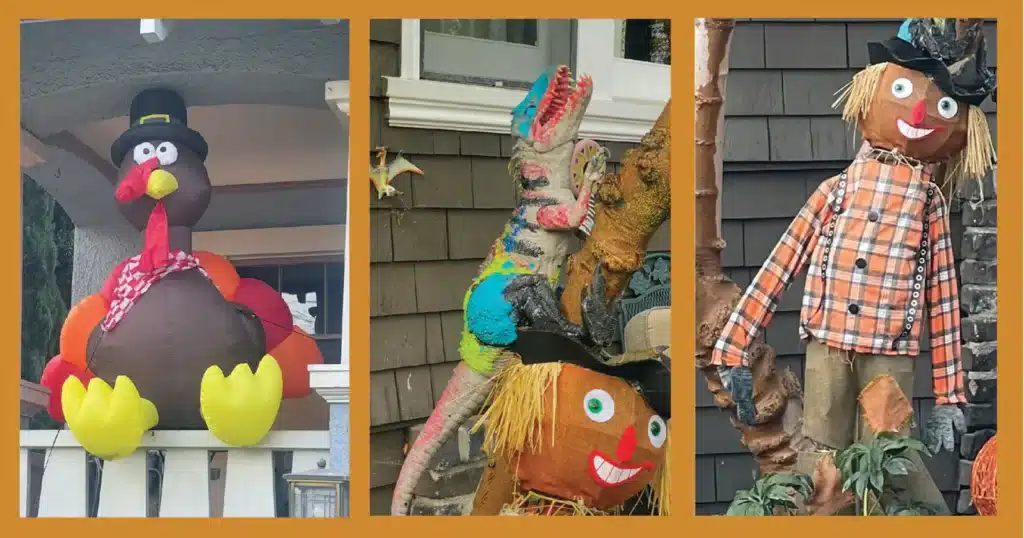 There were lots of inflatable turkeys hanging out, and I was excited to note the seasonal return of the T-Rex and Scare Crow on Central Avenue.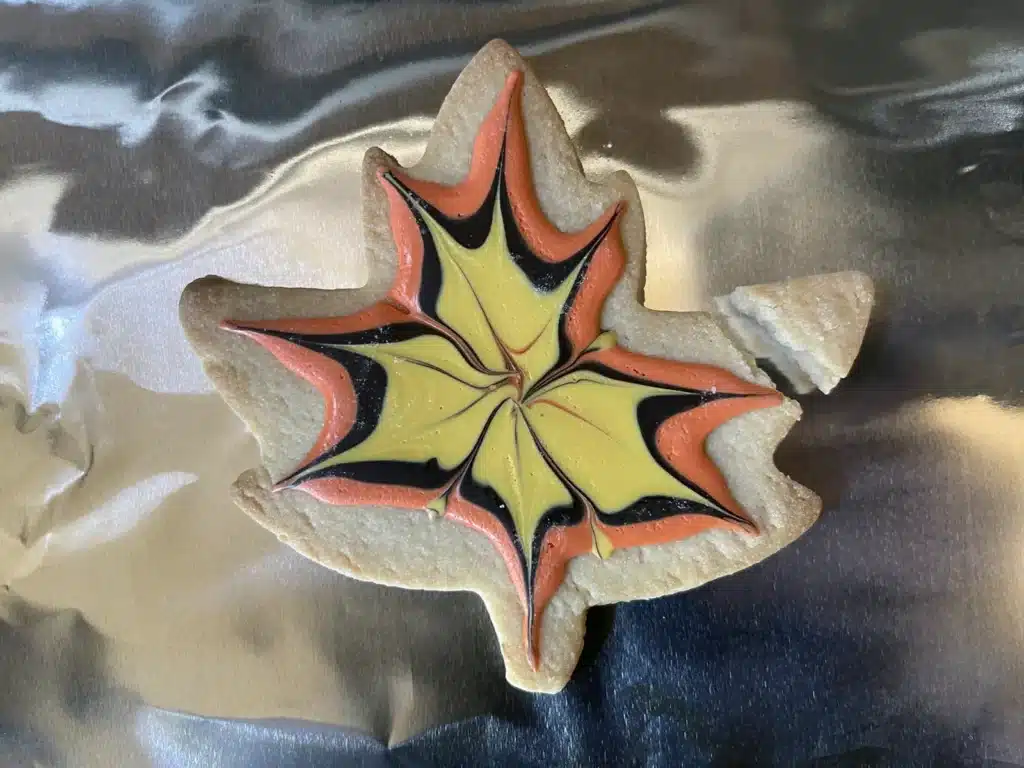 Over at The Local coffee shop, the Thanksgiving sugar cookies have appeared on the counter. This particular one did not make it home in one piece… Guess what I got as a treat? Yum!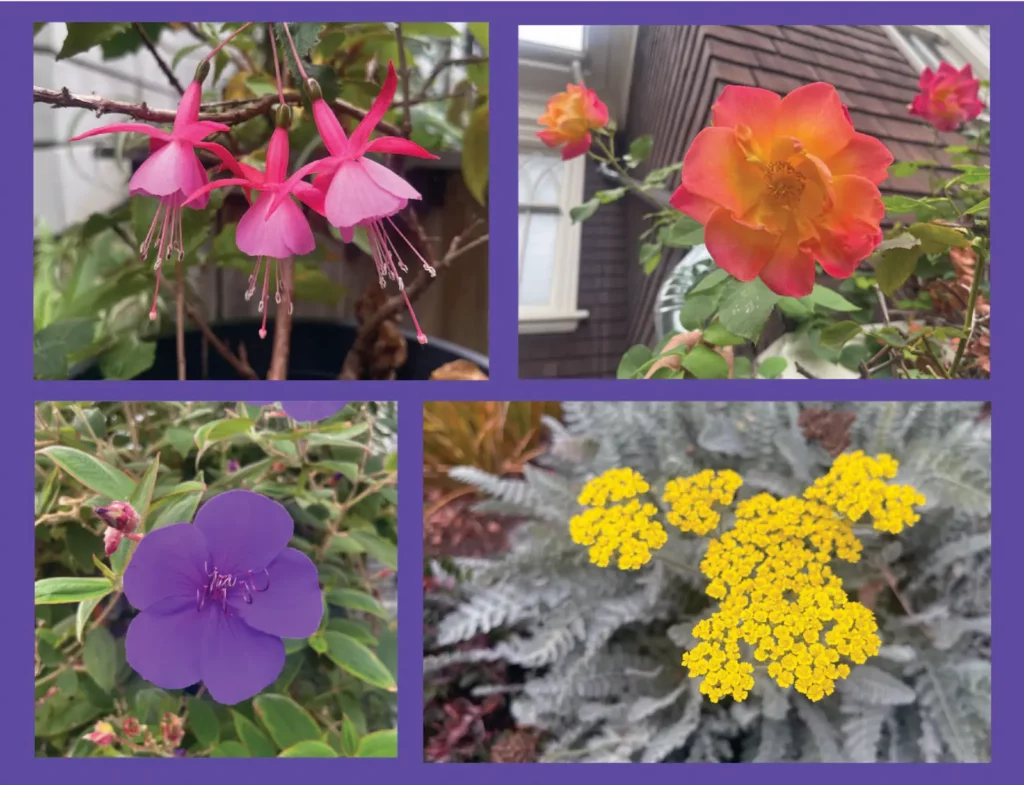 While much of Alameda's plant life has turned from yellow to orange to brown, there are a number of species that are just starting to show off their colors. I have included a few in this report and will continue to include more as I find them.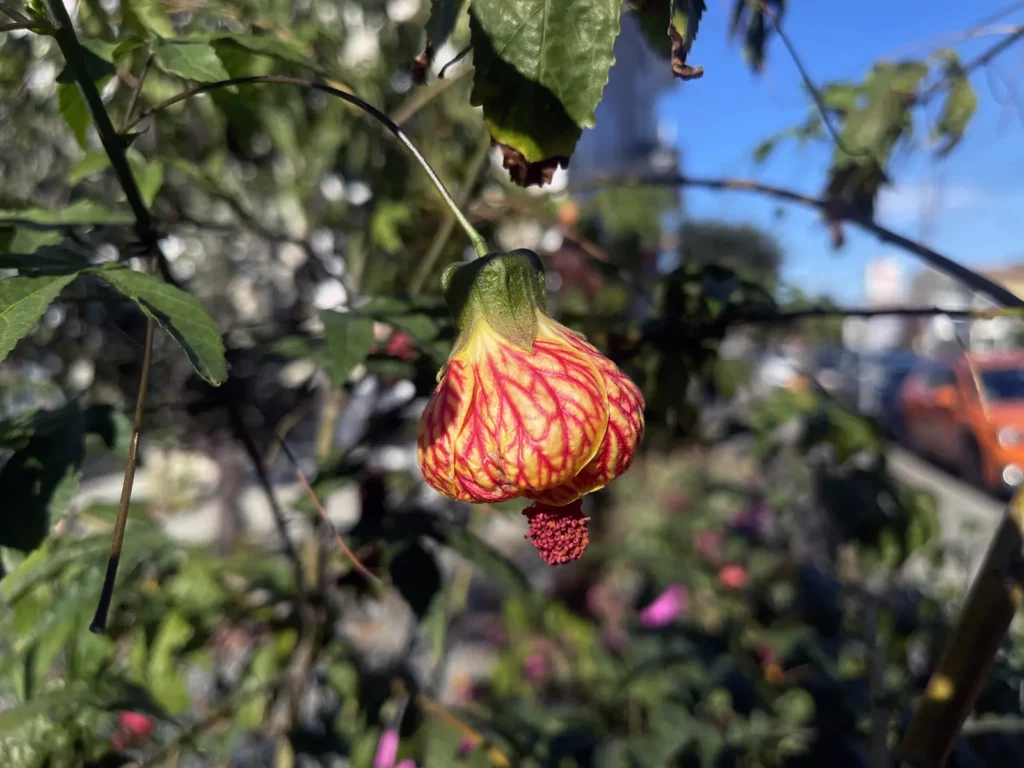 One of my favorites is the Chinese Lantern Plant or Abutilon "Red Tiger."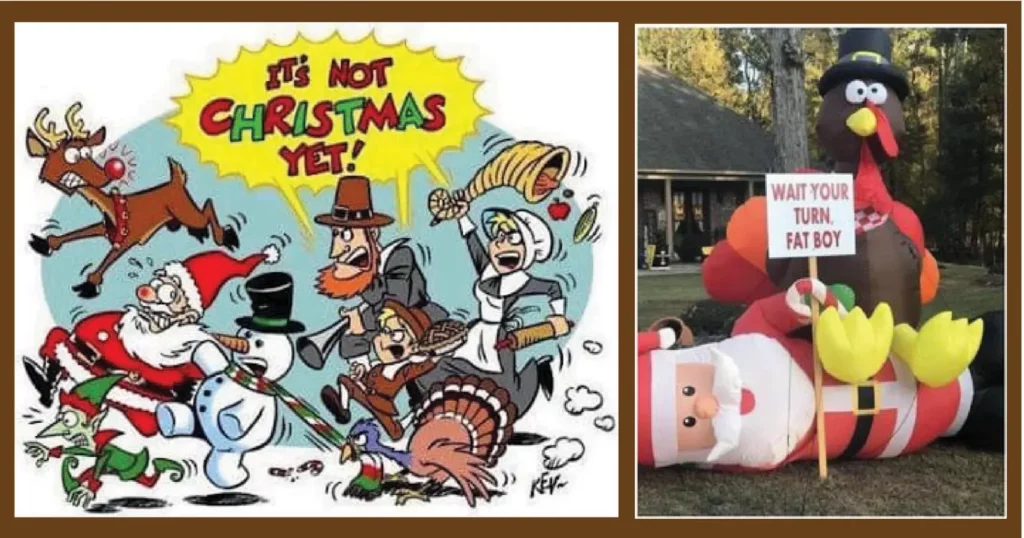 On behalf of my human companion, I want to give a big THANK YOU to Robert Minot and Jan Brandt who sent along images that totally embrace the feeling my guy has about recognizing Thanksgiving and not putting up Christmas holiday decorations until after turkey day.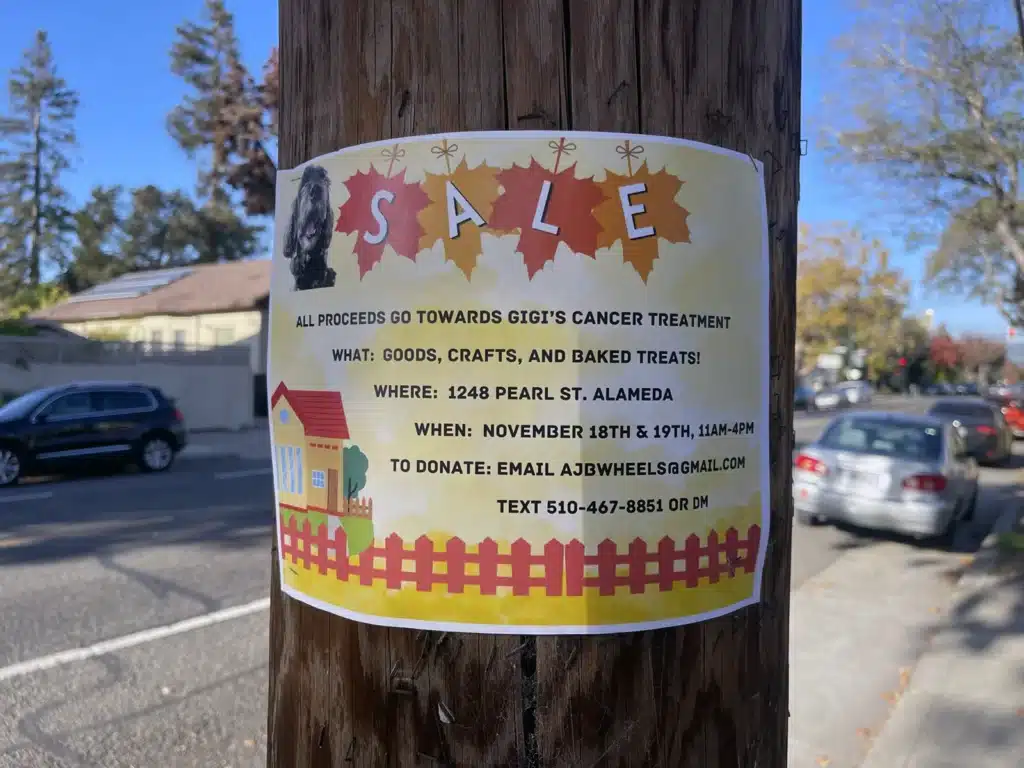 Finally, I wanted to pass on some information about Gigi – a fellow canine who has cancer. Her human companion is working really hard to earn enough money for the treatment that will save Gigi's life. If you can help, the flier has all the info on how to connect with Gigi's human companion.
Sending my best wishes as well as best wishes from everyone at the Alameda Post to Gigi and her human companion on their journey.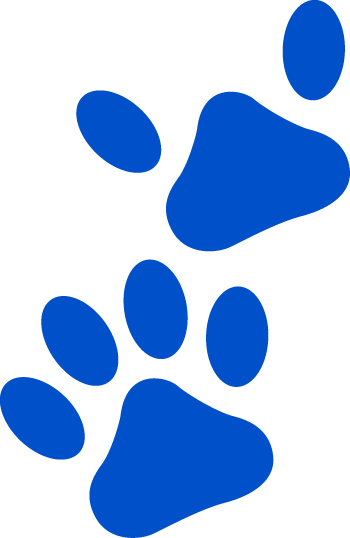 Mouf, Roving Reporter
Bear's-Eye View of Alameda
Mouf and his human companion can be reached via [email protected]. Their stories are collected at AlamedaPost.com/Jeff-Cambra/. All photos by Jeff Cambra.