On a beautiful fall evening in Alameda, 110 years after a Japanese immigrant community first formed here around 1912, a crowd gathered to pay homage to those early pioneers who created a Tonarigumi, or close-knit neighborhood. On Thursday afternoon, November 17, a group of at least 100 people assembled next to the Alameda Marketplace on Park Street to witness the first public unveiling of a historic marker describing the once vibrant Japanese American community that existed on these blocks.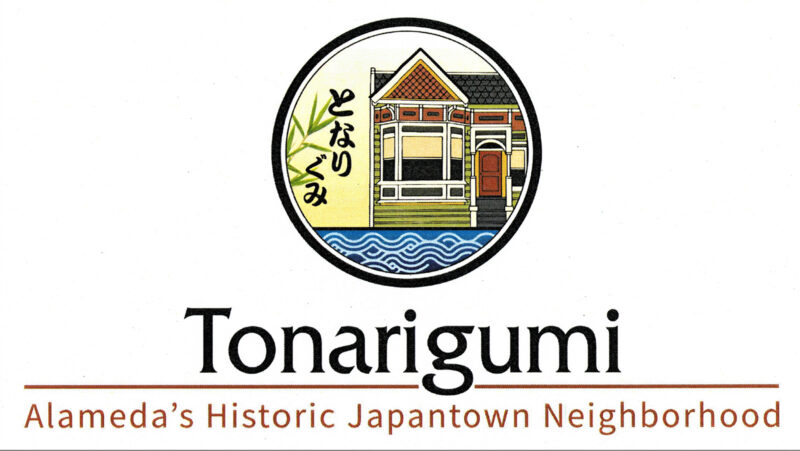 Roughly bounded by Park Street, Santa Clara Avenue, Walnut Street, and the estuary, Alameda's Japantown had about 880 residents at its peak in the 1930s. Numerous businesses served the Japanese community, as well as the community at large. These included schools, florists, nurseries, restaurants, doctors, barbers, hotels, laundries, shoe repair shops, grocery stores and churches. With immigrants often facing hostility and discrimination, they set up their own enclaves for mutual-support.
Community comes together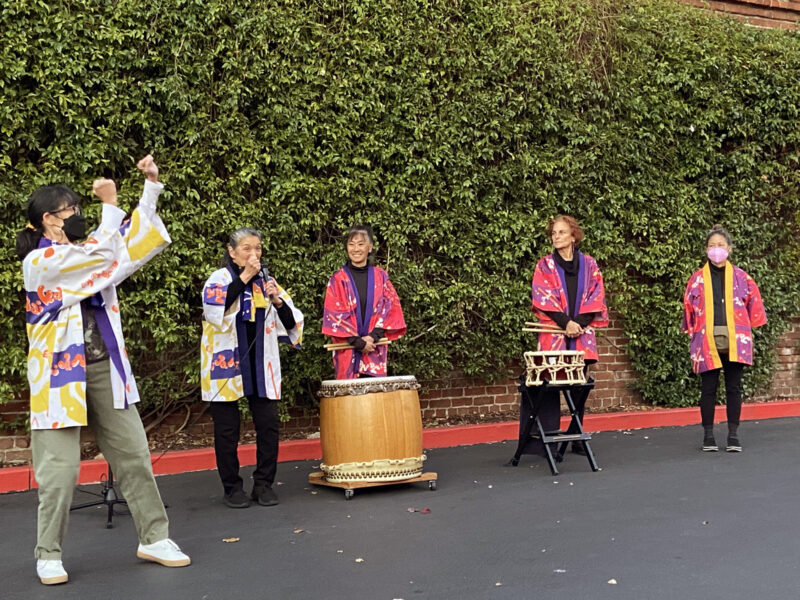 The marker project, designed to bring to light the hidden history of Alameda's Japantown, is a collaborative effort of the Buena Vista United Methodist Church, the Alameda Free Library, the Buddhist Temple of Alameda, Rhythmix Cultural Works, and the Alameda Marketplace. The historic marker at the Buddhist Temple at 2325 Pacific Ave. is already in place and available for viewing now.
Still to come in the coming months are two more Tonarigumi markers, one at the Buena Vista United Methodist Church, and another at the Alameda Free Library. Each is designed to display a different aspect of the Japanese American community in Alameda's Japantown. The display at the Marketplace is called "Traces of Alameda Japantown", and includes historic photos and a map. Professional design work on these markers was done pro bono by Kazumu Naganuma and Grace Horikiri.
Ceremony speakers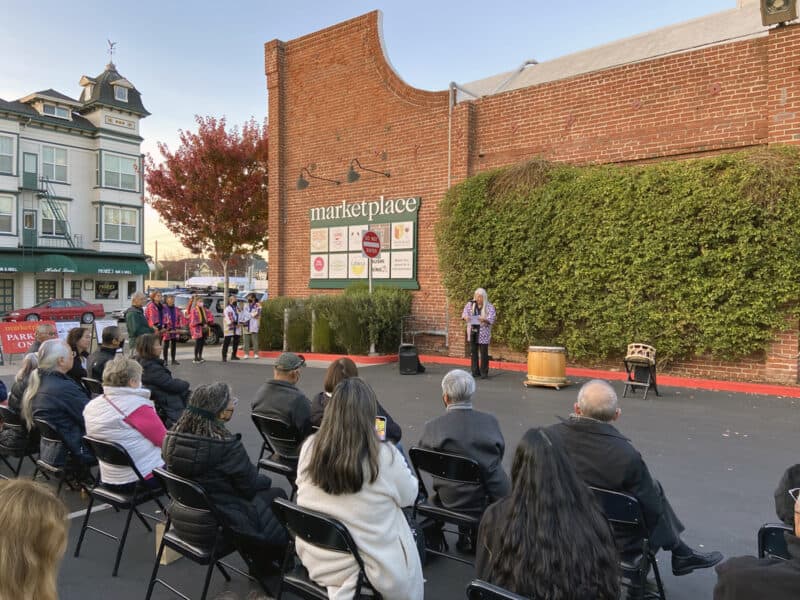 The ceremony was opened by Alameda Free Library director Jane Chisaki, who welcomed all who were assembled and gave introductory remarks explaining the significance of the day. Next up was Mayor Marilyn Ezzy Ashcraft, who related a story about growing up in Alameda and attending Edison, Lincoln, and Alameda High schools, and yet never being taught that there had been a Japantown in Alameda.
Councilmember John Knox White then addressed the crowd and told a story about how his grandfather worked for the federal government in the 1940s, helping farmers in the Midwest. During World War II, when Japanese Americans were taken away to internment camps under Executive Order 9066, his grandfather provided assistance to internees with their farming techniques, as well as helping them pursue their educations. It was a difficult story for Knox White to tell, because while his grandfather did provide assistance to the internees, it was under egregious circumstances.
Reverend Michael Yoshii, Senior Pastor at the Buena Vista United Methodist Church then recognized all of those who helped bring this project to fruition and offered more details about the history of the Tonarigumi.
Unveiling the marker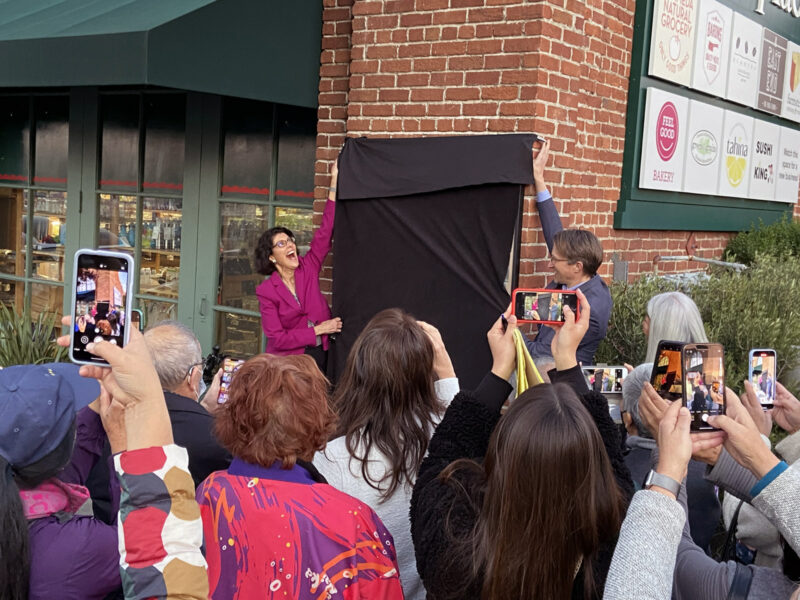 Mayor Ashcraft and Councilmember Knox White then unveiled the display, with a crowd gathering on the sidewalk at the southwest corner of the Marketplace building, and plenty of smartphones taking photos as the beautiful historic marker was viewed for the first time. Direct descendants of Japanese Americans who once lived and worked in this neighborhood took turns having their photos taken in front of the marker, and there was a festive feeling in the air, despite the bittersweet historical context of the event. As the sun set over what many people now realized was once a thriving and vital Japantown, members of the TaikoPeace group began a community dance celebration, with all invited to participate.
Executive Order 9066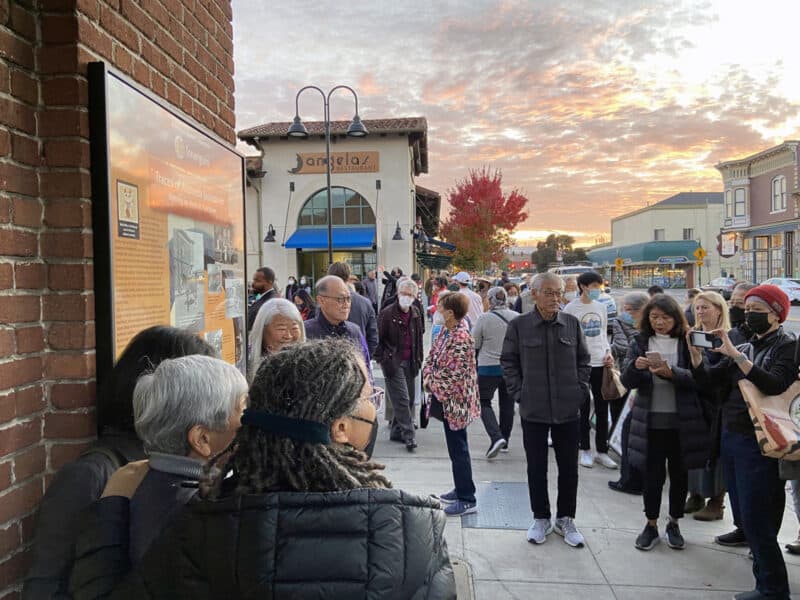 The thriving Japanese American community here was forever altered by the events of World War II. Jane Chisaki explained that residents of Alameda's Japantown were among the first in California to be removed by Executive Order 9066 in 1942. They were taken initially to the Tanforan Assembly Center at the Tanforan racetrack in San Bruno, before being sent to the Central Utah Relocation Center—better known as "Topaz."
After the war, returning Japanese Americans were welcomed at the Japanese Methodist Church South and the Buddhist Temple, which served as hostels. The Towata flower shop on Santa Clara Avenue was one of the only original Japanese American businesses to return to the district after the war. Previously, John S. Towata and his wife Anna had owned a floral business on Park Street. They lost that business during their internment at Topaz, but were able to start anew on Santa Clara Avenue in 1945.
Honoring Tonarigumi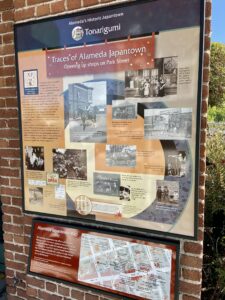 Alameda's Japantown, or Tonarigumi, was never fully restored to its previous stature, but the former residents, business owners, and their descendants remain a vital part of the community to this day. These historic markers are a small step towards recognizing their contributions to Alameda, acknowledging the hardships they endured, and admiring the spirit that helped them to endure the war and then rebuild their lives afterwards.
The past is all around us, but sometimes it's hard to see it unless we take the time to look. These Tonarigumi historic markers, placed around Alameda's old Japantown neighborhood, will help all of us to see what once existed here, and make sure that the story is never forgotten.
Contributing writer Steve Gorman has been a resident of Alameda since 2000, when he fell in love with the history and architecture of this unique town. Contact him via [email protected]. His writing is collected at AlamedaPost.com/Steve-Gorman.