Bear's-Eye View of Alameda for April 16, 2023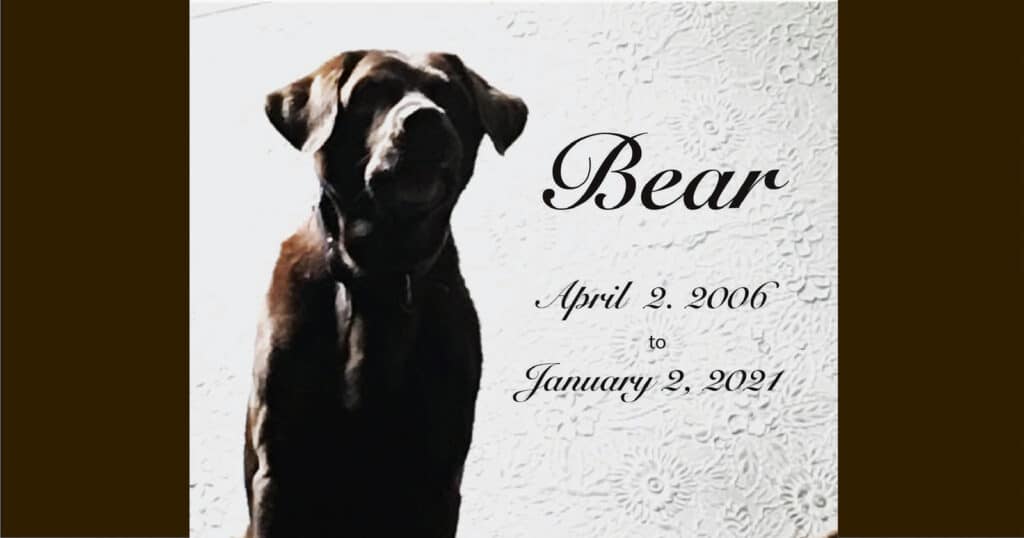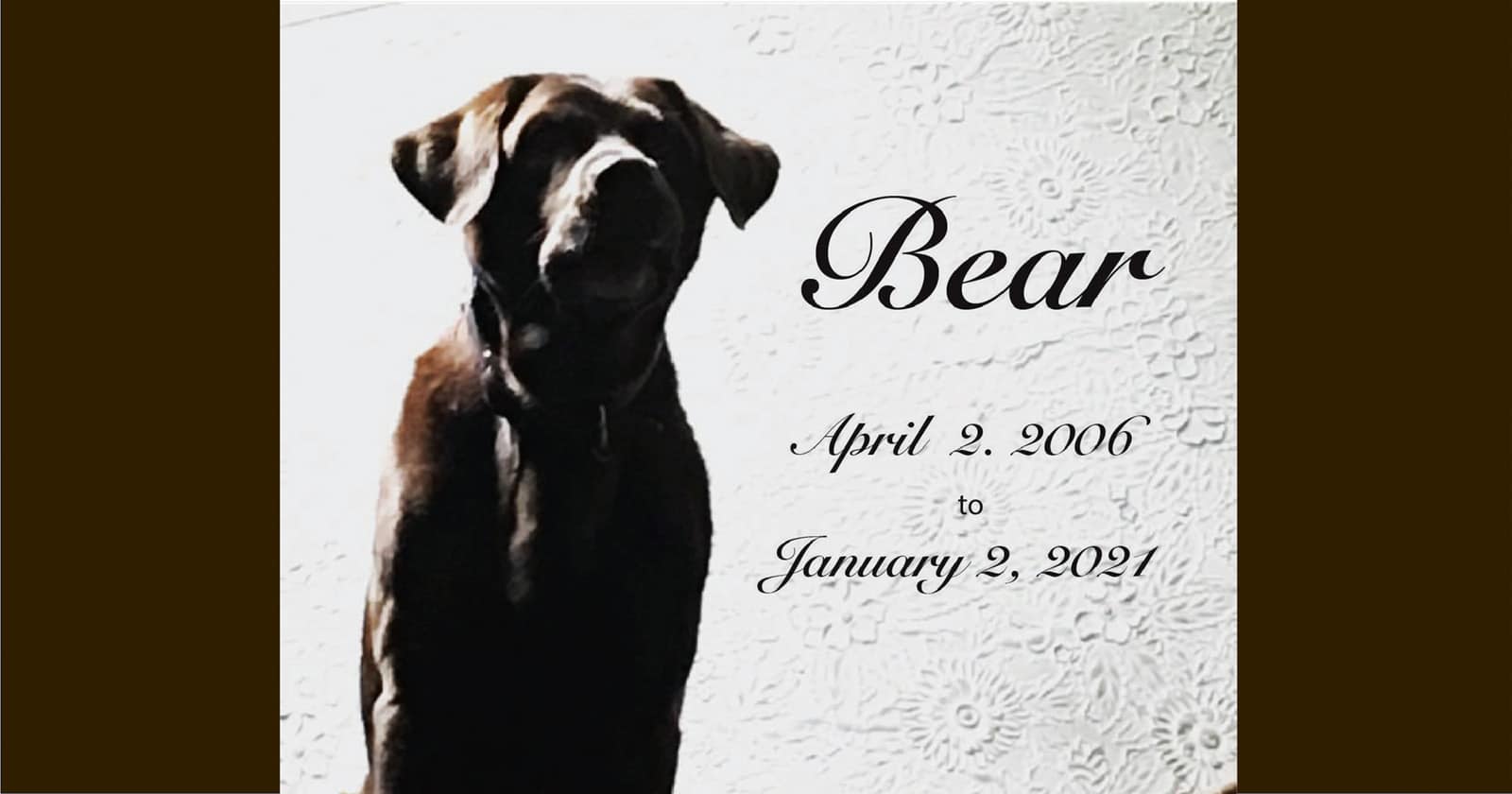 April 2, 2006, was the birthday of the founding roving reporter and namesake for The Bear's-Eye View of Alameda. I am a little late in recognizing this very special birthday. There was so much going on that I had to push the deadline.
I like to recognize Bear's birthday by supporting Friends of the Alameda Animal Shelter. After all, they provided me with the best care any unhoused dog could have. To Steve, Nanou, and all the staff, here is a big THANK YOU.
Specifically, please make a donation to the Starfish Fund (sometimes called the Angel Fund) which provides the money needed to pay for emergency medical services to injured animals that make it to the shelter.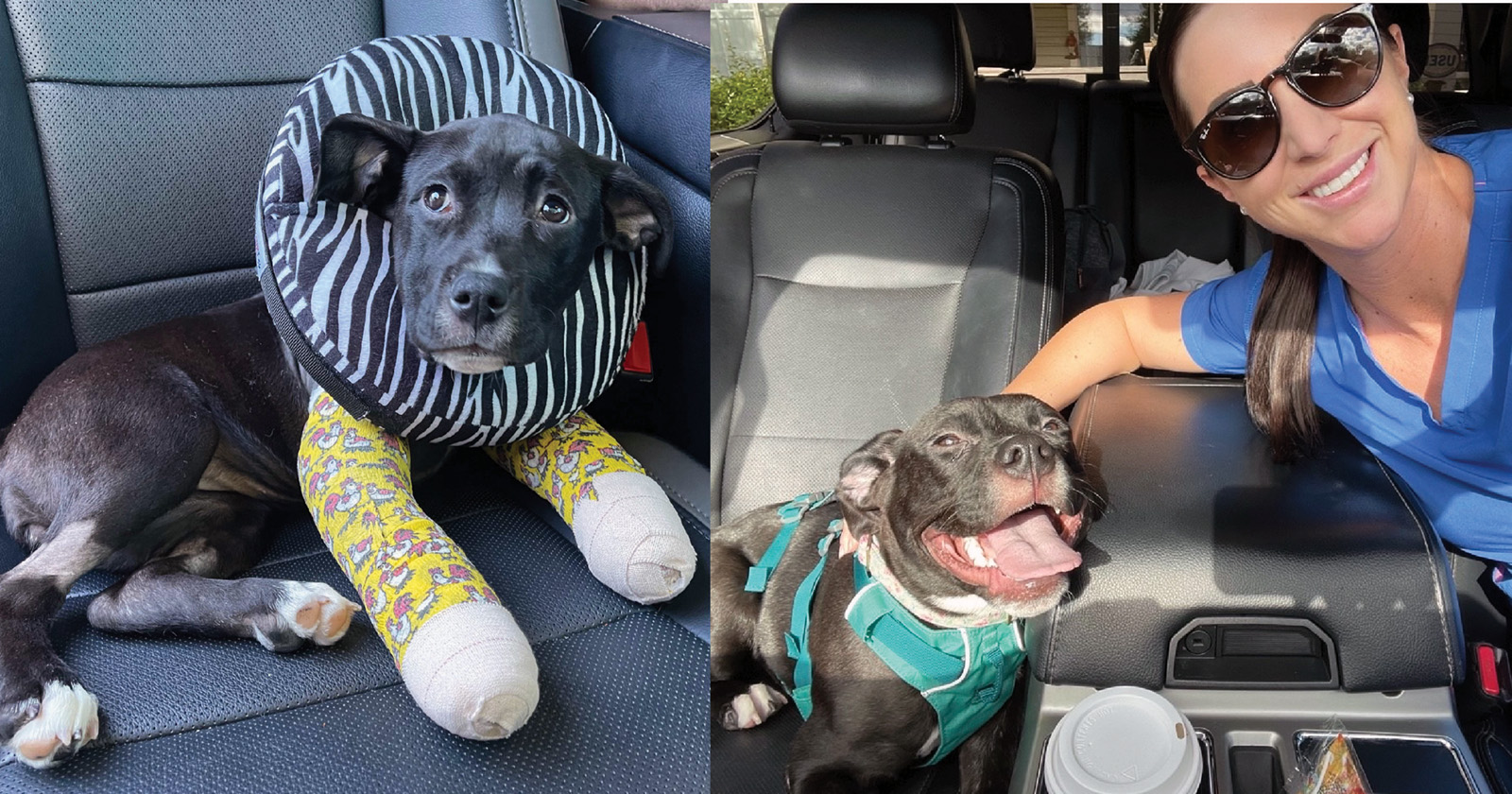 Here's a great example of how the Starfish Fund saves animals. Does anyone remember Judy – the black lab/pit mix that had two front legs broken? Thanks to FAAS, Boots (formerly Judy) is one happy pup after having two major orthopedic surgeries and lots of rehab. At last report, Boots was happy, healthy, and has only a little limp in that left front leg, which hasn't slowed her down in the least bit.
Without FAAS's intervention—and a huge amount of money from the Starfish Fund, which is the donation account designated and reserved for emergency medical expenses exactly like the medical care Boots received—this little pup would be a memory in an old post on Nextdoor.
I am asking readers to donate to the Starfish Fund in hopes of recouping some of the enormous cost of emergency medical services for all the animals that FAAS takes in daily.  You can donate directly on the FAAS website at: https://www.alamedaanimalshelter.org/support/tribute-donation.html, and be sure to select the Starfish Fund for Emergency Medical Services.
Any amount will help the animals that will need medical attention in the future AND to honor the memory of a past companion. If you enjoy my weekly reports, you could donate "In memory of Bear – Roving Reporter for the Bear's-Eye View of Alameda."
Now on to this week's report.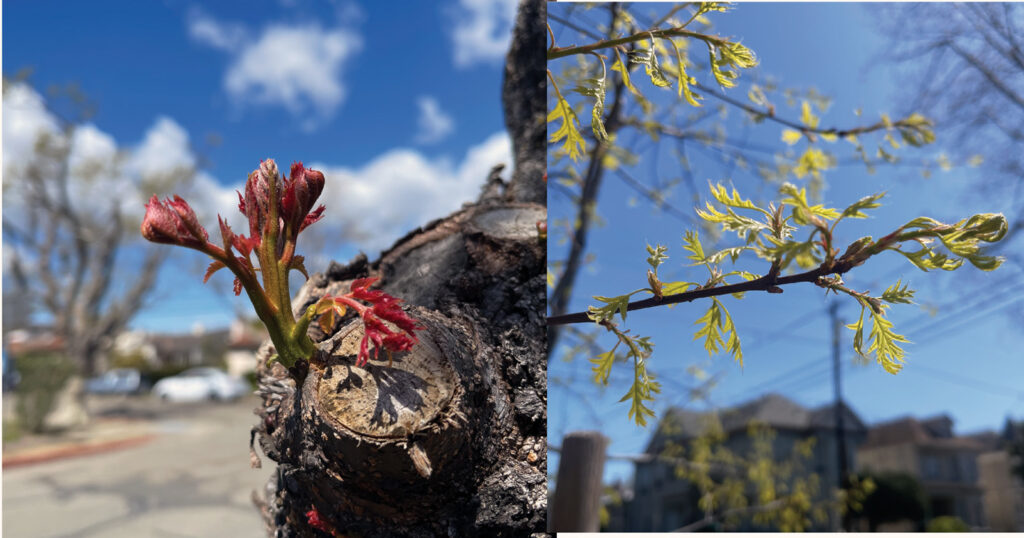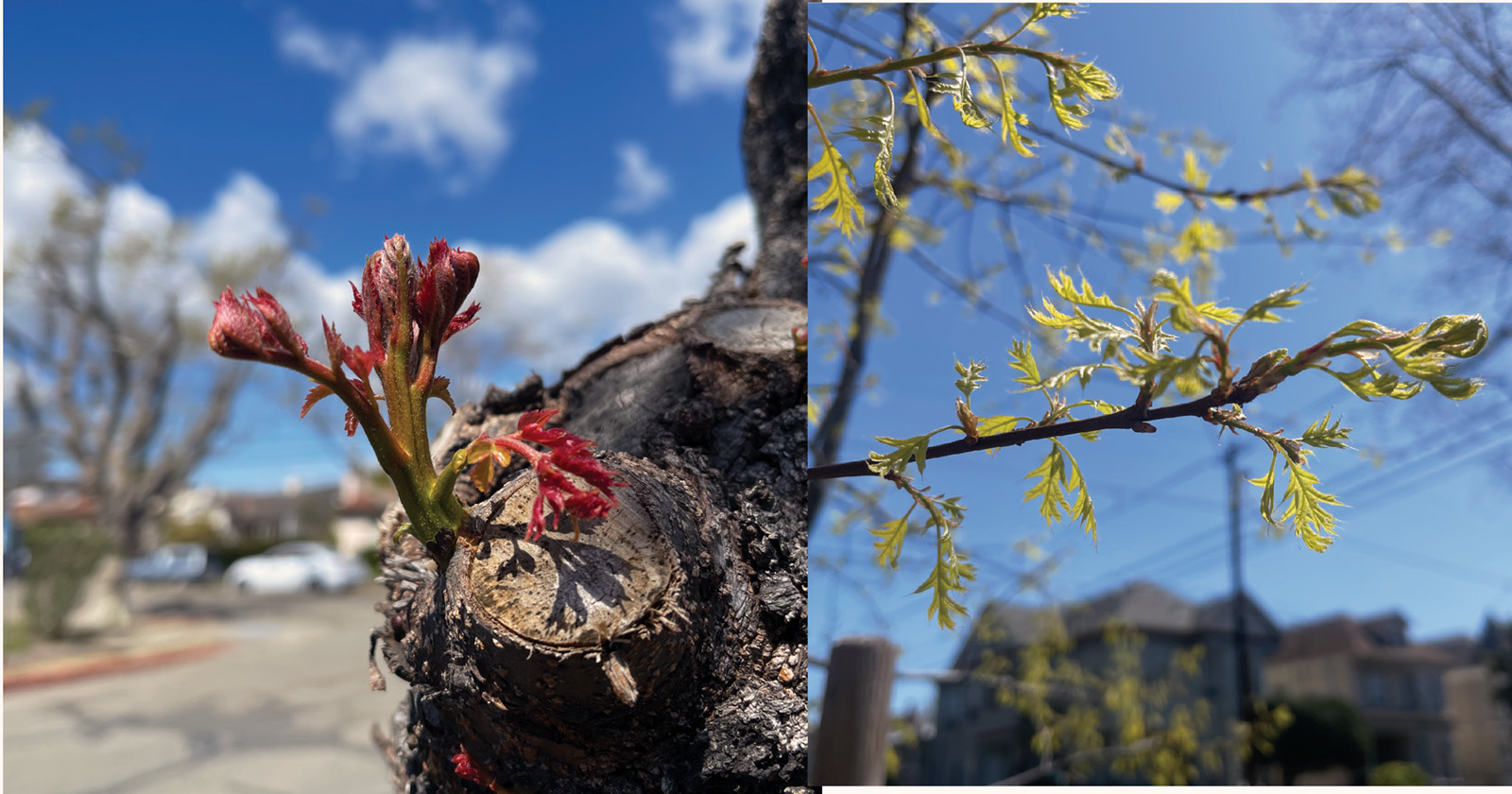 Did anyone else notice the big yellow ball in the sky that was present all day long without any cloud obstructions?  All this light and slightly warmer temperature resulted in a spectacular botanical surge. Alameda's street trees are beginning to show new growth, and we will soon be enjoying the beauty of our city's famous tree lined streets.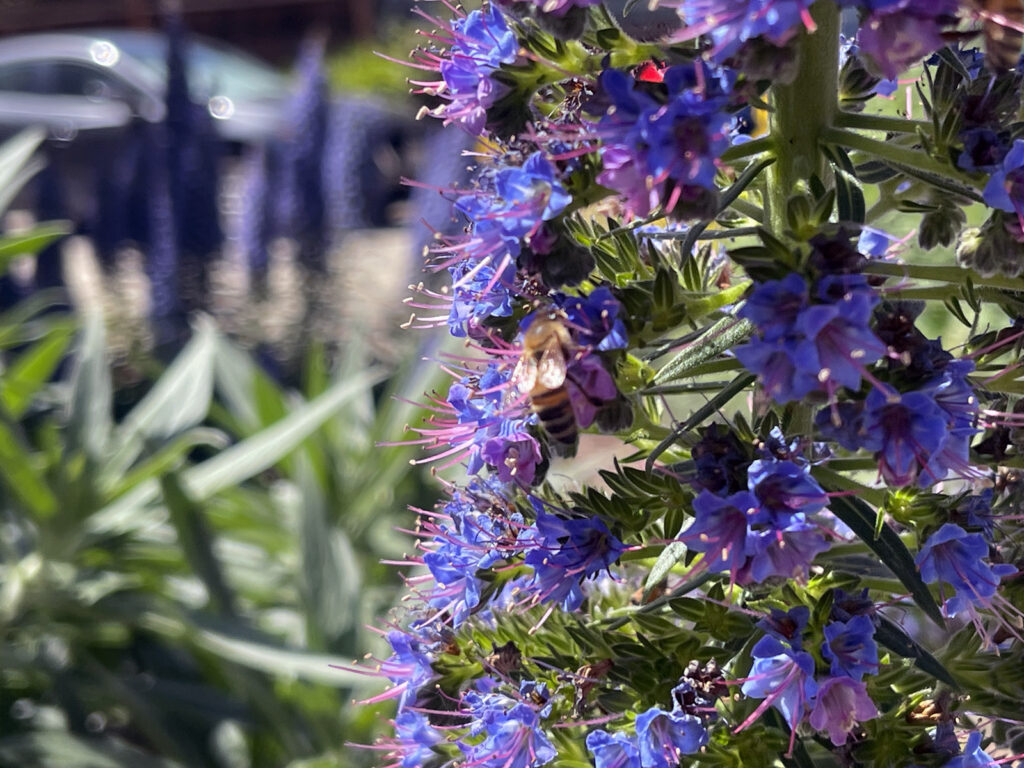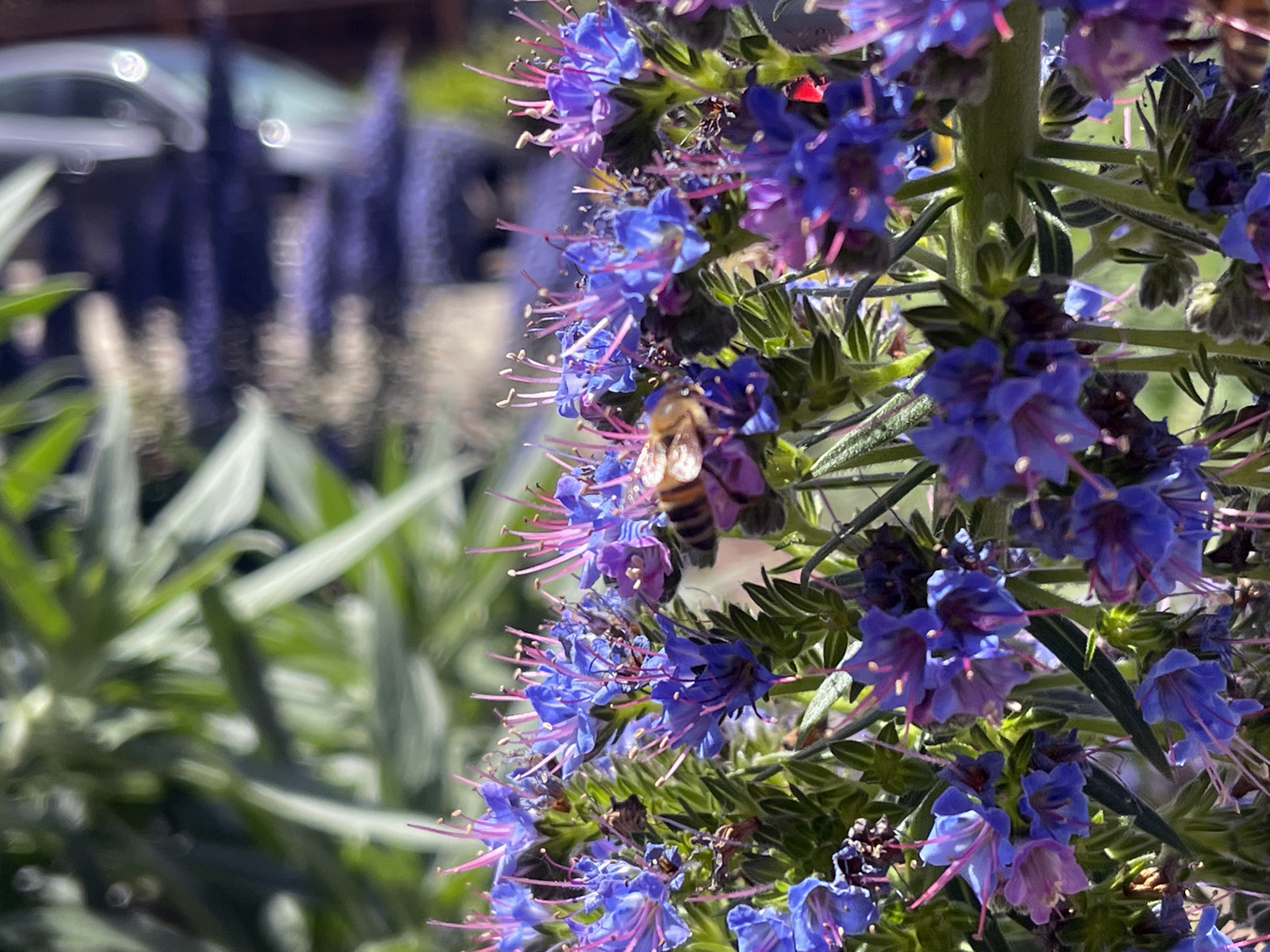 I have also noticed the reappearance of our pollinator friends moving from flower to flower helping plants to reproduce and bringing ingredients back to the hive for honey production.
Elsewhere, brightly colored flowers are appearing and, for those of you who cook, this is the time to pull out those recipes that call for fresh rosemary. Our bush has a bunch of new bright green shoots. It's so aromatic. I love it.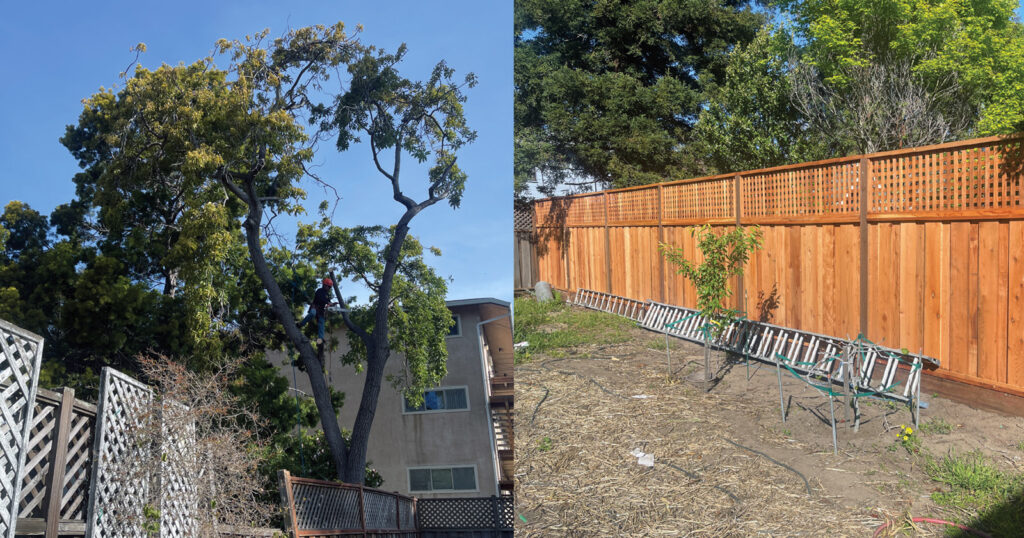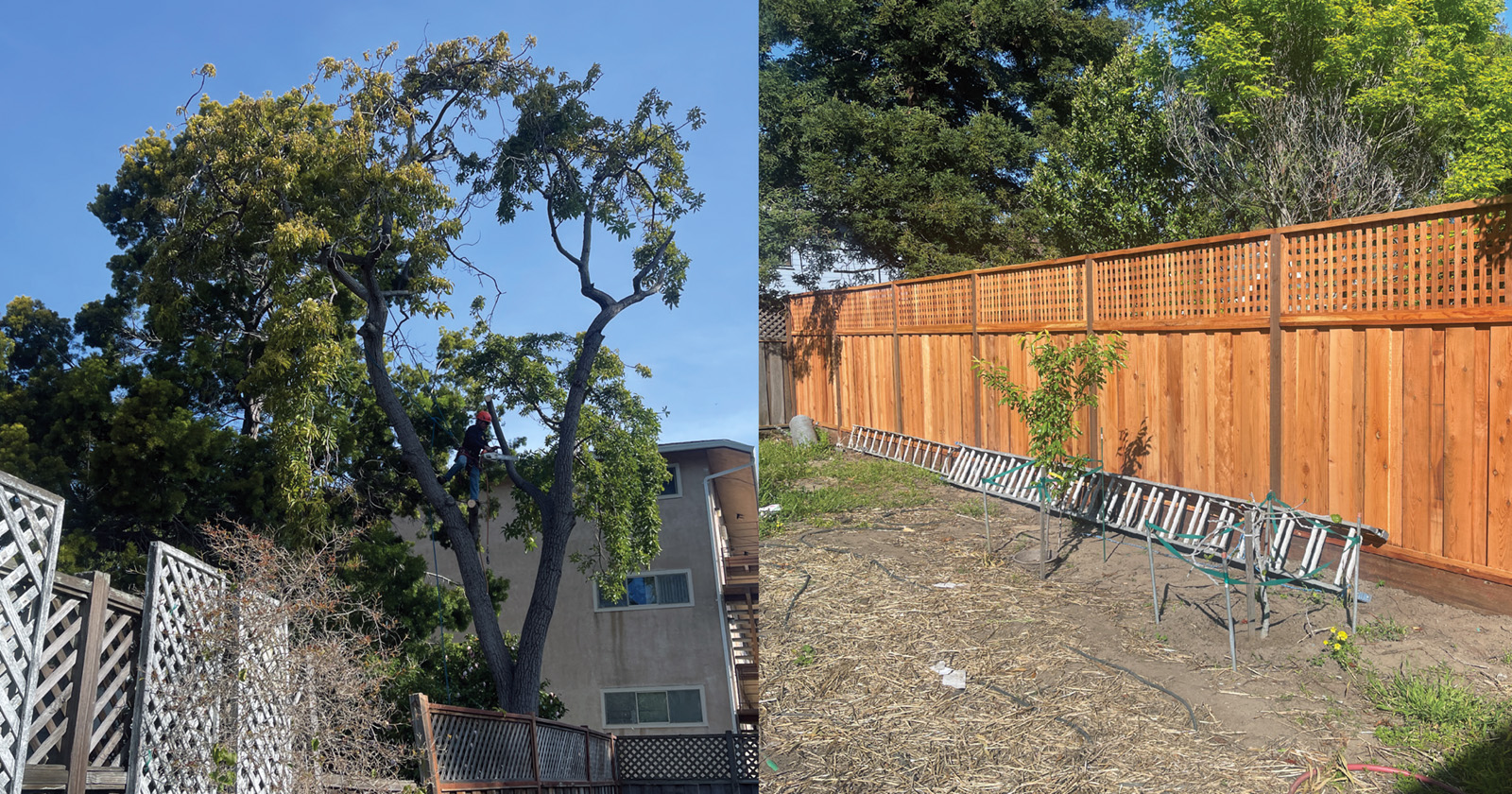 There has been a lot of activity in my backyard due to starting to replace the fence. The heavy wind of a few weeks ago knocked a big section over, and my human companion decided it was time to replace all the sections. New redwood boards are so beautiful… and expensive. My next-door neighbor arranged for a tree guy to come over and remove an avocado tree that had rotted, too.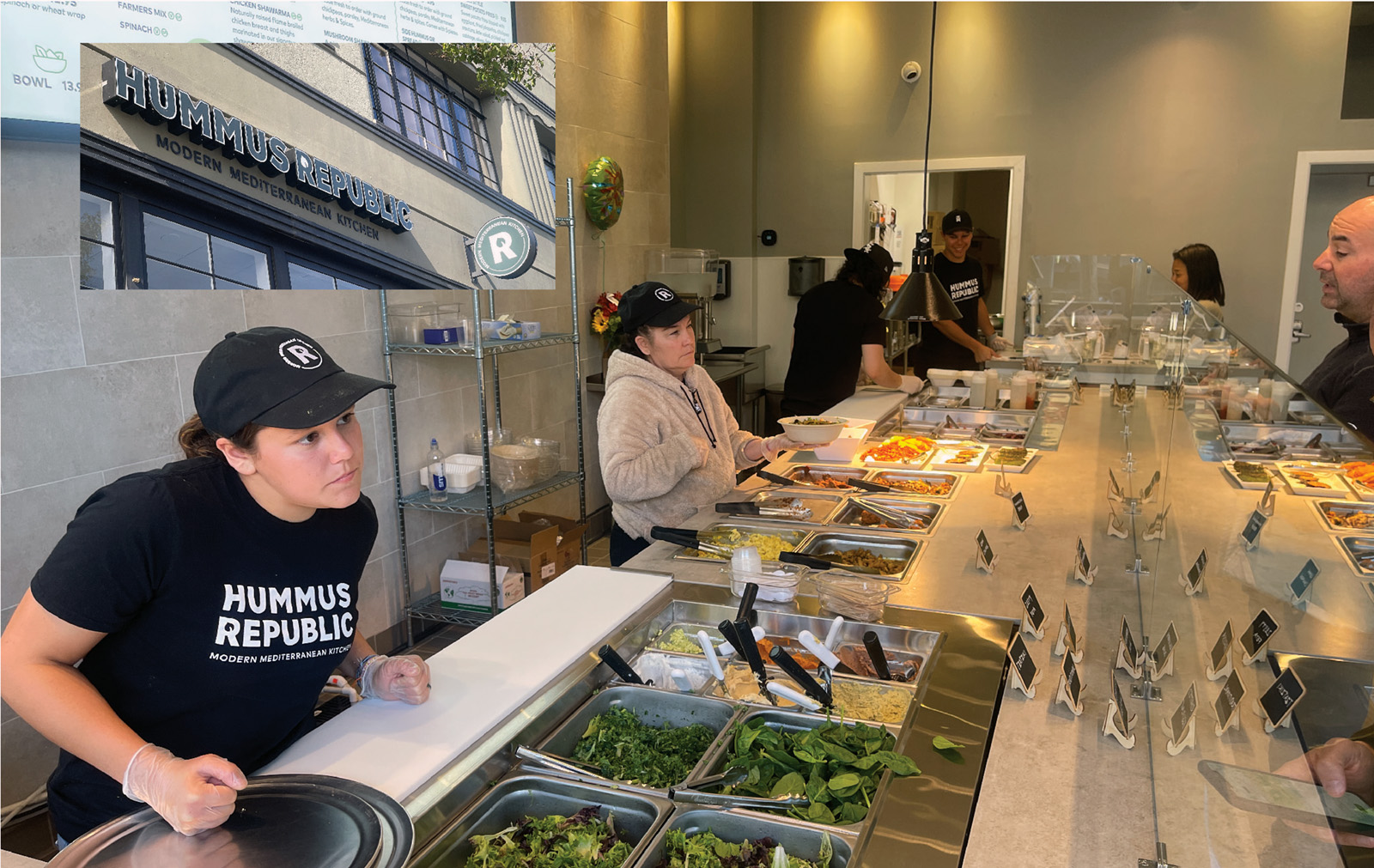 I made it down to Park Street recently, where I discovered that Hummus Republic has finally opened. They offer lots and lots of great fresh ingredients. You can have a pita or wrap filled with tasty toppings, or you can order everything to come in a bowl to avoid the carbs. Spreads include harissa or kalamata olive spread, zesty feta, tzatziki, and roasted eggplant hummus.
For toppings, there are too many choices to list. Check out their full menu.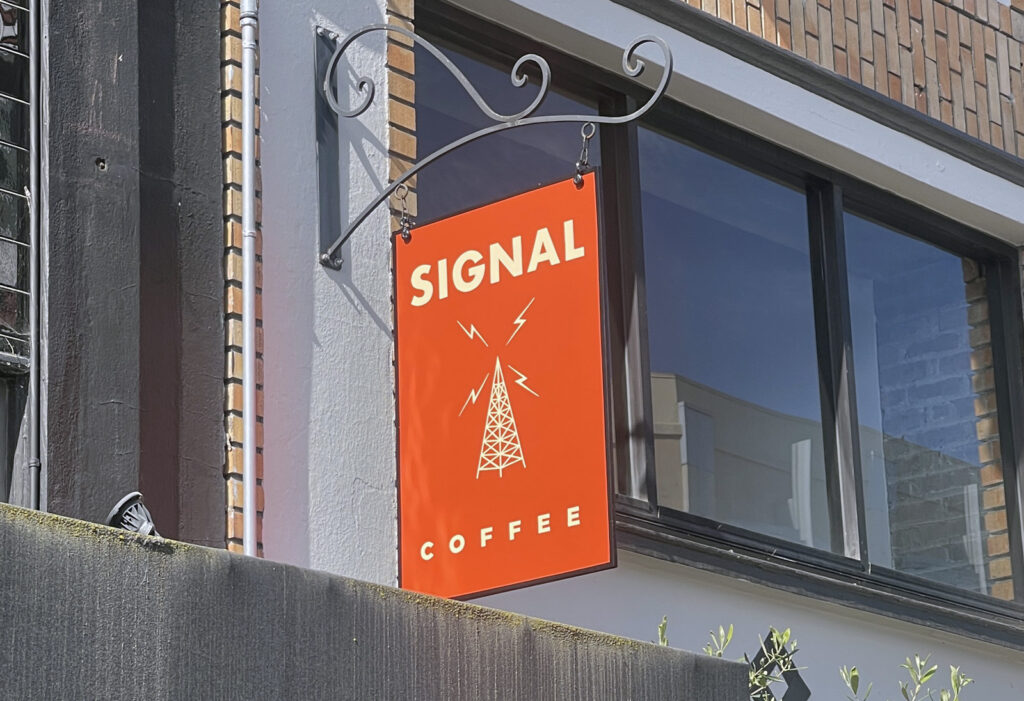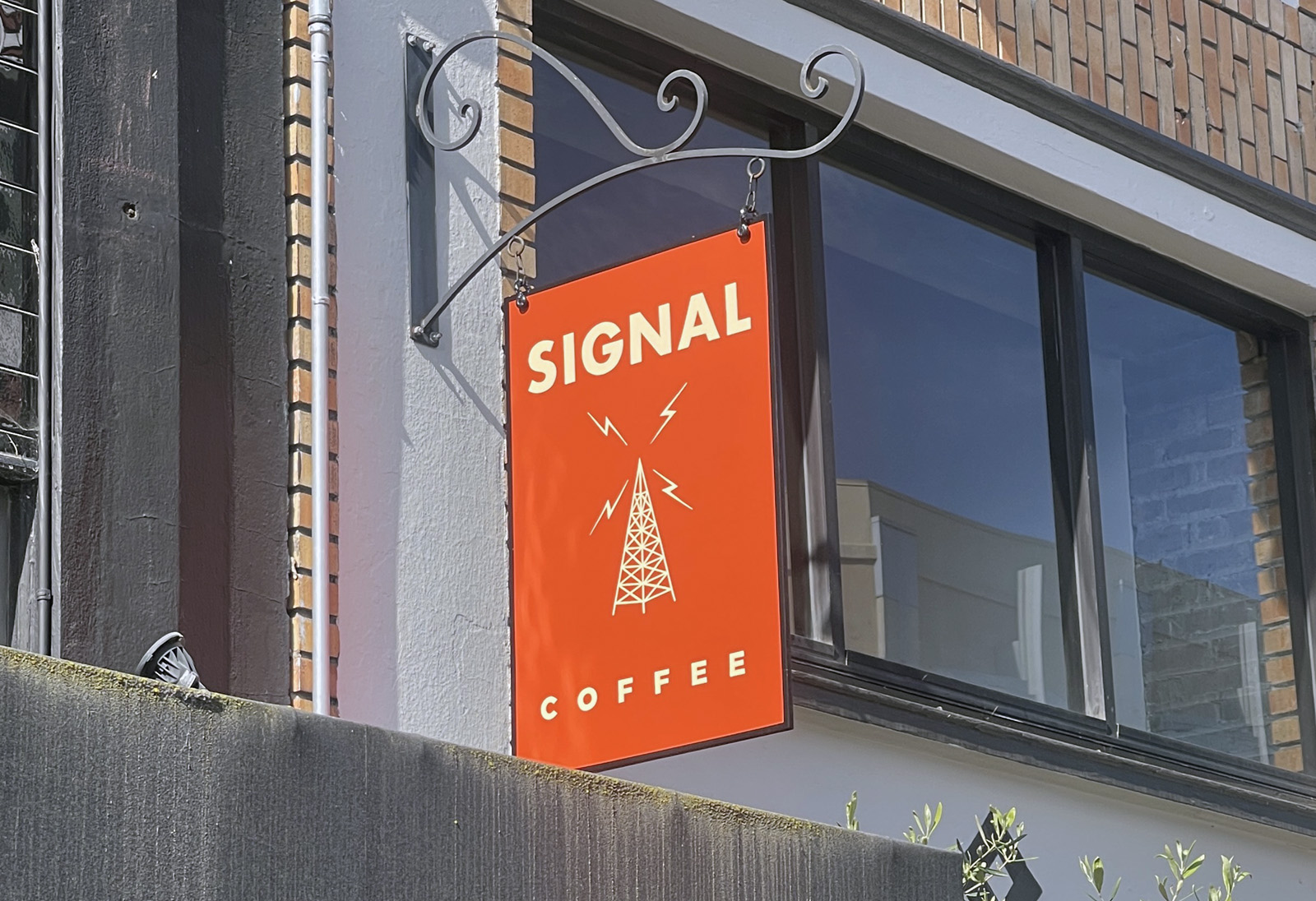 I covered the opening of the new Signal Coffee House on Central Avenue near Park Street. Lots of people have been raving about their pastry offerings so I walked by to check out what was left under the tables. The pastries must be good because I couldn't find any of the morsels that usually get dropped.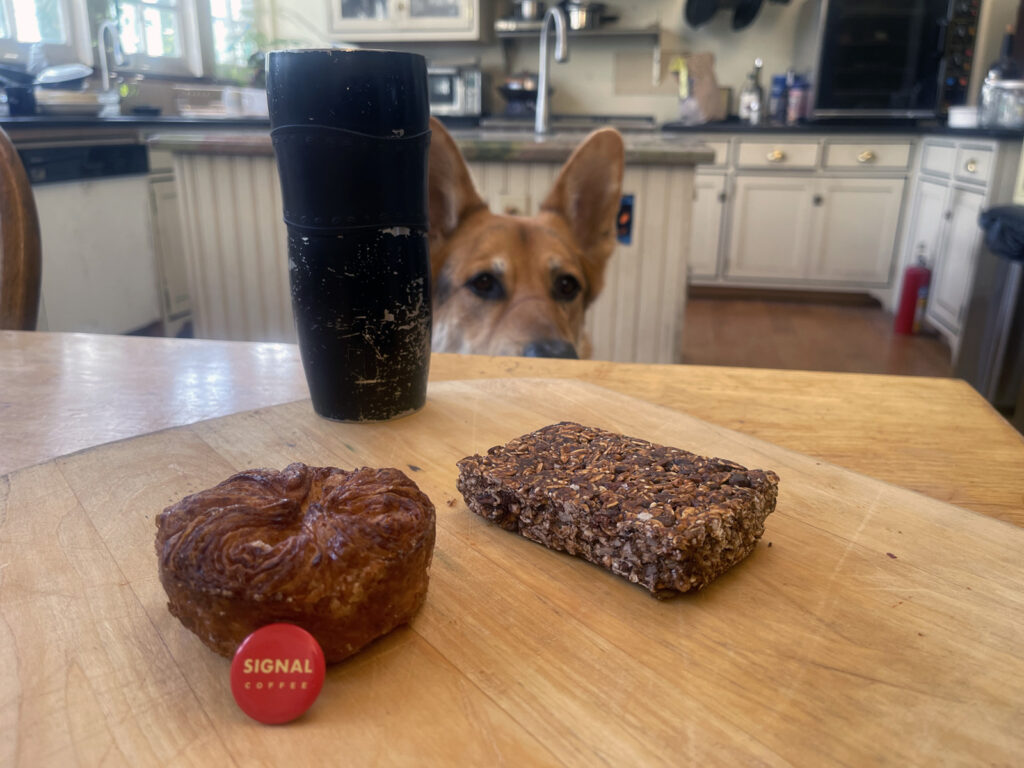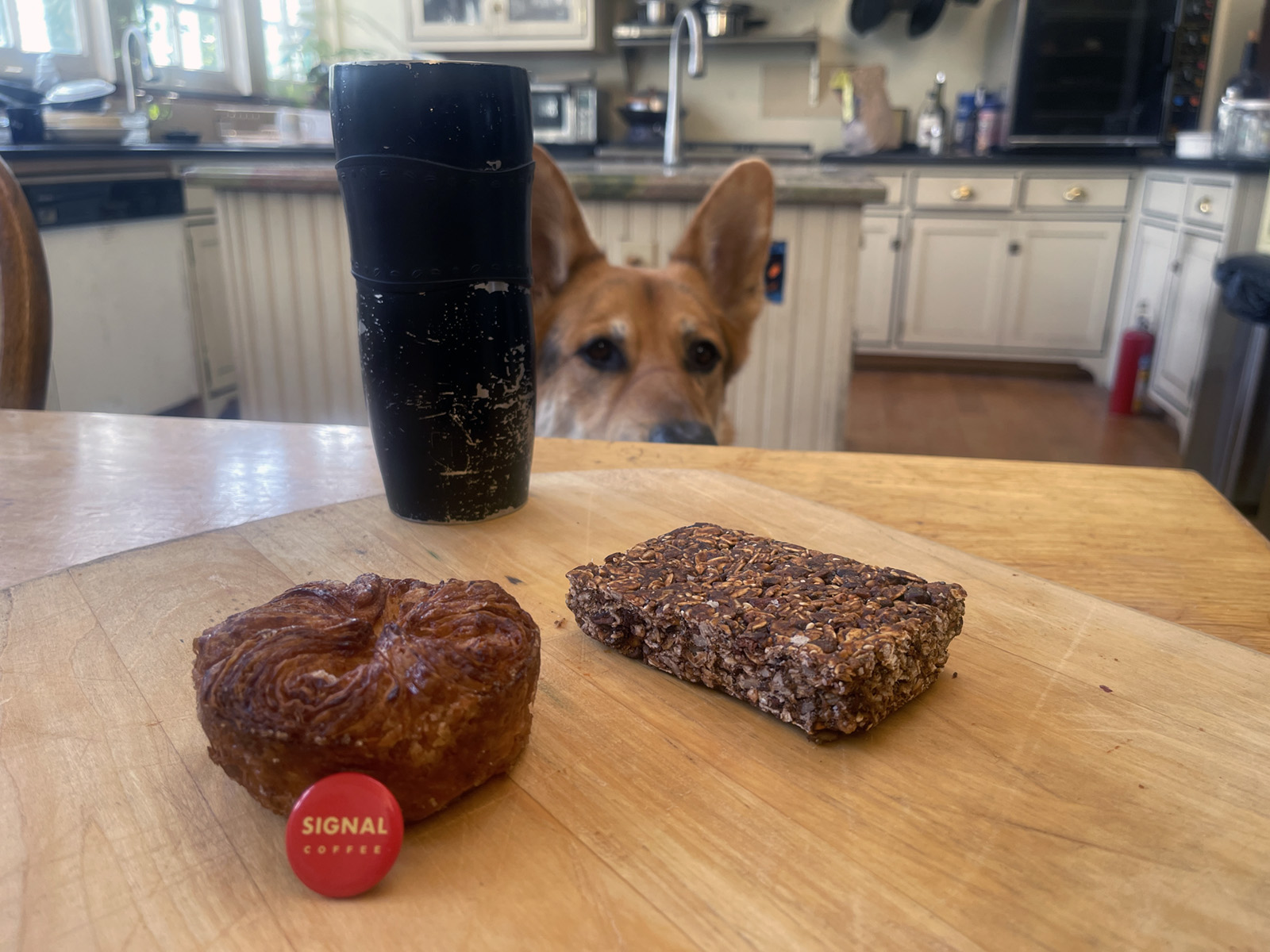 So, I sent my editor human companion down there to bring back a few examples. The kouign-amann (pronounced "queen-a-mahn") was the specialty item. It's sweet, sticky, buttery, crisp, flaky, and comes in plain or chocolate topped. (Editor's note: you can also buy kouign-amann with hazelnuts, which is my favorite with my morning coffee.) He also brought home an almond bar with coffee and chocolate that I had to pass on. I obviously need to provide better instructions for next time.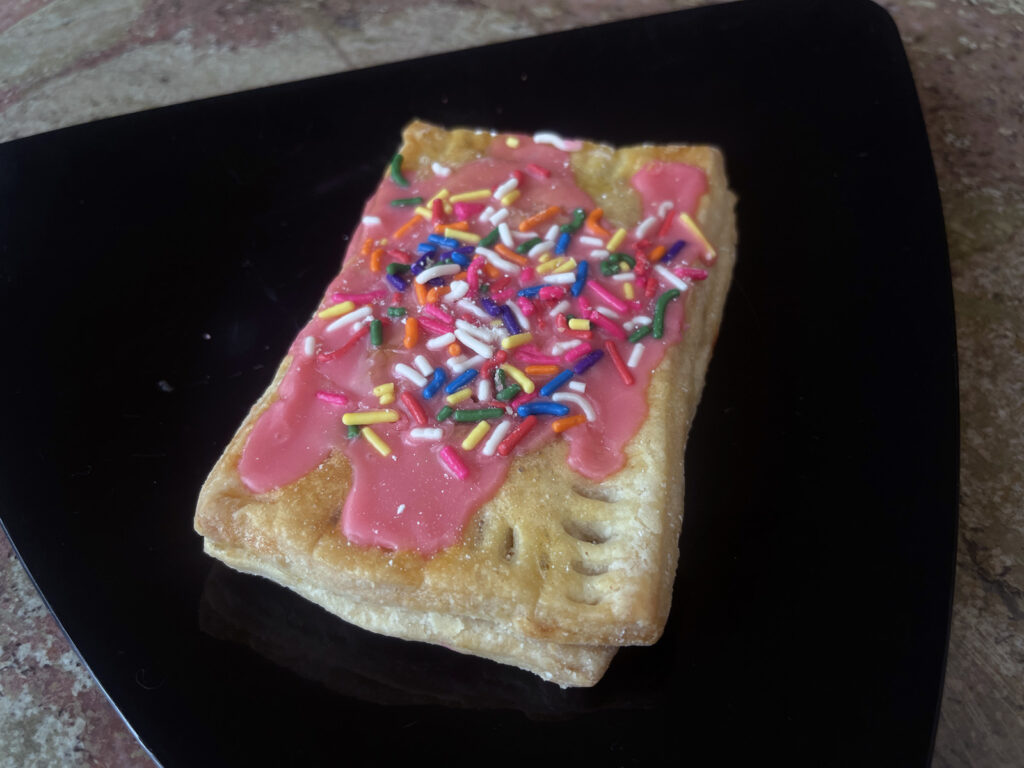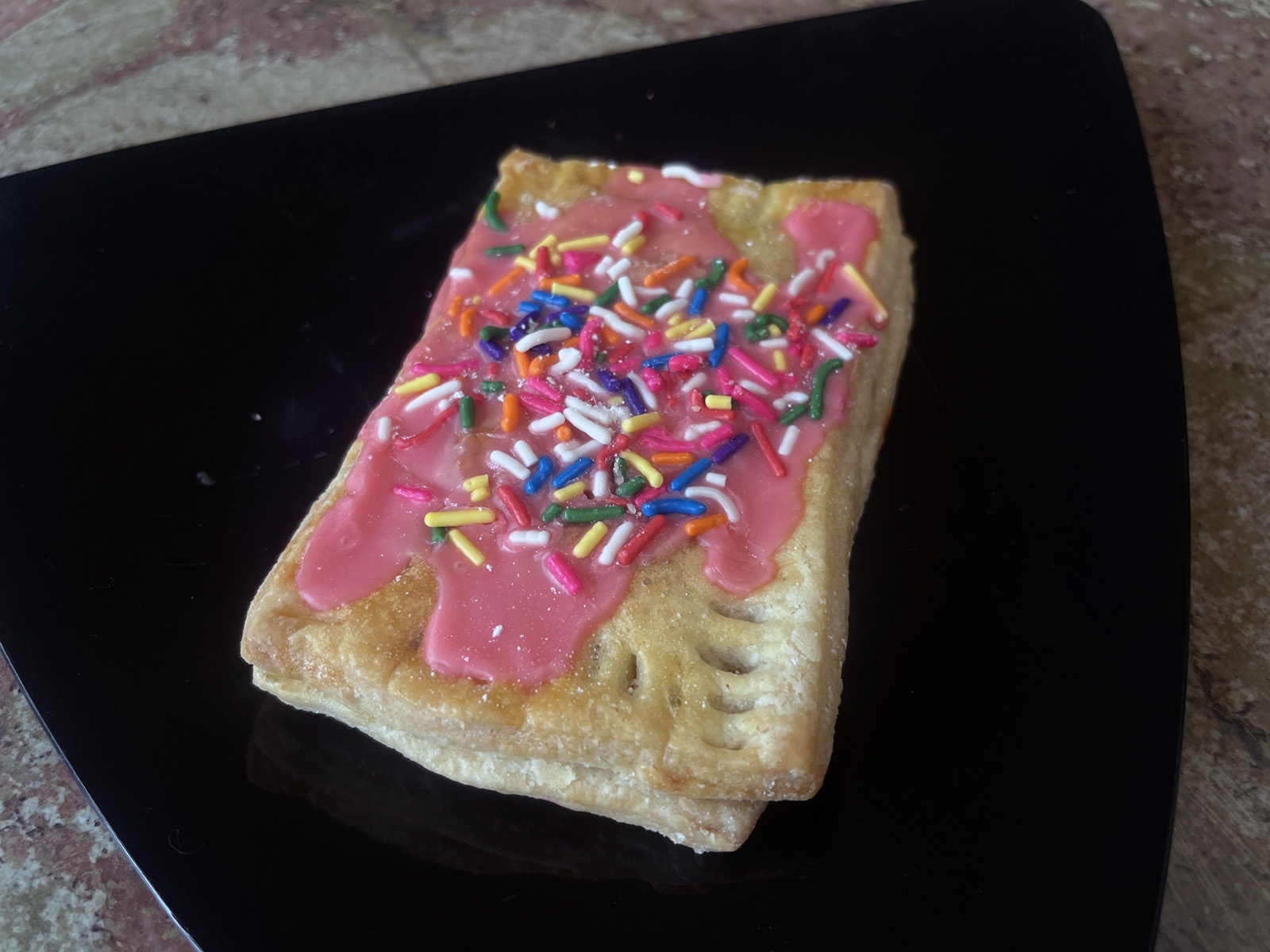 What flipped me out was his reaction to something he called a 'pop tart,' which Signal had in the pastry case. Apparently, this was something from his "little Jeffie" past when he would get up in the morning and put one of these jelly-filled pop tarts into a toaster. Talk about a sugar rush. No wonder America's youth have an obesity crisis. Are they still selling these things?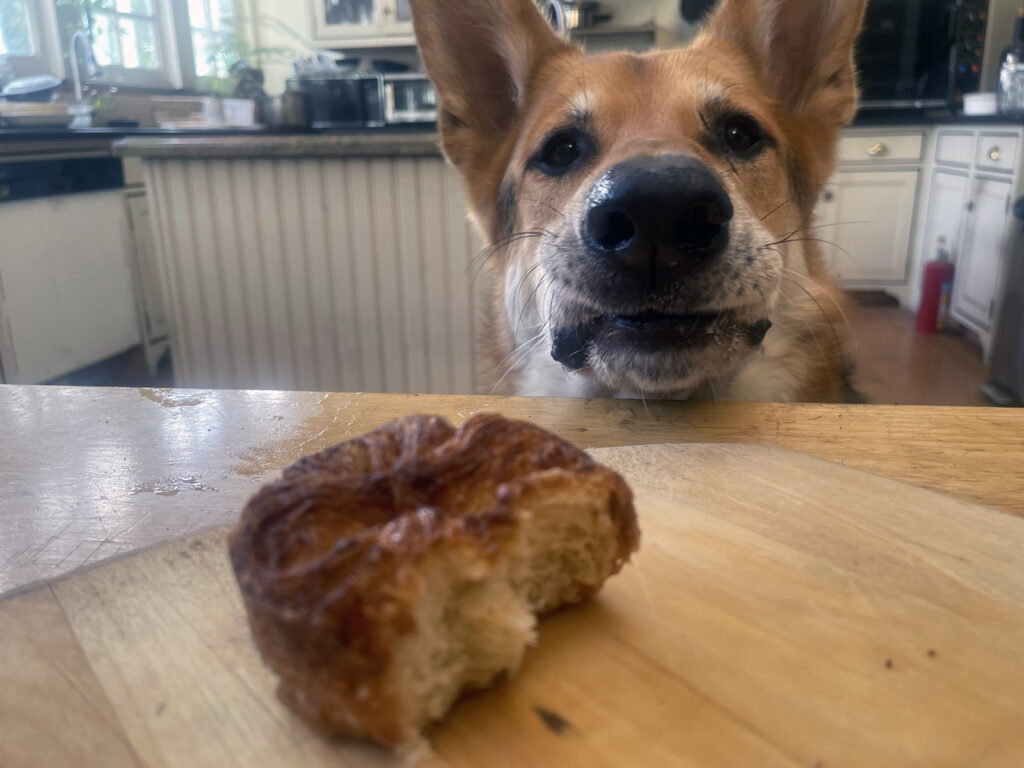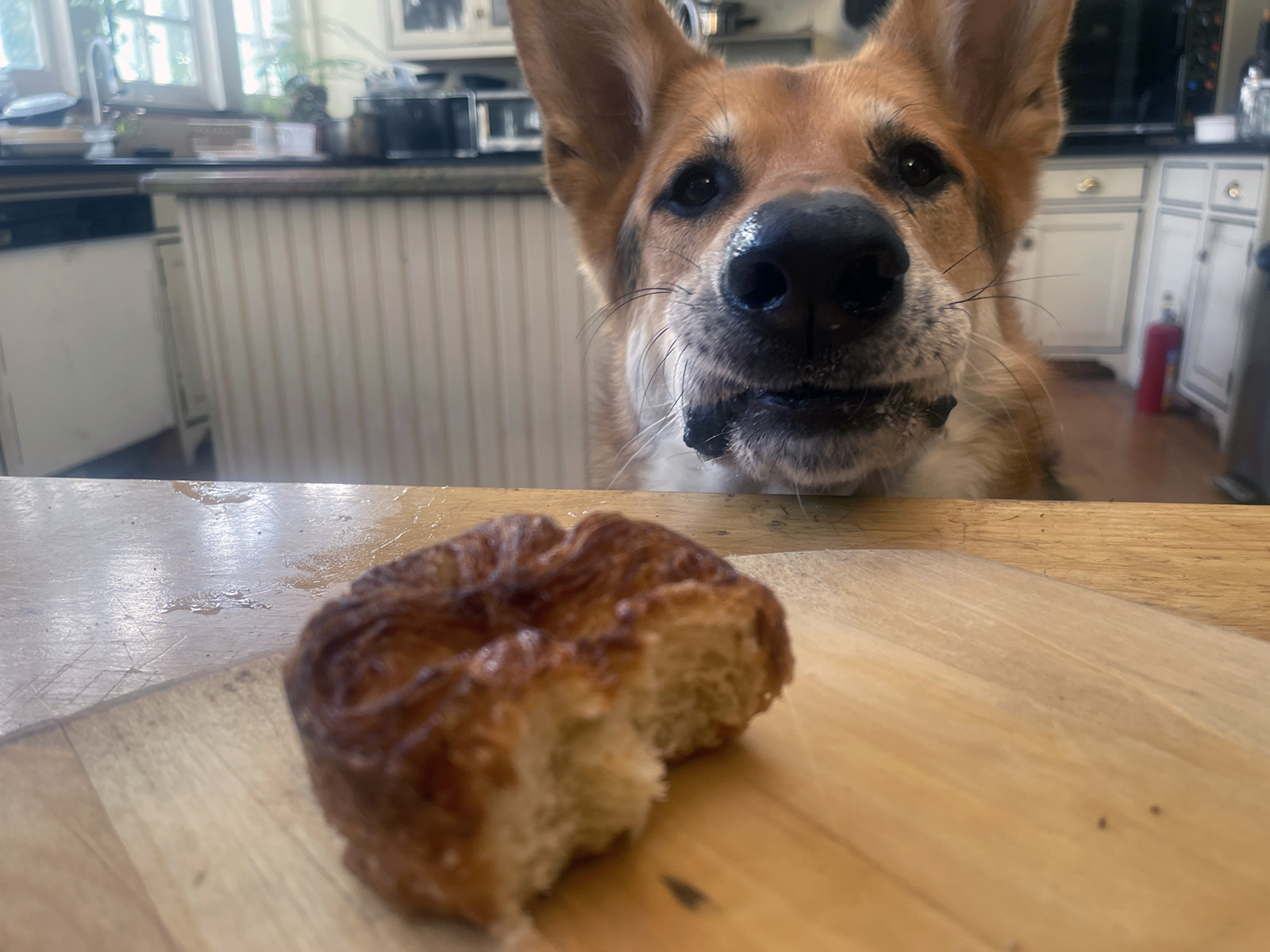 I really hate these photoshoots. Why? Because my human companion puts something delicious in front of me that I am not supposed to eat and then tries to get me to stay still and look into the camera while waving a lousy vegan treat in the air.  HELLO? … DUDE! … It ain't workin'.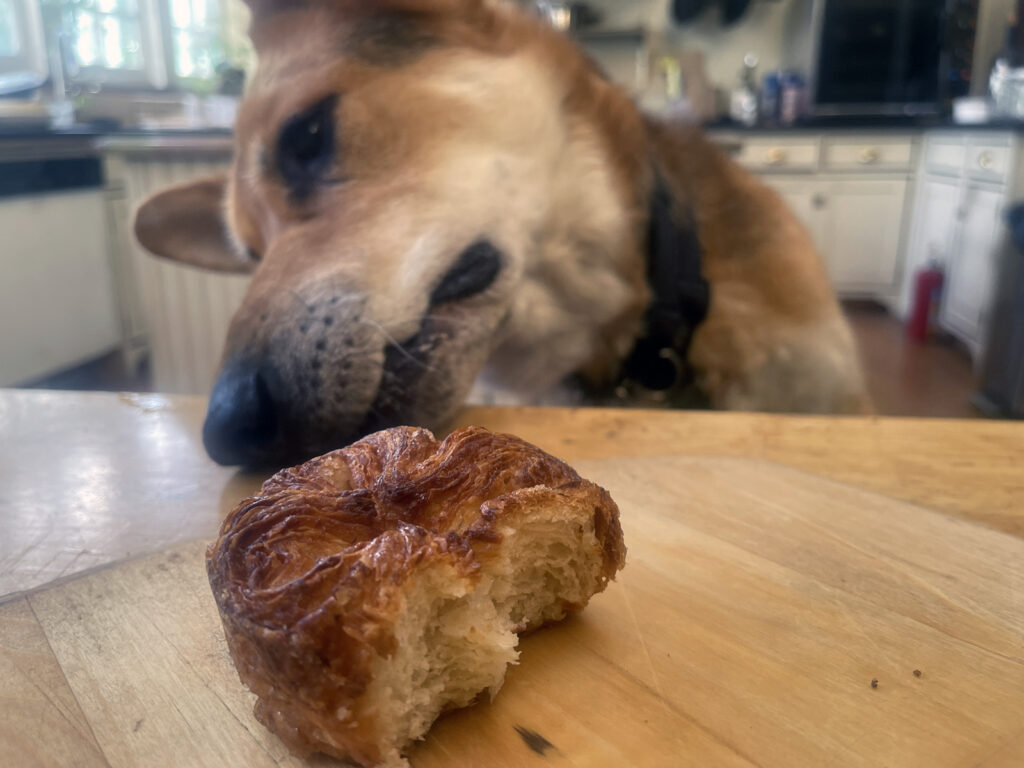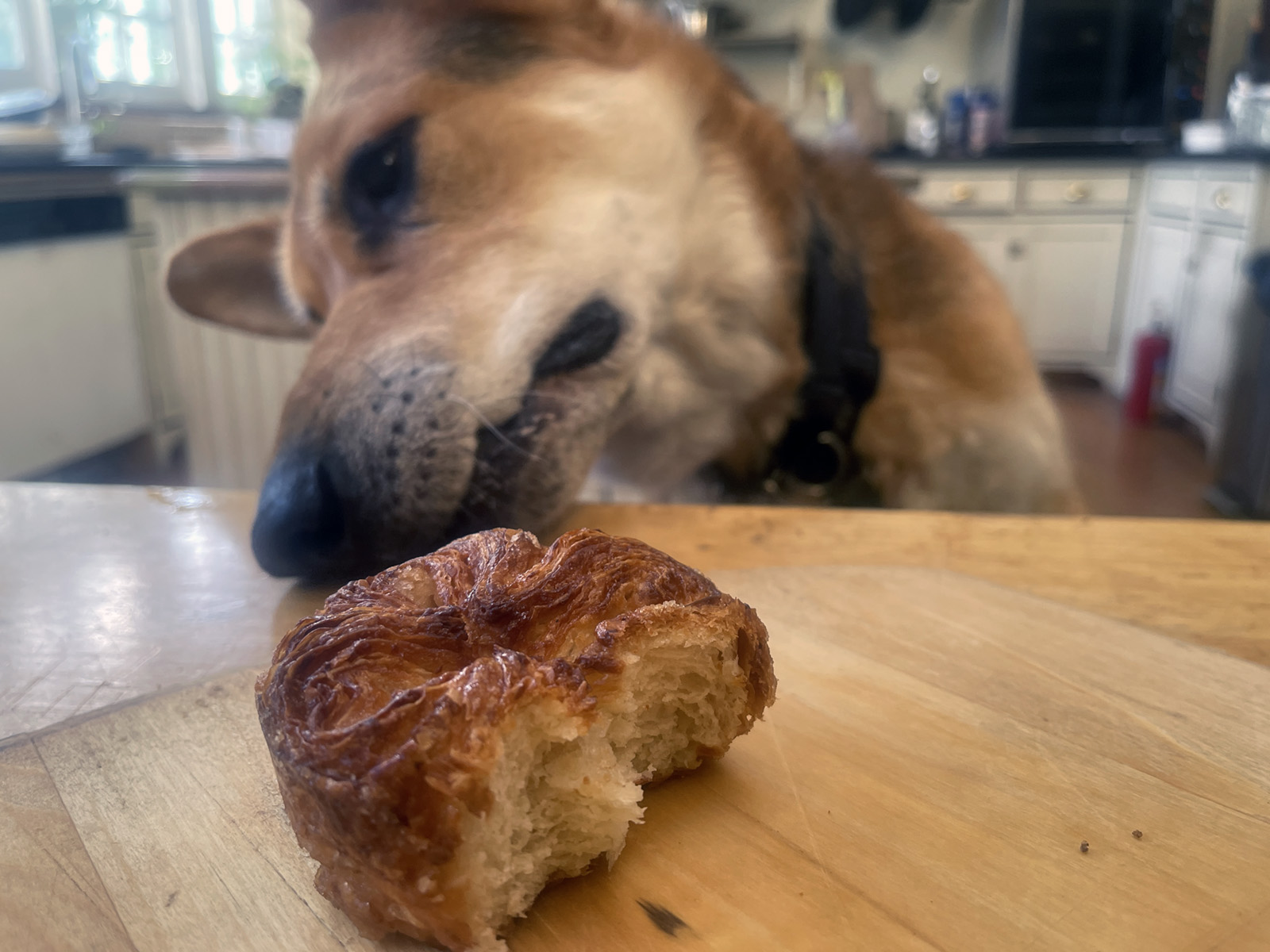 He turned away for a second, so I sprang into action.
OH my!  That kouign-amann was awesome. If you are heading to Signal anytime soon, you gotta try one! Oh… and if you happen to drop a piece on the sidewalk, don't worry about picking it up. As part of my public service to the community, I will be by in the evening to clean it up.  Wink, wink.
Please remember to make a donation to the Starfish fund at FAAS.
Mouf, Roving Reporter
Bear's-Eye View of Alameda
Mouf and his human companion can be reached via [email protected]. Their stories are collected at AlamedaPost.com/Jeff-Cambra/. All photos by Jeff Cambra.