Bear's-Eye View of Alameda for December 18, 2022.
No Alameda-centric publication would have any relevance if it did not cover Thompson Avenue or Alameda's Holiday Lane, and I would need to turn in my press pass if I didn't get down there as well. So, next week's report will contain a Thompson Avenue feature.
In the meantime, there are other things going on around town, and this week's report covers those activities starting out with "hard frost" mornings Alameda residents woke up to. When I started out on the morning walk, all the leaves had ice crystals on them, but by the time I was done, the crystals had turned to mini-water drops.
Personally, I don't mind the temp, but my human companion starts complaining about the cold when it drops below 65 degrees. The daily morning walk has gone from three miles down to only one mile.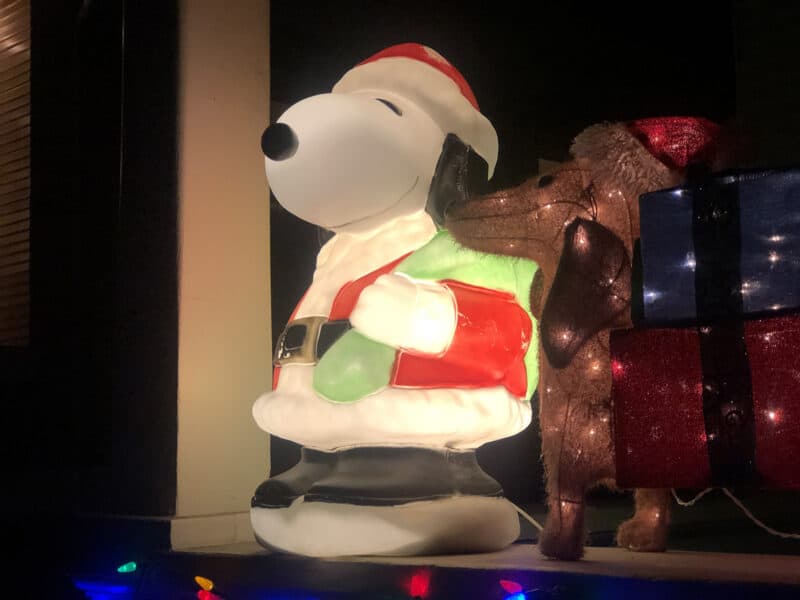 On the holiday decoration front, Snoopy was again front and center over on Morton Street where Tucker hangs out, and on Grand Street at Alameda Avenue, there is a nice one minute colorful light show in the front yard worth checking out.
Down at Park Centre Animal Hospital the very noble looking canine sculpture got the holiday treatment, and the VW microbus had some holiday lights added to its roof.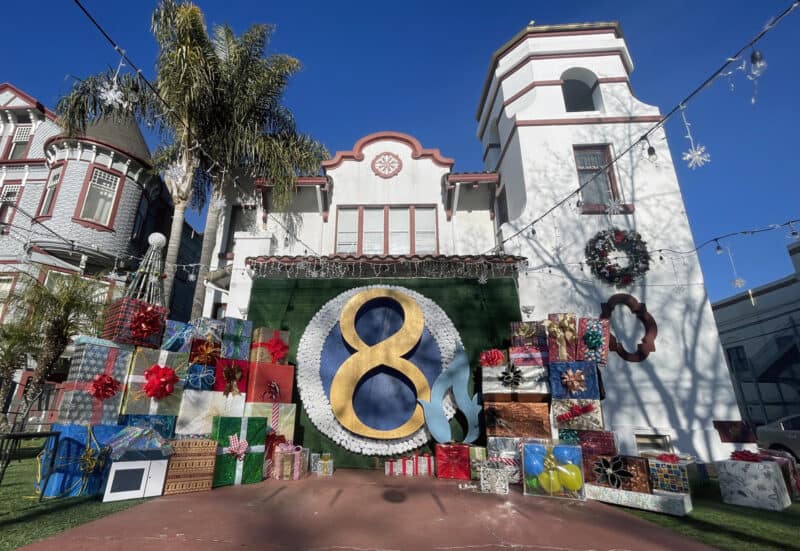 There is a pretty impressive display in front of what used to be the Adelphian Club of Alameda building located at the corner of Central Avenue and Walnut Street. Does anyone know the significance of the "8"?
Someone must have celebrated a birthday this past week judging by the graphic that was projected on the side of the house located on Grand Street, and just down the street there was quite the holiday party.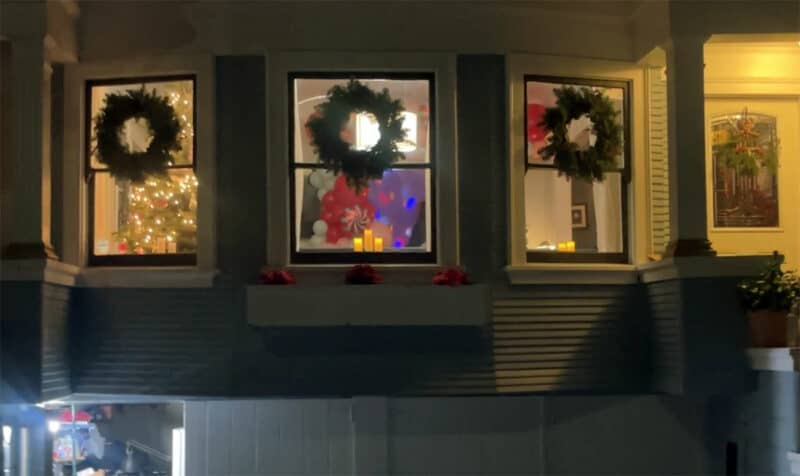 I had a video of my walk by, but the editor said that it wasn't cool to show people partying inside their home.
I decided to write a poem to cover my experience:
'Twas the week before Christmas,
and I on my walk,
When I heard the sound of the B-52s,
coming from the next block.
"I got me a Chrysler as big as a whale,
and it's about to set sail."
I must admit I was in quite a brood,
When I walked by the house,
and there wasn't any food.
And finally, I was so happy to see that the hooptie truck I reported on last week had added some holiday lights to the hood giving it an even more festive appearance. It was the perfect way to end the last walk of the day.
Next week, I will cover Thompson Avenue. Until then, humans, please remember to get something for all the furry friends in your homes that provide the all important companionship we both cherish so much.
This is Mouf, Roving Report for the Bear's-Eye View of Alameda wishing you all a joyous…
Mouf, Roving Reporter
Bear's-Eye View of Alameda
Mouf and his human companion can be reached via [email protected]. Their stories are collected at AlamedaPost.com/Jeff-Cambra/. All photos by Jeff Cambra.