Bear's-Eye View of Alameda for December 25, 2022
Before starting this week's report, I made a discovery this Christmas morning that has changed my life, and I absolutely must share it with all my faithful readers. My human companion was in the kitchen when I heard the sound of the electric eggbeater startup. From past experience, I knew this meant that food was being prepared.
I jumped off the bed, hauled my butt down the stairs at light speed, circled the kitchen island, and sat right next to him staring longingly up at him with my most pathetic face. No reaction! I stared to salivate like a Pavlovian dog at a bell ringing concert. Still no response.
I went to DefCon-Four and let out a soft high-pitched whimper. He blinked and asked, "You OK? Do you want some of this?" I had no idea of what "this" was, but I knew I wanted it. I licked my lips and let out another whine hoping for some successful inter-species communication.
I had to sit through some "little Jeffie" story about how his mom would whip up cream and let him lick the beaters. I thought to myself, "What are beaters?" and that I wasn't into any sadistic activity.
My question was answered when the whisk looking thing got put in my face. WTP (What the poop)!! This whipped cream stuff is amazing! It took me a minute to figure out how to twist my tongue to get every last morsel. I can say without reservation that this was the best holiday surprise I could have gotten. Love my human companion!
Now on with my report.
If you have lived in town for any length of time, a trip down Thompson Avenue is a must for a proper Alameda holiday celebration. Bear's-Eye View of Alameda would not have any credibility if I did not do a major feature on this iconic Alameda seasonal event.There was one problem with this roving reporter preparing a full report. I am still really reactive when I see, smell, hear—or even think—there is another dog within a block of where I am, which makes me doing a report that would show all the lighted displays at night out of the question.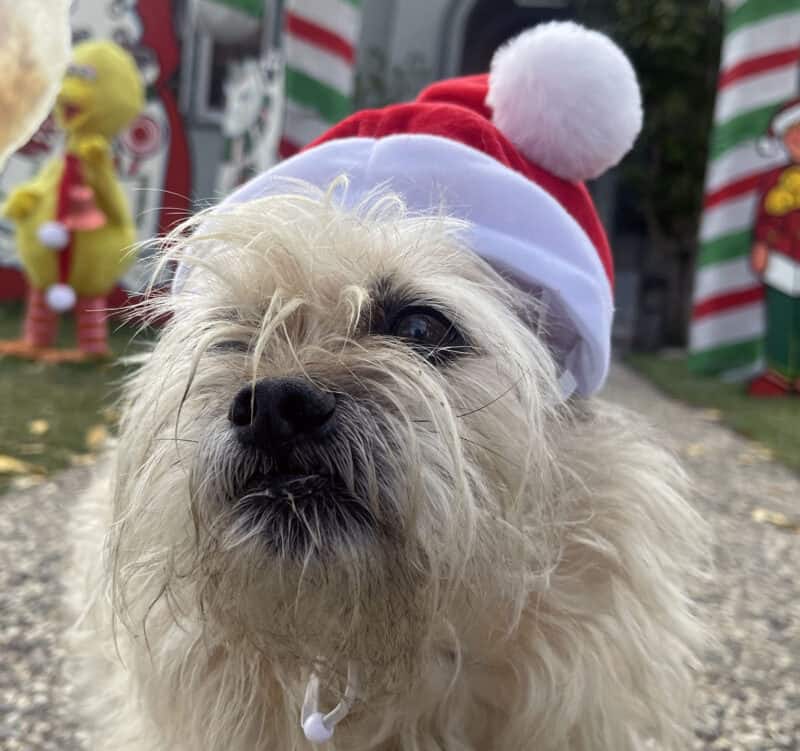 So, for this Thompson Avenue feature, I called on "pup reporter" and good friend Li'l Dude to cover the evening sights, while I covered the morning and daytime coverage. I am happy to share the byline with him.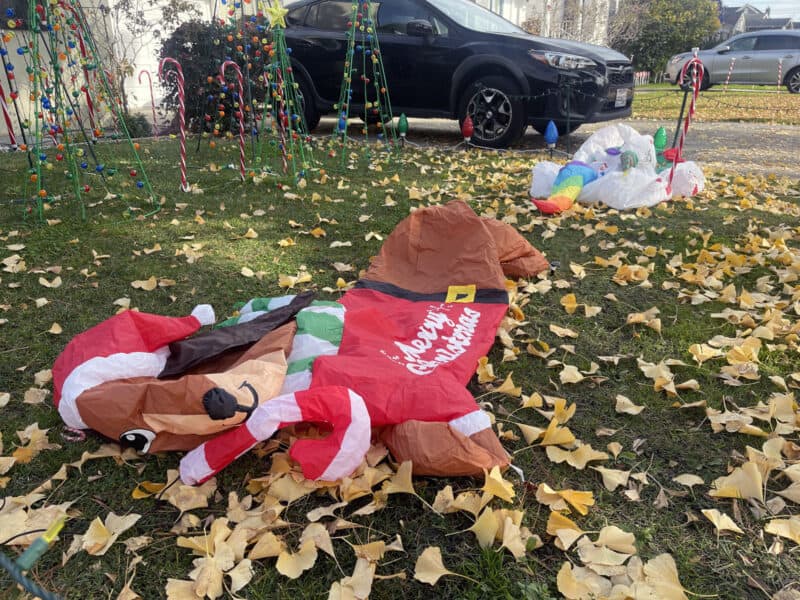 My morning walk along Thompson Avenue was a bit "deflating" to say the least. First off, all the inflatables are flat as a pancake, and there were no pretty holiday lights adding to the street ambiance.
I was really sad to walk by a house that must have had a thousand light bulbs forming teepees and covering the entire roof. Fortunately, Dude was able to capture the full effect so it would be shared with all of our readers.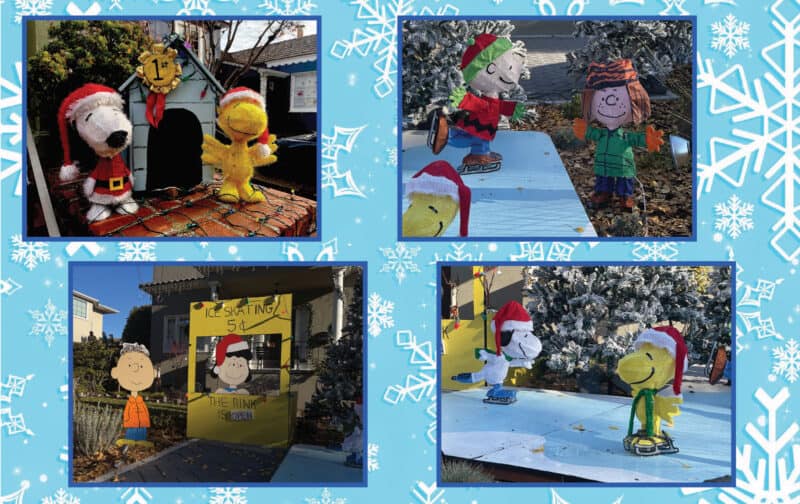 There were a number of yard scenes that did work very well during the day, and I was very excited to see that Snoopy, Woodstock, and the Peanuts gang were out ice skating at one house.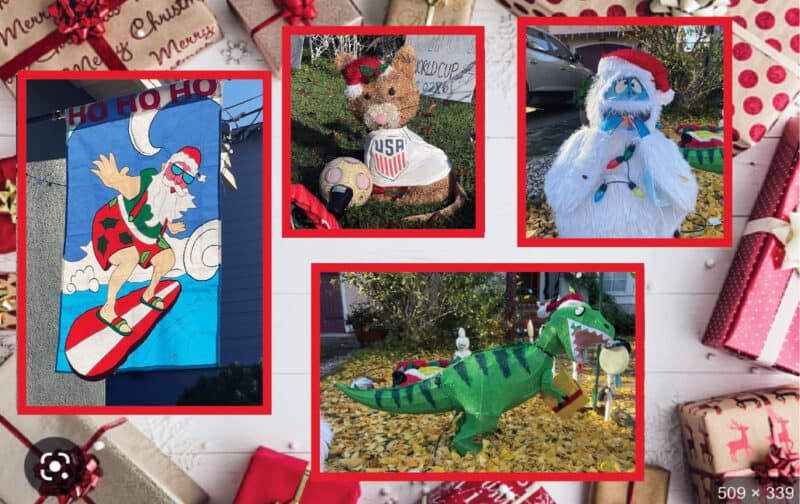 As I walked down the street, a bear cub wearing a USA tee shirt and standing next to a soccer ball made this display particularly timely. There was also a miniature Abominable Snowman, a T-Rex for the dinosaur lovers, and Jeff's favorite – a surf Santa banner. Santa wasn't around, but he did leave his sleigh and the herd in the median.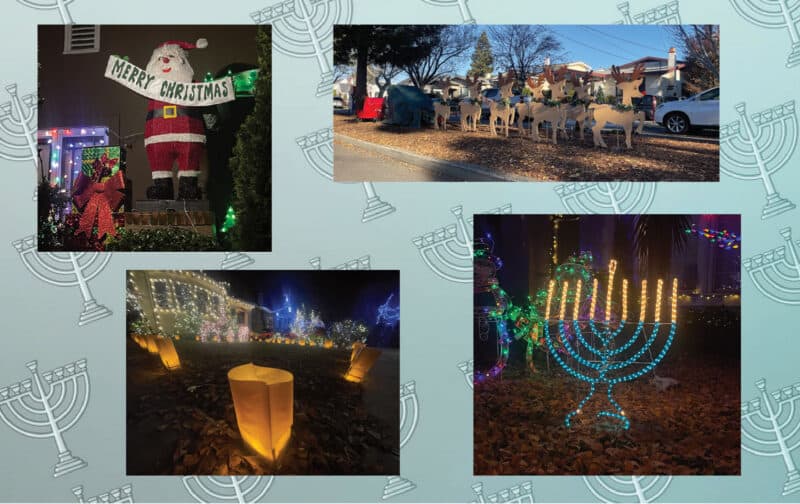 While this morning coverage gave a new perspective, one really needs to go at night to experience the full effect of the street. There is just so much to see. With all the sensory overload, Li'l Dude suggests that you should be sure to see the big Santa Claus with the "Merry Christmas" banner, the nine-candle menorah, and the house with the battery powered luminarias reflecting a New Mexico tradition of Christmas.
The night he visited, there was a violin concert going on.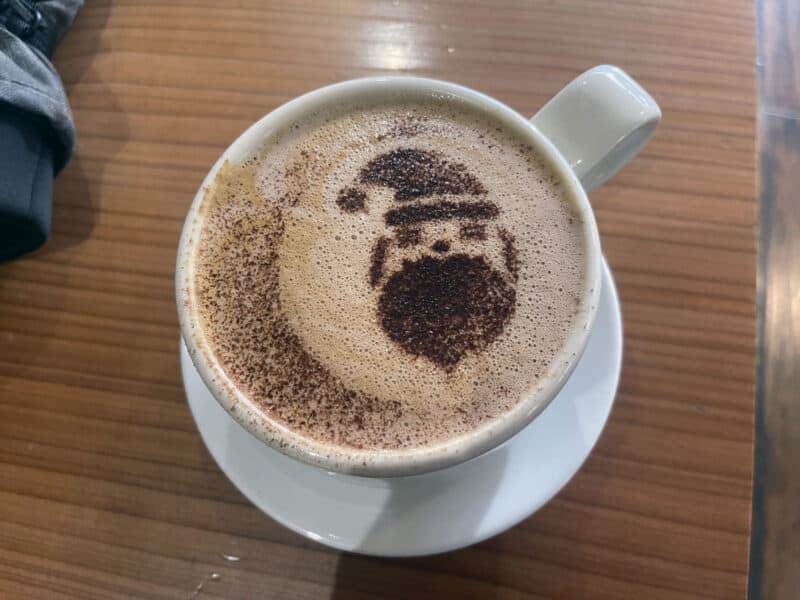 Beyond Thompson Avenue, there were a few other sights of the holiday worth mentioning. The Local coffee shop added a cute Santa Claus image in cocoa powder to a decaf, oat milk mocha.
And, the craziest VW microbus decorated in holiday lights was driving around Alameda streets earlier this week.
Finally, to all my canine buddies out there that have had to endure the humiliation of your human companion dressing you up in holiday attire and gear, I finally evened up the score!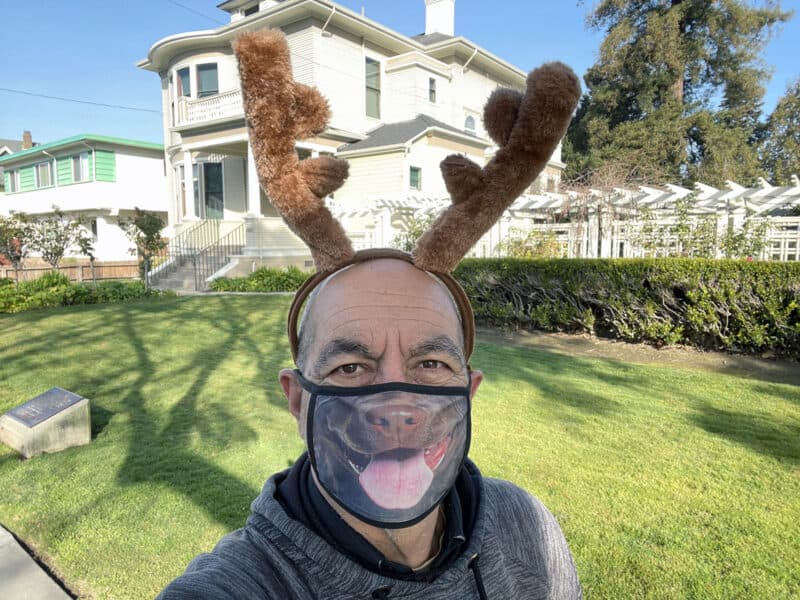 My human companion now understands what it's like. I think I have closed the book on doing any more dress up poop in my house. Well, possibly with the exception of Halloween—and only if I get to pick the costume.
The year end is rapidly approaching, and I want to wish all of you a joyous holiday celebration however you chose to acknowledge (or not acknowledge) the day.
Ho, Ho, Ho from me, my human companion Jeff, and the rest of the Bear's-Eye View of Alameda staff.
Mouf and his human companion can be reached via [email protected]. Their stories are collected at AlamedaPost.com/Jeff-Cambra/. All photos by Jeff Cambra.