The former Del Monte warehouse is being transformed into a housing and commercial development called Alta Star Harbor
As you drive along Buena Vista Avenue, it's difficult not to notice the huge construction project going on at the site of the former Del Monte warehouse. Wood Partners are developing the property into the Alta Star Harbor, a development of 374 apartments with parking, commercial space, and supporting infrastructure.
Timbers are rising above the brick facade, trucks are coming in and out, and the extension of Clement Avenue to Atlantic Avenue is almost complete. Welcomed by some, reviled by others, everyone can agree the project will radically change its neighborhood.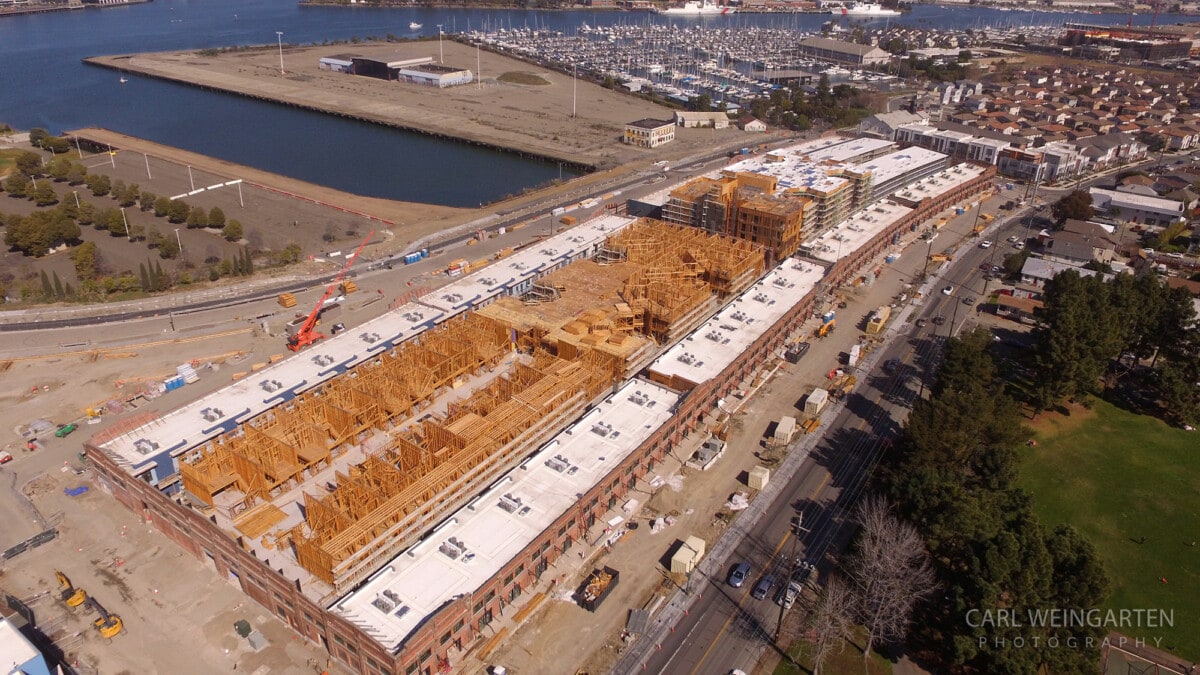 However, it's difficult to truly appreciate the scale of the development efforts from the ground. And, since the construction site is not open to the public, the only way to get a real sense of just how much work has been done is from an aerial view.
Now, thanks to the effort of local musician and videographer, Carl Weingarten, the public can get a view of the construction in progress. This two minute video shot from a drone shows that some of the space is close to being fully finished, while other areas continue to rise. The video also gives a clear view of the recently completed Clement Avenue extension, running behind the development to join Atlantic Avenue where it meets Sherman Street.
Wood's website lists an opening date for the development of 2022. To help the flow of traffic to and around the new development, the buildings located at the former Pennzoil site have been razed. The next step at that site is for Pennzoil to remediate the soil to remove toxic waste before the final extension of Clement Avenue East to Grand Street can be constructed. Development at the former Encinal Terminals, located behind the Del Monte, on the Estuary, is expected to start soon.
Adam Gillitt is the Publisher of the Alameda Post. Reach him at [email protected].