Chamber President urges shoppers to "Think Small" and shop locally.
New this year, the Alameda Chamber and Economic Alliance has launched a program to support small business. Last evening, we kicked off Small Business Season with an announcement about the program at our Member Appreciation Barbeque at Wine & Waffles. Small Business Season is a global marketing campaign with over 2,000 chambers and small businesses participating. Small Business Season will extend and enhance the Shop Local 2022 program that the Chamber is co-sponsoring with the City of Alameda, and the Downtown and West Alameda Business Associations.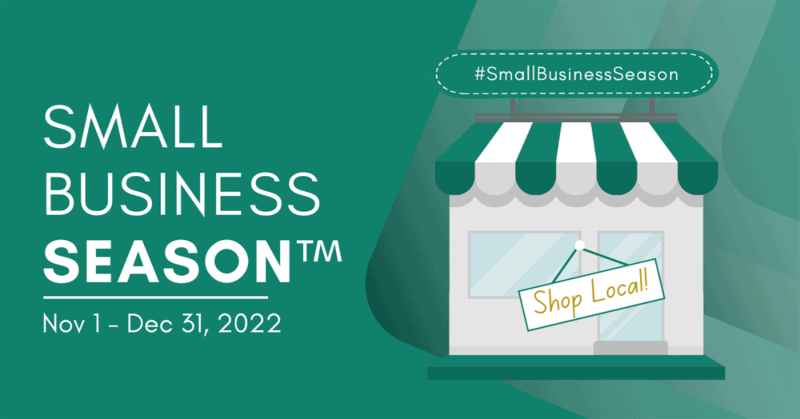 Throughout the holiday shopping season, the Chamber will encourage consumers to "Think Small" and earmark at least part of their holiday spending to support local small business.
Prepping for Small Business Season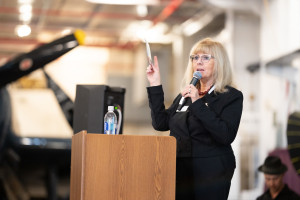 Details of the announcement and plans surrounding the celebration of Small Business Season include a special contest with prizes for customers who patronize participating small businesses, a marketing packet to help businesses generate buzz and increase participation, and educational components to show the importance of shopping small, plus many fun surprises between now and the end of the year.
The Small Business Season program is unique because in addition to encouraging shoppers to support small, it also assists small businesses with materials and tips on maximizing their own reach and messaging. It helps small business to help small business. As a former small business owner, I can tell you time is not something most small business owners have. We love Small Business Season because it gives them the tools they need to be successful during the holiday shopping push. And it's free for members! They just need to sign up.
Small business is the backbone of our economy. Sixty-four percent of new jobs in the U.S. come from small business. When people spend their dollars locally, more money stays local. On average, out of every $100 spent locally, $68 stays in the community. But this movement isn't just about the numbers and how it's good economically to shop small. It feels good too. Small business owners and employees are our friends, family, and neighbors, and they really need us this year.
"Think Small" has a big impact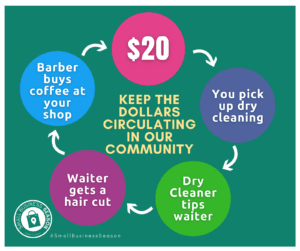 By implementing Small Business Season, we hope to encourage people to patronize all sorts of small businesses this holiday. In addition to our wonderful retail options, there are dining establishments, personal service providers, even local artisans that need our support. Small Business Season is a way to help our residents develop a better appreciation for how their spending affects Alameda and quality of life.
In addition to increased marketing efforts, the Chamber is encouraging all businesses to participate in its efforts to raise awareness of how supporting small business improves the quality of life for the entire community. Our Board Chair Kelly Lux said, "All businesses need one another. There's a symbiotic relationship in any economy. But small business is the most endangered because, on average, they don't operate with large cash reserves. When costs skyrocket, they feel it immediately."
Small businesses provide an incredible experience. When you shop or dine with them, you remember it. Small Business Season is a way to show everyone in Alameda just how special these businesses are.
Madlen Saddik is the president of the Alameda Chamber & Economic Alliance and may be reached at [email protected]. Visit and join the Alameda Chamber & Economic Alliance at AlamedaChamber.com.
---
Editorials and Letters to the Editor
All opinions expressed on this page are the author's alone and do not reflect those of the Alameda Post, nor does our organization endorse any views the author may present. Our objective as an independent news source is to fully reflect our community's varied opinions without giving preference to a particular viewpoint.
If you disagree with an opinion that we have published, please submit a rebuttal or differing opinion in a letter to the Editor for publication. Review our policies page for more information.