The San Francisco Bay Area Water Emergency Transportation Authority (WETA), the agency that provides San Francisco Bay Ferry service, released its 2023 year-to-date reliability and on-time performance data on Wednesday, August 30. They also announced improvements aimed at ensuring a better passenger experience and fewer disruptions.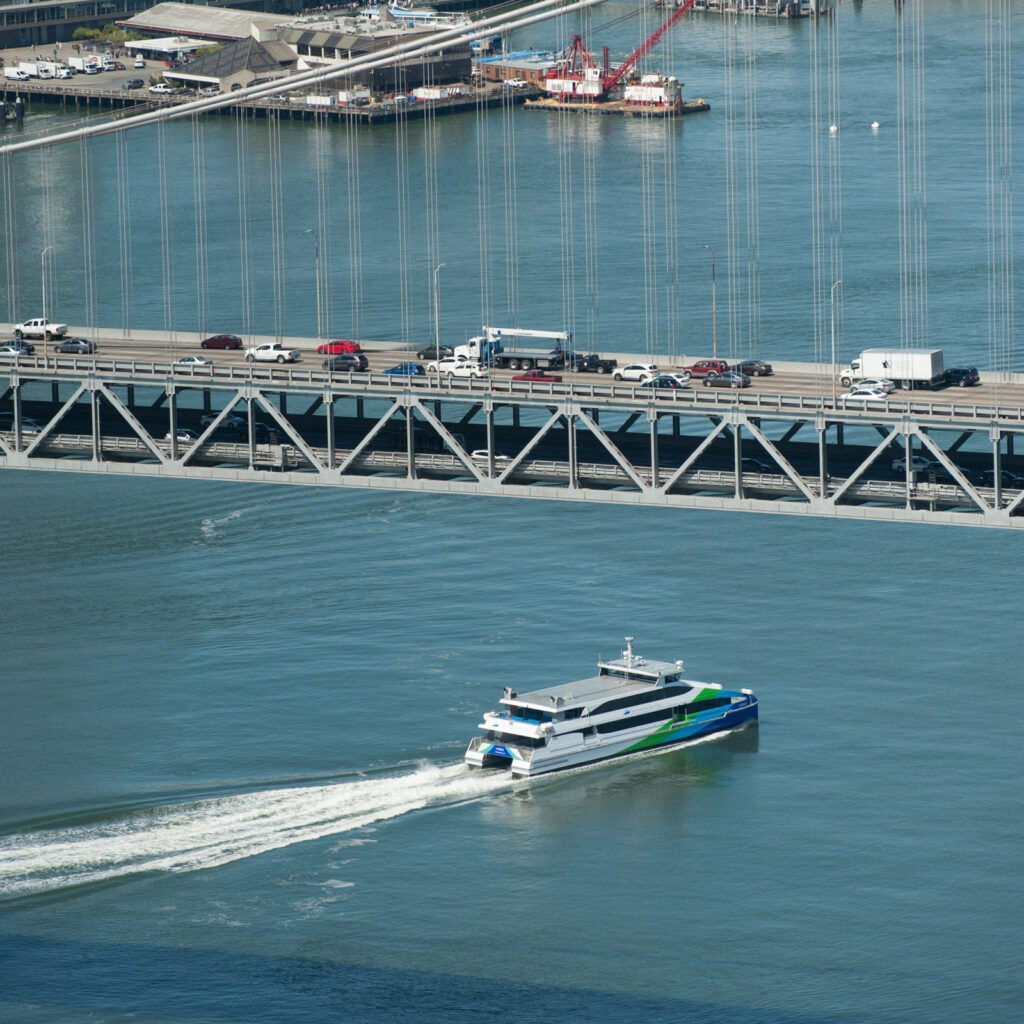 So far this year, the San Francisco Bay Ferry service has completed 99% of its scheduled trips. 97% of scheduled trips have arrived at their destination within five minutes of the scheduled time. Over the last several months, however, the service has been "challenged by equipment failures and vessel availability," according to WETA Executive Director Seamus Murphy.
"Overall, we're proud of San Francisco Bay Ferry's high levels of reliability and on-time performance…," Murphy said, noting that, "we know there is opportunity to improve. Every major delay or cancellation is an enormous inconvenience for our passengers, and we owe it to them to do everything we can to minimize disruptions."
Mechanical issues on ferries are the biggest contributor to service disruptions. Ferries undergo biennial dry docks, in which vessels are removed from the water for at least three weeks for inspections, maintenance and repairs. Vessels undergo even more thorough and lengthy quarter-life refurbishments approximately every six years. With 16 vessels in the San Francisco Bay Ferry fleet, this means that at least one vessel is out of service at any given time due to planned maintenance. Mechanical issues on the remaining available vessels can cause disruptions, such as those experienced systemwide in August.
Unanticipated crew shortages, boarding delays due to crush crowds, weather, and ship traffic in the transit channels, particularly in the Oakland Estuary, can also cause disruptions. Significant storms in January and March 2023 also caused major service disruptions due to high winds and unsafe operating conditions.
When issues do arise, WETA's operations team and contract operator Blue & Gold Fleet work to preserve key departures by any means necessary, including swapping spare vessels into service, sending crews on additional runs on overtime, and moving vessels on and off routes to fill gaps.
"San Francisco Bay Ferry's 99% overall passenger satisfaction mark is a point of pride for us and we want to preserve it," Murphy said. "That means focusing on the experience of the rider and there is nothing more important than knowing they can depend on us to get them where they need to go safely and on-time. Keeping our passengers requires high standards for service, so we're committing to some additional steps to minimize the frequency and impact of disruptions."
On Wednesday, WETA announced the following commitments related to service reliability:
WETA will hire an independent third party engineering firm to review the agency's engineering and maintenance program and make recommendations to minimize mechanical failures.
WETA is deploying additional engineering resources to expedite the repair of out-of-service vessels.
WETA will publish a monthly summary report of reliability and on-time performance on its website beginning in September.
WETA will soon deploy text message rider alert functionality that will allow passengers to subscribe to notifications based on the routes, days and times they ride the ferry.
Given the reality that occasional mechanical failures will cause service disruption despite these measures, WETA is developing a process to provide passengers affected by cancellations or significant delays complimentary tickets or concessions.
"We're excited by consistent growth in ridership, both during the week and on weekends, which we attribute to providing safe, reliable and fairly priced service," said Jim Wunderman, Chair of the WETA Board of Directors. "The recent concerns over reliability will be a focus of discussion at our upcoming Board of Directors meeting on September 12, and we encourage our riders and members of the public to participate." The meeting will be at 2 p.m. and will be accessible via Zoom. Visit WETA's Next Board Meeting page for more information and to sign up to be notified by email.
San Francisco Bay Ferry currently operates 150 transbay trips every weekday and 61 trips on weekend days.