Public Works plans to improve enforcement and increase compliance.
The City of Alameda launched its new parking enforcement service Monday, May 23, with improved enforcement in the Park Street and Webster Street areas. The program aims to increase compliance with parking rules to ensure spaces are available for visitors, crosswalks and bike lanes are clear, accessible parking zones are reserved for people with disability placards, street sweeping keeps debris out of our waterways, and more.
The new service moves most parking enforcement activities from the Alameda Police Department to the Public Works Department, which will enable Public Works to focus more closely on transportation and clean water goals. The Police Department will continue to handle vehicle towing in the public right-of-way, including the abandoned vehicle program.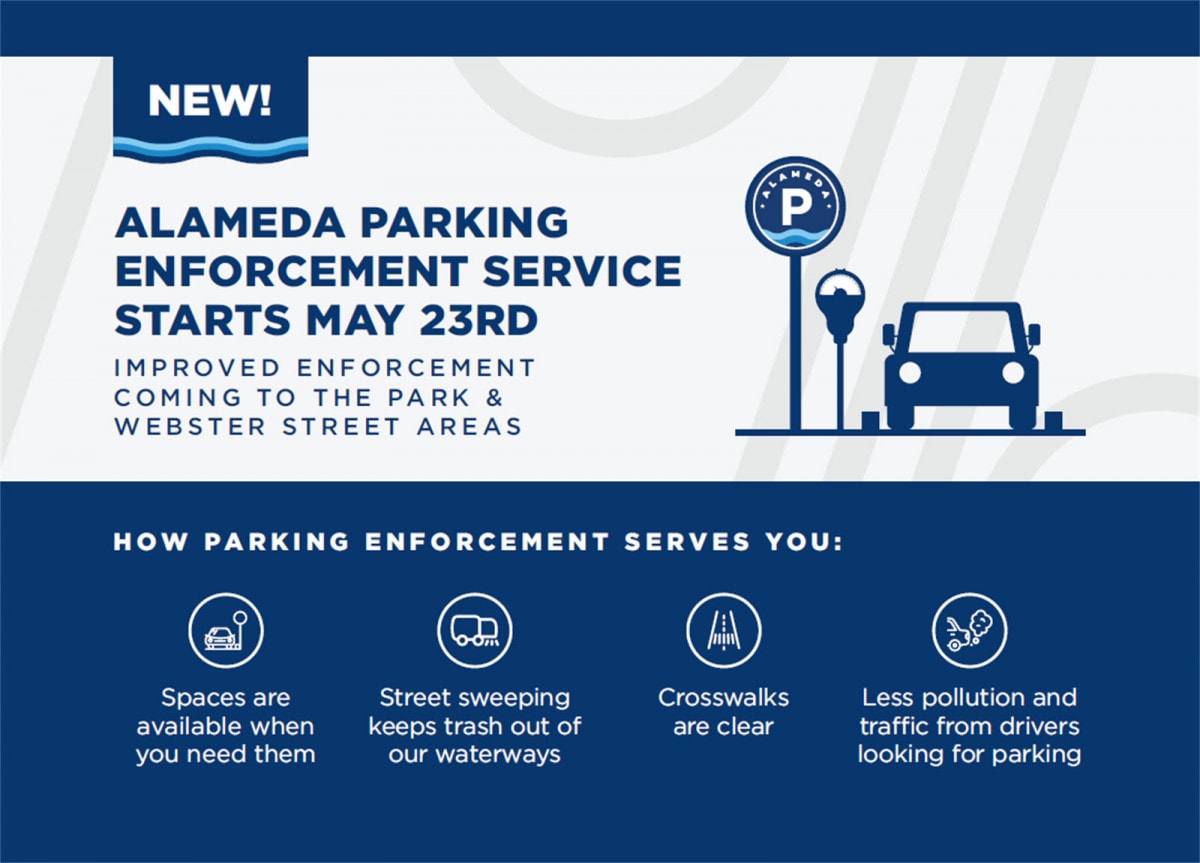 The City of Alameda encourages drivers to do the following:
Always check signs, curb paint, and parking meter screens, even if there's a parklet between the parking space and the curb.
Pay at the meter 9:00 a.m. – 6:00 p.m. Monday – Saturday, except posted holidays.
Do not overstay posted time limits.
Never double-park, park in a red zone, block a sidewalk or crosswalk, or park in an area protected with bollards. These cause safety hazards.
In the Park Street area, avoid circling for parking by going straight to the Civic Center Parking Structure at 1416 Oak St. Parking in the garage is cheaper and more plentiful than on the street.
Bike, walk, or take transit.
Coming in 2022
New barricades and updated striping are coming to Park and Webster Streets, with parking improvements such as new short-term parking for pick-up and drop-off, commercial loading zones, and parking zones for people with disabilities. For more information about parking enforcement, visit the City's webpage at www.AlamedaParking.org. The page includes information about parking in business districts, citations and enforcement, transit lot parking, curb management, street sweeping, and electric vehicles.