On November 7, City Council directed staff to proceed with De-Pave Park design plans, including the eventual removal of Buildings 25 and 29 at Alameda Point to maximize ecological park space. The City will work with tenants to find new locations for their businesses. Council also voted to update Park and Webster streets to include restriping and improving the appearance and safety of parklets. Restriping will create new bike lanes, loading zones, and ADA parking spaces.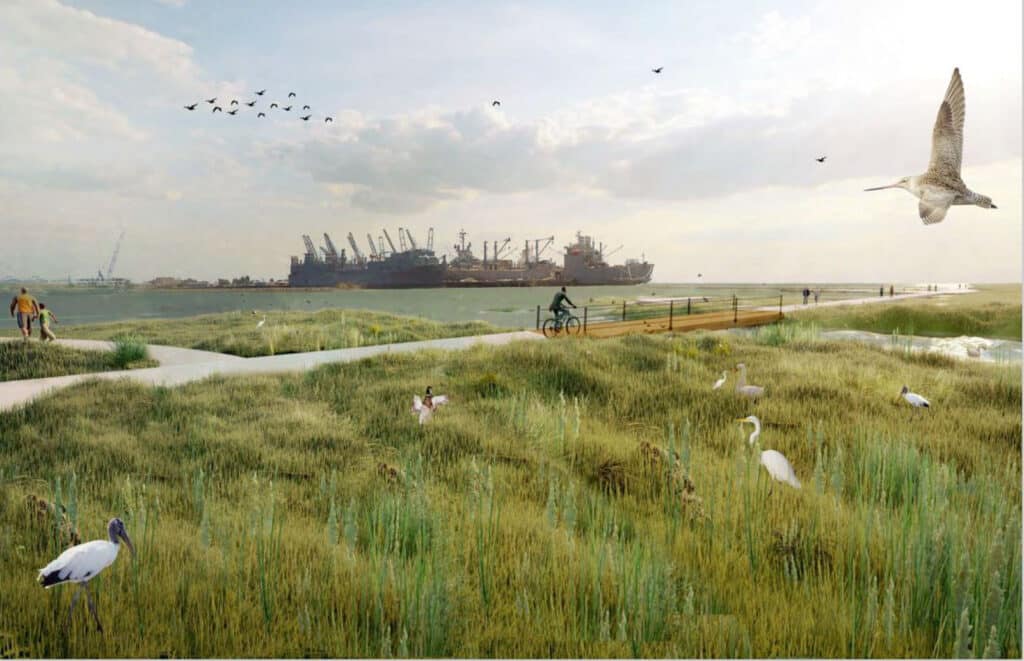 De-Pave Park design
De-Pave Park is on the western edge of Seaplane Lagoon. The City envisions it as a publicly accessible ecological park to be created by removing all existing concrete, repurposing it onsite, and creating a habitat to support wildlife. Park designs include a pedestrian and bicycle promenade, overlooks, educational gathering space, tide pools, beach, picnic area, kayak/stand-up paddle launch, seasonal San Francisco Bay Trail connection, eelgrass and oyster bed pilot projects, fishing areas, wetlands, nature play area, parking lot, and restroom.
The park will accommodate sea level rise through inundation over time with continued public access and include a tidal ecology system with notable carbon sequestration benefits.
Alameda Point Buildings 25 and 29 are in the park area. All design options stipulated removing Building 29, currently home to artist and maker tenants. Council also considered removing Building 25, home to businesses such as Dashe Cellars, Urban Legends, St. George's Spirits, and area wineries. Staff have met with building tenants and propose helping them find new locations, such as at Building 24, the former location of Rock Wall Winery.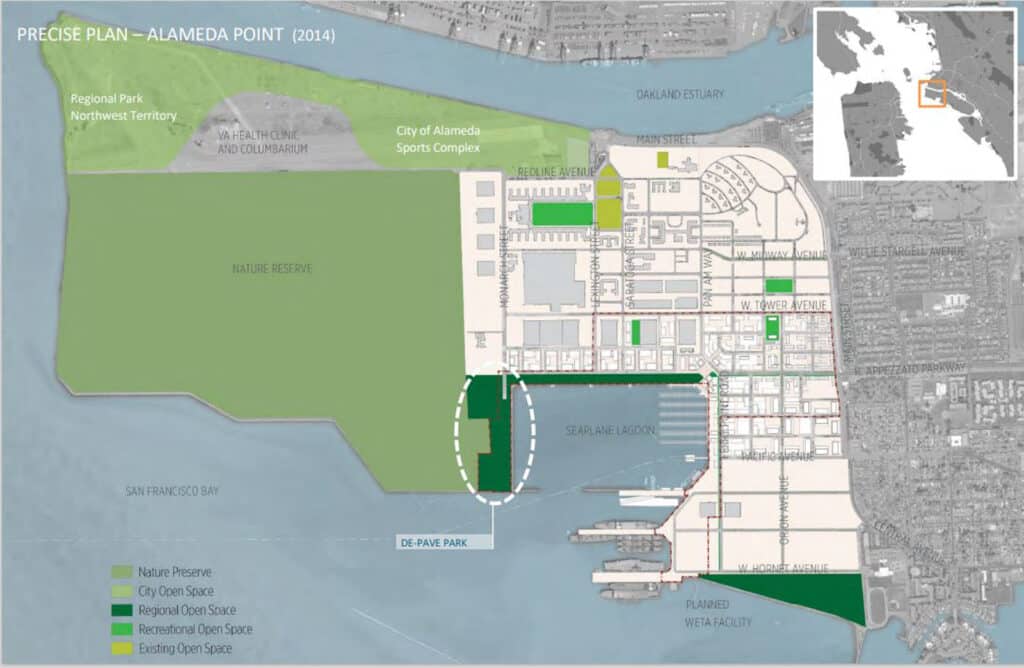 Public comment
Most public speakers supported removing Building 25. Irene urged Council members to be visionary and stand up for the environment and economic health. She argued that Building 25 obstructs views of San Francisco Bay, discouraging investors.
Rick argued that wildlife corridors between human habitations are essential to birds and wildlife. Julia Dowell of San Francisco Baykeeper noted that developments have destroyed nearly 85% of the former naval base's historical wetlands, and increasing the ecological park's size would help protect Alameda from climate change impacts.
Tenant representatives sounded resigned to losing their lease but asked the Council to provide ample notice and certainty about their future so they could plan appropriately. Steve Schaffer, co-owner of Urban Legend, said the uncertainty had already harmed his business.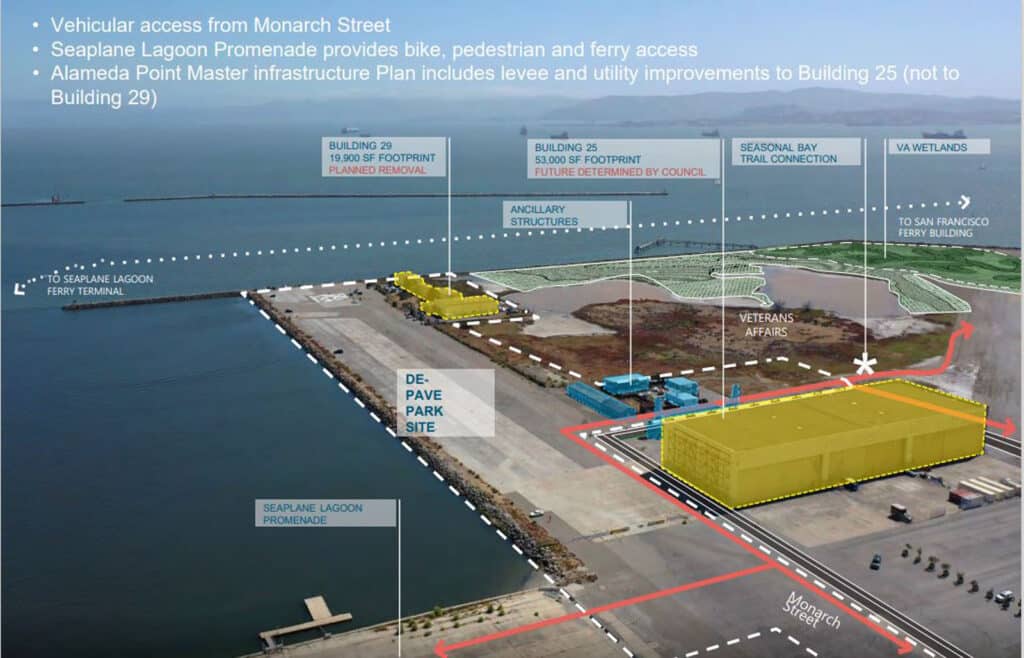 Council comment
Councilmember Tracy Jensen said that parks support quality of life, and she supports maintaining and improving Alameda Point views. Vice Mayor Tony Daysog said an island city must take sea level rise seriously. Both were in favor of removing the buildings.
Mayor Marilyn Ezzy Ashcraft said that although she supported eventually removing both buildings, it would be a mistake to evict tenants too soon, given that it might take five years to raise sufficient grant funds, roughly estimated at $20 million, to perform the work proposed. She added that tenants who sacrificed to locate their businesses there deserve respect.
Similarly, Councilmember Malia Vella wanted to see a phased approach to building removal and to proceed with realistic deadlines. She noted that Building 25 generates considerable revenue, and the City should collect rent for as long as possible to pay for the park.
Councilmember Trish Herrera Spencer favored keeping both buildings, saying she supports the City paying its bills by preserving tenant revenue and not raising taxes. She added that Building 29 is a haven for artists she wants to support.
Final vote
Council voted 4-1 in favor of removing both buildings with the understanding that the City would preserve the buildings and maintain their income streams as long as possible while also trying to find new homes for tenants. The City would provide additional certainty by striving to renew leases with simultaneous end dates.
Mayor Ashcraft, Vice Mayor Daysog, and Councilmembers Vella and Jensen voted in favor. Councilmember Herrera Spencer voted against.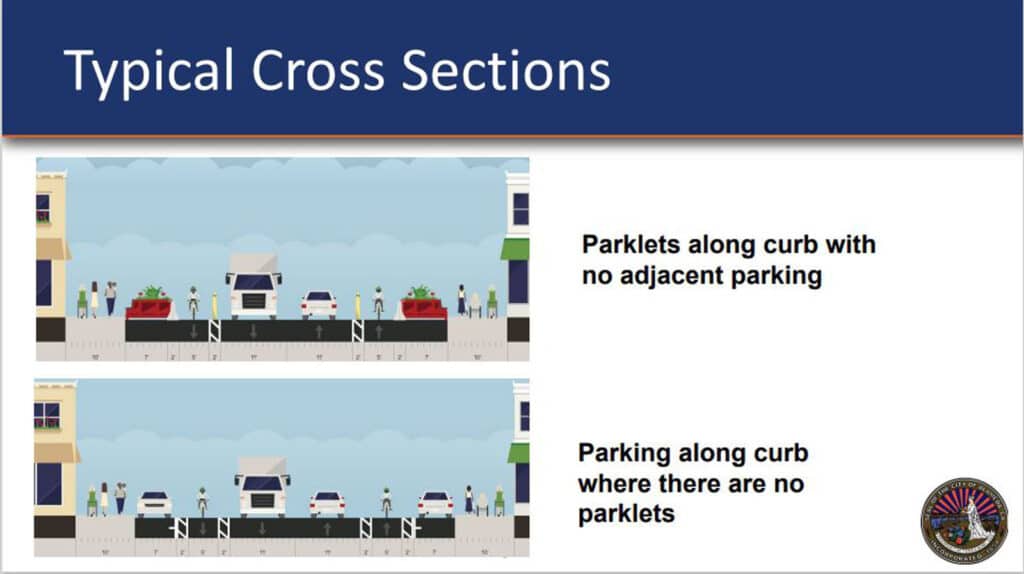 Commercial Streets Program
The City first authorized parklets on Park and Webster streets in response to the dramatic, negative impacts of the COVID-19 pandemic on the business community. Since then, some parklets have been phased out, but many remain. City staff noted that while still popular with many businesses, common concerns are about their temporary and non-uniform appearance and inferior safety.
In July, Council directed staff to develop a striping and barrier plan and provide further direction for the Park and Webster Commercial Streets Program. Staff proposed buying and installing concrete barriers, stained green and reinforced with steel rebar frames for 20 parklets. The barriers would provide a uniform appearance and improve safety.
Staff also proposed coordinating barrier replacement with restriping to implement bike lanes and loading zones, along with ADA and bike parking. On Webster Street, restriping would result in 11 additional parking spaces, two new green loading zones, and three new blue ADA parking spaces. On Park Street, parking would be reduced by 19 spaces, but there would be seven additional green loading zones, five new blue ADA parking spaces, and one new yellow commercial loading zone. Staff noted that ample parking is still available in the downtown parking structure.
Finally, staff proposed extending parklet agreements with business owners that include updated design guidelines. Fees would double to $2,400 per year to cover administration and inspection costs.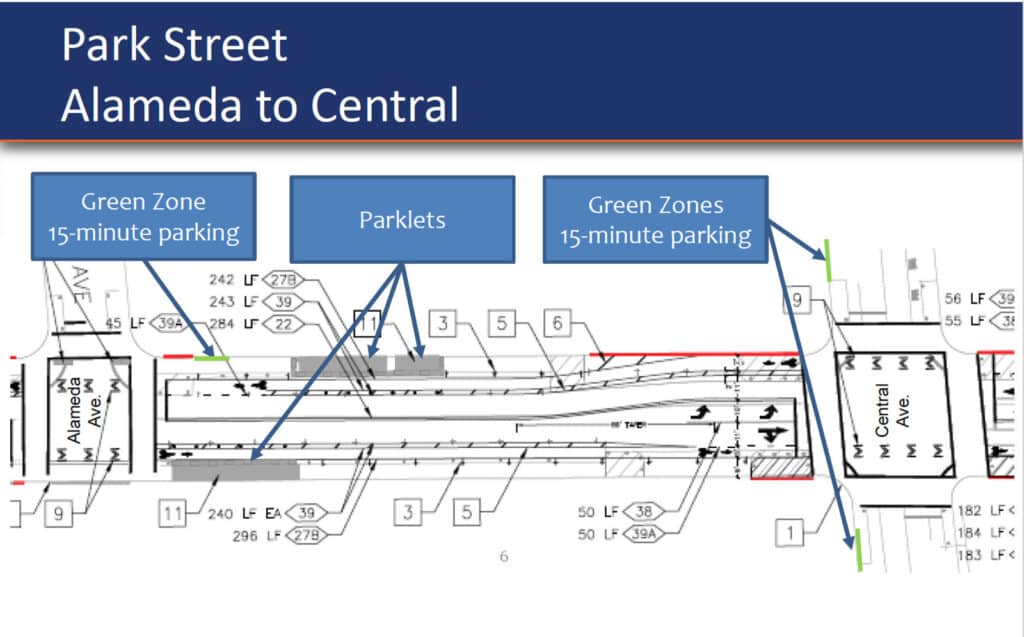 Public comment
Most public comment was in favor of staff proposals. Business owners and business association representatives spoke glowingly of the luxury of alfresco dining in mild local weather, the traffic-calming benefits, and increased business opportunities and jobs. One speaker said he liked the additional green zones to reduce double parking.
In contrast, one speaker said that in an informal survey she had conducted, 60% of respondents felt it was time for parklets to go. She expressed concern about emergency vehicles being able to get through. Another speaker argued that throttling traffic is a hazard, making it hard to get off the island.
Council comment
Council opinions were split. Vice Mayor Daysog said the pandemic is over, and parklets must phase out. He called them a private use of public space.
Councilmember Herrera Spencer expressed concern about emergency vehicles being able to navigate and recommended that the bollards proposed to protect bike lanes be removed so cars could pull over if needed. She suggested using sturdier K-rail barriers instead of the smaller concrete barriers proposed by staff.
Councilmember Jensen countered that Fire Chief Nick Luby had said it was not a problem to maneuver emergency vehicles within the proposed street design. Staff noted that the bollards improve safety for bicyclists and prevent double parking. Staff added that K-rails aren't easily configurable into parklets due to their larger mass and length and are less attractive. The smaller concrete barriers are what other Bay Area cities use for their parklets. Mayor Ashcraft suggested it would be good to double-check their safety rating.
Herrera Spencer said she would prefer extending the width of sidewalks to using parklets. Staff noted that widening sidewalks and redoing gutters would be considerably more expensive than configuring parklets. However, Councilmember Vella concurred that in the long term, the goal should be to widen sidewalks when an opportunity presents itself. In the meantime, she wanted the number of parklets capped, so there wouldn't be an ever-changing street configuration.
Final vote
Council voted 3-2 to adopt the staff proposal with the understanding that staff would verify the safety rating of the proposed barriers, cap the number of parklets, and aim to widen sidewalks in the long term. Mayor Ashcraft and Councilmembers Jensen and Vella voted in favor. Vice Mayor Daysog and Councilmember Herrera Spencer voted against.
Other decisions
In other decisions, Council:
Unanimously supported local, state, and federal efforts to exonerate the Port Chicago 50.
Directed staff to explore the feasibility of placing a revenue measure on a future ballot for potential infrastructure funding or another possible revenue measure.
Contributing writer Karin K. Jensen covers boards and commissions for the Alameda Post. Contact her via [email protected]. Her writing is collected at https://linktr.ee/karinkjensen and https://alamedapost.com/Karin-K-Jensen.