Mayor Ashcraft awarded twenty four winners at the pavilion in Jean Sweeney Open Space.
On Thursday evening, over 100 people gathered to watch Mayor Marilyn Ezzy Ashcraft announce this year's Fourth of July Parade awards. This year marked the Parade's return after a two-year hiatus due to COVID. Eleven judges evaluated more than 100 entries from the official stand on Otis Drive by the old Lum School, including the Alameda Post's publisher, Adam Gillitt. This year marked the first year the Parade was managed by the Alameda Recreation and Park Department (ARPD). It proved to be as popular an event as ever, with many residents lined up along the route to watch and cheer.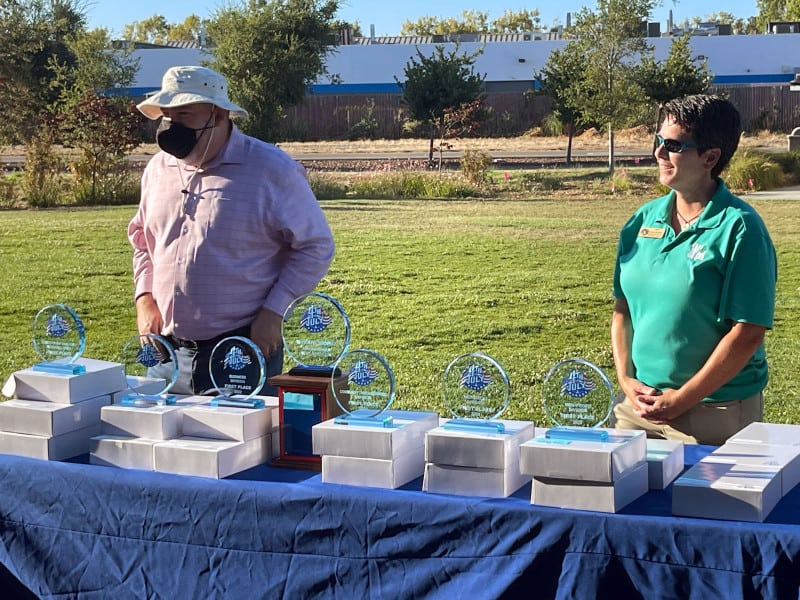 Supported by ARPD Director Amy Wooldridge and Recreation Manager Patrick Russi, the Mayor handed out Fourth of July Parade awards in seven different categories in front of an impressive display of trophies. After her opening remarks, the Mayor began with by awarding the winners of the Equestrian Division. She posed for photos with each of the winners as they were given out. The audience was very enthusiastic, cheering and applauding each of the winners, and providing drumrolls to help the Mayor build suspense. The winner of the final category of the evening, the Green Power division, was the Cargo Bike Brigade, who also won the top award, the Mayor's Trophy. The trophy will remain on display in the Mayor and City Manager's office in City Hall.
Equestrian Division
Mounted Group Open
Los Amigos Vaqueros
Mounted Posse
Alameda County Sheriff's Mounted Posse
Charro/Cherra Mounted Group
Hayward Hills Charros
Diablo Roofing Inc.
Vaquero Working Open
Otaez Mexican Restaurant
Business Division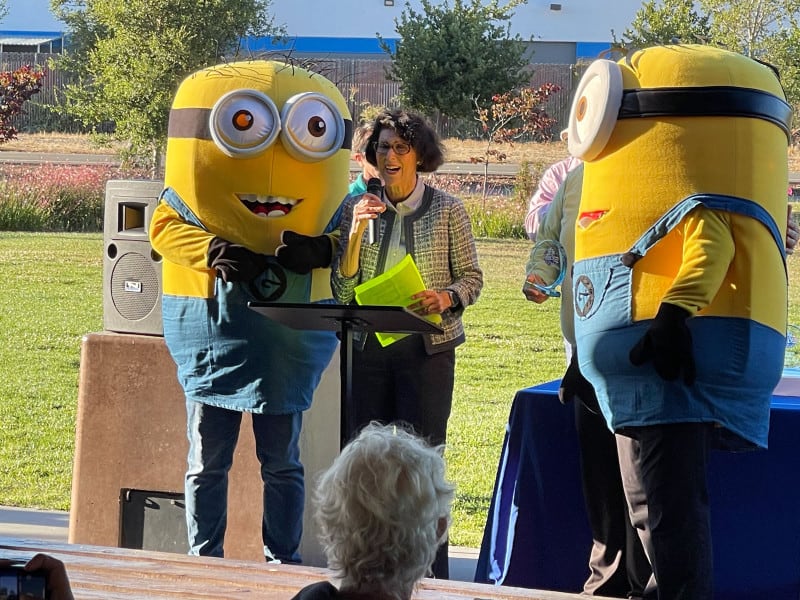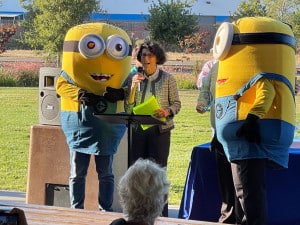 Whisk Cake Creations
Alameda Theatre & Cinema Grill
Alameda Pediatric Dentistry & Orthodontics
Community / Neighborhood Division
Tomorrow Youth Repertory
Alameda: Mr. Rogers Favorite Neighborhood!
Hello Yellow Tow Truck
Green Power Division
Cargo Bike Brigade
Westside Joe's Bikes
Alameda Scouts BSA
Live Music Division
Encinal High School Soarin' Jets Band
Academy of Alameda Band
Island City Sound
Movement Division
Alameda Vipers AAU Basketball Club
O Kalani Outrigger Canoe Club
Freak Truck
Non-Profit Division
Alameda Arts
West Alameda Business Association
Korean Traditional Costumes Parade