For some it's a time to celebrate, for others, a time to protest.
In a town where nothing is immune from heated debate, Alameda's Fourth of July Parade is a cherished exception. Everybody loves it. It makes driving and parking around town impossible, and we suffer it gladly. It's loud and messy and crowded. We don't care. This year in particular, after two dreary pandemic years without it, it meant more to us than ever.
After everything we've endured as a community and a nation, we truly needed to let off some steam. And with the recent Supreme Court decision that took away women's constitutional right to abortion, it was a sure bet that some sort of protest would be afoot. What wasn't so predictable was how reasonable that protest would be and how it would not in any way tarnish the relief and joy of celebrating together again.
Before the parade started, Kimberly, a lifelong resident of Alameda, walked briskly along Park Street handing out cards for the Organizing Committee for Abortion Rights. She was wearing an iconic pro-choice anti-coat-hanger button. Asked if the court decision affected how she felt about celebrating Independence Day, she said, "I'm upset. This button was my grandmother's, my mom's mom. She bought it here in Alameda in 1971, prior to Roe. She's no longer with us, so I feel like I am carrying it on." But did that change the way Kimberly felt about the parade? "No," she said emphatically. "If I weren't doing this, I would be walking with the Alameda Food Bank. I've been walking in the parade for a long time. I was one of the participants in our first parade, in 1976."
When the parade started, grand marshals from the Police Reform and Equity Steering Committee held up a sign urging Alamedans to "Vote Blue Like Your Life Depends On It." Nearby, watching from the sidewalk, another lifelong Alamedan, Julia, wore a placard on her chest asking women to join the abortion rights committee. Had the court decision changed her feelings about the parade? Nope, not at all. Like Kimberly, she was happy to be there. "I still wanted to be here after the years of not having it," she said. "It's such an Alameda experience. And I think you can hold a lot of feelings in one place, so it's also an opportunity to be active."
It certainly was. The Fourth of July Parade generally leads off with politicians, whose positions might otherwise evoke controversy or criticism, but the crowd here doesn't care. We applaud them as hometown heroes. We love the idea of locals who make good, people like Rob Bonta, who started out as an Alameda City Councilmember and then served as a State Assemblymember, and is now California's Attorney General. It doesn't matter if we agree with him or not. When he passes by in the parade, we smile and clap and yell and wave just like we do for Mayor Ezzy Ashcraft, councilmembers, our beloved "Coasties," firefighters, police, and whoever else rolls by. They are locals. We even cheer for our Alameda Municipal Power company trucks. It's an Alameda thing.
This year, it was estimated that about 60,000 people showed up for the parade, including out-of-towners who love our "Mayberry-by-the-Bay" vibe. Some of them even staked out their spots along the sidewalk the night before, just like we locals do.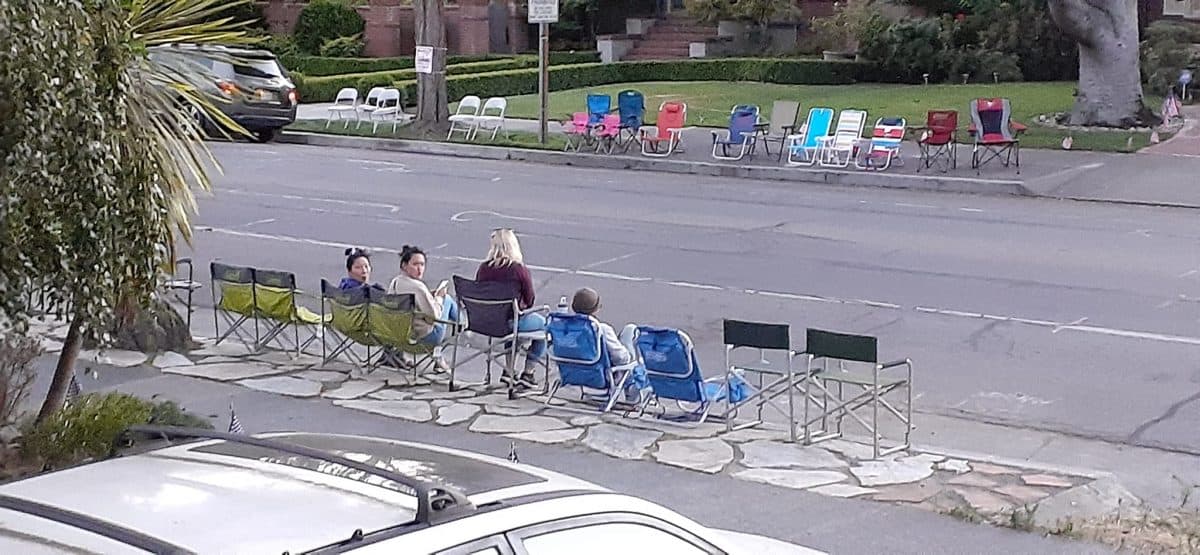 Otherwise, it's standing room only along the 3.3-mile (5 km) route, which the city always has claimed to be the longest local Fourth of July parade route in the nation. This year, almost 150 floats — we call them that, even though most of them are just people walking, riding bikes, in cars, on big trucks, or on horseback — traversed the parade route, winding from Park Street to Otis Drive, past the judges stand in front of Lum Elementary School, up Grand Street, across Central Avenue, and finally along Webster Street to Pacific Avenue. The winners chosen by the group of 11 judges will be announced on July 21 during a ceremony at Jean Sweeney Open Space Park.
At the judges' stand there was a brief pause for a peaceful protest, also in support of abortion rights. With a banner reading "Stars Stripes & Reproductive Rights" behind them, half a dozen people laid down in the street — just as the beginning of the parade approached.  The first few parade entries went around the protestors. Alameda Mayor Marilyn Ezzy Ashcraft, riding an electric bicycle, did a lap around the protesters and then spoke to them as she rode by. The protesters moved shortly afterwards, after about five minutes in total, and did not interfere with or prevent any of the entries from passing.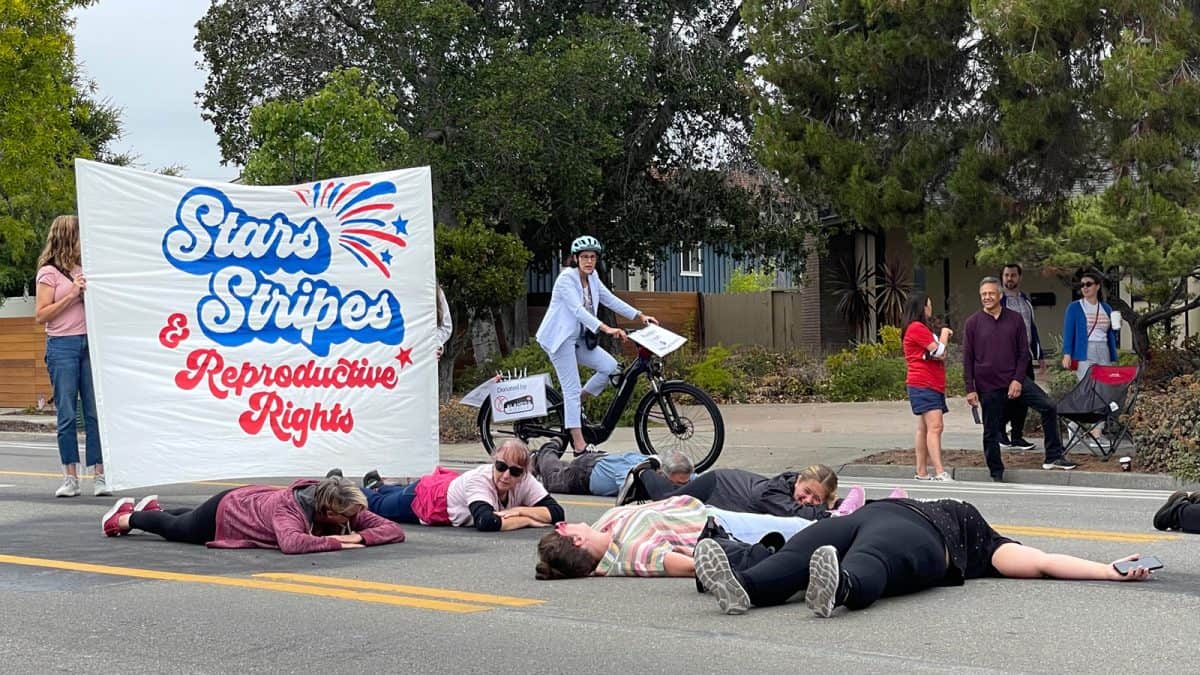 Further along the route, the Fourth of July Parade was basically business as usual, but with a little something extra. The West Alameda Business Association set up a play area in the Healing Garden at Webster Street and Taylor Avenue. That space had been a vacant parking lot before the pandemic. When the need for outdoor dining and entertainment emerged, it was revamped into a public venue for performances, small art fairs, and other events. During the parade, the play area offered food, drinks, and all sorts of games and activities, from cornhole to a Hot Wheels ramp-style race track that stayed busy all morning. One couple stood at the entrance where they could watch the parade and keep an eye on their kids racing Hot Wheels at the same time. "This is their favorite part of the parade," they said.
A few steps away, in front of the Fireside Lounge, another couple sat at a table enjoying libations from the bar. Sarah and Ryan, both Alameda residents, wore huge smiles as they sipped their beers and watched the parade. Their delight in just being there was obvious. Asked what the best and worst things about the parade were, they didn't hesitate. "The best thing is that it's back," Sarah said. "There's NO worst thing." Ryan chimed in: "Yeah, I am just so happy it's back."
Contributing writer Liz Barrett writes about the community for the Alameda Post. Contact her via [email protected]. Her writing is collected at AlamedaPost.com/Liz-Barrett/.