When we last left off (see Part 1), Fassking's Hotel and Gardens, once the largest hotel in town, had been doing a successful business out of Grand Station since the early 1860s. The station was known as Fassking's Station in those days, and even featured resorts other than Louis Fassking's place. Newspaper ads from the late 1800s touted resorts such as Central Garden and Poschwitz's Garden. Central Garden, described as a resort offering fine family dinners, room & board, fine wines and liquors, and even groceries and provisions, was run by Mrs. George Voges after the death of her husband.
It was located on the northeast corner of Grand Street and Lincoln Avenue, where West Coast Dance Theater Alameda is located today. Poschwitz's Garden was advertised as being one block north of the station, putting it at the corner of Grand Street and Pacific Avenue—a location that," featuring first class hotel rooms, a splendid garden, and even a bowling alley. Just to add some more color to the scene, there was a bar directly across from Fassking's resort called the Garibaldi Saloon, though it was destroyed by fire in 1880.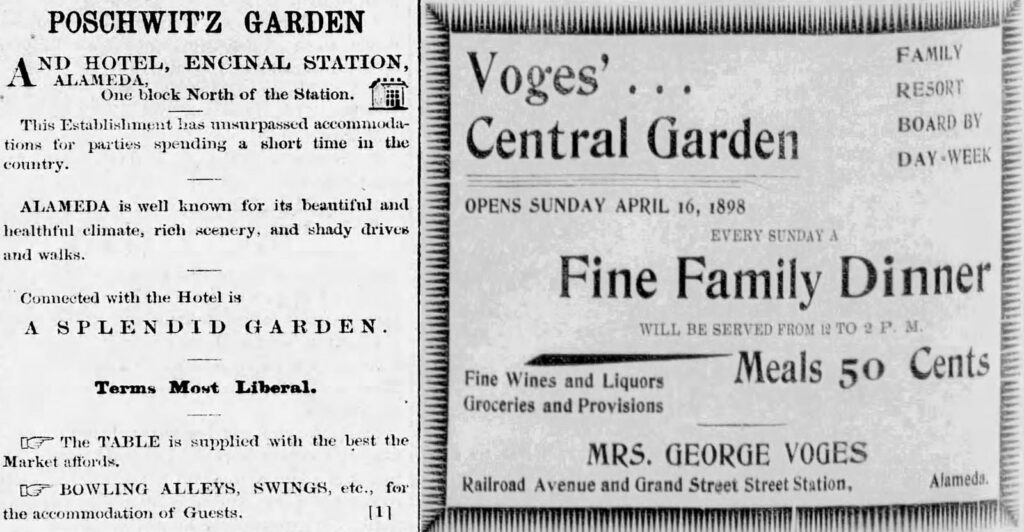 Alameda's attractions
While Fassking's Hotel and Gardens may have been the first in the area, Central Garden and Poschwitz's Garden added to the resort atmosphere at Fassking's Station. The first reference I can find for Central Garden is an article in the Alameda Weekly Argus dated April 5, 1884, announcing a dedication ceremony for the opening of the resort. Though it was later run by Mrs. George Voges, the first owner was Alfred A. Baroteau (1856-1924). By this date, Fassking's resort would already have been out of business, having not survived into the 1880s. Voges's Central Garden was still advertising as late as 1898, about 35 years after the beginning of Fassking's. As to the resort run by Otto Poschwitz, the only advertising I can find for his resort spans just 1869 to 1870, so it may have been a shorter-lived affair.
Fire at Fassking's resort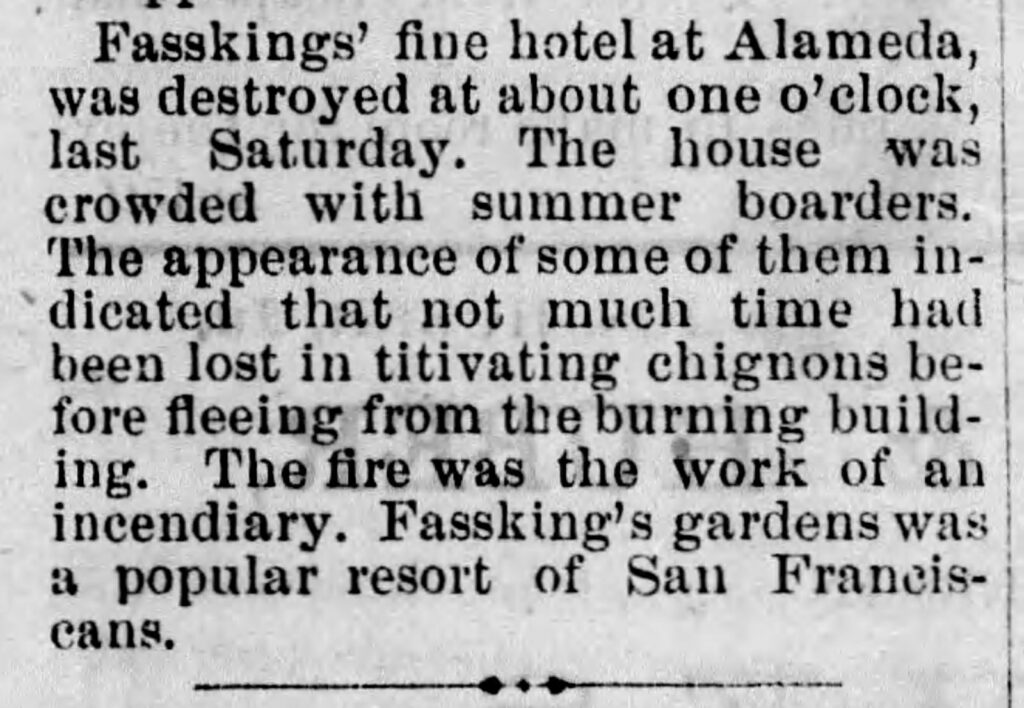 Louis Fassking's resort might not have lasted as long as it did—until about 1880 or 1882—had it not survived the great fire of 1874. The Los Angeles Evening Express reported on August 26, 1874, that "Fassking's fine hotel was destroyed at about one o'clock last Saturday," and that it had been crowded with summer boarders who had to flee with little warning. The article went on to say, "The appearance of some of them indicated that not much time had been lost in titivating chignons before fleeing from the burning building."
I had to look up the expression "titivating chignons" in order to learn that it refers to arranging or fixing up a hair style consisting of a knot or coil of hair at the back of a woman's head. Apparently, the summer boarders were running out of the burning hotel with their hair all asunder. As an aside, one of the joys of doing research using 19th century newspaper archives is coming across phrases like "titivating chignons."
As we learned in the last article, Louis Fassking could have just taken a $15,000 insurance settlement after the fire, sold off his land, and retired a rich man. But, as the story goes, "This he would not do." He instead rededicated himself to building bigger and better, including a large new dance pavilion. He fell further and further into debt until at last his property passed into the hands of his creditors, leaving him just barely able to buy a house for himself and his wife Mary at Railroad Avenue near Prospect Street—today's Lincoln Avenue and Eighth Street. This came at a time when the bathing resorts along Central Avenue on the West End were becoming more popular, which added to Fassking's financial woes. It was a big setback for a man who was once said to be worth $50,000—about $1.3 million in today's dollars.
Fassking's later endeavors and legacy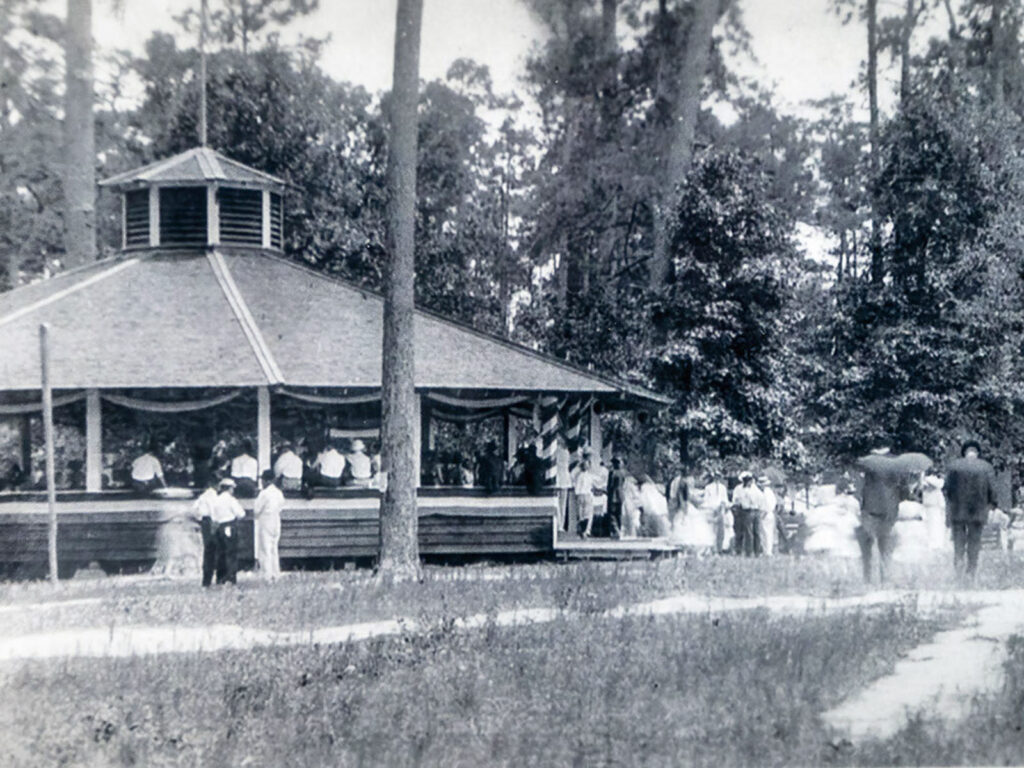 Fassking's Hotel and Park closed around 1880, and by 1887 Fassking was appointed as a town constable, a position which he won by election the following year and held until 1890. Subsequently, he was involved in the cement sidewalk business, and with that not proving to be a success, moved into selling a patent medicine called Germatea. His wife Mary died in 1892, and Fassking moved in with his niece on Webster Street near Santa Clara Avenue.
He was visiting friends in San Francisco in May of 1894 when he was suddenly taken ill. He went directly to his niece's home on Stuart Street in that city, where he seemed to improve for a time, but on June 8, 1894 he passed away from "general debility." Frederick Louis Fassking had achieved much in his 74 years, and had been both a wealthy man and, later, a man of modest means. He created a resort enjoyed by countless thousands, and even had a train station named after him. He came from Hanover, Prussia, Germany, and made a life for himself and his family in Alameda.
Today, Fassking's name is little known in town, save for a few history buffs. But there are some tangible reminders of Fassking's legacy still around in Alameda, if you know where to look. Though we have no photograph or image of Fassking's Garden or hotel, a couple of the hotel buildings were moved to different sites after it closed, and after they had sat vacant for almost a decade between 1880 and 1890.
There had been a plan for the Board of Education to rent a portion or perhaps all of Fassking's Hotel to use as a schoolhouse, but that plan apparently never came to fruition. Though some reports indicate the hotel continued to do business up until 1882, ads appeared in local newspapers as early as September 1879 offering lots for sale in Fassking's tract. But it wasn't until 1890 that the long-vacant hotel buildings finally began to be dismantled. That wasn't the end of the line for the old Fassking's Hotel, though. A newspaper story from December 17, 1890 reported that the hotel was being cut into three sections, with two sections being sold and moved to new sites, and the third section torn down and sold for lumber.
Up next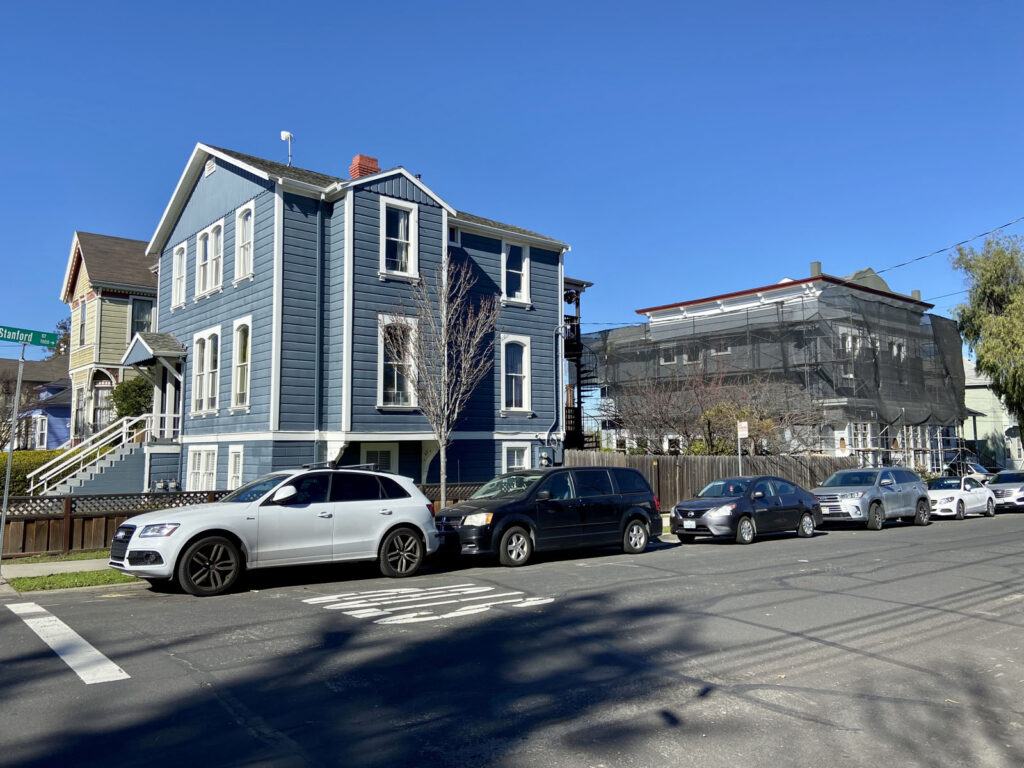 In our next chapter, we'll follow the trail of the old Fassking's Hotel, and see how many blocks the buildings traveled, where they ended up, and what condition they're in today. We'll also see whether a new generation of Alamedans are titivating their chignons in his former hotel buildings, just as they did back in the 1870s. There's also a beautifully crafted wooden door featuring antique colored glass, left over from Fassking's Hotel, which is to be found in yet another location in town. All that, plus the arrival of Marcuse & Remmel on the scene, as we continue our look into the historic Alameda Treasure known as Fassking's Gardens.
Contributing writer Steve Gorman has been a resident of Alameda since 2000, when he fell in love with the history and architecture of this unique town. Contact him via [email protected]. His writing is collected at AlamedaPost.com/Steve-Gorman.