The Grand Station commercial district, at the corner of Grand Street and Lincoln Avenue, has been a hub of activity for almost 160 years. In 1864, Alfred A. Cohen's San Francisco and Oakland Railroad (SF&O) made a stop at what was then known as Encinal Station, so named for the village of Encinal that was centered there. Today, the station is home to a number of commercial businesses, including a corner grocery store, yoga studio, restaurant, dance theater, golf shop, and acupuncture clinic.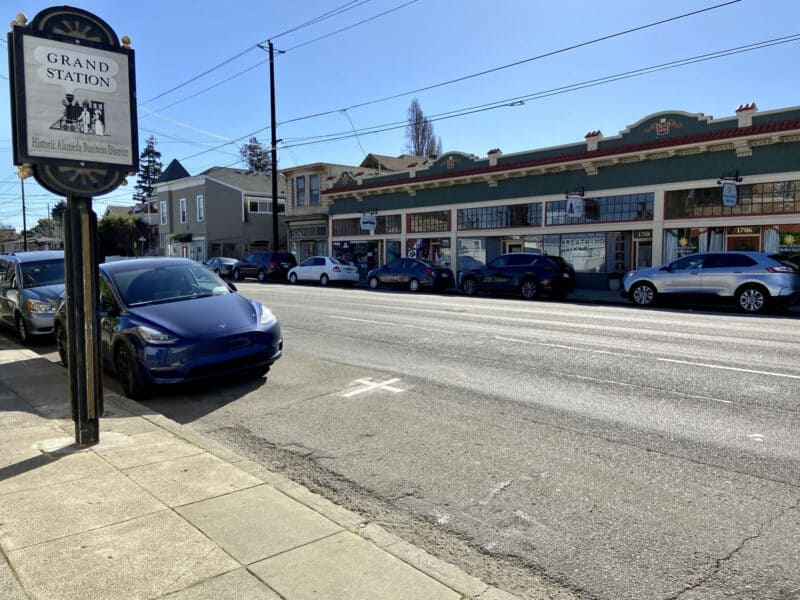 In the 1860s and 1870s, this area was known for its hotel resorts, including the largest hotel in town—Fassking's Hotel and Gardens. Although the intersection is busy with traffic today, the foot traffic now is nothing like it was in the resort era. Back then, Alameda was largely known to San Franciscans and East Bay residents alike as a place to come for beaches, resorts, dances, and picnicking. In fact, it wasn't uncommon for thousands of merrymakers to arrive by ferry and train on weekends, sometimes doubling Alameda's small population.
The beginning of Fassking's resort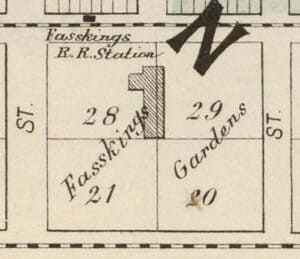 Louis Fassking (1818-1894), a native of Germany, first came to California in the 1850s. Trying his hand at coal mining and finding no success, he eventually purchased a tract of land bordered by today's Lincoln Avenue, Union Street, Santa Clara Avenue, and Grand Streets, which came to be known as Fassking's Park. On this large block he erected a hotel, beautified the land, and built a dance pavilion—all of which achieved success in the 1860s. Although Fassking's resort was served by Cohen's rail line, in 1872 H. F. Shepardson, Louis Fassking, and Thaddeus F. Fitch formed another line, the Oakland & Piedmont Railroad—later consolidated with another horsecar line to become the Alameda Oakland and Piedmont Railroad—and hired Theodore Meetz as general manager. For more details about that, see Dennis Evanosky's article, Alameda's Original Horsecar Lines.
The new rail service was a horsecar line, and a car barn and stable were built on the Santa Clara Avenue side of Fassking's block. By this point, the train station was no longer called Encinal, and was instead referred to as Fassking's Station. By 1881, when Fassking's business had waned, the station was finally renamed Grand Station, the name that remains today, long after the trains have disappeared. To imagine the scene at Grand Station in those days, try to picture both steam engine locomotives and horse-pulled train cars running down Lincoln (Railroad) Avenue!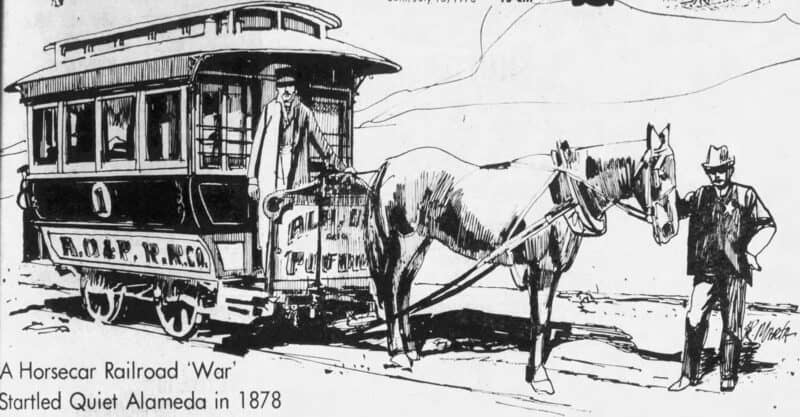 Ups and downs of Fassking's Hotel, Park, and Pavilion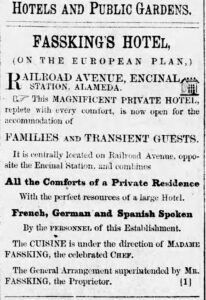 Fassking's Hotel, Gardens, and Pavilion continued to enjoy success into the 1870s. It was one of the most popular resorts of its day, hosting such events as graduation exercises, Fourth of July celebrations, performances by traveling artists, family vacations, and even GAR (Grand Army of the Republic) encampments. The GAR were veterans who served in the Union Army during the Civil War. But in 1874, tragedy struck. A fire swept through and destroyed Fassking's resort buildings. Also at that time, a movement had formed in Alameda to abolish picnic grounds, due to the sometimes rowdy crowds that descended on the town during weekends and holidays. Louis Fassking could have just collected his $15,000 insurance settlement, sold off his tract for housing, and retired a wealthy man in his mid-50s. But according to his 1894 obituary in the Alameda Evening Encinal, "This he would not do." Rather than take the money and go off into the sunset, he rededicated himself to rebuilding even bigger and better than before. He built a dance pavilion even larger than the previous structure, and replaced the damaged hotel buildings as well.
Fassking's Hotel, Park, and Pavilion would continue to draw crowds up until the dawn of the 1880s, but a new threat to his business had emerged, in the form of the bathing beaches along Central Avenue between Webster and Fourth streets. Many Alamedans are familiar with Neptune Beach, the West End beach resort that operated from 1917 to 1939, but numerous other bathing beach resorts also existed along these shores starting as early as 1878. With names like Alameda Baths, Porter Baths, Terrace Baths, Sunny Cove, and Green Arbor (Sandy Beach), these attractions drew customers away from Fassking's Park, and they also benefited from expanded rail service to the West End of Alameda—something Fassking and his railroad partners had tried to discourage.
In my research I've looked for any sort of image of Fassking's resort, either a photograph, drawing, or painting, but have come up empty. Alameda Librarian Beth Sibley has checked her archives and has not found an image either. Even long-time Alameda historian Woody Minor says, "Good question! I have never seen an image of Fasskings, and believe me I've looked. It would be a major find to come up with an image." So the search goes on for a picture of what Fassking's Park may have looked like.
Up next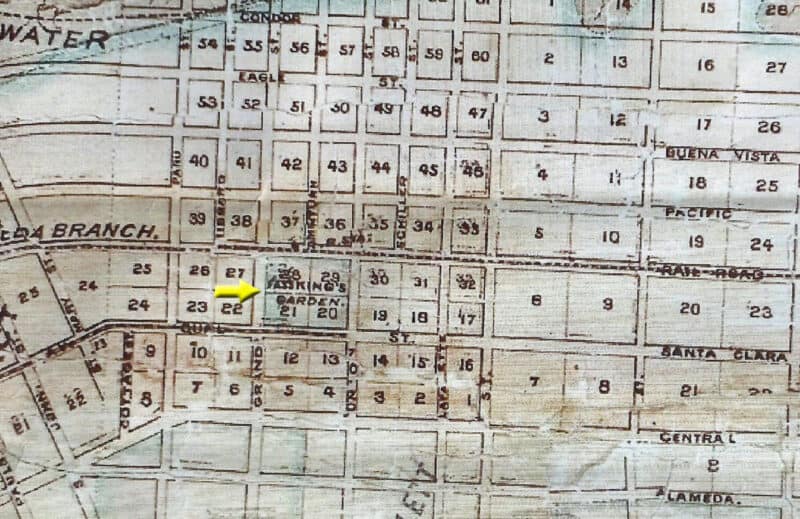 In future articles, we'll continue our digging into this long-forgotten chapter of Alameda's history, and search for clues and remnants that survive to the present day. We'll zoom into an 1888 bird's-eye view of Alameda that was printed by the Alameda Argus, and glimpse what may be a view of Fassking's Hotel in the distance. We'll also track down two of the hotel buildings that were moved from Fassking's Park in 1891 and relocated seven blocks away, where they still stand today. We'll also learn that Fassking's was not the only garden resort at this location. Voges' Central Gardens, along with Poschwitz's Gardens, also did business here, on the north side of Lincoln Avenue—Fassking's was on the south side of the street. This only adds to the interest and fascination about what was a major resort area at Grand Station in the latter part of the 19th century. We'll see what happened to Louis Fassking after his Hotel and Gardens went bust by 1880, and how he lived out the remainder of his years in the fair city he'd called home for decades. We'll also discover how the demise of Fassking's Gardens created an opportunity for prolific Alameda builders Marcuse and Remmel to remake the site of the old hotel into a showcase for ten of their classic Queen Anne high basement cottages. All of that and more, as we explore our historic Alameda Treasure, Fassking's Gardens.
For more information on Fassking's Gardens and the surrounding neighborhood, see Dennis Evanosky's book, Alameda: An Architectural Treasure Chest.
Contributing writer Steve Gorman has been a resident of Alameda since 2000, when he fell in love with the history and architecture of this unique town. Contact him via [email protected]. His writing is collected at AlamedaPost.com/Steve-Gorman.