The 1906 Earthquake led to Southern Pacific Railroad's Big Red trains.
The Southern Pacific Railroad's (SP) Big Red trains were born out of catastrophe that isolated Alameda to a certain degree. Adversity often breeds opportunity, however, and SP stepped up and created a transportation system that rivaled the one in existence before April 18, 1906.
SP had great plans for the South Pacific Coast Railroad (SPC) that it had acquired in 1887. The line that silver baron James Fair had financed carried passengers and freight from Alameda to Santa Cruz and more importantly, hauled freight north to Alameda and on to San Francisco for export.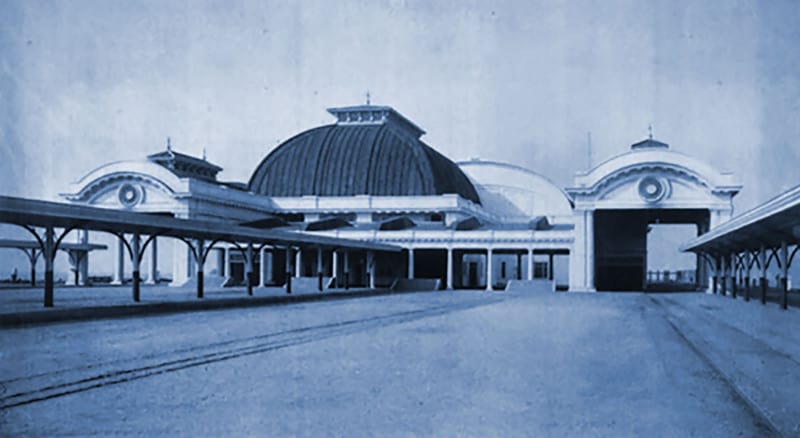 SP had planned to convert this narrow-gauge train with tracks only 3 feet apart to the standard gauge of 4-feet, 8 ½ inches. The British pioneered the use of this wider gauge, and railroads on the East Coast of the United States readily adopted this measurement for their trains. Fair chose a narrow-gauge system because the smaller trains cost less to build, and engineers could more easily maneuver them through the Santa Cruz Mountains and the eight tunnels there.
Changing the gauge meant taking up all the old rails with their wooden supports called ties, and laying heavier railroad ties to support the heftier, wider rails. SP planned to get its workers, called Gandy dancers, on site in time to begin the job on Wednesday, April 18, 1906. Some rail workers had already awakened to the promise of another clear, sunny day. Others still lay in bed when a sudden jolt shook them from slumber. Nothing happened for a moment. One anecdote relates that one of SP's rail bosses told his crew to "stop fooling around." Then come a jolt that showed no one was fooling around. The temblor only lasted about 30 seconds, but changed everything.

Charlie Comstock describes it best on the Abandoned Rails website: "Cities and towns were laid to waste, and the South Pacific Coast Railroad was not immune," Comstock writes. He relates that the temblor's tectonic shift produced six feet of offset within SPC's Summit Tunnel that Chinese workers had bored in 1877. "Damage was immense," Comstock tells us. "Trestles collapsed, roadbeds shifted, and landslides buried large sections of SPC track."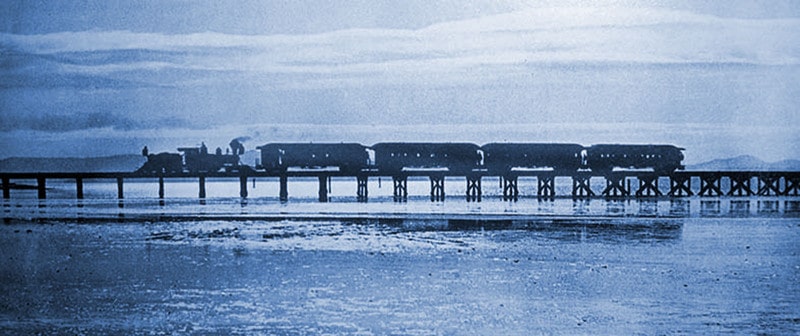 Locally, the earthquake irreparably damaged the SPC trestle across San Leandro Bay and twisted smaller trestles that carried the narrow-gauge trains along today's Main Street and out to the wharf and the ferries waiting there. Instead of just picking up the pieces, SP initiated a bold move that revolutionized rail transportation. The railroad chose Alameda as the centerpiece for this new system.
Join award-winning historian Dennis Evanosky this Saturday, July 23 at 10 a.m. Tickets are $15 in advance. Meet at the fountain at the intersection of High Street and Encinal Avenue. Over a 90-minute walk, Dennis will describe how the Southern Pacific Railroad recovered from the 1906 earthquake to present the East Bay with a world-class transportation system that featured the famous "Big Reds."
Dennis Evanosky is an award-winning East Bay historian and the Editor of the Alameda Post. Reach him at [email protected]. His writing is collected at AlamedaPost.com/Dennis-Evanosky.