On September 20, a book-signing at the offices of Keller Williams on Santa Clara Avenue in Alameda featured Residential Architecture in the East Bay, a new book written by local real estate broker Jennifer Joey McCallon. It is part of the series Images of America, by Arcadia Publishing.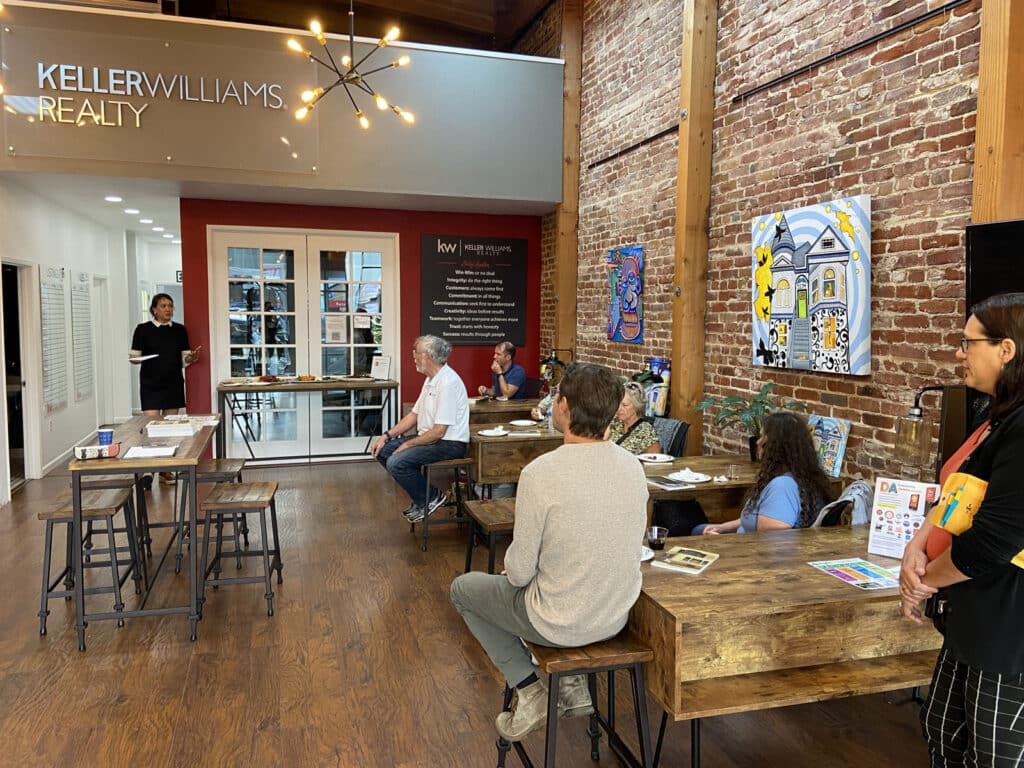 Pandemic inspires an idea
The idle time created in 2020 by the pandemic opened up some space in the author's schedule, and it was during this time that her walks around Alameda inspired her to start researching the different home styles she was seeing. Being a real estate broker, it would seem a natural fit for McCallon to have an interest in residential architecture, but her background goes even deeper than that. Joey, as she is known, has a masters degree in history, and prior to working in real estate was an archivist and historic preservationist.
This new 95-page volume was about two and a half years in the making, and includes chapters on Oakland, San Leandro, Alameda, Berkeley and Albany, and Richmond war housing, along with numerous photos. The focus is mainly on 20th century housing styles and developments, as opposed to the 19th century Victorian-era styles that have been well covered in other books. An epilogue touches on post-war housing trends, including homes by the influential real estate developer Joseph Eichler (1900-1974).
Each chapter of Residential Architecture in the East Bay opens with an introductory page on the particular history of each area, and why each developed the way it did. The rest of each chapter takes the reader on a tour of the different styles of homes, through archival photos and real estate ads, along with contemporary photos taken by the author. Commentary and observations accompany each photo.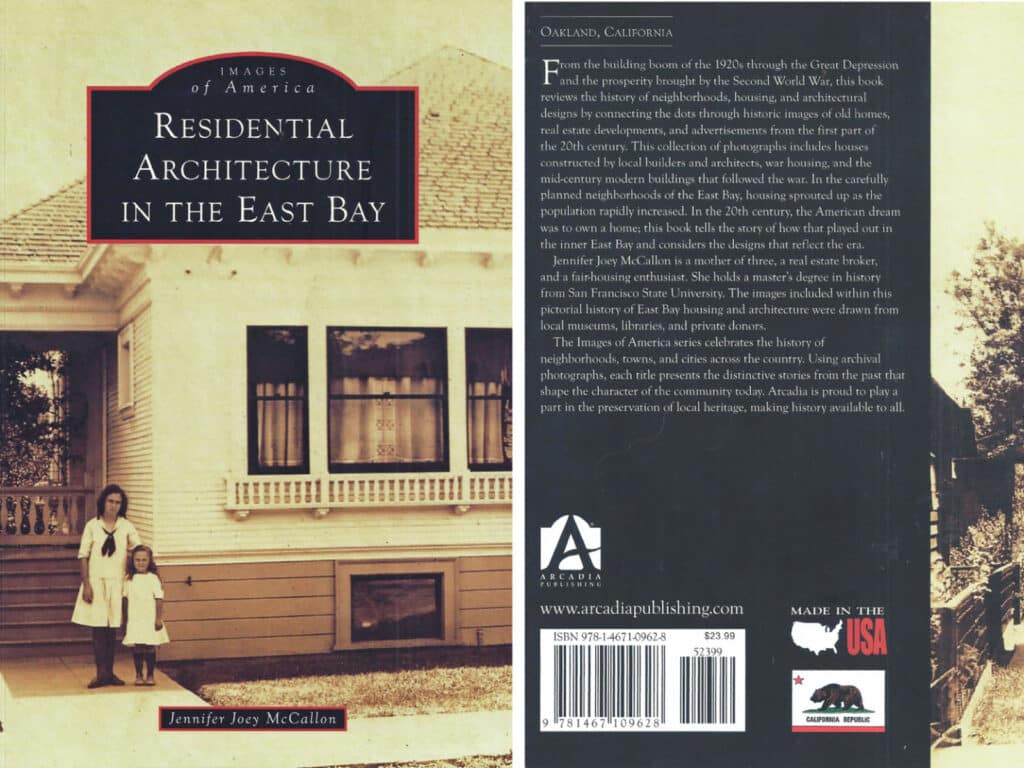 A troubled history
Perhaps what makes the book most unique is its attention to certain racial practices that significantly affected development in the East Bay and elsewhere. Practices such as redlining and race-restrictive covenants limited who could get a home loan or move into certain areas. A quote from the book describes this history. "Many neighborhoods, including the Bancroft District and Maxwell Park, were developed as private, race-restricted neighborhoods, restricted with covenants in place demanding that only those of European descent live there. Maxwell Park, for example, was founded in the early 1920s as a private Whites-only neighborhood, 'restricted as to Orientals, Asiatics, and Africans.'"
While this history isn't the main focus of the book, its inclusion in the history of development in the East Bay makes it more complete. As the closing line of the introduction states, "The homes that were built in the 1920s were inaccessible to all; this is an important point to remember as we look at the architectural features of these houses."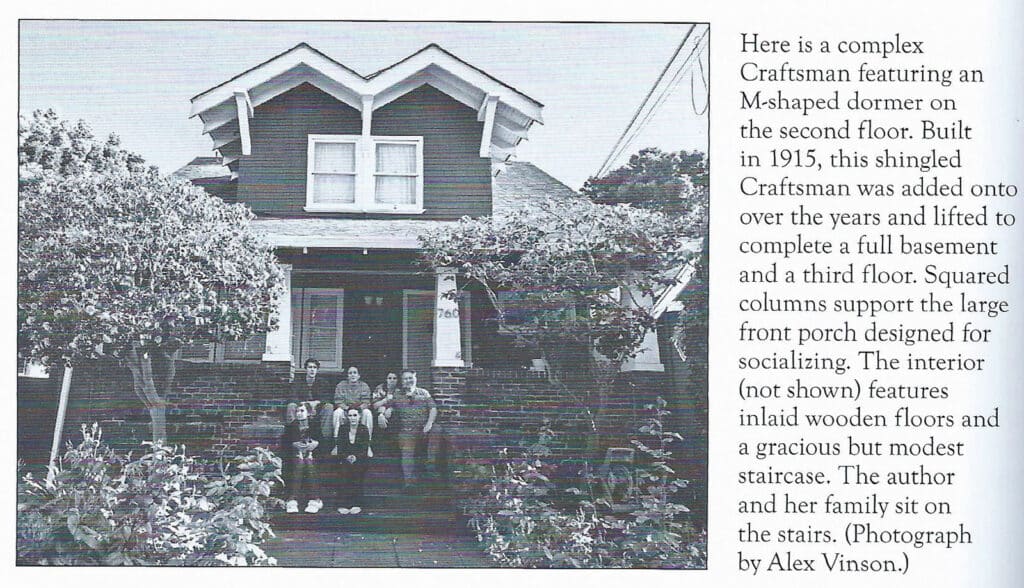 Alameda examples
Among the homes featured in the Alameda chapter is a Colonial Revival-style home located at 700 Paru Street. Built in 1904, it was originally the home of Albert V. Clark, potter. This grand beachfront residence once faced San Francisco Bay, before the Utah Construction Company replaced that view with lagoons and tract housing in the late 1950s.
Another home featured on the same page is Alameda's famous "spite house." Located at 2528 Crist Street, this narrow house is just 10 feet wide. Early in the 20th century, Charles Froling had inherited a piece of land that he planned to build his dream home on. The growing City of Alameda had other plans though, and with the support of a neighbor, commandeered a large chunk of Foling's land to build Crist Street. In 1905, using what little land he had left, the frustrated Froling built a house just 10 feet wide, 54 feet long and 20 feet high. Charles Froling is long gone, but his monument to spite still stands tall on the east end of the island of Alameda between Regent Street and Broadway.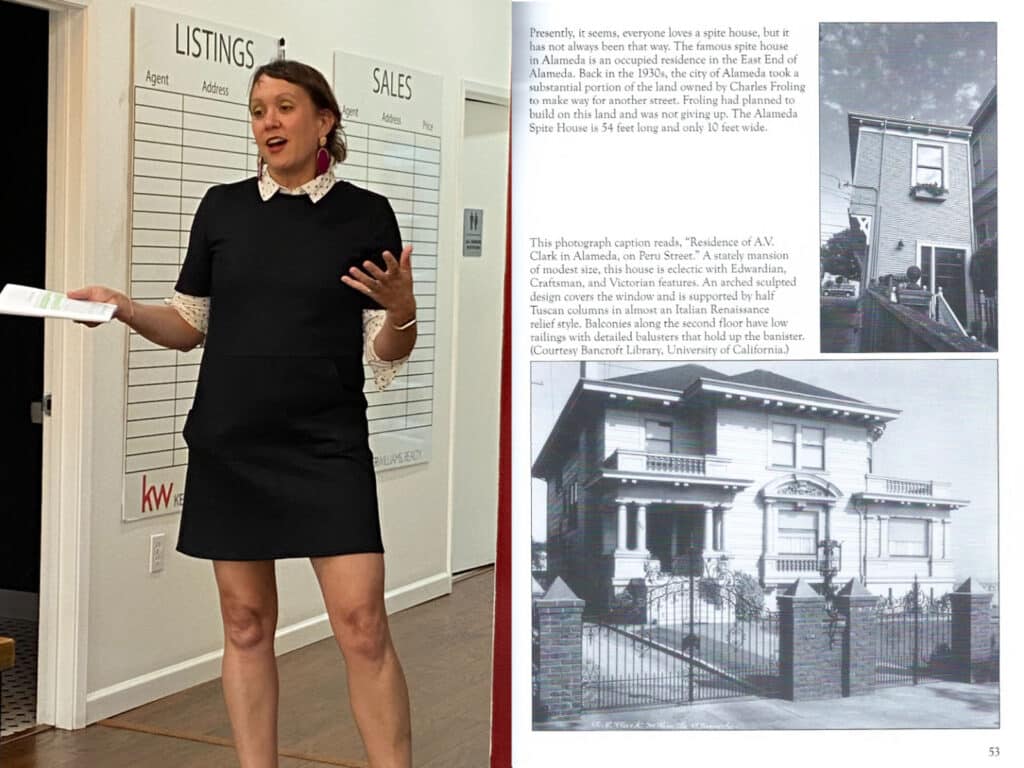 A journey through home styles
In the epilogue to her book, McCallon writes, "The reader has taken a journey in sampling the various types of Bay Area architecture in the first parts of the 20th century. Not all of it could be touched on, but this book has highlighted some of the types of homes that make the neighborhoods distinctly of the area and unique while reflecting various times, cultures, and movements in American history."
For those interested in taking this journey, Residential Architecture in the East Bay by Jennifer Joey McCallon,  is available at Books Inc., Target, Walgreens, and at Amazon.com. List price is $23.99. The book was published by Arcadia Publishing © 2023.
Contributing writer Steve Gorman has been a resident of Alameda since 2000, when he fell in love with the history and architecture of this unique town. Contact him via [email protected]. His writing is collected at AlamedaPost.com/Steve-Gorman.