2253 San Antonio Ave. was built by A. W. Pattiani in 1883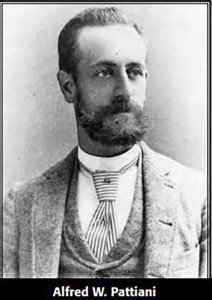 Alfred Washington Pattiani (1855-1935) was among Alameda's renowned early architect-builders. Despite the Italian-sounding name, he was born in Ohio to a German emigré family who had changed the family name from Fahrnbacher after arriving in the United States around 1850. Starting at the early age of 15, Alfred worked with a number of architects before partnering in Tuscon, AZ, with John Wesson, the territory's surveyor-general, to form Wesson & Pattiani. By 1885, he had established his own company — A. W. Pattiani & Co. — with offices in Oakland.
He lived with his family in Alameda. The great majority of Pattiani's work, numbering in the hundreds of homes, is in the East Bay with at least a third in Alameda. Pattiani's extensive architectural training and experience suggest that his homes were designed, or at least closely overseen, by him personally, as opposed to other builders who often utilized hired designers and architects.
There are not many streets in Alameda graced by a "Miniature Eastlake Villa," but the 2200 block of San Antonio Avenue is one such street.  The home at 2253 San Antonio Ave. was built by Wesson & Pattiani in 1883 in the Eastlake style — also referred to as Stick or Modern. In this Victorian-era style, decorative wood trim — called stick work — was applied to the exterior to emphasize the basic wood frame structure underneath. The saying at the time was "let wood be wood," which contrasted with the previous Italianate style where wood was often cut and carved to look like stone.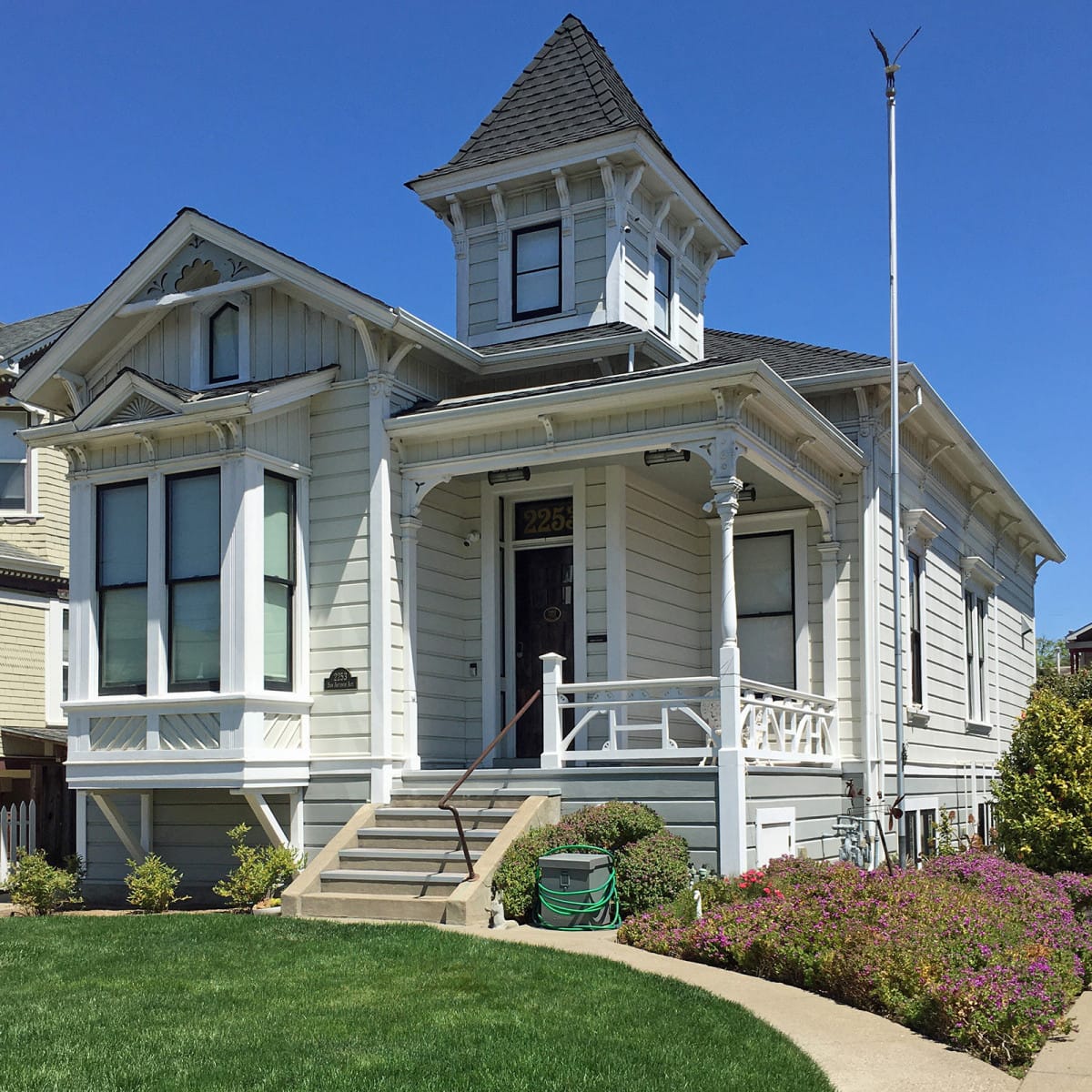 According to local historian and longtime Alameda Museum curator George C. Gunn (now retired), the home qualifies as a villa because of its central tower. The home was originally purchased by Douglas's great-grandfather in 1920, and housed generations of Loves, including Douglas's uncle John, who passed away in 2004. It has now been owned by members of the Love family for over a hundred years. Current owners Maria and Douglas Love took on the task of restoring the villa to its original splendor starting in 2005. After all those generations, and a lot of deferred maintenance, the home was in dire need of both restoring and updating.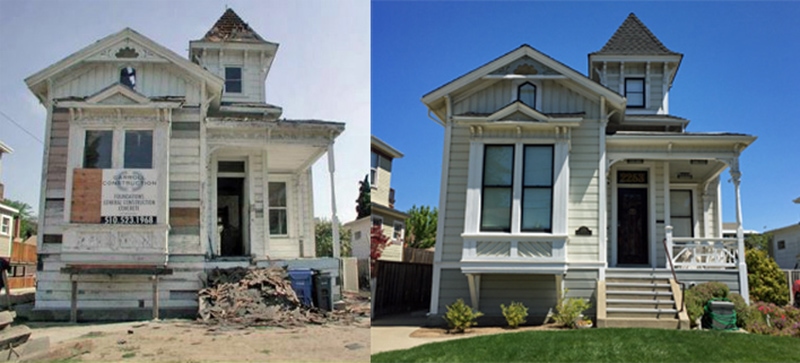 Over the course of 13 years, this vintage home has been restored both inside and out, including installing a new foundation by Carroll Construction, restoring woodwork, adding a full basement and attic, and restoring the front porch to its original design. Old photos saved from uncle John's collection helped carpenter Tom Wolter recreate the original porch railings and other decorative elements such as missing corbels (decorative supports or brackets).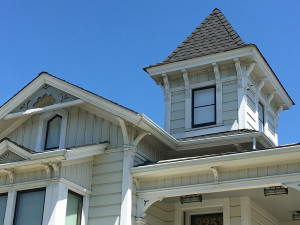 Since the job of taking care of a vintage house is never done, there are still items on the to-do list, such as replacing the roof cresting to match its original 1883 appearance. It is said that the tower, or cupola, was once the bell tower to a one-room schoolhouse near Lake Merritt, in Oakland. That story is unverified, but it's possible that parts of buildings were recycled and reused back then, just like today. In any case, it's a good story.
The unique style of this villa, along with its pedigree as being among the early works of renowned builder A. W. Pattiani, make it one of "Alameda's Treasures." The extensive and tasteful renovation work done to bring this home to the condition it's in today has truly been a labor of love, in more ways than one.
For further information on this home, and more, see the website of the Alameda Architectural Preservation Society, June 2018 newsletter. AAPS archive.
Contributing writer Steve Gorman has been a resident of Alameda since 2000, when he fell in love with the history and architecture of this unique town. Contact him via [email protected]. His writing is collected at AlamedaPost.com/Steve-Gorman/.