The "Soda Works" Building.
This story begins with encountering an old soda bottle in the Red Barn Historical Museum in San Andreas, a town in Calaveras County, CA. The antique bottle, stamped with "Alameda Soda Water Co.," piqued my interest, and the unlikely trail led back to the corner of Buena Vista Avenue and Oak Street in Alameda.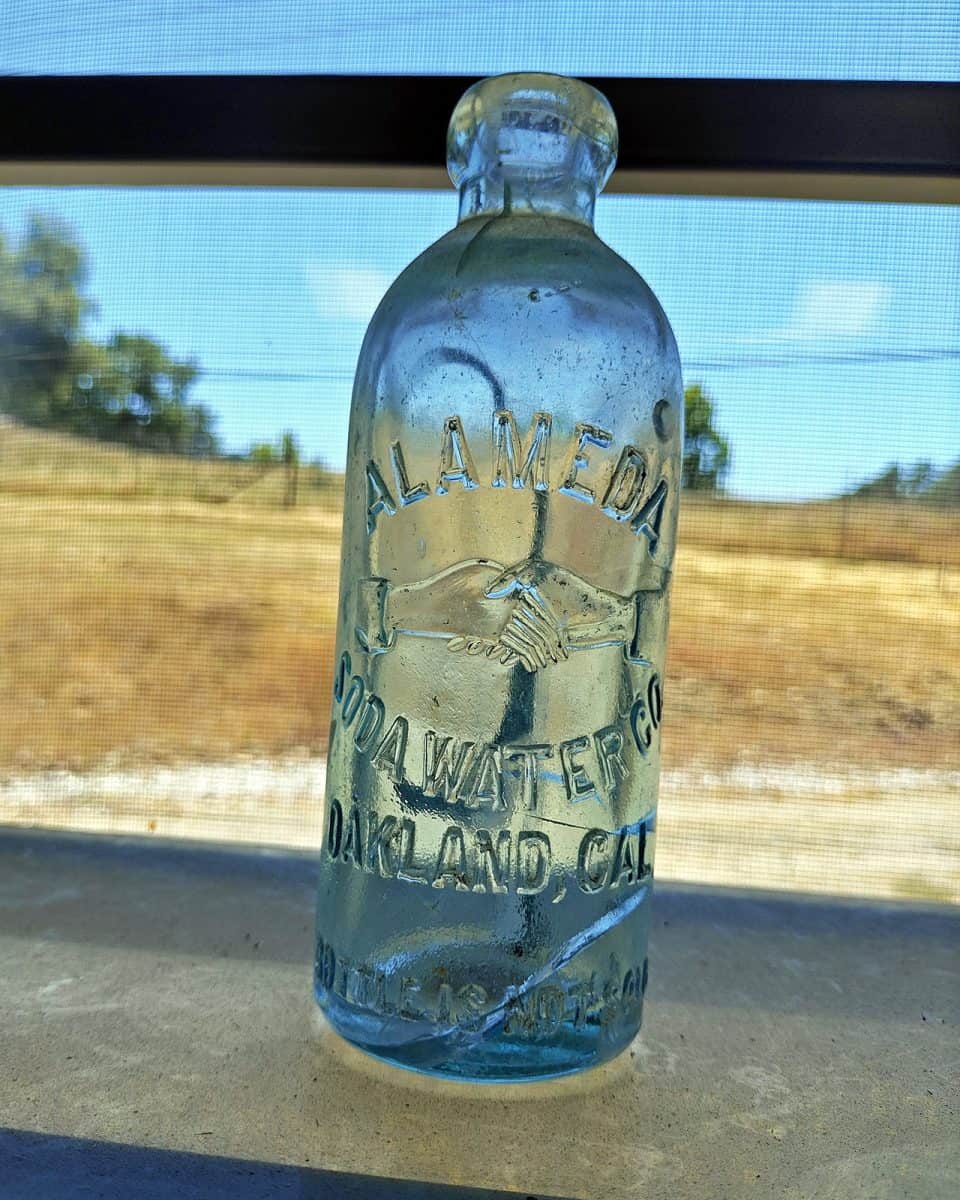 2301 Buena Vista Ave. is a Queen Anne commercial structure built in 1891 by builder John Sath and architect C.M. Jenkins. The original owner was George F. Taylor, proprietor of the Empire Soda Works, who purchased the building for $2,350. I've long admired this building when bringing my cats to the Alameda Pet Hospital, which is just across Oak Street on the adjacent corner.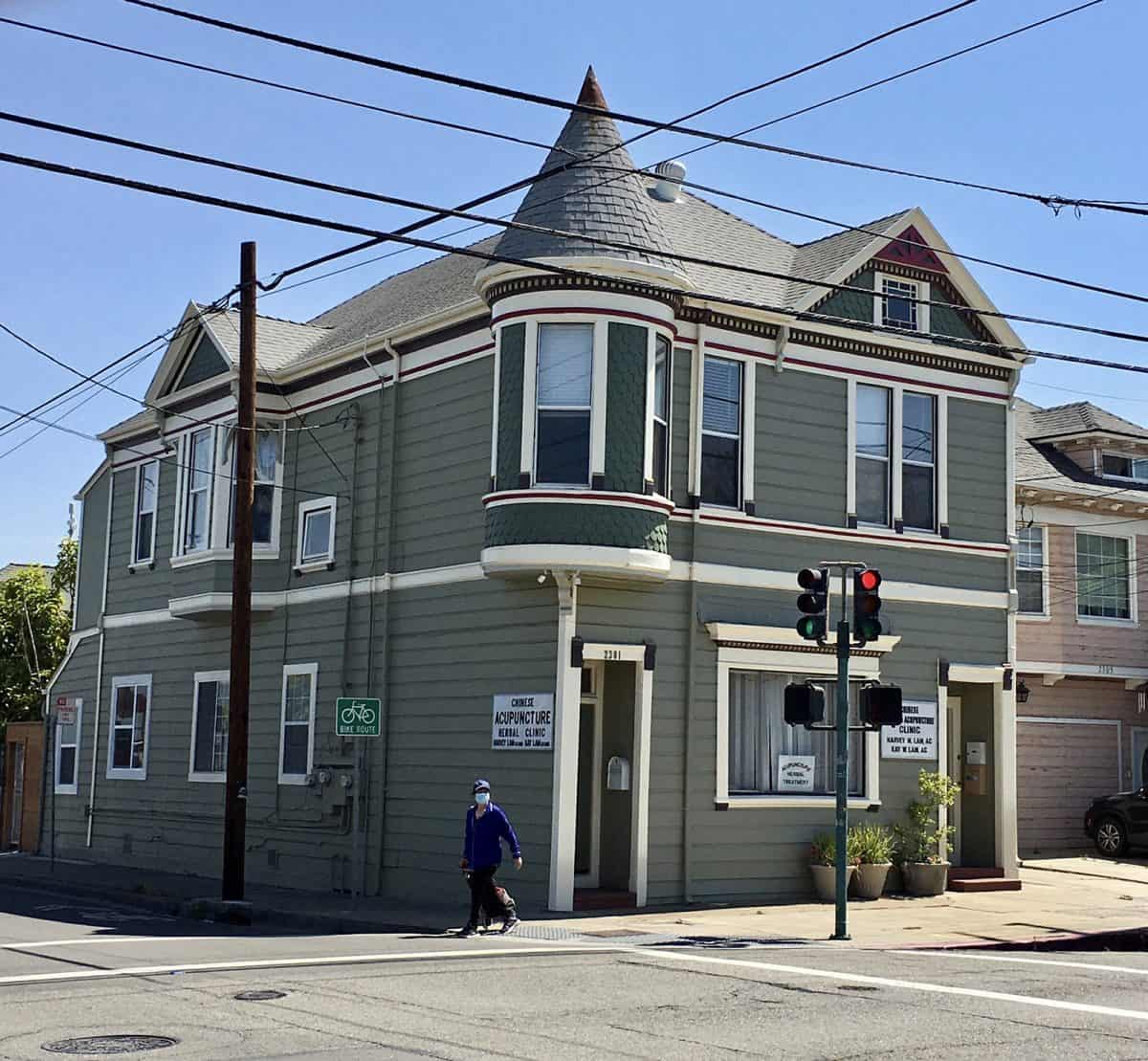 2301 Buena Vista Ave. is a handsome building, with a turret prominently jutting out over the corner on the second story, as though standing guard over the intersection. Fish scale shingles, decorative moldings, dentils, a bay window, and an attractive color scheme complete the overall neat and tidy look of this classic 19th century commercial/residential building.
George F. Taylor operated the Empire Soda Works from this building for about four years before moving the business two blocks away to the corner of Oak Street and Clement Avenue in 1894, in order to expand operations. After that, 2301 Buena Vista Ave. became the home to the Alameda Soda Water Company, another manufacturer of carbonated goods. This business was also a success, and a 1903 newspaper ad announced the company being "removed from 2301 Buena Vista Ave, Alameda, to Harrison corner 2nd, Oakland." In the language of the day, "removed" was how people described what today we would refer to simply as a "move."
From its location in Oakland, this soda business would continue to expand in order to quench the thirst of Bay Area residents. In 1912, the Alameda Soda Water Company was purchased by Australian immigrant Isaac Henry Spiro, who arrived in San Francisco 32 years earlier in 1880. He was just 17 years old at the time of his arrival, and his first job was washing bottles for a soda water company. He later drove a truck for another soft drink establishment, established his own Popular Soda Water Company in 1900, but then saw his business destroyed by the great earthquake and fire of 1906.
By 1910 he had become vice president of the Majestic Bottling Company in San Francisco before finally moving to Oakland at the age of 53 and purchasing the Alameda Soda Water Company. He later merged the company with the Oakland Pioneer Soda Water Company, whose last remaining billboard for Golden Bridge Beverages (bottled by the Pioneer Company) still appears on the side of a building on Webster Street in Alameda. The sign was originally painted by D. E. Handley in the 1940s and has been preserved since then. Isaac Spiro was vice president of the Pioneer Soda Water company until his sudden death in 1926 at just short of 63 years of age. From his humble beginnings as a bottle washer, Isaac Spiro left behind a great legacy, including a wife and three children, along with six grandchildren.
Spiro served five terms as president of the Oakland Merchant's Association, was director and member of the Rotary Club, a member of the Eagles order, and served on the Alameda Development Commission. He was also president of the San Francisco Soda Water Manufacturers Association from 1900–03. In his memory, a room was endowed at The Oakland Baby Hospital to be known as "The Isaac Spiro Room."
It's funny how seeing an old bottle in a history museum 100 miles away can open up a window to the past and illuminate the hidden history of a building like 2301 Buena Vista Ave. To the average passerby today, the building is home to the longtime business of Dr. Harvey Lam and Dr. Kay Lam, practitioners of acupuncture and herbal medicine. But for those who like to dig a little deeper, the building also has a connection to an old bottle up in the gold country, a historic billboard on Webster Street, and at least three successful soda water companies of the East Bay, two of which operated in this very building. Because of its beauty, historical significance, and hidden history, 2301 Buena Vista Ave. is an Alameda Treasure.
For more information about the restoration of the historic Golden Bridge Beverage sign at the corner of Webster St. and Taylor Ave., see https://alameda-preservation.org/programs/table/1431-webster-st/
Special thanks to Frank Contreras for helping find historic ads from the Alameda and Empire Soda Water companies.
Contributing writer Steve Gorman has been a resident of Alameda since 2000, when he fell in love with the history and architecture of this unique town. Contact him via [email protected]. His writing is collected at AlamedaPost.com/Steve-Gorman/.