The coach knows physiology. She designs her training program to optimize your heart and lung health slowly over time—and to win at swim meets. Start swimming in the fall and by March, you'll be in the best shape you've been in in a long while. Perhaps ever. Without even having to think about it much.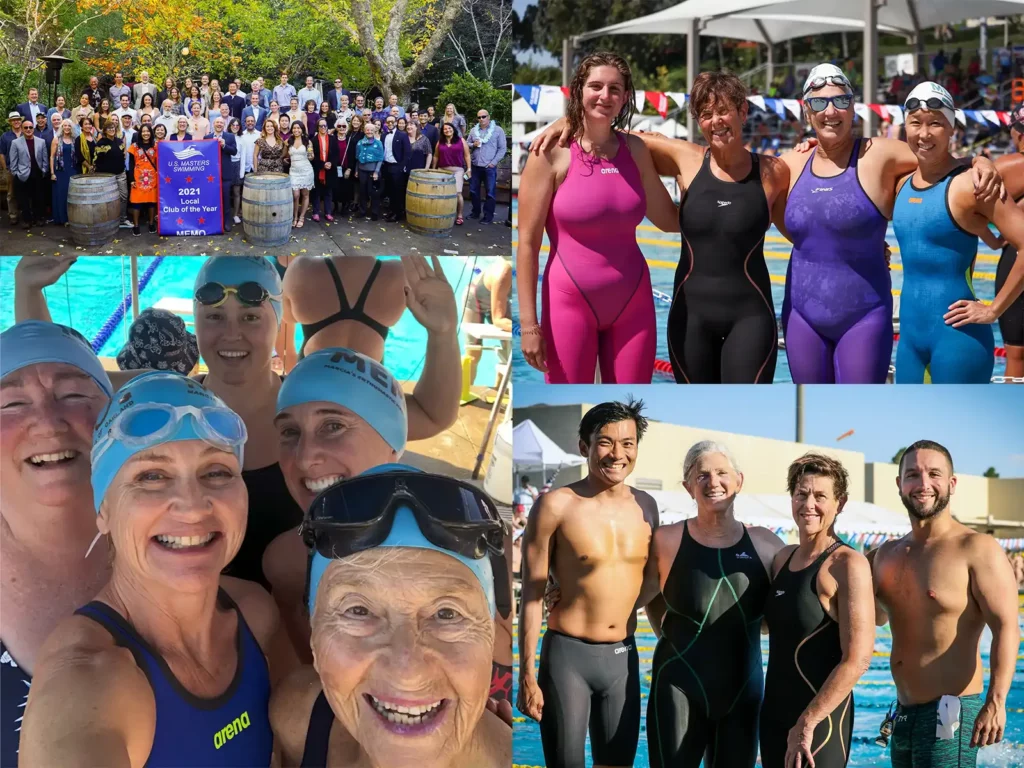 Oh, and you'll be a better, happier swimmer. Or maybe just a decent swimmer, like me, if you've never been much of one before.
It just requires showing up three times or more per week at one of the Alameda High School pools for 50 minutes. Sounds hard. Isn't. The inclusivity and camaraderie of the team make it easy, a joy. And with the physical improvements, it's such a win-win.
There will be no white board. If you know anything about masters swim teams, coaches post the workout on a white board and swimmers get to it. Not here.
Coach Marcia describes herself as "yellie" some days, but that's actually a perk. The workouts start with your own (short) warmup and then she'll tell each set of swimmers—organized in lanes from damned capable to "we'll do our best to remember what you said"—what the next exercise is, repeatedly, until the hour is done. While you're swimming, she's on it. You'll get reminders and skilled instruction, with little pointers not too often but exactly when you need them. She has an incredible knack for this, for every swimmer, at every swim level. It's a thing of beauty, really.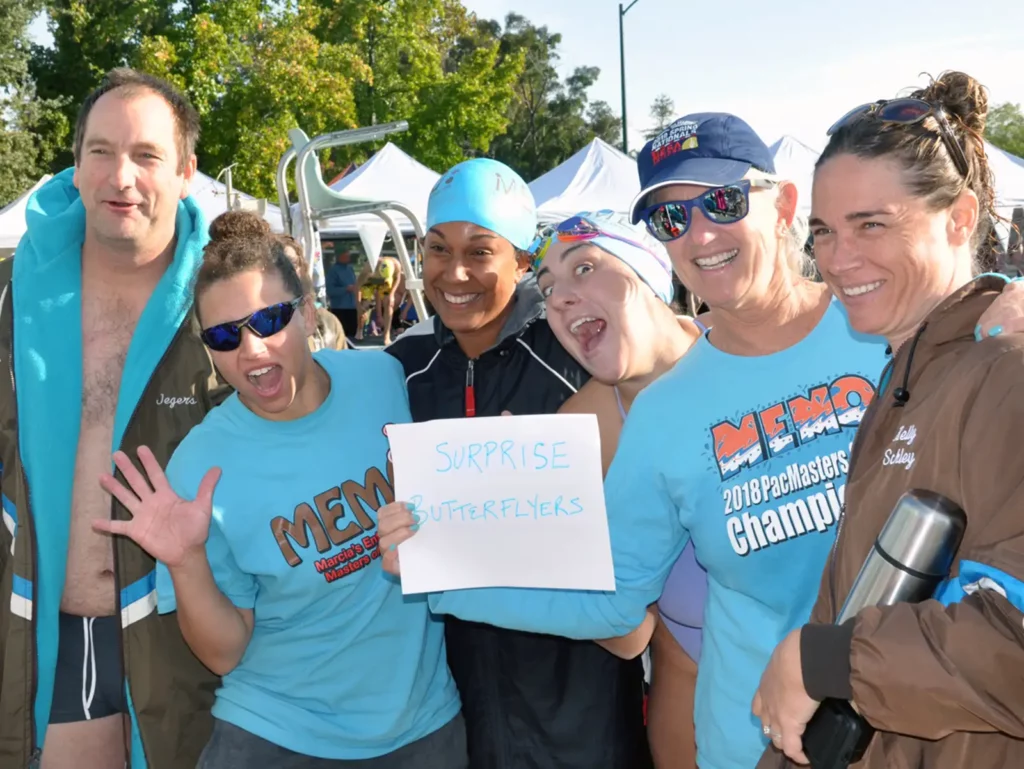 And then by March, you either can't wait to compete to test your new mettle or you're ready to but never have before but go anyway because it's fun. So much fun. And friendships. Truly a team. Everyone matters. Everyone contributes.
Coach Marcia has skills coming out of her ears and enough love of the sport and enthusiasm for two swim teams. Check out her bio. Oh, and the team was the local USMS (United States Masters Swimming) 2021 Club of the Year—a big deal!
A few years ago, I joined this team as an unfit senior. This was my first time on a team of any kind so everything was new to me, and I was a bit of a bumbler. No matter. I still fit in. As did others with good or great swim skills and fitness levels. The team culture here is welcoming to all ages, shapes, and genders. Everyone learns and everyone improves because the swim sets each session are specific, effective, and cumulative. Improvement is achievable and measurable. And the coach is that good…she loves what she does.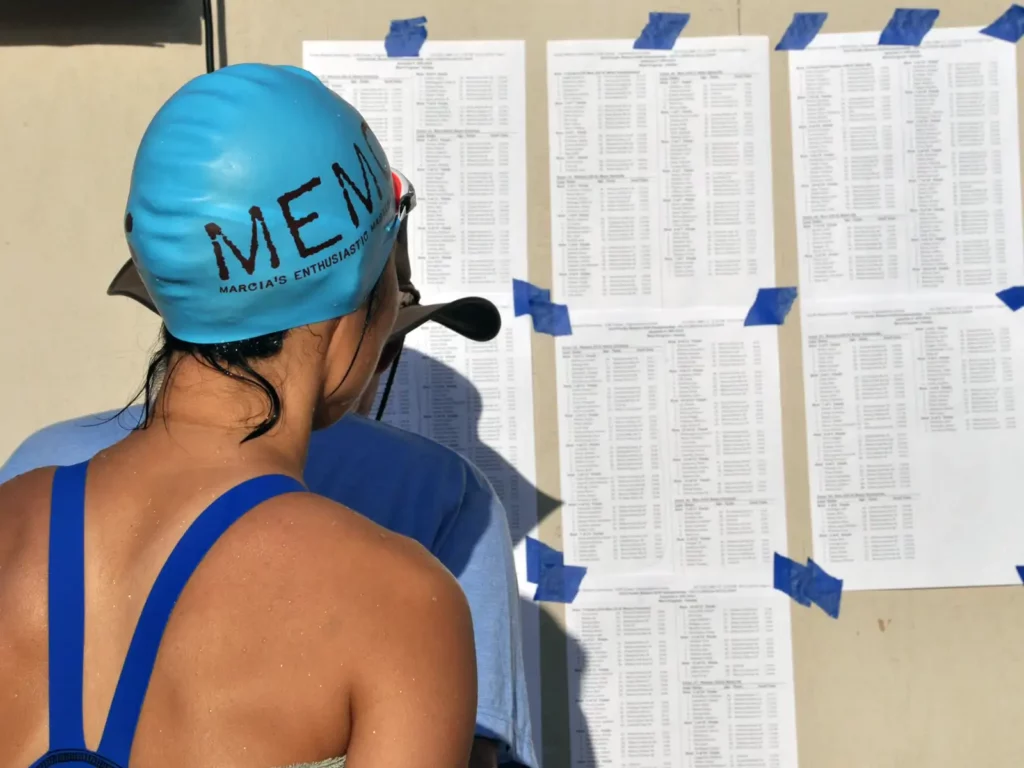 You may have seen a group of people brunching on Sundays here in town, after the Sunday morning workout, wearing brown and teal swim parkas…that's them. Stop and say hi.
US Masters Swimming allows a free swim session to try it out before you buy. If you're a good or great swimmer, you've found your home that challenges and supports you. The rest of us can only aspire to swim like that and we have a home here, too. If this sounds right to you, and if you do join this team, it's likely that your 2024 will be a better year for it. That's really all I'm meaning to say here. A brilliant opportunity is hidden right here in Alameda. May 2024 be spectacular.
Visit Marcia's Enthusiastic Masters of Oakland (MEMO) for more information and to join.
Photos by Robin Lai and Jimmy Song.
Denise Lai is an Alameda resident and enthusiastic participant in MEMO.