It was shiny, orange, and through my childhood eyes—orange was my favorite color until the age of eight—so pretty. My grandma turned over the heart-shaped fruit, scored the pointy end, peeled back the outside, and had me take a bite. Whoa! Honey sweet goodness was my introduction to persimmons. My second experience was contrary to my first. A friend gave us a few of those same-shaped persimmons from her tree. I asked my dad if I could eat one. He gave his permission, and I gleefully did as I saw my grandma do, then excitedly took a bite. Ack! I had a mouthful of sweet-smelling cotton attacking my tongue! I thought, that's why they are called 'purse'-immons.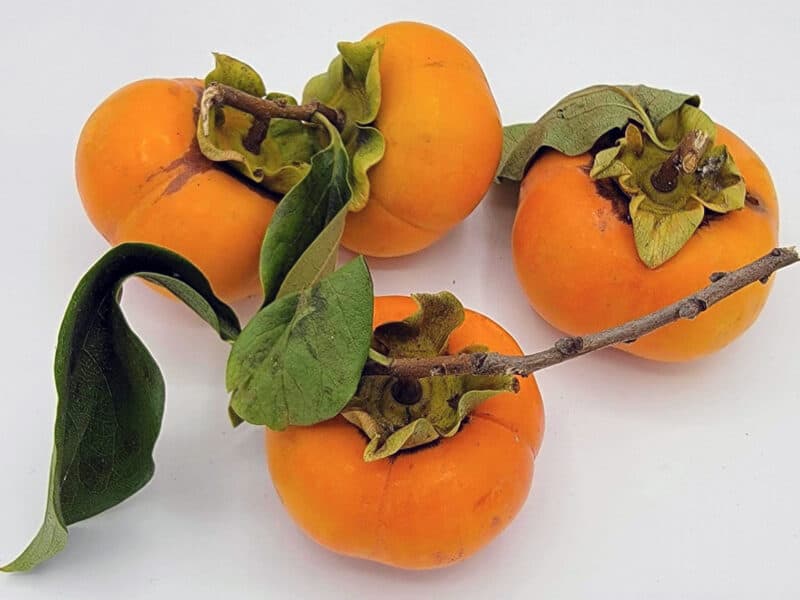 I've since educated myself on these waxy, tawny beauties that are a favorite in my household at this time of year. We are now amid persimmon season, which runs from October to January. Persimmons are originally from China. For thousands of years persimmon trees have been grown for their beautiful wood and sweet orange fruit, which is technically a berry. In the United States, you will commonly find two varieties, the Hachiya and the Fuyu.
Hachiya vs. Fuyu persimmons
The heart-shaped Hachiya was the variety that I first tasted. Learn from my hasty error and wait until this variety is completely ripe before attempting to enjoy its pulpy flesh. This variety is not ready to consume until it is soft throughout. If you've ever eaten an underripe banana, you understand the astringent experience a bite of unripe persimmon will unleash. However, wait until they are ready to eat, and they can be enjoyed fresh as-is, blended into drinks or cooked into baked goods. Like ripe bananas, the softer the persimmon, the more flavor it will impart into your cookies, cakes, and loaf breads.
The variety that fills my fruit basket until the very last bit of persimmon season is the Fuyu. Its appearance is akin to that of a tomato, but they are not related. Fuyu persimmons can be eaten just like an apple. I like to peel mine, though the skin also is edible, and eat it right out of hand. When I want to take my salad up a notch, I will peel one, cut it up, and toss the bright orange goodness onto my greens. My auntie peels and slices them into thin circles, and then dehydrates them to extend her persimmon season.
Health benefits
Not only are persimmons… uhm… ripe persimmons delicious, but they also are loaded with health benefits. They are high in fiber and low in calories which makes them friendly for weight loss. The fiber will also help lower bad cholesterol (LDL) and reduce blood sugar levels. One persimmon provides over half of the Recommended Daily Intake (RDI) of Vitamin A, which is critical for vision, immune function, and fetal development. That same persimmon contains over 20 percent of the RDI of Vitamin C, which can lower inflammation in the body, a common cause of many diseases.
Persimmons also are a good source of thiamin, riboflavin, folate, magnesium, and phosphorus. You will also find them to be an excellent source of antioxidants, which protect your body's cells from free radicals. Additionally, persimmons are high in beta-carotene. Consuming foods high in antioxidants and beta-carotene may help decrease your risk of chronic diseases such as heart disease, diabetes, cancer, and neurological conditions such as Alzheimer's.
So during this time of year, there is more than one plentiful and versatile green-topped, orange produce item you might want to add to your grocery list. Hachiya or Fuyu persimmons, which do you prefer? I'd love to hear from you, and if you have a favorite persimmon recipe, I'd love you to share it with me.
Contributing writer Denise Lum is a Health and Fitness Coach raising her family in Alameda. Contact her via [email protected] or FitnessByDsign.com. Her writing is collected at AlamedaPost.com/Denise-Lum.