Catch the final weekend performances March 30-31, and April 1 at 7 p.m.
Some of the best moments of my life were spent sitting in folding chairs on the Encinal gym floor watching one or both of my sons perform before me. I begin my review of The Lightning Thief: The Percy Jackson Musical with this admission because any and all approbation that follows comes in a context of nostalgia and unabashed Jet Love. It doesn't hurt that on the wall near the stage left stairs is a plaque commemorating Bob and Amy Moorhead, the literal architects and builders of the great theater tradition at Encinal. Bob was my drama mentor and colleague for twenty years.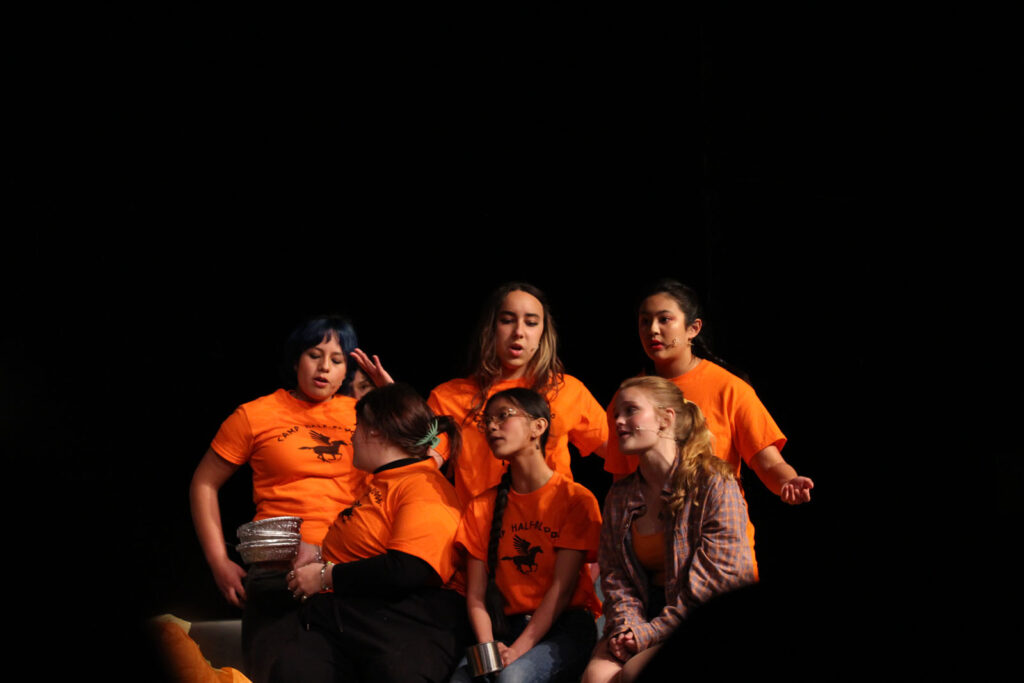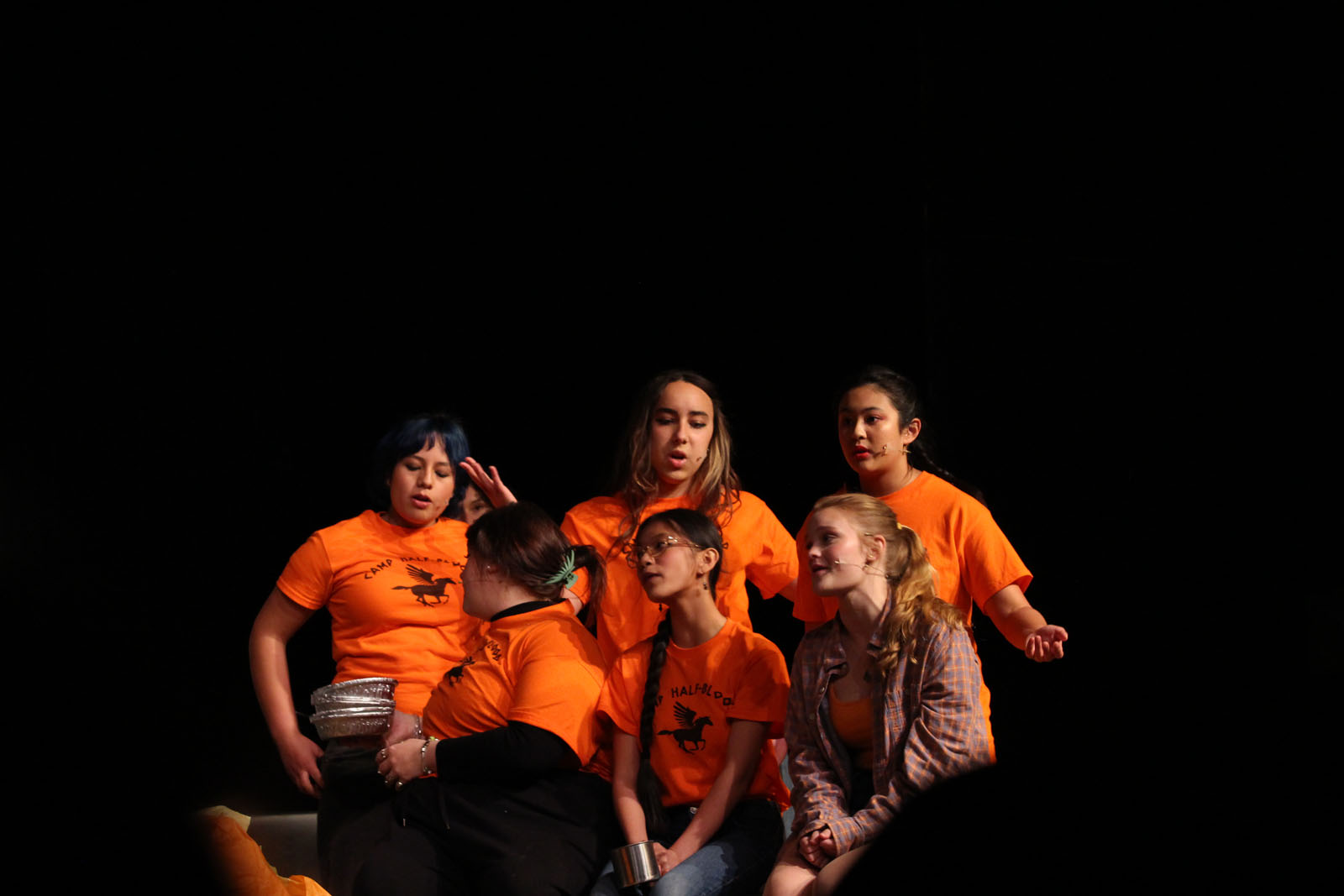 A Chorus Line, Les Miserables, RENT, Once On This Island, West Side Story, and now the story of Percy Jackson. The Lightning Thief director, Lachelle Morris, knows this legacy because she lived it when as a younger person she sang and danced for Bob and Amy Moorhead on their stage. And now the challenge and responsibility and privilege of turning the chaos of a musical into an event are all hers, and wow does she wow it! Four massive pillars frame the stage and announce that what you're about to see is a pretty darn big deal. Then a bunch of kids come out in street clothes and for a moment there's confusion: Who are they, where are we, and what the heck is going on? Many in the audience—and definitely for the five dudes sitting in front of me—recognize this set-up right away. The tall one in the middle is Percy and we are in a world created by Rick Riordan. Somewhere in my head that guy is belting out, "Let's Get Ready to Rumble!"
A foreign yet familiar tale
The story of the troubled P. Jackson, played with such earnestness and later strength by Emilia Arneson, is both Disney-esque and Potter-esque. Our hero, struggling with ADD and dyslexia, is being raised by a single mom and ends up spending their summer at Camp Half Blood along with, as it turns out, other youth whose non-mortal moms or dads are Greek gods.  Eventually Percy pals up with Annabeth (Samantha Cleminshaw) and Grover (Amelia Ericson), ditching camp to go to Hades/Los Angeles on, yes, the hero's journey. The trio are terrific together with Cleminshaw and Ericson having solo bravo moments later matched when Arneson's Percy proclaims that they are the "Son of Poseidon" while brandishing a mighty sword.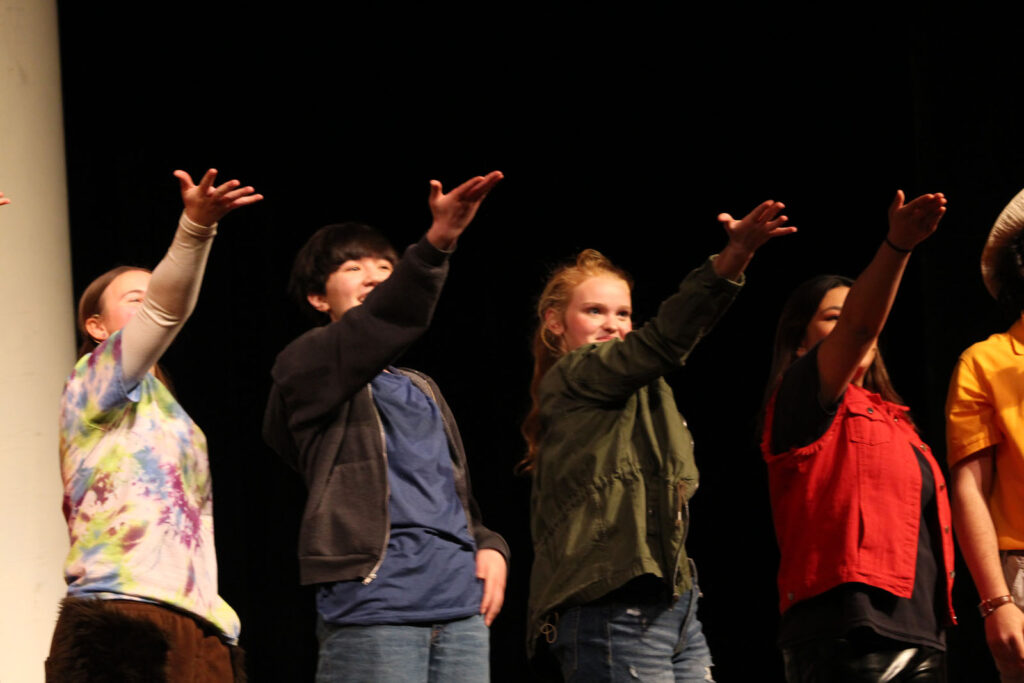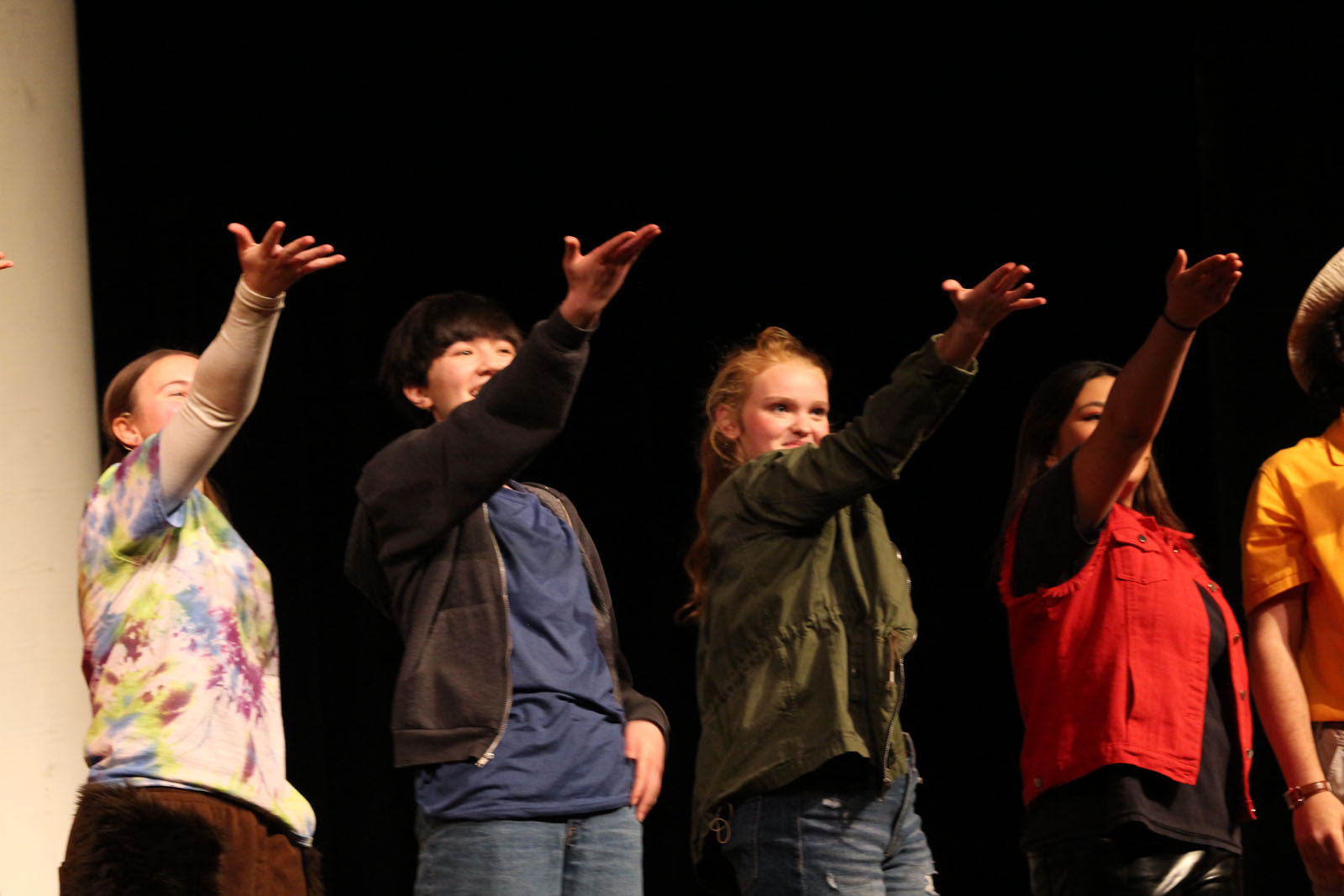 Cast and crew work together for The Lightning Thief
Like their actor cousins doing Spelling Bee down the block at Hornet Land, it's exciting to see kids play kids, supported by a stage crew of kids, directed by older kids. There is a homemade quality to it all that, in this era of excessive CGI polish, is warm and charming. Costumes were a mix of Old Navy and animal fantasy, and the set pieces and props were ordinary and extraordinary (love the elevator!). In addition to the hero trio, notable performances were put forth by Khalil Carim as camp director Mr. D, and Skyla Wong as Percy's mom. They both showed impressive stage presence and, to borrow from showbiz lingo, they got it. Kaeligh Thorp (choreography) and Camden Daly (music) did excellent work alongside Director Morris.
Resilience in the face of opposition
The word impertinence is used a few times in the story and it perfectly captures the essence of who Percy is, what they are going through, and what unites the characters. The denotation of impertinence is lack of respect or rudeness, but the connotation, what it comes to mean to these children of mixed parentage and therefore outcasts, is really strength. Impertinence is how they manage to get through their lives of uncertainty, self-doubt, and disrespect. In that way they are really part of the larger literary and real-life tradition of stubborn and independent people who inhabit large parts of the world. Think immigrants who came and still come here for a better life, think the Ukrainians fighting the Russians, think the trans community facing the onslaught of ugliness and ignorance of political leaders in way too many idiot states. To borrow from blueprint man in Ralph Ellison's Invisible Man, to make it in the tough world you need "shit, grit, and mother wit." Or in the case of Percy Jackson, you need a loving mom, friends who get you, and yeah, sometimes, you gotta pull out the bigass blade.
The Lightning Thief: The Percy Jackson Musical runs this weekend, March 30-31, and April 1. All performances are at 7 p.m. Tickets are available online at the Encinal performing arts tickets website and at the door.
Gene Kahane is the founder of the Foodbank Players, a lifelong teacher, and former Poet Laureate for the City of Alameda. Reach him at [email protected]. His writing is collected at AlamedaPost.com/Gene-Kahane.