Monsters and Lightning Bolts Prevent a Greek God War in The Lightning Thief.
Musicals are built from bones, muscle, and heart. On the day I visited a rehearsal for Encinal High School's spring show, The Lightning Thief: The Percy Jackson Musical, the Doctors Frankenstein were busy manufacturing all of the components. The set and staging was being tested, a parent was making costume adjustments on an actor eager to look good for opening night, and other mostly masked thespians were working a number in front of the majestic red curtain. Their dialogue served as an introduction to a song that, when the thick veil opened, kicked into a dance number where they were sharpening choreography only recently learned. This being Encinal — which actually has been a fully-fledged high school for over 50 years — the performers were sharing the gym with the men's volleyball team, whose practice sent balls careening off hands, the net, and occasionally an actor. Will someone someday build a performing arts center on the campus, so folks don't have to sit on folding chairs to watch some of the best shows ever done on this island? (Yes, I taught there for 23 years.)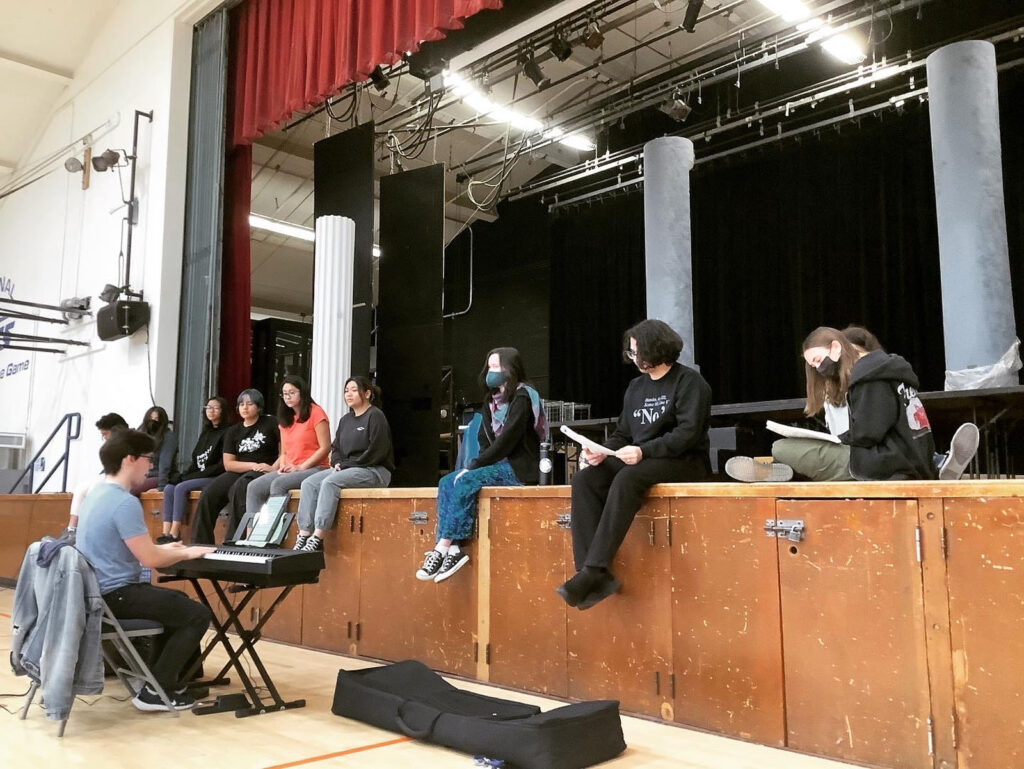 The exciting tale
The Lightning Thief is familiar to anyone who has a kid or was one, who having raced through the Harry Potter books and craving more sci-fi fantasy, found the amazing writing of Rick Riordan. His multiple-volume series have sold over 32 million copies and have been translated into 42 languages, so he is a big deal—and Percy is equally big. The story is about Percy, Poseidon's son, and his quest to use his newly discovered powers to avoid some pesky monsters and find Zeus's lightning bolt to prevent a Greek God war. And oh yeah, Percy is also 12 years old, so a middle schooler. And oh yeah, he has ADHD and dyslexia. Those very real personal conditions are partly why Lachelle Morris chose to direct the show. As a Special Education teacher, she's worked with kids similarly challenged, and is excited to share and show how Percy's circumstances "aid him in his demigod powers."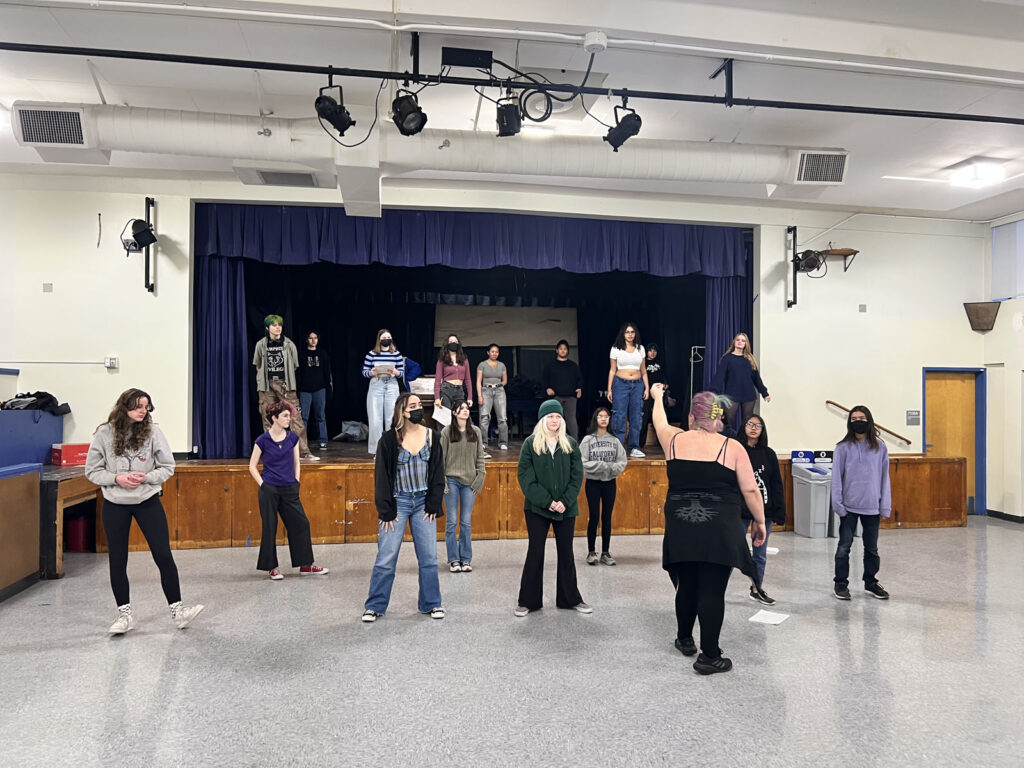 Cast members look forward to the show
Emilia Arneson, Jet sophomore, is playing Percy and is very much aware of "the representation going on" and having to meet the expectations of those who love the stories and their hero. But she's been doing theater since the age of 5, so she's confident, and she comes from a family of theater people with deep island roots. Twelfth grader Senna Garcia gets to play two characters including Mrs. Dodds, a substitute math teacher dressed in modest garb, who then sprouts wings and ends up being Percy's first victim. She's awfully excited to be playing a villain, though I think she meant the winged nemesis of Mr. Jackson. Mary Laguardia, also a senior, is the lead dancer on the Encinal elite dance team and is having fun while learning to catch her breath in order to sing post-movement. This is her first EHS musical and she said she loves the bond that she has formed with the other actors, a sentiment shared by many.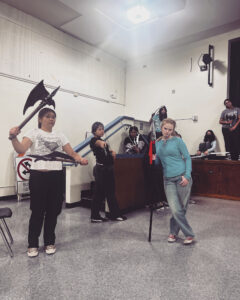 The Lightning Thief's tried and true crew
Someone quite familiar with that bond, the Encinal stage, and the challenge of sharing space with sports teams is Kayliegh Thorp, choreographer for the show and a veteran of Jet theater back when Robert and Amy Moorhead were the musical architects of legend. Thorp was asked by director Morris, with whom she many times shared the gym stage, to help out with the making of this musical. And while admittedly not a fully trained dance coach, having been an outstanding performer, and to borrow from the circus world, with still plenty of sawdust in her veins, she has been having a wonderful time. When asked about one of the challenges of helping these COVID-affected performers, Thorp said she and Morris recognized the need to help the kids "crank it up" for a live audience, as opposed to the Zoom stuff many of them had to do because of the rotten virus.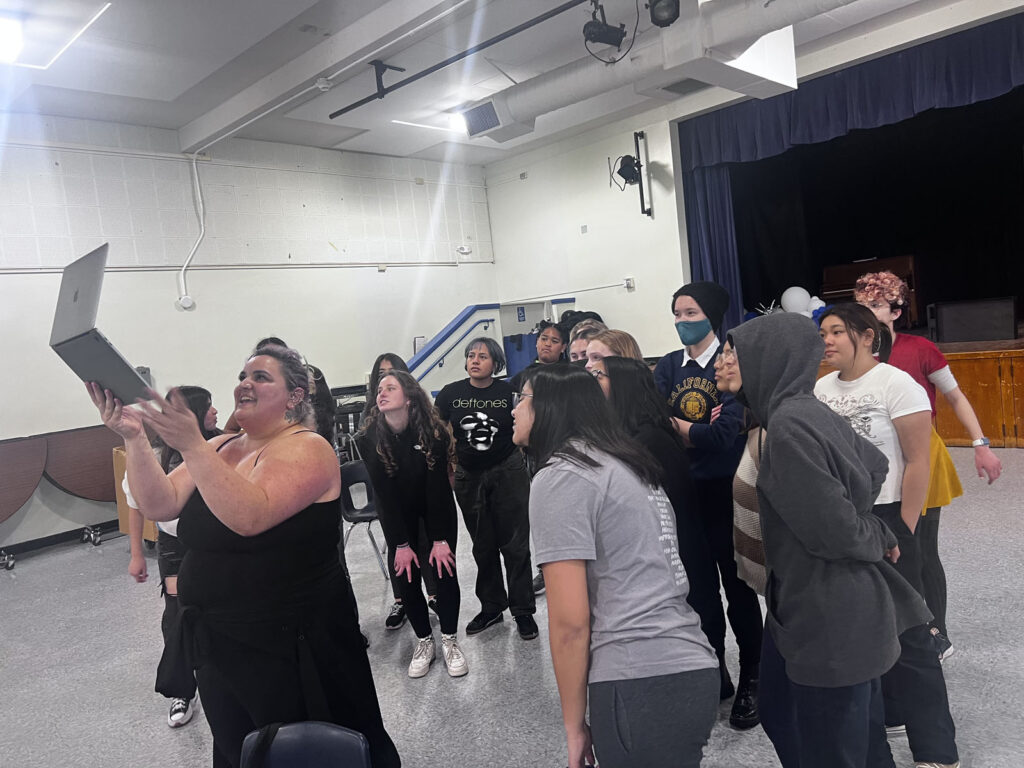 I was lucky to have spent 20 of my years at Encinal during the same 30-year period when Mr. and Mrs. Moorhead were making theater. Both of my sons performed for the Moorheads, and one time I was asked to play a small part in How to Succeed in Business Without Really Trying, which meant I got to share a stage with my guys. The big stage at Encinal is not in a bona fide theater, so there is no plush seating or fancy restrooms for the audience. There is no coat room nor snack bar other than a folding table staffed by parents selling brownies and coffee. And yet, for years — and for years to come, as evidenced by the kids I saw rehearsing — the annual spring musical is alive and well. For those who know they know, but for those who don't, exceptional musical theater takes place on both ends of the island, and in the middle too. Go see The Lightning Thief: The Percy Jackson Musical. It opens March 24 with performances on March 25, 30, 31, and April 1. All shows are at 7 p.m.
Gene Kahane is the founder of the Foodbank Players, a lifelong teacher, and former Poet Laureate for the City of Alameda. Reach him at [email protected]. His writing is collected at AlamedaPost.com/Gene-Kahane.