A memorable weekend of performances includes Island City Opera and Alameda's own Frederica von Stade.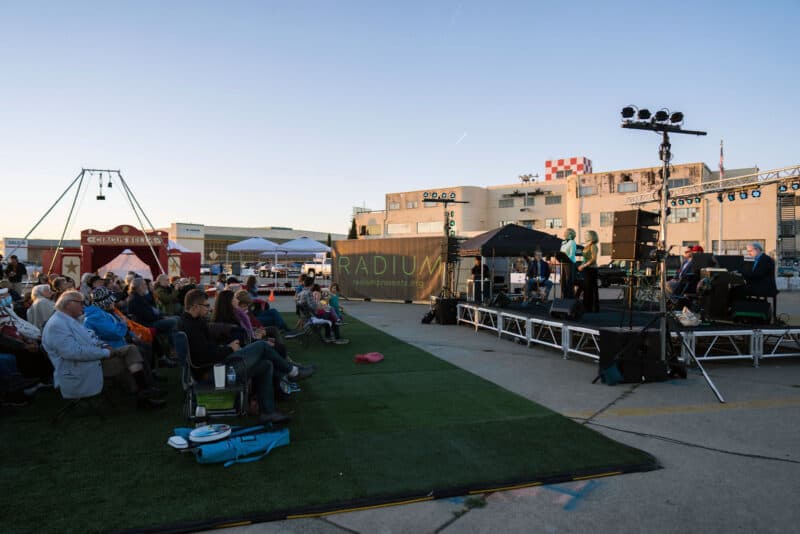 You know it's a fun night at the opera when the baritone stops singing after a few bars of a dramatic duet from Mozart's Don Giovanni and announces apologetically that he just swallowed a bug. That's exactly what happened Saturday night, October 22, at the Island City Opera night under the stars presented by Radium Runway next to Seaplane Lagoon at Alameda Point, during a weekend of performances staged to introduce the RADIUM performing arts center proposed at the site. It was dark and a bit breezy—perfect weather for flying bugs—when Eugene Brancoveanu suddenly coughed, chuckled, and said that in his home country "bugs are considered food." The audience laughed out loud and applauded, and Brancoveanu promptly resumed his duet with soprano Eileen Meredith, who founded Island City Opera.
The entire evening was filled with that kind of charming informality. The program had something for everybody, interspersing challenging and beautiful opera classics with popular favorites. Tenor Alex Boyer was featured in "Vesti la giubba" from Leoncavallo's I Pagliacci. Meredith and internationally acclaimed mezzo soprano Frederica von Stade thrilled the audience with their beautiful duets of "Belle Nuit" from Offenbach's Tales of Hoffman and "Sull'aria" from Mozart's Marriage of Figaro. Later they delighted the crowd with "Somewhere Over the Rainbow" from The Wizard of Oz, and von Stade invited everyone to sing along with her lovely rendition of Edith Piaf's "La Vie En Rose." Von Stade is also the artistic advisor for RADIUM, and a long-time Alameda resident.
There were many families with kids in the audience, which is unusual for most opera performances. They seemed not only interested but delighted with much of what they saw and heard. Many had stayed after the Circus Bella performance and were visibly enchanted by soprano Chelsea Hollow as the fully costumed singing wind-up doll from Offenbach's magical opera, Tales of Hoffman. The doll had to be repeatedly "wound up" by her young assistant, Elizabeth Eldredge, which made the audience laugh every time. Hollow made the performance seem so fun and effortless that few people may have realized it is one of the most difficult coloratura arias in the entire operatic repertoire. She later gave a chilling performance of the exceptionally difficult "Queen of the Night" aria from Mozart's Magic Flute.
The program included a total of 15 different pieces and featured accompanists Alex Katsman on piano and Ron Borelli on accordion. The outdoor venue was comfortable and well organized, with plenty of folding chairs on the artificial lawn and small tables with chairs near the stage and around the perimeter. People noshed and sipped and generally appeared to be having a great time. Some took the opportunity to wander around the runway as they listened to the music, enjoying the spectacular unobstructed view of San Francisco's nighttime skyline and checking out DeWitt Godfrey's 32-foot weathered steel sculpture, Beken, at the Waterfront Park. If that gala evening serves as any indication, Radium Runway is off to a great start.
The gallery below includes photos from all three programs from Radium Runway's debut weekend, including Jazz Mafia, who performed Friday evening, Circus Bella, who performed twice each on Saturday and Sunday, and the Island City opera performance Saturday evening. Jazz Mafia photos were taken by and ©2022 Nicolas Bamberski, and photos from the other programs are ©2022 Maurice Ramirez.
Liz Barrett is the Copy Editor of the Alameda Post and writes about our community. Contact her via [email protected]. Her writing is collected at AlamedaPost.com/Liz-Barrett.