San Francisco Opera is taking the show out of the house and over to Alameda Point with three free performances of Bohème Out of the Box on the weekend of March 10-12, 2023. In partnership with the City of Alameda and RADIUM Presents, Bohème Out of the Box will perform on RADIUM Runway next to Seaplane Lagoon, nestled between the brand-new Waterfront Park and the Naval Air Museum at 2151 Ferry Point, the proposed site of RADIUM performing arts center.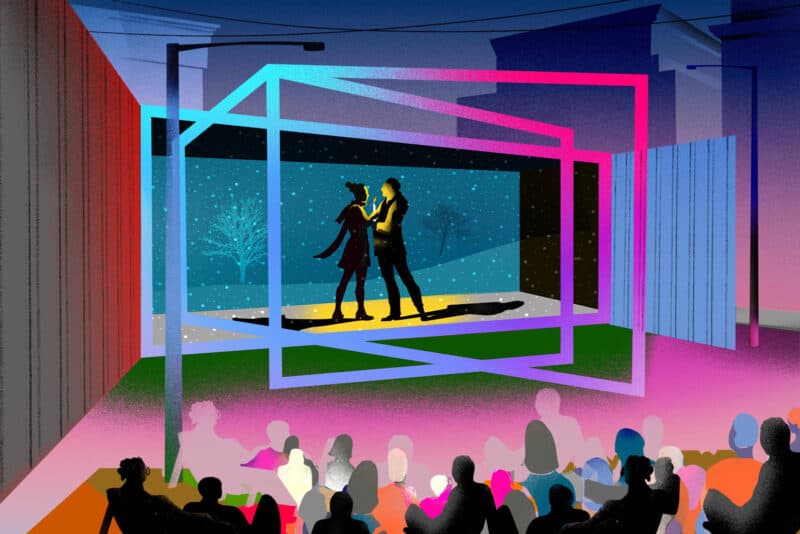 "It is incredibly exciting to partner with SF Opera to help bring this project to the site we are targeting for the performing arts center," said RADIUM Presents program manager Rachel Campos de Ivanov. "SF Opera developed this idea of taking their production to several Bay Area communities as part of their 100th anniversary celebration and reached out to the City of Alameda last April." The opera company toured several sites and selected RADIUM Runway because of "stunning views of the water, the San Francisco skyline, and proximity to the ferry terminal," she said.
Bohème Out of the Box
Bohème Out of the Box is a shortened version of Giacomo Puccini's La Bohème, a sweet and somewhat tragic love story about a young seamstress and poet struggling to get by in Paris, where the cost of living is impossibly expensive. That situation is not entirely unfamiliar to many young people living in the Bay Area today. The popular opera, which was the very first to be presented by San Francisco Opera 100 years ago, will be performed in an intimate one-hour version on a shipping container that has been turned into a mobile opera stage. There will be a food truck on site as well as beverages for sale, including beer and wine.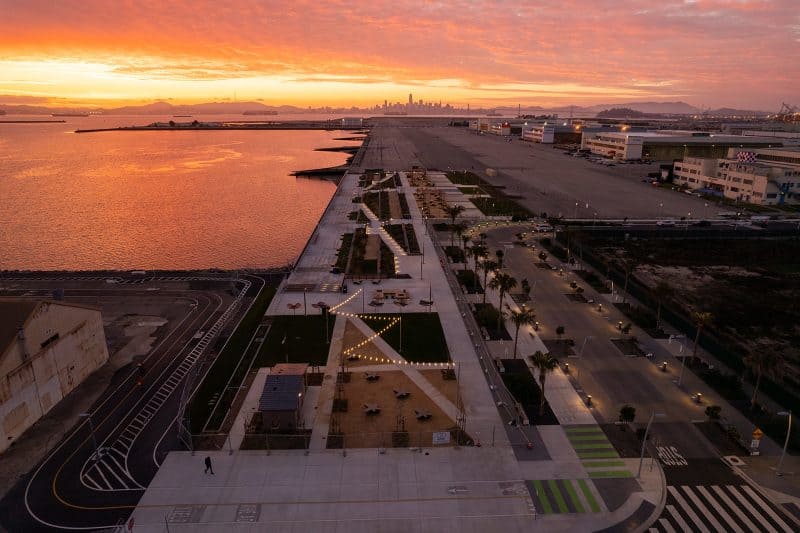 Performances
Directed by Jose Maria Condemi, Bohème Out of the Box, sung in Italian and featuring English dialogue, will be performed by guest artists and San Francisco Opera's Adler Fellows with piano accompaniment. The performance schedule is as follows:
Friday evening, March 10, 6:30 p.m.
Saturday evening, March 11, 6:30 p.m.
Sunday matinee, March 12, 2 p.m.
Seating will be on the taxiway and folding chairs will be available on a first come, first served basis. Attendees are encouraged to bring a picnic blanket and/or camp chair. Come early to get a good spot!
"The Friday night performance is timed to align with ferry service," Campos de Ivanov said, so people coming from San Francisco can easily take the ferry and attend the show. "San Franciscans can easily return via ferry as well."
Performances are also scheduled in South San Francisco, Los Gatos, and Dublin. All performances are free, but those who would like to be informed of any changes or future performances are encouraged to RSVP online.
RADIUM Presents is an initiative to establish a 500-seat performing arts center in Alameda that would cater to the needs of the local East Bay arts community.
Liz Barrett is the Copy Editor of the Alameda Post and writes about our community. Contact her via [email protected]. Her writing is collected at AlamedaPost.com/Liz-Barrett.