Art Jam presents holiday gifts for everyone!
Every Wednesday night, the K Gallery at Rhythmix Cultural Works fills with an eclectic collection of artists—the Art Jam. Loosely led by Pons Maar and Marc Ribaud, Art Jam artists represent a wide variety of backgrounds, mediums, ages, and disciplines. While there is a core group of artists representing Art Jam, Wednesday nights are open to everyone and the circle expands greatly during the end of the year.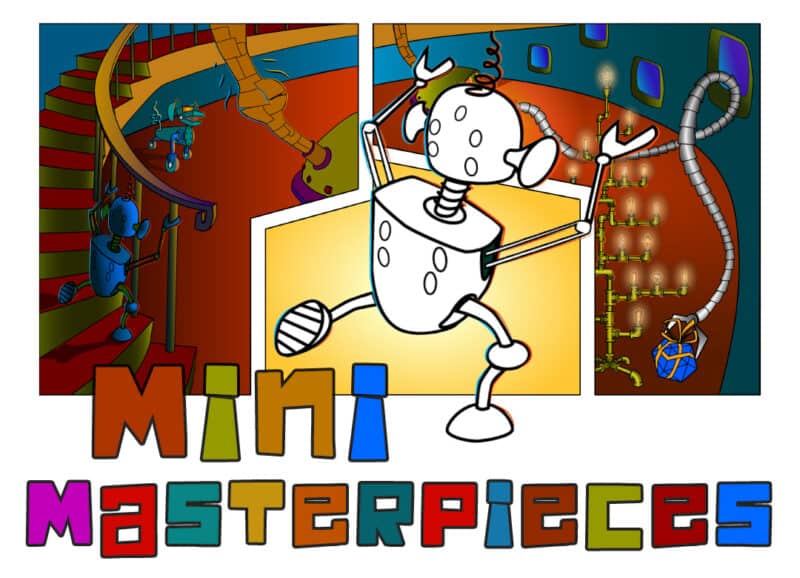 Each year during the holiday season, Art Jam takes over the K Gallery space for the Mini Masterpieces Holiday Art Show, presenting small and affordable artworks by local artists. Featured artists this year include Aannah Kay, Alice Dockter, Arielle Crenshaw, Bill Jeng, Claudia Jayne, Darv Teare, Ed Holmes, Heather Piazza, Jo Anne Yada, Judy Chamberlin, Marc Ribaud, Mark P. Fisher, Pons Maar, and Zach Fish. Many of the artists will be on hand to demonstrate their processes and lead participatory creative exercises at the gallery on Saturday, December 17, 1 to 3 p.m.
The variety of art on display is breathtaking. Each artist's work is carefully hung in neat sections. The pop of colors from Heather Piazza's "Rainbows for Everyone" next to upcycled "trash art" jewelry pieces from Zach Fish add to the visually appealing layout Art Jam has created.
"Hopefully these colorful mini paintings will remind people that there's always something to be grateful for," Piazza says of her work, begun during the pandemic. Other artists have drawn their inspiration from elements of nature or the man-made environments around us; a number of the presenting artists work in the recycled or garbage art realms—also referred to as bricolage or trash art—seeking to redefine what their audience perceives as "trash."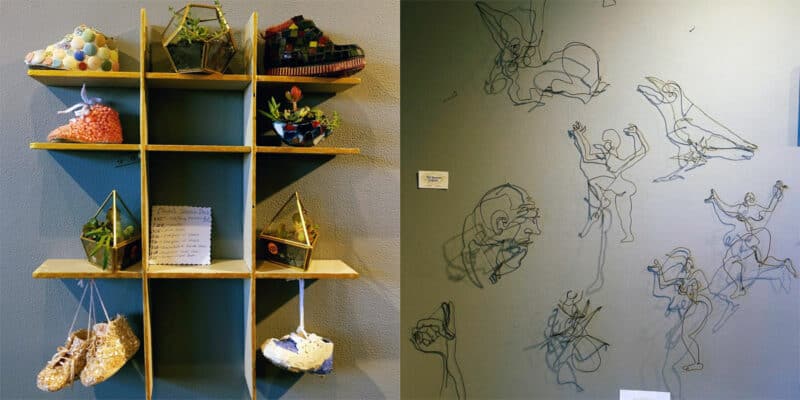 With the Mini Masterpieces exhibit, which is open through December 18, the gallery has been transformed into a fascinating display of different approaches to art. Not only that, the art works are purposefully priced below $50—perfect for holiday gifts. There's something for every art lover on your list, from fine wire sculpture, jewelry, and watercolors to beautifully bedazzled and decorated baby shoes.
The K Gallery is open every Wednesday night from 6 to 9 p.m. for Art Jam. Drop in to say hello, meet the artists, and bring your own projects. Other visiting hours may be available by appointment; please call the Rhythmix office at 510-865-5060 or email [email protected] to arrange.
Contributing writer Colin Epstein is an artist and performer who covers local arts for the Alameda Post. Reach him at [email protected]. His writing is collected at AlamedaPost.com/Colin-Epstein.