Rhythmix's Executive Director is moving on to new adventures.
Tina 'Bean' Blaine, a driving force in Alameda's art and performance community for over 15 years, is stepping away from her duties at Rhythmix Cultural Works. During a phone interview, Bean mused on her beginnings, "When I was young, I studied piano. I used to sit underneath it while my mother played. Years later, after studying percussion in Africa, I fell in love with marimbas, which combine melody and rhythm. My travels and building instruments got me interested in the community aspect of what it is to create and make music.
"I've lived a lot of different lives over the years and had a lot of different experiences that led me to Rhythmix. I spent two years traveling around the world in my twenties, studying music & dance in Africa, Asia, and the South Pacific. Back in the USA, I began building acoustic and electronic marimbas in my first band, D'CüCKOO." Bean met her husband, Stephen Schultz, in San Francisco. A professional musician, Schultz plays baroque flute, and teaches music history at Carnegie Mellon University. They've recorded and jammed together, and nurtured their sometimes-long-distance relationship, since 1989.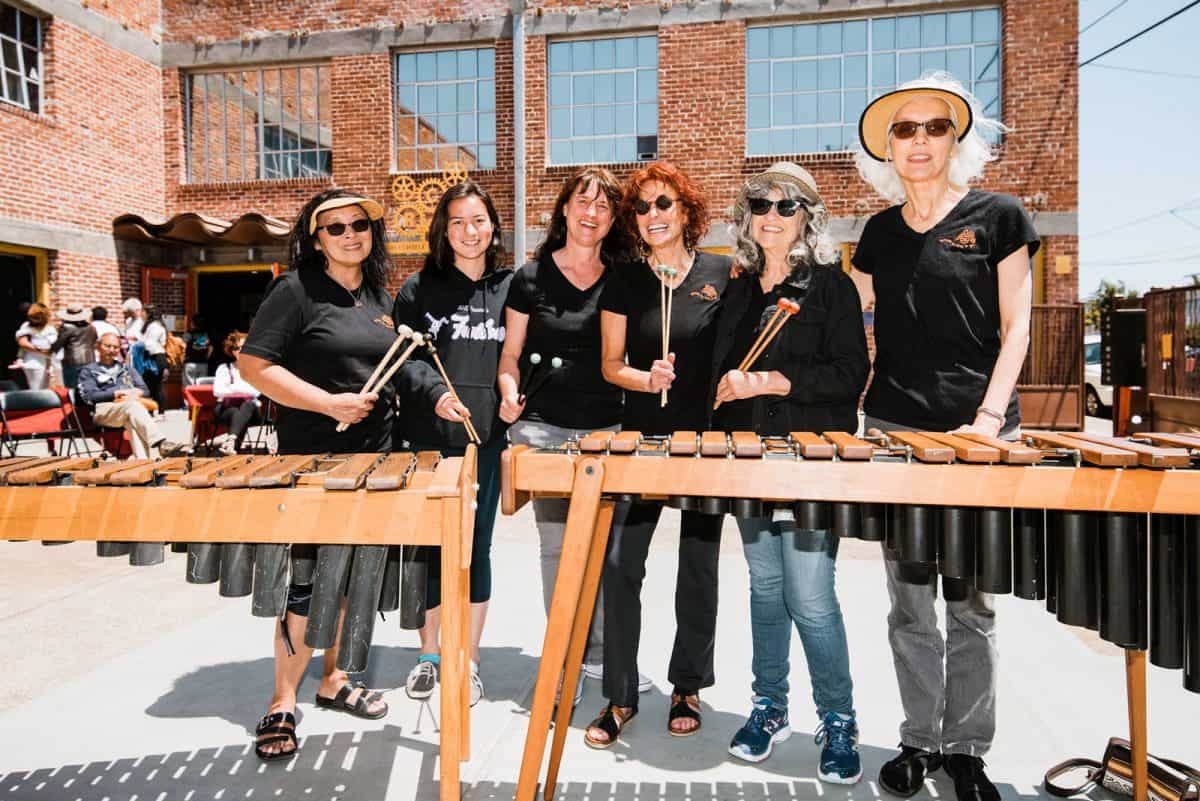 "I'm ready to pass the torch. I looked into volunteer opportunities and applied to become a marine conservation volunteer in Madagascar, at the fifth largest coral reef in the world. The Madagascar Research & Conservation Institute is based on a remote island with no electricity or internet, but it has a lemur reserve!"
Prior to her work with Rhythmix, Bean recorded with Mickey Hart of the Grateful Dead and with electronic music producer, Brian Eno (known for his work producing U2, Genesis, David Bowie, and Roxy Music). Bean co-founded and performed with an all-woman band, D'CüCKOO that built their own electronic instruments. They played all over the Bay Area, at corporate events, and opened for the Grateful Dead in 1992 at the Oakland Coliseum.
Bean met Taiko drummer Janet Koike a few years later through D'CüCKOO. Before Koike pulled together her foundation and the physical space for Rhythmix Cultural Works, they performed together in the Rhythmix Ensemble, bringing arts education to schools throughout the Bay Area. Along with Rhythmix band member, Carolyn Brandy, Koike took the musically adventurous on cultural exchange trips as far-flung as Japan and Cuba, and Bean joined in the fun. Their ensemble, Maze Daiko, was invited to perform in Japan after their cultural exchange trip at Kodo's Apprentice Center on Sado Island as part of their annual Earth Celebration festival.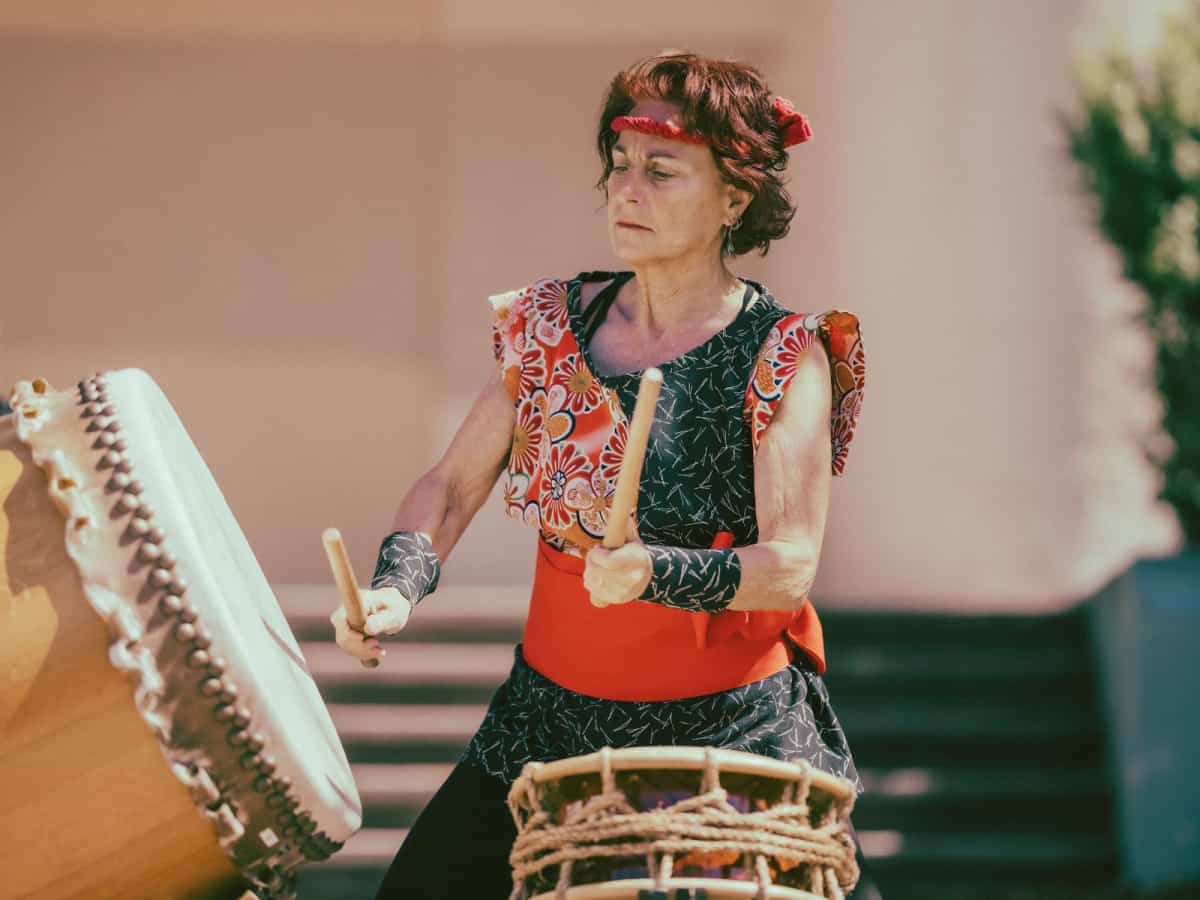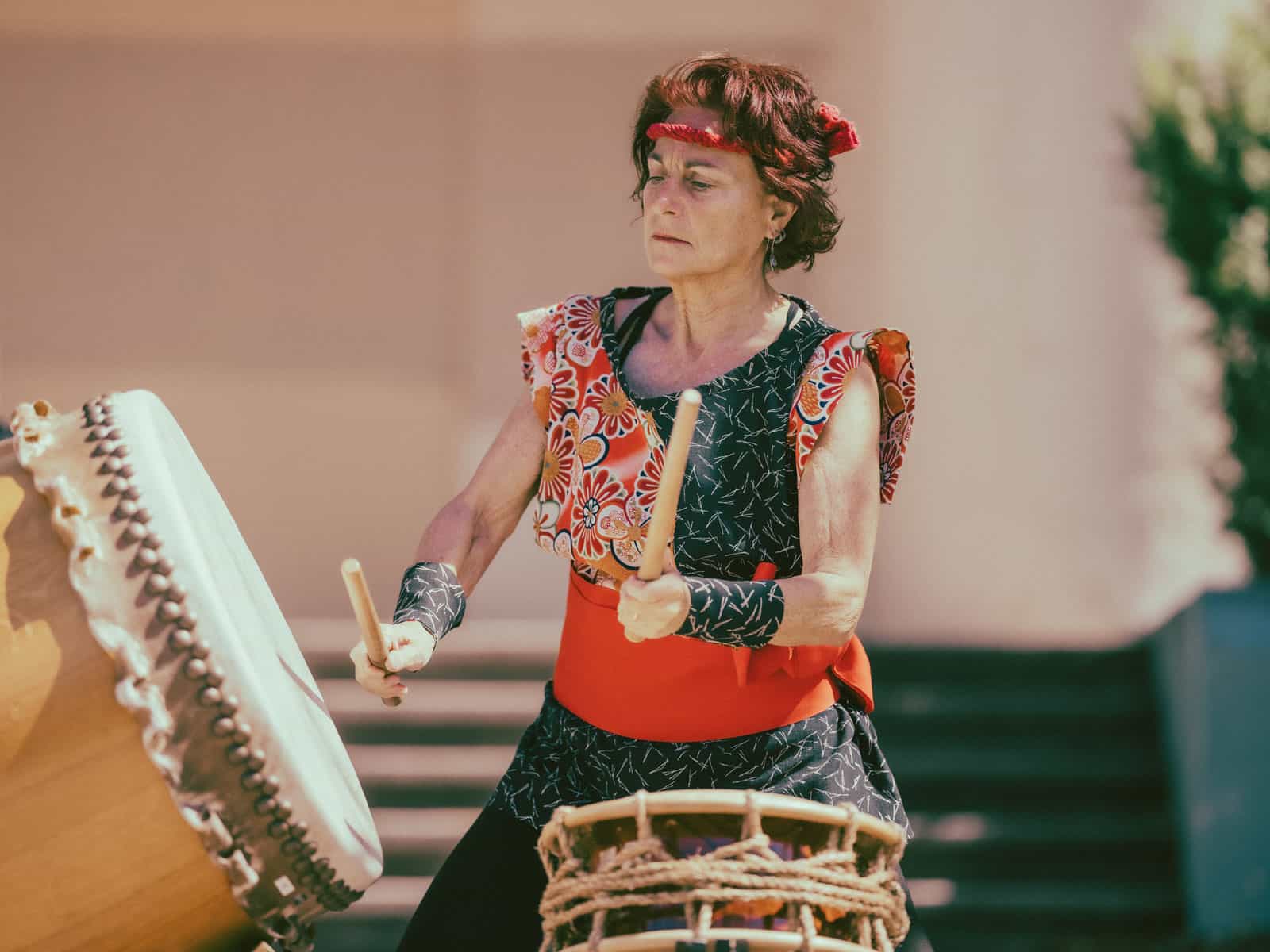 Much more than simply a musician or activist/organizer, Bean invented an electronic instrument called the Jamodrum, which is on exhibit in several museums to encourage people to jam and play rhythmic music together in a public setting. It is constructed with drum pads embedded in a tabletop surface, with computer graphics as prompts for musical novices. The Jamodrum was created at Interval Research in Palo Alto, and after 20 years is still on exhibit at the Experience Music Project in Seattle. The Jamodrum music project took her to Pittsburgh, PA's Carnegie Mellon University, where she worked with students to develop gaming experiences in the Entertainment Technology Center.
Meanwhile, Koike was renovating the former Clamp Swing building in Alameda to create a performance space, gallery, and live-/work artist studios. Bean moved back to the Bay Area to help her friend retrofit the theater space and get Rhythmix Cultural Works ready to open in 2007. In 2010, Bean became Rhythmix's Executive Director.
Rhythmix Cultural Works' mission is to share music, dance and high-quality arts experiences with as many people as possible. In 2012, Rhythmix received its first grant from the NEA to host their first Island Arts concert and workshop series. The same year, Rhythmix developed the Performance Art Learning Program (PAL), providing cultural arts assemblies to 900 AUSD students.
During the COVID-19 lockdown, PAL engaged 25,000 elementary students through its virtual outreach. Blaine said, "One of my proudest accomplishments is helping to create this arts education program that has had such a huge impact over the past ten years, especially through the lockdown. Thanks to the community's support, the Rhythmix team is still creating resources for teachers and will continue to do so."
Another way Rhythmix has shared the importance of the arts with the community has been through its public arts projects. "We've hosted 14 art walks featuring live music and dance. Eight performances were musicians accompanying visual artists displaying their work in empty storefronts. We're proud of what we were able to accomplish, and all of the artists were paid to participate. Thankfully, we survived the pandemic, and hope to continue the upswell of community support."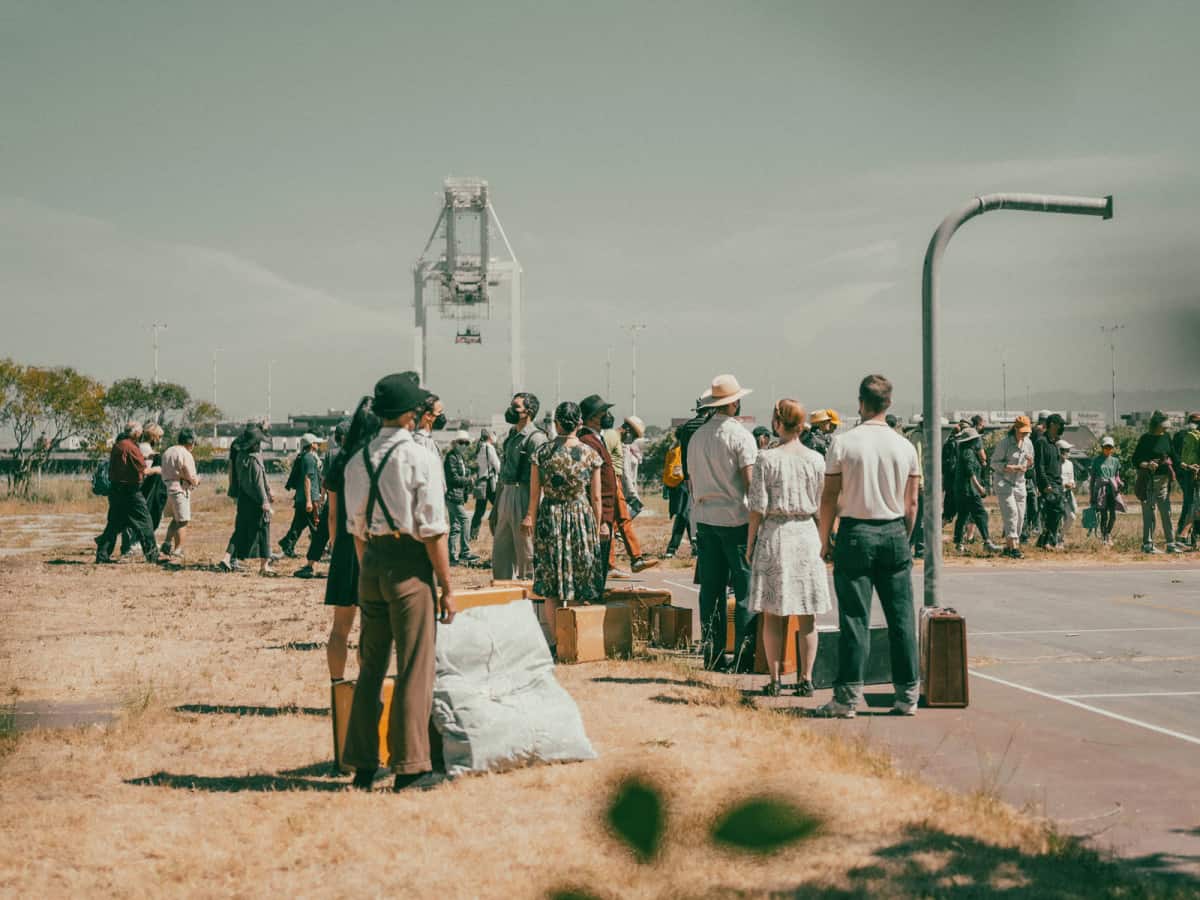 Rhythmix's most recent production, "Uprooted," was the third installment of the Island City Waterways (ICW) ongoing project, which delves into local history through integrated drama, dance, and music.  "We had a couple thousand people on the weekend shows, plus, students from local schools including ACLC, Ruby Bridges, Paden Elementary, and Encinal High."
Complementing the ICW performances, Rhythmix's K Gallery is showing the work of several Japanese American artists. Also called "Uprooted," the exhibited art, writing, and poetry elucidate the trials and strengths of people who ultimately triumphed over racism and incarceration. K Gallery is open by appointment, and the exhibit will continue until July 30.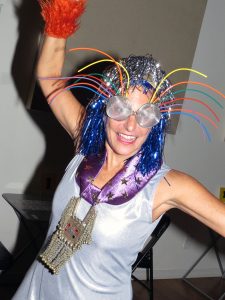 After all these accomplishments, Bean is ready to explore new horizons. "I've been Rhythmix's Executive Director for twelve years, and I'm ready to pass the torch. I looked into volunteer opportunities and applied to become a marine conservation volunteer in Madagascar, at the fifth largest coral reef in the world. The Madagascar Research & Conservation Institute is based on a remote island with no electricity or internet, but it has a lemur reserve! I'm leaving at the end of August."
Bean wants to see what instruments they play there. "I'll still be based in Alameda, but I don't know what's going to happen after that and don't want to have it planned out."
She's confident that Rhythmix will be in good hands. The incoming Executive Director, Jennifer Radakovich, has been with the organization for four years, and is growing into the role from her prior position as Associate Director.
Rhythmix will be celebrating its 15th anniversary at its upcoming Pour Your Heart Out event, benefitting its youth arts education programs on July 30 from 2–5 p.m. The VIP reception will offer gourmet tastings of food catered by local restaurants, plus pourings of wine, beer, and a new release by Hangar One Distillery. The outdoor dance party will feature SambaDa's high-energy Brazilian music in the courtyard, with no-host bar. Pour Your Heart Out will be a great opportunity to drop in, have some fun, celebrate Rhythmix's contributions to Alameda's arts and youth, and to wish Bean well on her latest adventure.
Contributing writer Alana Dill covers arts and culture for the Alameda Post. Contact her via [email protected]. Her writing is collected at AlamedaPost.com/Alana-Dill/.