Rhythmix Board VP illustrated "The Covenant of Water"
Exactly one year ago, Alamedan Tom Varghese was working on illustrations for his cousin Abraham Verghese's unreleased new book. Today that book is a bestseller. The Covenant of Water is not only an Oprah's Book Club selection, but is also set to become a movie—produced by Oprah. She has called it "one of the best books I've read in my entire life." Spanning the years 1900 to 1977, The Covenant of Water is set in Kerala, India, and follows three generations of a family that suffers a strange affliction: in each generation, at least one person dies by drowning.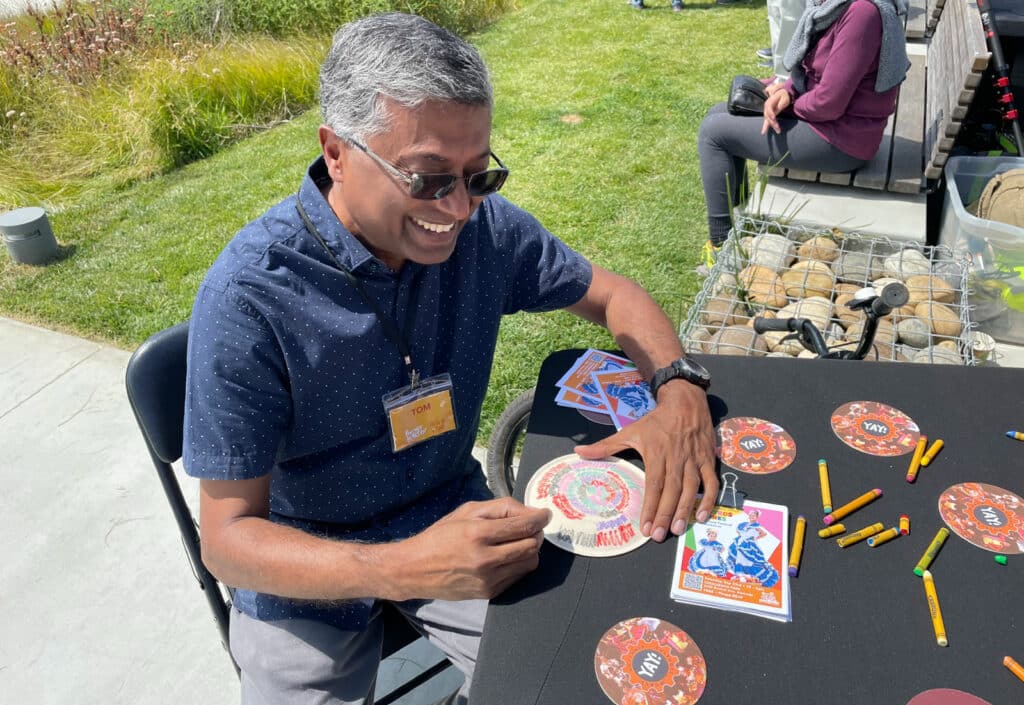 Tom, who currently serves as vice president of the board of Alameda's Rhythmix Cultural Works performing arts center, has roots in Kerala, as does his cousin. They grew up together as children in Ethiopia before moving to the Bay Area. He is part of the close-knit Christian family upon whose history the book richly draws. His own personal journey is an excellent story itself.
Growing up in Kerala
Both Tom and Abraham were born in Ethiopia; their grandmothers were sisters. The country's emperor, Haile Selassie, whose Ethiopian Orthodox religion was similar to Kerala's Indian Orthodox practice, had visited Kerala in the early 1950s and promised high salaries for those willing to come teach at Ethiopia's high schools and colleges. Between 1947 and 1991, one in three teachers in Ethiopia's secondary schools were Indians from the region.
Abraham's parents came first, then Tom's. "Ethiopia was a wonderful place to grow up," said Tom. "There was a tight knit Indian community—I'm still in touch with all of my friends."
The prestigious Addis Ababa school he attended was run by the British. "The student body was like the U.N, with all of the kids of ambassadors," Tom said. "I was formed in a very rich way in Ethiopia."
Emigrating to San Jose
He was 8 years old when his family emigrated from Ethiopia to San Jose, California, where his father worked as a chemical engineer at the nearby salt flats. What he observed upon his arrival in his new home was a shock to him.
"One of my first impressions was of Highway 101. Six lanes in each direction!" he recalls. "And the biggest cars I'd ever seen!"
While his degree from UC Berkeley is in structural engineering—he worked for both Bechtel and PG&E for a total of 33 years before his recent retirement—creating art has been part of his life from a young age. He recalls that in Ethiopia paper was very hard to obtain for his drawings. As a child, he lost a valuable school notebook, and when he found it, he kept it a secret from his family, who wondered how he was able to make so much art with so little paper available.
Sketching Willie Stargell leads to book illustrations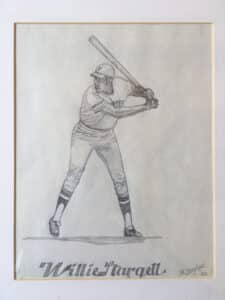 When listening to 1970s radio, 14 year-old Tom became obsessed with baseball, and decided to draw his first serious sketch—an informal portrait of one of his idols, Willie Stargell, who was among the most feared power hitters in baseball history.  Stargell had the most home runs (296) of any player in the 1970s, attended Encinal High School, and has both an Alameda monument and street named for him. The piece turned out so well that Tom decided to become serious in college about drawing portraits, and then attempting to get the subjects to sign them. His successful models include not only sports figures, but such luminaries as Jonas Salk, Luciano Pavarotti, and Henry Kissinger.
Tom's physician/author cousin Abraham, who had worked 14 years on The Covenant of Water, completed a first draft in 2020, and had a vision of including illustrations at the beginning of each of the novel's ten sections. Books from the '50s and '60s often had these, as did the Harry Potter series. Tom quickly said yes when he was asked to provide the images. "This is for sure going to be a bestseller," Tom recalls thinking after reading the first draft, now edited to 736.
In the book's acknowledgements, the author says the following: "My cousin Thomas Varghese is a talented artist (and engineer), and a favorite of Mom's. I am grateful and proud that his evocative drawings in the book have captured its atmosphere so well; Mom would be pleased." The author's mother also was a talented illustrator. She kept a notebook of memories and drawings from her girlhood in Kerala, and her son used several of those stories in his book. Tom recalls his aunt fondly, saying she was like a second mom to him.
Vicki Varghese and their family
Tom met his wife Vicki at grad school in Berkeley. They moved to Alameda in 1996. Vicki worked as an Alameda ELD (English Language Development) schoolteacher, helping English learners to meet their grade level goals. Their daughter Anna is an elementary school teacher, and their son David works in the field of museum exhibitions and fine arts.
Tom acknowledges Vicki's long-standing passion and love for world cultures, noting that she has managed to visit every continent. He recalls a special story about how she got a sense of the power of the performing arts. While on a service trip to rural El Salvador to help build schools, a local village was to have a dance at a local park. Vicki had taken her nieces from Canada on the trip. They had completed four years of study of Indian dance, so she suggested they perform in their classical make-up and traditional music and clothes. All of the young local kids were mesmerized and recognized the power and beauty of their own cultural heritage.
Serving Rhythmix Cultural Works
Tom believes that it was this experience that inspired Vicki to serve on the Rhythmix Community Advisory Board and Board of Directors for many years. As a champion for cultural arts, she was committed to ensuring that the arts were inclusive of students throughout Alameda and Oakland.
Vicki Varghese passed away in 2020. Tom believes that the only way to survive the grief over death is to honor those who have gone, turning to the positive. So, he decided to visit Rhythmix. "Once I got there and met the kids and fantastic people, I realized that it was no wonder she got into this," he said. "I love it, and I'm all in." He now serves as the organization's board vice president and is pleased about the positive changes he sees happening, including an expansion of the programs' reach to schools in Hayward and Castro Valley, as well as additional community events. "We touch thousands of kids," he said.
In his retirement, Tom says that the secret to happiness is to be around people. That's why you'll see him manning the Oakland Airport's information desk and serving as an usher at Cal Performances and the San Francisco Symphony. "The shows are secondary," he said, noting that the connections with people he helps and the stories they share with him are what really matter.
The Covenant of Water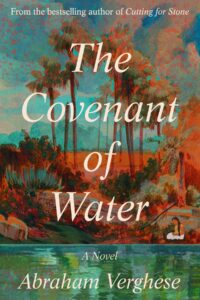 Given that The Covenant of Water is about a family that is cursed by drownings, how does Tom feel about living on an island? He says he loves Alameda's views of the bay and its nearby beaches, but he admits to being a poor swimmer who is terrified of deep water.
"So, I can relate to that part of my cousin's story!" he said.
For all his cousin's success with the book, Tom can see the novel in a more personal light. "To me, this book was a gift from him to the family, and family is life."
See Tom Varghese's illustrations for The Covenant of Water.
Meet Tom and see his work
On Saturday October 21st, Tom will be present during gallery hours to share insight of his artwork featured in K Gallery's Making Lemonade exhibit, at the Rhythmix Cultural Center.
The exhibition features 13 local artists using different media to give homage to "lemons" by transforming ordinary ideas and materials into extraordinary works of art.
Additional artists featured include Christo Braun, Jackie Carlise, Jenn Doyle Crane, Ed Holmes, Janet Koike, Pons Maar, Eben Ostby, Ginny Parsons, Marc Ribaud, Charlie Sullivan, Deb Sullivan, and Jan Watten.
Update August 29, 11:10 a.m. – Updated to correct date of Haile Selasssie's visit, who ran the school Mr. Varghese attended, and removed the reference to page count of the first draft. We apologize for the errors.
C.J. Hirschfield served for 17 years as Executive Director of Children's Fairyland, where she was charged with the overall operation of the nation's first storybook theme park. Prior to that, she was an executive in the cable television industry. She now contributes regularly to KQED's Perspectives series, The Oaklandside, and eatdrinkfilms.com. She holds a degree in Film and Broadcasting from Stanford University. Her writing is collected at AlamedaPost.com/C_J_Hirschfield/.