Everyone likes a good love story, and the USS Hornet was the location for a very long and prosperous one on New Year's Eve 2022.  Those who attended the annual gala and fundraiser were there because of their love and support for the Hornet Museum, while the house band, 3 O'Clock Jump, celebrated their own love—and musical—affair between vocalist Laura Brady and bandleader, trumpet player, and master of ceremonies Gus Wedemeyer.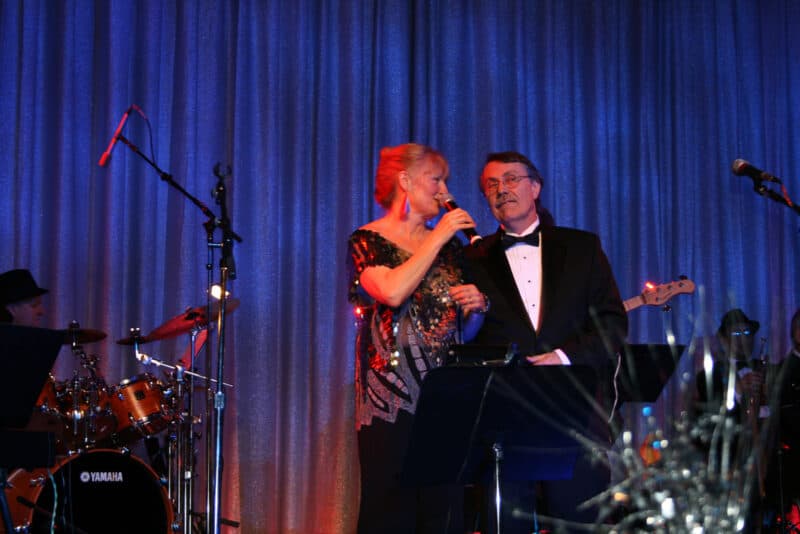 The story behind the music
Approximately 750 people attended the annual event, where they received dance lessons and could participate in a silent auction. The band began their set with the tune, "Pick Yourself Up and Start All Over Again" before launching into their namesake tune, "3 O'Clock Jump" by Count Basie, and "Zoot Suit Friday," all big band standards. The band began performing for the USS Hornet's New Year's Eve event in 2009 and have been the house band almost continuously since then.
"Laura Brady and I met in an adult school class about big band music in 2004," Wedemeyer recalled. "She came in one night to audition as a vocalist. She sounded marvelous and was hired. We began a friendship that lasted two years, began dating and married. When the education cuts began in 2008, the class was eliminated, but we decided to keep the band together and called ourselves 3 O'Clock Jump, with Laura as our vocalist. Our first gig was a fundraiser for the San Lorenzo movie theater."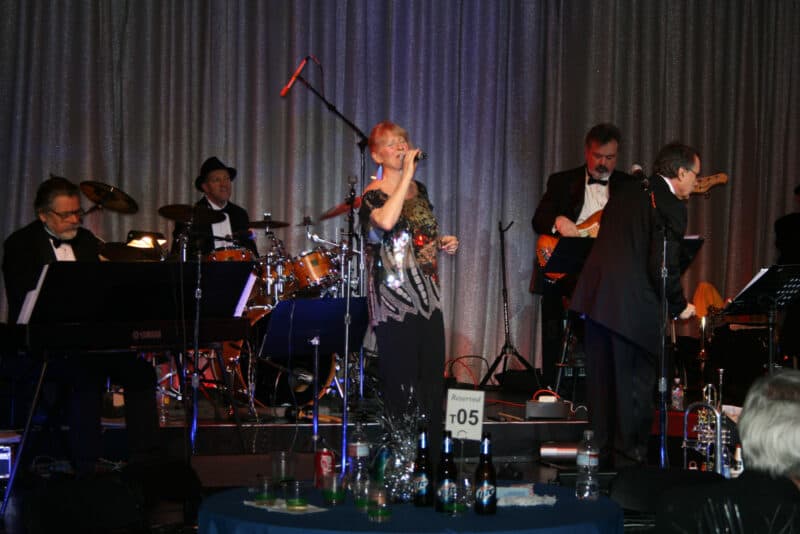 3 O'Clock Jump and the Wedemeyers began a tradition of a large block party every year in June on the street where they live in Alameda.
"It began as a barbecue for the band, and naturally when you have a bunch of musicians, everyone wants to play some tunes," Wedemeyer said. "We did, and our neighbors slowly came over and suggested we do it every year, so we did. The music is now the main thing, and all our neighbors bring dishes of food and drink, so it has definitely grown into a large block party."
USS Hornet's tradition of New Year's fun
In past years, the Hornet has hosted the Cab Calloway band and the Brian Setzer band as well. Attendees are encouraged to dress in formal attire from the big band era, and many styles were on display during this year's event.
"The crowds are getting younger and younger," said event organizer Heidi Shave. "In the past we also had the Singing Blue Stars, an Andrew Sisters type of cover band that also were quite successful."
The silent auction featured gift items from the World War II era, and Percy Alexander also performed.  All proceeds benefit the museum's education programs. For more information about those programs visit the USS Hornet website.
Contributing writer Nanette Deetz's articles are collected at alamedapost.com/Nanette-Deetz. Contact her at [email protected].